Astronaut Scott Kelly used the HoloLens to shoot at aliens (sort of) on the International Space Station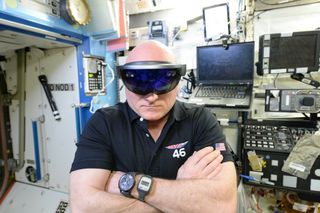 Two Microsoft HoloLens devices were sent up to the International Space Station in December, and now one of the astronauts who used it on board the ISS, Scott Kelly, talked about using the augmented reality headset after his return to Earth this week after spending 340 days in orbit.
According to GeekWire:
Microsoft and NASA sent the HoloLens devices up to the ISS to see if it would work as part of Project Sidekick to assist astronauts:
It wasn't all work, however. Kelly got to play RoboRaid, one of Microsoft's HoloLens games:
Source: GeekWire
Alien invasion of the justice league earth control station

You got that right Posted from Windows Central for Windows 10

You just described the major plotlines of JLU and Young Justice. By the way Netflix is thinking of making a Young Justice season 3. Make sure you go rate it five stars so it happens!

FOR REAL? maan, I loved young justice.

That's awesome! What better place to have an alien shootout than on a space station? -- Lumia 640 (Windows 10)

Stuck in tiny space can for months but lost interest on HoloLens after 2 hours. Lack of apps again.

Or perhaps he had more things to do than play games!

They have very structured timelines on the ISS. It was there as a technology test. They tested.

If that's all you can come up with. Where is the face to the monitor banging emoji..

What do you mean? The device is not released to consummers yet. What is available is a devkit that means you have to make the apps.

Holy crap you're shortsighted... Sent from my Windows 10 PC.

Real intelligent, High IQ,...... people use """Windows PC""", MS products, as you can see on the background, even in the Space Station, NOT bunch of overrated, Hyped-Up, 4 years BEHIND technology,..........CrApple's MacCrap trash wannabe. So you iSHEEP take a good look what's on the background in the photo above. Not to mention the Hololense Windows 10 PC, that has and will change the computing world AGAIN, like PC did. So while you FAD followers iSHEEP playing with your CrApple overpriced, under performance toys, PC is gearing up for the future with incredible inventions AGAIN.

Dude Posted via the Windows Central App for Android

Well the laptops up there run Debian.

You don't make a very good ambassador for the Windows OS.

I wanna play star wars on with hololens.

Honestly rather surprised NASA hasn't built some kind of HUD into space suits (have they). Been on fighter jets for ages, and this seems like something that would be super useful on space suits. Probably wouldn't increase the cost that much, since they're already so expensive to make XD Posted via the Windows Central App for Android

Or they could just integrate HoloLens into the suit. Easy to do as they only need to change the visor part instead of resigning it entirely. Maybe that's what they are going to do. Who knows.

Well now that would be the easiest probably, since they wouldn't really have to do too much design work. I'm focusing on the fact that the ISS has been floating up there for almost 2 decades, and we've been gallivanting around in space for far longer, and they still haven't done some kind of HUD. Even a basic one, where mission control could just see video and draw over the visor.

Soon, there will be go on vacation at home. You can rent your Holo vacation.

Just fix my yard hololens

Don't get so obsessed with hololens that ruins your life. Keep it till productivity,research etc.

Could indeed be very useful for such situations nice!

He reminds me of a testicle from the future in that picture
Windows Central Newsletter
Get the best of Windows Central in in your inbox, every day!
Thank you for signing up to Windows Central. You will receive a verification email shortly.
There was a problem. Please refresh the page and try again.