The Asus P565 is fast ... Very fast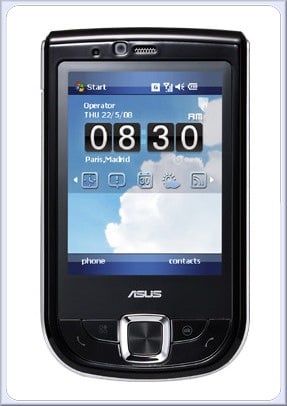 ";" alt="">
The headline says it all. The Taiwanese manufacturer best known for desktop motherboards and the like has dabbled in the Windows Mobile world for some time but never really broke through.
Now, it has unleashed the P565 (opens in new tab) which was immediately hailed as "world's fastest." And, in truth, it's actually quite the beast. Full specs are after the jump. But the short version is a 480x640 touchscreen and an 800-freaking-megahertz Marvell processor. (Before you get too excited, it's lacking the 850 band for US 3G data. Grrrrrrrr.)
By comparison, the HTC Touch Pro is running a 528MHz processor, as is the Sony Ericsson Xperia X1. The Palm Treo Pro is at 400MHz, and the iPhone 3G is listed at 620MHz 412MHz.
Of course, pure chip speed isn't everything (though it's pretty darn close). So we'll the above video speak for itself. On the left is a Touch Diamond. On the right, the Asus P565.
Wow.
GSMDome via WMPowerUser
Asus P565 specs
Bands: HSDPA 3.6Mbps, UMTS 2100, EDGE/GPRS/GSM 900/1800/1900 MHz (That's bad news for us in the U.S., with no 850 MHz)
Operating System: Microsoft Windows® Mobile 6.1™ Professional
Form Factor: Bar Type
Color: Black
Dimensions: 102 x 60.5 x 16 mm
Weight: 120g with battery
Standby Time: 3G: 300 hours; 2G: 250 hours
Talk Time: 3G: 4 hours; 2G: 6 hours
Display: 2.8" TFT, Touch Screen, 65,000-color, 480 x 640 pixels
CPU: Marvell PXA930 800MHz (!)
Memory: Built-in 256MB Flash ROM, 128MB DDR SDRAM
Expansion Slot: Micro-SD (support SDHC)
Communication: WLAN 802.11b/g, USB v1.1, Bluetooth V2.0+EDR
Browsing: HTTP and WAP 1.2.1/2.0
Messaging: SMS/MSN/MMS/ Email/Push E-Mail
Battery: 1300mAh Li-Ion
PIM & Utilities: Word (editor) / Excel (editor) / Power Point (viewer) / Windows Live, MSN / Voice Commander / Push Email (Exchange Server) / Business Card Recognition / PDF viewer
Camera: 3 Mega-Pixels, Auto Focus (Main), 300K-Pixels Camera for Video Telephony (Sub)
Video: Record:MPEG4@QVGA 24fps / H.263@QCIF 24fps; Playback: MPEG4@QVGA 30fps / H.263@QCIF 30fps
Picture: JPEG/PNG/GIF/BMP
Audio: MP3/WMA/AAC/AAC+/3GP
Ringtone: MIDI/MP3
JAVA: J2ME (CLDC 1.1 + MIDP2.0)
Windows Central Newsletter
Get the best of Windows Central in your inbox, every day!
id be curious to get a hold of that sample video. Ive NEVER had stuttering video like in that demo on the Sprint Diamond. Seems very over-embellished, not that the Asus isnt fast, but the Diamond/Pro isnt that slow.

Definitely a possibility. Lots of other variables, too. TF3D ... Could well be an early European version of the phone, which had notoriously buggy ROMs. ...
And a commenter at GSM Dome suggests that neither the video player nor the benchmark app used in their second video properly utilized the processor on the Diamond.

i tried to let u know about this two days ago i sent an e-mail to tipsATwmexperts.com

Kind of a small battery for a screen that big and a processor like that, isn't it?

It's crappy they used WMP mobile as a comparison where all the video's I've played on it have mostly stuttered to a certain degree regardless of processor speed (compared to TCPMP and CorePlayer).
--James

yehi was going to say if its GSM too they had boat loads of ROM problems. We all know the stock Sprint ROM is much better let alone the custom CDMA ROMs with all the updated drivers. Of course its their advertising so theyre going to try to swing it in their favor but i still dont believe the Diamond to be that slow from personally owning it since its Sprint launch and using custom ROMs on it

For the millionth time...
The iPhone only runs at ~412 MHz.
(There was speculation that it's a higher rated part, which might or might not be true, but is irrelevant anyway.)

@kdarling: D'oh. You're right. I thought that sounded too high.
I also read somewhere that the iPhone runs on children's dreams and magic fairy dust. But that may be wrong, too.

As already mentioned WMP is not the best video player out there and there is something wrong with the Touch as I've never seen one skip like that.
Video is not a good benchmark. Processor MHz also isn't indicative to speed. Remember the megahertz myth? Do we really need to relive that? It's a Marvell processor... I'd be willing to bet an ARM at half the MHz would outperform it.

Marvell IS ARM and yes processor speed in MHz IS everything, unless you have a 3D chip in the package.
Media player is not responsible for the sluggish image, WMV is - it's crappy.
Anyways since processor speed in MHz IS everything 800 is way better than Diamond. Someone should try to run Windows 95 via emulation on it. I know it's unusable at 520 MHz but who knows.