AT&T announces the Samsung Focus 2 4G LTE Windows Phone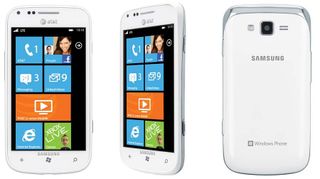 AT&T has announced yet another 4G LTE Windows Phone, the Samsung Focus 2 which looks exactly like the SGH-i667 "Mandel" we saw this weekend.. The Focus 2 will be available May 20th in pure white for $49.99 after contractual discounts. The Focus 2 will run $399.99 off contract.
Spec wise, the Focus 2 sports a 4" Super AMOLED screen, 5 megapixel camera with 720p video capabilities, front facing VGA camera and is 4g LTE compatible. The Focus 2 measures only .43 inches thick and weighs in at 4.3 ounces.
The Samsung Focus 2 joins the HTC Titan II and Nokia Lumia 900 on AT&T's 4G LTE Windows Phone lineup and presents customers with an economical entry point for the Windows Phone experience.
You can catch the full press release on the Samsung Focus 2 after the break.
AT&T to Launch Samsung Focus 2; Offers Cutting-edge Capabilities at an Attractive Price
Samsung's First 4G LTE Windows Phone Offers AT&T Customers User-Friendly, Affordable Windows Phone in a Slim, Stylish Design
Dallas, Texas, May 07, 2012
ShareThis
Key Facts
The Samsung Focus® 2, an affordable Windows® Phone on AT&T's 4G LTE network, will be available from AT&T beginning May 20 in pure white for $49.99 with a two-year service agreement.
With the launch of the third Windows Phone smartphone on its 4G LTE network, AT&T continues to offer customers the most robust Windows Phone portfolio of any carrier.
As Samsung's first 4G LTE Windows Phone, the Focus 2 is sleek and stylish. Measuring 10.98mm thin and weighing only 4.3 ounces, it fits perfectly in your hand, purse or pocket.
In April, AT&T launched the first 4G LTE Windows Phones in the world with the Focus 2 marking the carrier's third 4G LTE offering on this operating system. AT&T customers have access to the nation's largest 4G network, covering over 260 million people. As 4G LTE expands, AT&T customers are able to enjoy a widespread, ultra-fast and consistent 4G experience on their compatible device as they move in and out of LTE areas. AT&T has two 4G networks that work together for customers, LTE and HSPA+ with enhanced backhaul. With other carriers, when you travel outside of their LTE coverage area, you're on a much slower 3G network.
Beginning May 20, customers can purchase the Focus 2, available in a glossy pure white, from AT&T for $49.99 with a two-year contract.
Like AT&T's other new 4G LTE Windows Phones, the Samsung Focus 2 features the Windows Phone 7.5 operating system which makes it easier to do everyday tasks faster. Only Windows Phone has Live Tiles, providing real time updates on your Start Screen including calendar appointments, emails or social media feeds. With Bing Search built-in, you'll never be lost, as finding directions or a highly rated restaurant nearby is quick and easy. Microsoft® Office Mobile and SkyDrive® also allow you to create, save and access documents anywhere from the cloud to help maintain productivity while on-the-go.
The Samsung Focus 2, the latest addition to the Focus family (following the Focus, Focus Flash and Focus S), comes with a 4-inch Super AMOLED™ screen and 5-megapixel camera that makes taking pictures or shooting video in HD 720p a breeze. The front-facing VGA camera provides the ability for video chat. Hands-free messaging is available through speech-to-text and text-to-speech features that make it easier to stay in touch safely while out and about.
"AT&T offers our customers the broadest Windows Phone portfolio of any carrier, with three 4G LTE Windows Phones – the only 4G LTE Windows Phones in the U.S. – now at a variety of price points and form factors," said Jeff Bradley, senior vice president, Devices, AT&T Mobility. "The Samsung Focus 2 brings the people-first Windows Phone interface together with AT&T's fast 4G LTE network for an unbeatable experience."
"Samsung is the unmatched leader in offering smartphones across a variety of platforms and the Focus 2 is a powerful example of our continued commitment to Windows Phone," said Dale Sohn, president of Samsung Mobile. "As our first 4G LTE Windows Phone, the Focus 2 is a fast and versatile device for productivity, entertainment and social networking."
For more information, customers can visit https://www.windowscentral.com/e?link=https%3A%2F%2Fwww.anrdoezrs.net%2Flinks%2F100048247%2Ftype%2Fdlg%2Fsid%2FUUwpUdUnU11124%2Fhttps%3A%2F%2Fwww.att.com%2F&token=J_47YEut or https://www.windowscentral.com/e?link=https%3A%2F%2Fshop-links.co%2Flink%2F%3Fexclusive%3D1%26publisher_slug%3Dfuture%26article_name%3Dwp-d-n-11124%26u1%3DUUwpUdUnU11124%26url%3Dhttp%253A%252F%252Fwww.samsung.com%252Fus%252Ffocus2.&token=run3agtY
Windows Central Newsletter
Get the best of Windows Central in in your inbox, every day!
George is the Reviews Editor at Windows Central, concentrating on Windows 10 PC and Mobile apps. He's been a supporter of the platform since the days of Windows CE and uses his current Windows 10 Mobile phone daily to keep up with life and enjoy a game during down time.
Question is, will it be upgradeable to Apollo?

Aw no they made it like my old Samsung focus :( well that means I'm gonna have to buy it

LOL definitely much better than the hideous S3 hahahahahah, pretty good looking :)

hey, hey, hey don't knock the S3 it's the best phone ever! i use it on AT&T's 4g network (heck, LTE or HSPA+ whichever) and it rocks. as a stylist i use a lot of hairstyle apps and it's super fun AND helpful on the floor.

I"m with you. I love my S3; it's great for my graphics design work. And I also am on AT&T's 4G LTE (in Austin) so I probably use it the same way you do in your work.

WOW!! so what happens to Nokia 900 now? this is a shocker to me.. samsung has been a bitch in terms of releasing new handsets over & over, Samsung's hardware is no joke.. in fact it's Windows Phone OS which is limiting samsung not to put all those fancy quad core etc etc... had MS uplifted the specs such as screen resolution itself.. we must be seeing Samsung Galaxy S3 WP7 version.. too late Nokia & MS for both of you... and i am really getting sick of WP7 now... using trophy for almost a year,.. what new did you guys do?? why don't we have enough official apps??

Calm down buddy, patience is a virtue. How old is WP? Now how old is Ios? Exactly, we are doing pretty good. Can't leapfrog the other 2 os's over night.

What is quad core going to do for exisisting WP apps? They already run smooth. Also I can see how you are getting sick of the Trophy as it wasn't the best launch phone and there are no handset options on Verizon (glad I'm an AT&T customer).
Also be specific when you talk about missing offical apps. Are you talking about flavor of the month iPhone games?

This isn't the last phone to come from Samsung for 2012! This is just some mid-high grade equipment to fill in some gaps! Be patient dude. This is not even a WP8 device!... Are you sure you have what it takes to be a WP user? We are a special bunch who don't fall for gimmicks, or hype. This is a good device, for only$49?? Thats amazing! Who can say they have a device, with LTE, FFC and a quality UE for $49 out the gate. Adjust your thinking son! It's devices like this that are going to bring you all those flashy apps you want! Look at the big billboard!

Decaf may be a better option for you vijax21. I would have liked to seen 16 gigs on this phone to make it a true successor to the Focus, but I can see why they did that if they want to keep the price down/entry phone.

I would have liked to seen 32 gigs on this phone to SHOW THAT SOME OF THESE MANUFACTURES WANT TO ACTUALLY SELL THE GOD DAMN THINGS. This is just getting ridiculous. The iPhone is sitting at 64gb and God only knows they will probably squeeze 128 into the 5. And here I am being offered 8GB on 90% of the phones and begging for 16, and offering my first born for 32. This memory thing has just become as ridiculous as every decent phone going to AT&T.

Its about LTE and SkyDrive. Getting us living the cloud. Nothing wrong with a little hard love, especially since SkyDrive appears to be taking off. MSFT is asking us to think a little more about our storage and retrieval systems. IPhone packs 64gb because basic specs sell to basic users, and these basic users will pay stupid money for the basic phone. Windows smartphones are more than just music, video and game toys.

I don't want the cloud. Adding two points of failure in order to play music is not smart. Waiting 30 seconds after I push play for the song to start and then having it stop as I drive through a network dead zone is not a good system. Yes, WP is more than just music and is why I have one. However, all we're asking for is either a phone with 32GB or expandable storage, neither of which is an unrealistic request.

Girlfriend has an upgrade in about a month and the 900 is too big for her... So happy this is coming out! What a steal for 49.99!

I know there's a "that's what she said" type of joke in there somewhere...

Wow! T mobile refuse to get new Windows Phones. What the hell!!!!

Hopefully they got a L800-900 down the pipe

Why must OEMs ruin every phone by putting their logo in the most annoying place possible? They already have it on the backplate, why does it need to squish with the capacitive keys too?
One of many reasons I dislike Samsung design.

Looks like I was right about Samsung not wanting the SIII to look dated by releasing the F2 first. C'est la vie.

I have the Focus s and seeing those specs makes me wonder why they basically downgraded the whole phone. Besides lte the focus s 2 has nothing on the focus s.

Confused, the new phone is a Focus 2, not a Focus S 2.
So you cant compare this phone to focus S.

Good point. It was smart that they called it the Focus II, instead of Focus S II. I had forgotten about the Focus S, though, which probably isn't a good thing.

The Focus S is rather awesome! I'm impressed with my Lumia 900, but it is no better than my S.

I just bought a brand Samsung Focus S for $150 off Craigslist. I love it. No regrets at all.

I thought read an article on this site about a week or two ago that said Samsung would not release any new WP7 devices until Apollo was released later this year???

The Mandel has been long-rumored. So long that people (myself included) had begun to give up on it.

I wonder if there is a Focus S 2 in the works???

I'd say there will be a Windows Phone 8 variant of the Galaxy S III, which would most likely be named the Focus S II.

Hopefully something's going to Verizon soon!

Pretty cool. I am still happy I got my black Lumia 900. Its awesome, but I really like the design on this one. The price is right, at $49.00. It should attract new smartphone buyers (ones coming from a dumb or feature phone), which are the people Microsoft and Nokia should be targeting. People who have an iPhone or Android likely won't change, though I saw a fair amount of iPhone 4 owners making the switch (this is what I did).

The more phones made the better. People need to stop bashing

Yeah my bet. I realized it after posting that it was just the focus without the s. And yeah the lumia is not better then the focus s. My focus s just rocks and performs great and I use it in Europe and no one has it here and they asked me always what is that for a phone? Well I like to have something kinda unique.

What a disappointment. Aside from LTE, the specs aren't even as good as the 6 month old Focus S.
Why even bother? I'll just stick to my original Focus until the Windows Phone 8 devices hit. I was all excited to see the headline, but the specs are a complete disappointment.

Big fail, Samsung.

It isn't a fail this is a great device for only $50! Stop complaining about tech you don't have to buy!

@ panu16 You are wrong! Although WP is a completly different OS than WM, it is still a successor to the entire WM platform, not just 6.5. And, how did expandable storage lead to WM's demise? What's bad about removable storage? Any try WP user knows that WP didn't fail, but just timed out, which is natural. The OS served its propose in its era. Don't be like those Apple, and Android haters, trying to rack up a fail for MS. Trust me as a actual user of WM 6-7 years ago it was very cool. I could impress people with my Samsung Blackjack, and it worked great up until WM6.5...

Still waiting for a Nokia lumia 1000!
Windows Central Newsletter
Thank you for signing up to Windows Central. You will receive a verification email shortly.
There was a problem. Please refresh the page and try again.