AT&T Focus S and Flash now available for online ordering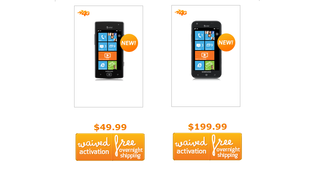 In case you're too far (or too busy) to get to an AT&T store to pick up a new Samsung Focus S or Flash, you can now order one from the safety of your couch. Yup, just as planned, both phones are available online for ordering with free overnight shipping and a waived activation fee.
The Focus Flash is the "budget" phone, offering a 3.7" Super AMOLED screen, 8GB of storage with a 5MP rear and 1.3MP front facing camera for $49.99. We're not sure if it has a compass/gyroscope yet, something that the comparable T-Mobile Radar 4G lacks, but we'll let you know tomorrow with our first impressions.
The other is of course the Focus S. Sporting a 4.3" Super AMOLED Plus screen, 1.4GHz CPU, 16GB of storage and an 8MP rear and 1.3MP front facing camera, it'll cost you $199.99 for that top of the line phone.
We have a feeling most of you will be going for the Focus S, seeing as it is the proper upgrade from the Focus. But how many of you are holding off for the awe-inspiring HTC Titan?
Check out the new phones here (opens in new tab). Thanks, Josh and Tim, for the heads up!
Windows Central Newsletter
Get the best of Windows Central in in your inbox, every day!
Daniel Rubino is the Editor-in-chief of Windows Central, head reviewer, podcast co-host, and analyst. He has been covering Microsoft since 2007 when this site was called WMExperts (and later Windows Phone Central). His interests include Windows, laptops, next-gen computing, and for some reason, watches. Before all this tech stuff, he worked on a Ph.D. in linguistics, watched people sleep (for medical purposes!), and ran the projectors at movie theaters because it was fun.
Those configurations with 8gb of storage are just dumb... u_uI just want a windows phone with a screen that is 4 or less inches, front camera, and 16gb or more for storage....but it looks like there are no phones with those really simple specifications D:

I would love to upgrade from my Focus, but I have another year under contract. AT&T doesn't allow one to upgrade after one year for the same price ($199) do they?On an unrelated note, anyone know where I could find a really cheap (used) HTC Surround? Always wanted that one also... :)

check craigslist, xda's marketplace, ebay, you should be able to find a surroud for relatively little money.i'm going to pick up the focus s either tomorrow, or sometime this week, depending on when i find time to go to the att store to get it. excited! i love new toys!

Good suggestions, thanks.So if I find a Surround used, can I just change the SIM card back and forth between it and the Focus and use both?

You can check your eligibility status online. I think you should be fine, I purchased a Focus on launch day last year and am being offered the $199 price (Plus an $18 "early" upgrade fee - waived online apparently)As for snapping up a Focus S today? I am actually going to wait to see what a Titan looks like first, I think the offerings from HTC are far more competitive this year.

Really? I also have a Focus from AT&T that I got November 2010. Typically they allow upgrades at the 18th month mark but it's cool if they let you upgrade early for $18. Still, I paid $99 for my Focus and if I'm going to pay $199 I'll probably wait for the Nokia phones next year. I can't wait to see what they'll have for us.

I've had my Focus since 11/8 last year. I checked my upgrade status and was surprised to see an option to upgrade.

I that's about when I got my Focus and I have no option to upgrade. I don't understand. I really want the Focus S.

call them on the phone ...... they will tell you you are eligible

crey, thanks. i called them and they offered the focus s for $299 after being put on hold for 20 minutes. I kept trying to ask how they came up with that price and the representative kept dodging the question. Any advice when I call them again?

Yeah they allow annual upgrades with the iPhone, but looking at sprint now that is probably because they were under contract to sell x amount of them anyway.

yes they do infact allow an upgrade for 199......i too have a year left on my contract and i called them and they said i was eligible (with an $18 upgrade fee)

Walking up to my local store in approximately four and a half hours. Booyah!

I'm gonna wait (impatiently) for my TITAN.

same here, most likely; though i am gonna go to the at&t store today and just see how the focuses feel. if i fall in love with the S (which is doubtful, the plastic/galaxy s2 design, however nice it is, just pales in comparison to all the pics and vids of the titan) then i may jump on it. but i'm almost certainly gonna wait on the titan.good news is, we're almost assured a release date tomorrow at the big windowsphone event in NYC! i'm hoping for the 20th; at&t has a couple other new phones released this weekend with these focuses, and a few others scheduled the 20th, so i'm thinking they may just be doing them together (probably to save on shipping costs, etc.)

WP7 phone are still not even listed on ATT's initial page, but of course the iPhone is. They mention,"8mp camera,icloud and siri, the the most amazing iPhone yet". Well WP7 has, "8mp camera, skydrive(25GB), tellme, Xbox live, office, native social network integration. They even have some of the simplest phone on their initial page and not WP7. why can't they just give this equal advertising on their webpage? After all, they aren't going to make commercials like they have for iPhone & Android. Most people aren't going to go to the sidebar selection area of the page and find the wp7 option. It's the very last option in a long list and most people are going to select apple or android as soon as they see them. This is another case of ATT trying to kill WP7.

found focus s and flash on art's site and it simply has the device names and price for each. No mention of the OS of features. I mean nothing; this is simply sad, they don't want people to know WP7 has the same or more features than Android or Apple devices. This needs to be mentioned to MS so they can address it with ATT.

I have a Focus but I'm not due for an upgrade until March (or is it May?) But I'm really curious to see a Focus S camera comparison against the other major phones. The picture quality will be a deciding factor on whether I go with the Focus S or switch to a Titan or even an unnanounced Nokia phone for the U.S.(Lumia 900???)

I got my Focus in early December last year. Thought I would checkout to see if I was going to get any discount for the Focus S. Nope, but they will give me a early discount on the iPhone. WTF?Plus you have to tell them about 18 times that you don't want the iPhone just to get to the page with the Focus S. WOW!

Yeah I just tried to get through their website and was being hammered by iPhone ads, WTF.

I have a few female friends that say mine is just to big.Now to talk about the phones. My females friends say the Focus is a little big and they would not want bigger such as the Focus S. They say they would want a little smaller, but not to small. So either the Focus Flash or the Nokia phones are going to fit in great. I suspect that here in the US, the Nokia phones have the best chance of picking up female customers due to the 3.7 inch screen and thin, with nice looks and colors.

Looked up my upgrade status on the AT&T site and I only have till 1/27/12 till I'm eligible for my full upgrade. Can't believe they won't even give you like $100-$200 off if I want to upgrade a couple months early. If I want the Focus S or Titan I either wait (which isn't too long) or dish out the full $550. I'm sorry but that is ridiculous. Maybe I can find someone in the store who would hook me up. Why would they care? I'm signing my soul over to them for another 2 years....

If you have a family plan you could use another family member's update. Just a thought if you're in that situation.

Unfortunately not :(No worries. When the Titan is released I'll go into a store and check out the 2 phones and see if I can work something out with staff.

Another thing I can tell you from experience. If you talk to the ATT store staff, they can override the system and give you an early upgrade IF you are withing 3 months of your actual upgrade.Example: If you are due for an upgrade on February 6 2012, they will grant an the upgrade today, November 6 2011 because it falls within that 3 month curtesy window. I've done this in the past, and it only works in the store, not online.

Going to wait to feel both the Titan and this one as well as wait for reviews. Going to check out The feel for it today though.

I rodered mine yesterday from ATT Business Premier and it was $300 and only had free second day shipping. Weird.

I have another question: where is all that Advertising Samsung promised to step up? They didn't even advertise that the flash & focus s were coming. When is MS going to chew some manufacturer #$$? Getting un-bearable

My local store doesn't have it and I can't order it online and ship it here because I'm living at a University and it's not the billing address. Also, there is no free overnight or waived activation fee for upgrades. This is becoming a nightmare.

I went to a large AT&T store over lunch here in suburban St. Louis, the Focus S was really nice, but I'm going to wait to see the Titan. The Focus Flash had a spot on the wall, but wasn't there...weird. I had to listen to a store clerk go on and on to an older couple about the merits of iPhone vs. Android, I just wanted to walk up and tell them to try out the WP7 phones. It's unfortunate, but that's probaly the biggest infuence over people who know little about smartphones.

I like the focus a, but it's a Titans life for me!!!I think I'll stop by a store just to play with the new devices for a while though.

So I just got the Focus S as a Birthday gift for my wife. When I walked in the my local Att store the female manager offered assistance. I said I came in to get the Focus S and she said "Sure, let me show it to you." she took me over to where the Focus S was on display and said "It's a real nice phone and it's running Mango" (in my mind I was thinking "holy sh*t!, an informed manager that is not trying to convince me to get another phone!"). Then, a sales rep took over. He then said "I love the Windows Phone because all you have to do is put in your Live ID and all your contacts are there". Ofcourse I agreed. Overall a great experience. Now, my wife has not opened her gift yet but from my hands on at the store: The Focus S, although with a bigger screen than the Focus, felt almost the same size, if not smaller than the Focus. It is ridiculously thin and super light. Sure, it feels a little "plasticky" but it surely feels more "premium" than the Focus, with it's rugged, matte back cover finish. To anyone sitting on the fence about wanting a WP7 device with a bigger screen size but not wanting the feel of "bulk" in their hands or pocket, I would definitely recommend the Focus S.

this makes me happy, sales people doing their job and showing you what you ask them to! and being knowledgable about products? that's actually shocking in the cell phone business. :)

I just cannot imagine pulling the trigger on the "S" without waiting for the Titan to come out, at least in my situation. If you are a huge Sammy fan, or if your phone is held together by duct tape, than I understand. But really, a two year buyers remorse is a long time. The Titan is a serious contender, and I am pumped to see these two choices. I would love to see if the Nokia 900 was really an option. I would give it to Jan/Feb to see it as well. But, for me it is mostly Titan is 1A, the S 1B, and the Nokia is bringing up the rear until it is confirmed. The Flash, by the way, may be the best bargin on the Market right now. What a great contender for the entry level market!!

Correct me if I'm wrong, but the current maximum resolution of Windows Phone is 480x800. When you get into screens larger than 3.7" or 4", wouldn't that adversely affect the sharpness of the display?Until the higher resolution comes along, purchasing a Focus S or a Titan doesn't make sense on the surface (no pun intended).
Windows Central Newsletter
Thank you for signing up to Windows Central. You will receive a verification email shortly.
There was a problem. Please refresh the page and try again.