Latest intel: AT&T launching HTC One for Windows Nov 7, same day as the Lumia 830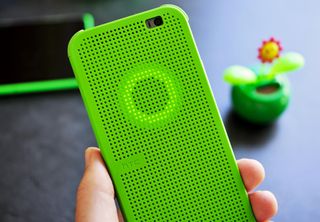 If you are on Verizon Wireless, you may well be thinking of dumping the carrier after their early retirement of the Lumia Icon. Blame poor sales and denounce their staff, but the fact is Verizon is a tough carrier to love when it comes to Windows Phone. Luckily, the blackout from getting your itchy fingers on the svelte, cold metal of the AT&T HTC One (M8) for Windows just got an end date, at least according to our sources.
I reported earlier that Friday November 7 was the planned launch date for the Nokia Lumia 830, which is shaping up to be a prevalent launch for that phone (example: all of Canada). Additionally, it looks like Microsoft is going to have some welcomed competition that day as we hear AT&T's version of the HTC One is also launching the same day.
If you have been waiting for a new Windows Phone, your choice now becomes a little more complicated.
Pricing is still not clear for either phone, but the Lumia 830, dubbed "the affordable flagship", is almost certainly to come in cheaper than the true flagship HTC One for Windows. Determining which phone is better for your needs is undoubtedly going to be a challenge. Then again, this is the sort of "problem" I am sure that Verizon, T-Mobile, and Sprint users dream of having when they walk into a store.
Which to get?
From handling both phones and using the HTC One on a regular basis, even I have a tough time choosing. Obviously if you prioritize imaging, the Lumia 830 is likely to better with its 10 MP PureView camera. The Lumia 830 is 10 grams lighter than the HTC One at 150 grams, although that is a small difference. The One, however, has a larger and higher resolution display at 5-inches and 1080P, not to mention a significantly beefier processor with the Snapdragon 801 clocked at 2.3 GHz.
At least for Microsoft and those on AT&T, it looks like two solid Windows Phones are about to launch just in time for the holidays. AT&T still appears to be the best supporter of Windows Phone in 2014 as they were exactly four years ago when they launched the first three Windows Phone 7 devices.
Don't forget to jump into our Lumia 830 and HTC One Forums to discuss the pros and cons of each, or get feedback from current owners!
If you are on AT&T, which Windows Phone will you buy on November 7? Sound off below.
Windows Central Newsletter
Get the best of Windows Central in your inbox, every day!
Daniel Rubino is the Editor-in-chief of Windows Central, head reviewer, podcast co-host, and analyst. He has been covering Microsoft since 2007 when this site was called WMExperts (and later Windows Phone Central). His interests include Windows, laptops, next-gen computing, and for some reason, watches. Before all this tech stuff, he worked on a Ph.D. in linguistics, watched people sleep (for medical purposes!), and ran the projectors at movie theaters because it was fun.
Verizon is still slated to get the Lumia 735, which may be why they retired the Lumia Icon. No date yet, though. No word yet on T-Mobile and their HTC One, though don't be surprised if it is around the same time as AT&T.

Sprint will also be getting the HTC One M8 as well allegedly. No word on dates yet.

Sprint gets theirs in 2016. Allegedly...

Right when the M9 Android version comes out. :-/

I suspect the Icon was a planned retirement that never got renewed once a certain device-we-shall-not-speak-of failed to make it to the market.

Fair point. Still stings for those on Verizon.

Until Verizon gives a reason, there is no scenario like that which makes sense as long as the Lumia 928 is still being sold.


Sure it does... Verizon is adding the Lumia 735, has the legacy 928 and just added the HTC M8 Windows as a timed exclusive! That's not them giving up on Windows Phone. There is something else going on here. I think there was supposed to be a new Lumia flagship in town that just didn't show up.

What advantage for them is there to keep the 928 instead of the Icon in your scenario?

Thats what I was thinking to since I doubt Qualcomm really wants to support an older processor

Slightly off topic but, my little girl loves to go to a store here that has those Dancing Flowers lined up across the store front windows, lol.

:) They are quite entertaining

*store from Microsoft (R) Windows (R)

Retire flagship for 730 , just goes to show they have no idea what they are doing

Hey, it "worked" for TMoUS (retired 925 and ended up offering the 625), so why wouldn't it for Verizon?

It really upsets me that I've been waiting all summer for the cyan update, only to learn that the poor sales means early retirement. My cousin that works for the customer service HQ in Elgin IL, told me that once a phone is set for retirement there will be no more planned updates. So it means no Cyan or Denim for the minority of Icon owners..... I'm going to switch to AT&T and probably get a 1520 or wait for the 1020 or 1520 successor.

I feel like people constantly talk about switching between Verizon and ATT. Before, ATT people were talking about switching because Verizon was getting all the newest Windows phones. Now, people want to switch to ATT because Verizon is ditching support. Us T mobile users have the worst of both worlds, and sprint users dont even have anything to begin with.

So well put together, +925 still awaiting cyan update T-Mobile.

++ 925 just hoping for the 830 to be announced for T -mobile!

I've been waiting for the M8 to come to Tmobile but the more I look at the 830 across the web I'd really prefer it over the M8.

Was all set to ditch a long term relationship with ATT valued at $280+ a month for M8 on VZW my wife and I had figured out what plan we wanted, talked to ATT and got set to cancel and THAT DAY they announced that they would eventually have the M8.... Very glad to see they delivered. Now I can retire my semi-aging 1520.

I waited for months for that update, but I recently said F-it, and got the 1520.3. It's questionably huge, but its a fantastic phone. Plus, I secretly love the attention.

Not true in this case, Verizon made a response on Twitter specifically stating that even tho the handset is disco, it WILL still be getting updates.

I've asked this many times, but do you think the 928 sold better than the Icon? If it didn't, sales numbers wouldn't explain the retirement.


Given the 928 was free on contract, I bet it sold better yes.

There's something that I think,so many people have complains about the carries doesn't launch updates; it wouldn't be easier if they buy and unlock Lumia at the Microsoft Store? I have a L720 since last year that I bought in Amazon and I got Cyan without have to wait for a carrier ,now that I came to the EEUU since the last 2 months I went to the Microsoft Store in Orlando and they sell unlocked phones . I think if you save your money per month you will be able to spend 500$ on cash like I'm doing.
Idk which one are the benefits getting one by contract,that's because as soon I came I got a TMO sim card.
That's my view of point.
Anyways I'm still saving money thinking to catch a 1520.3 o 735 o 830.

Hey bitch, I'm from Orlando. Heil Mickey Mouse

This is not a bad way to go except that contract free plans have limited data and lower priority... And if your are on a post-paid plan and DON'T take your upgrade you're leaving tons of money on the table.

Forget cyan, I'm downloading denim (I'm pretty sure) now, 1520

Considering T-Mobiles track record lately, I also won't be surprised if we don't get anything until January.

Daniel, any idea if we will get Cyan or even Denim. This is actually the only time I have been truly saddened by technology. I get that Verizon doesn't want to carry it, but to leave it stuck on 8.0 (at least officially) is a huge disappointment.

I would own an Icon if it were on ATT they really need to stop with the carrier exclusives they are not popular enough for that.

How about the price? There is a big difference between the two phones. I would have a hard time to pick from these two beauties.
Edit: I meant the prices between the devices off contract. Sorry!

I think the part where I say we don't know the price takes care of your question ;)

I assume it'd be the usual 2-yr pricing for high-end models which is $199.99...

Pretty sure $199.99 for the m8 or 27.49 with next program and the 830 can't be more then 820 $49.99 or 17.99 on next if its more then that they're dead.

Don't forget, the HTC One is the fastest Windows phone!

My M8 with Android smokes. I think I would go with the Lumia this time, because camera. Posted via the Windows Phone Central App for Android

Yes ... My almost two year old 920 is still getting it's updates from ATt.

Versus who, Verizon and T-Mobile? I'd take the chance with AT&T.

That might be referring to HTC, which would be my concern.

True... and AT&T has been very diligent in making sure they provide updates for Windows phone too...

They've been the best US carrier, actually. As much as we love to hate them, they've done a great job with updates.

Not updates to hardware, however (L930 never came, that is incredibly terrible).

Blame Verizon for somehow scoring an exclusive deal.

Wasted Exclusive deal. I'd still take a 930 with AT&T LTE Bands.


Much the and here. I'd gladly take a Lumia 930 to hold me her until the Lumia 1030 is released.

I would love that too, but I can't afford to buy a new device every 6 months. :/ Maybe I should get a weekend job at the Microsoft Store! ha ha

Definitely! I've been looking into it, actually, but you have to be 18 to apply, so not there just yet. Still, my plan is to buy a phone off-contract this fall (Either Lumia 1520.3 rm-938, HTC One or a Lumia 830 [ I REALLY want the Cortana passive voice listening feature, so a Snapdragon 800 w/Denim will probably be the type of device I get]), then I'll upgrade whenever the 1030 comes out. I love my 1020, but I've had it since launch, and I really want to use some of the newer features it's too hold to use.

Sticking with the 1520. But I have been wanting to HTC ONE. I just know I'll honestly miss this awesome screen the 1520 has. Decisions, decisions...

You sound like Yoda. You must be wise.

If the HTC doesn't come with the touch screen issues the 1520 has dealt with from day 1, I'm switching. I've grown weary of reading as a tap when I'm swiping. And I've already been through 3 of them, each equally annoying. Great screen, excellent pictures, but slightly annoying to use. Plus, I've about decided that 6 inches was just too big for me anyways. I've got big hands, but it's still difficult to use one hand to swipe out messages. I'm hoping for easier use. And the HTC comes with an IR blaster, so I'll get to play around with my TV as well :)

Really. I switched once. Fools sent two. Of course, I kept them both. No one could love them like I could, I figured. I have had no problems with either.

Don't get me wrong, I love mine, and bring it out just to make people's eyes bug out. I get a lot of comments asking if it's an iPhone (LOL) or a Samsung Note (more plausible), but it's honestly been a great phone, just occasionally annoying when I'm flicking through a site (this one for example), and it tapping on an article that doesn't interest me. Maybe you got lucky, maybe I just got very unlucky. But hey, I'm on the Next plan, and I'm due for my next phone about the same time anyways.

Elitejedimaster, I have similar issues with my 1520, but I think it is a "feature." I noticed recently they promote the device as having an ultra-sensitive screen. I also agree it just feels too big for me. I love the photos, i love the thing to watch TV shows, but I find it so overwhelming that I have been jumping through other phones in an attempt to get something that fits my hands better. Right now holding a Blu Win HD, size is just perfect, but performance leaves a lot to be desired for. This makes things very clear for me: I need the HTC One, since the Win HD is basically a... lets say "homage" to it.

"I've grown weary of reading as a tap when I'm swiping. And I've already been through 3 of them, each equally annoying. " Maybe Verizon was having the same issues with the Icon, plus the fact it wasn't...Err...best looking phone out there.

No touch issues with the Icon.

We know that. Go away, let us 1520 users commiserate

Oddly my 920 which NEVER used to tap when I scrolled sometimes takes a scroll as a tap. I believe it's an OS update that's created this issue, not hardware issues.

I noted this above, but I think its a "feature". I had it from the start, and I had mine since launch. Going to the product description page you can read this in there:

"With a six-inch, super-sensitive, full HD display"

I think it is that "super-sensitive"ness that is behind the random scrolltouch.

Me too! I am so sick of the touch screen problem with the 1520 I really have to restrain my self from throwing it across the room sometimes. It is a damn shame because other than that I love this phone but I have been through 5 of them and they all have the same issue.

I really thought they fixed it via update. Even the one I sent in was working after the update. Hmm

I have a 1020 but *love* the 1520's screen. If I had a 1520, it would have to be a heck of a phone to get me to switch...notice I said "switch" not "upgrade"...other than a CPU or camera update, I don't think there's much you can do to that phone to improve it. I can easily see keeping a 1520 for 3-4 years...(and I'd only switch from a 1020 for a newer 1020 with a larger screen/faster CPU)...

I can certainly see faster hardware becoming available. I honestly find the iPhone 6 feels much faster running the same games as my L1520 runs. I also can see an upgrade to the 1520 that simply goes for a 1020-esque cammera, if nothing else. Snapdragon 805, 808 or 810 also could be a significant upgrade that is available right now. Spec-wise, the 1520 is a great device, and practically tied up with the Icon/930. But it is certainly not the end of the road, not even close.

Aside from the tap problem on the 1520. I've been through maybe 5 different 1520s due to a terrible flickering camera problem, I just got a new one through warranty, and this one is 97% good, except I can't talk on the phone because the MIC is messed up. Now I gotta order number 6.

Wow. I'm really lucky to get two with no problems

Dose m8 have global version?

Only HTC knows at this point.

HTC should release global version. I will buy m8 and always carry both 1520 and m8

I've said from the beginning that HTC is a small company, so before committing to a global launch they would likely test the waters with a gradual one. In other words, global may depend on how well it did on Verizon (my guess is 'meh') and then AT&T and T-Mobile.

Yeah but they didn't do that with the Android version. So why would they do that with the Windows?

Obvious answer is obvious: Windows Phone has 4% marketshare, not known to push sales for carriers.

Yeah but T-Mobile and At&t were quick to announce that they would both be getting the HTC One so they had some commitment there already. So the delay was just to test the waters? I can't see how that would be an accurate gauge. T-Mobile has a lack of choice and I would argue that WP users are going to get it due to that lack of choice. I know that's what I'm going to do.
On a side note. You have to admit that these exclusives are doing little to help that 4% market share.

The device needs more radios for it to be global, that means a build that is more expensive and lower profit margins. If you are already taking a big gamble, it is not a safe bet to go for, especially given that the company is not doing very well right now.

I am debating about going with the HTC but I don't know if I want to miss out on all the things Nokia phones offer, such as Glance. This is tough, at least I have a month to decide.

HTC one can get Nokia Drive, Nokia maps and some other things.

This. Nokia, the software maker, is no longer going to have an investment on hardware sales, so they will likely stop doing much Lumia exclusive software in the coming future. I would not lock myself for 2 years to a phone only based on Nokia's exclusive bits, given how likely it is that they will eventually open up like Drive already did.

Plus I think that dot case thing is a good alternative for Glance. I think I'll go with the M8.

It's an even better alternative. Can get weather and notifications and other stuff on there. Answer/deny calls, get large notifications on there, Cortana, and more WITHOUT EVEN OPENING THE CASE! It's pretty awesome. Case even comes in different colors.

Its a shame the phone itself does not. I would love rocking a red or yellow M8, using that same technique Apple uses to color the iPod Touch (whatever that is, I just know it looks cool.)

Well you guys just sold me on it.

Too late my 920 broke, I got the Lumia 1520 on AT&T next I have to keep it for 12 months. Hopefully at&t will have a new high end (windows 10) Lumia in 12 months.

Hey....me too! I love the screen and I got it in green. Had to call a person from the store so we could swap imei numbers. The first guy was given the wrong one. It all worked out and I'm loving it! I wanted a tablet first and phone second. This suits me perfectly.

I wanted a smaller phone but after having this for a week, I don't think I can go back to smaller phones I love the 1520.

They will, I'm holding out for it myself.

I want the 930 on AT&T not the 830 or HTC One. My contract is up in November and I'll be looking at an Android or just keep my 920 for till a decient replacement comes along. 1520 is a great phone, but its just too big...

This is where the cheap off contract phones come in real handy. Pick up a 635 for $79 while you wait for the flagship to drop. It's a nice phone and a whole lot lighter than the 920. Thow in a 64GB expansion card and load it up!

Yup, that's a good idea. Lumia 635 is a pretty great phone.

It is. I bought one for my son after his Moto G bit it. Doesn't miss Android at all. Posted via the Windows Phone Central App for Android

I agree. I use my Bright Orange Lumia 635 a lot.

Why downgrade to a 635? His 920 is working fine. Yes, I was hoping for a ATT 930.

Kinda like two hot sisters....hmmm, which one? Ones a looker, but the other has more brains, if you must talk to her.

Yes, my thought too, among others (dirty bastard)

Which one to you has the brains and which one has the beauty? i think both look pretty hot

If it's a two year commitment, go with the brainy one. If you're paying upfront right away, that changes the equation... hmmm...

I would expect the HTC to come in around $149 on contract and the Lumia 830 to be $99.

We should really start talking off contract prices. Even AT&T is pushing the Mobile Share Value plans that don't include subsidies. I switched and saved $100/mo on 4 lines. I'm guessing $450 for the L830 and $600 for the one, but really hoping the 830 comes in lower. Still, $150 difference is not crazy for lower res screen and weaker SoC (especially given better camera).

Daniel, do you think the Icon retirement could be an exclusivity period ending and thus they'd maybe launch the 930 on ATT or a refreshed 935 with glance?

I have seen and heard zero on such a thing happening.

Will the 830 still have qi charging?

It is a mystery at this point. The 830 has it built into the removable cover, so there is hope.

That was always the biggest sticking point for me with the 1520. Once you have invested in wireless charging accessories you don't want to go with something that doesn't support it. Even a shell like the 1020 uses would have been acceptable. I know the 1520.3 is available now, but at this point, too little too late.

I could never fathom this craze for Wireless Charging. I owned a Lumia 920 which came with a Free Wireless Charging plate, which we all must bear in mind must be connected to an AC outlet, ruining the portability of the charging device. I used it initially but noticed that the battery took at least 1.75 x longer to charge and even the advantage of more quickly or easily picking it up off the plate to answer a call or return a text seems seriously disadvantaged by the cessation of charging which may even have longer term negative effects on battery longevity. It seems a far better idea to simply answer a call on both that 920 and my current 1020 using BT whilst it's connected to the physical wire charger or picking it up without disconnecting its charger wire to return a text or answer/place a call.
On the other hand I clearly see the value of Glance which I very much cherish on my 1020 and would be sad to lose this if I choose to buy the HTC One which is a serious temptation for 3 compelling things that I cannot get on my current L1020 nor on a 930:
1. Much better battery life
2. Superb high resolution 5" display (okay sure the not-available-in-Canada 930 has this)
3. Memory expansion via Micro SD card slot (which I really need as I am teetering at 1-1.25gb space remaining due to my Xbox Music Annual Subscription that allows for unlimited music downloads and the essential photos and videos on my device that are around 6-7gb and which I want present at all times to enjoy or share with friends and family directly. I am NOT a believer in Cloud Storage. I have begrudgingly used it as backup for my texts and Apps so that if my devices malfunctions unexpectedly I won't suffer their loss.
Hope to see the HTC One for WP launch in Canada at Bell and Rogers and TELUS around the same time in November.

according to the FCC listings, it seems that ATT may be opting for the powermat version of wireless charging... again

HTC. Recently launched the M8 for Windows. Days ago launched new camera but only released apps for android and ios, already leaving their new WP device behind. No thanks.

Or maybe, just maybe it was easier to port over to other Android Devices and sre still creating the software fot Windows version. they just updated the Dot View case so stop being emotional.

They've just updated the Dot View Case. They are clearly committed to the platform. What I think is that they didn't have the time to built a WP app but they are working on it, maybe working on an universal app for phone and PCs.

Yet, the year old 1520 is still the king on AT&T. MS really needs to communicate their plans for the next flagship. The silence is making me nervous about the future of WP. If WP becomes a lot of only "affordable flagships" than I'll have to consider moving on, which I do not do lightly.

I've explained this many times: The flagship for the US was 'McLaren' before it was cancelled. There was no backup flagship in development because no one does that. The HTC One is 'Plan B' for a Fall 2014 flagship Windows Phone. And this is it for 2014. New high end Lumias due likely in the spring.

Unfortunately, the reason why it happened doesn't help the situation. I have absolutely no interest in the HTC One. We have three lines coming up for renewal in a month on AT&T (two launch 920s and a launch 820), and nothing to really upgrade to. The 830 may fit the bill for one of the lines if its performance is good enough to be faster than the 820. But the other two need better cameras. This is yet another silly pickle for WP to be in. Sigh.

The 830 may fit the bill for one of the lines if its performance is good enough to be faster than the 820. But the other two need better cameras.

Better than what? The 830 has a better camera than the 920. Or do you mean you want to replace the 920's with something that has a camera even better than the 830? In that case you're probably looking at an unlocked 930 or you're waiting until the spring- and yeah, that is a major bummer. I was planning to replace my own 920 in November with the McLaren, but I broke the screen last week and the McClaren's been cancelled. Plan B? Get an 830 off-contract and use that until the weather's warm and we have a new Microsoft flagship phone with Windows 10. To stave off any disappointment, I'm assuming that will be in June. From what I can tell the only thing I'll be missing is "Hey Cortana".

I paid full price for a 1020 for myself that I want to upgrade, and only a 1030 will do there... The remaning line is very jealous of my 1020... she would like something with at least 20MP, and the ability to take pictures quickly. So a 930 type phone would work there, but the 820 is a bit weak for her. I think it remains to be seen just how much better the 830 camera will be than the 920. Certainly specs wise it's not a huge step up as far as I can see. Hopefully the speed will be better with Denim.

Unfortunately, it doesn't change my frustration with MS and WP right now. I was holding onto an upgrade for my Lumia 1520 for months and months and decided to just get another green 1520 after my black 1520's screen shattered from falling two feet onto the pavement. Don't get me wrong, the 1520 is still an awesome device, but the rets of the world is moving forward and, as usual, WP users are getting left behind in more ways than one.

Ohhhh, I bet you felt the phone's pain...

I get it...the urge to upgrade to the next best greatest thing. But, tech wise what is missing with the 1520.3 that other competitors currently offer? Really not much of anything. Tech in phones have really slowed down the past year and I think the 1520.3 will be just as relevant by this time 2015.

Daniel; I think 99% of the people on this site know about McLaren and what happened to it. We just don't like it and complaining about in these forums is a kind of therapy! A lot of us would have been shut up if the 930 was on AT&T, but we all pretty much know that isn't going to happen. My 920 is running fine and I'm more inclined to wait till spring to see what's going on then as opposed to getting a Android in November.

You mean that I might have to go a full two years with my current Lumia flagship? The horror! I just hope that the next WinPhone flagship is as far above its generation of phones as was the 1020 last year.

Thanks for this comment, Daniel. My 920 of 2 years finally succumbed to a drop over the weekend (shattered the screen). I've been wanting to upgrade to a 1520.3 for some time now, but I've been curious as to what's coming and when with 'McLaren' being cancelled. Rather than dropping $500 on a 1520.3, I think I'll just repair the 920 and sit tight for awhile. That HTC M8 is really compelling, though. Daniel having used both, which do you prefer, the M8 or the 1520? (...there's probably an article somewhere here where you address that...)

Yep, kind of curious about this comparison myself. Stay with 920 for another year or switch to the 1520 (is the $500 worth it?)?

You really should get a blog or something. :) The rumbles around the internet that Microsoft should stop trying to reinvent Windows phone and push through with a strategy for more than a couple of years are starting to become interesting to me. I have no faith that Microsoft Mobile won't turn into something else by EOY '16. I am in the market for a phone on ATT next month for my wife. She has had a Focus, a 900 and a 920 then a 900 (she broke the screen on the 920.) Today she is using the 900 on 7.8. I can't wait for her to get 8.1, Cyan and Cortana. I am leaning toward the 830 since I've never owned an HTC product and the Lumias have been great.

And by the spring (I'm guessing any announcements would come at MWC), unless MS brings a massive marketing campaign, a new high end Lumia will not make any significant impact. What MS really truely needs is for Samsung & HTC to dual launch their next iterations (S6 & M9) with Android & WP and for those phones to hit worldwide at the same time. Best case scenario is MS hits next year with a line up of Lumia 940, 1040, 1540, Samsung Galaxy S6 with Windows, HTC One M9 with Windows and LG G4 with Windows. Worst case is a bunch of midrange phones, a 940 in the spring and MAYBE a One M9 with Windows in November 2015.

You're a great writer Daniel and very knowledgeable WP person, but the sooner you admit that the majority of Readers/Commenters on this and many other Forums are absolutely disgusted at the Glacial pace of Microsoft and their pathetic support for marketing WPs from Nokia and introducing new class-leading devices worthy to replace users' L920s, 1020s etc. and vociferously communicate this up the line to Microsoft management the sooner a solution may be offered and the greater our respect will be for your efforts.
We are not all residing in Emerging Markets which it seems are the area of focus for Microsoft at this time and we demand a high-end WP flagship from MS or we will have little other recourse but to look to other platforms if we're to be honest with our own selves and not be simple shills following MS & WP for some iSheep blind-like devotional/delusional reasons.
Best respect always Daniel

Will said Dee_Jay. I appreciate Daniel's enthusiasm and defense of Microsoft. I agree with and understand what he is saying. But at the same time this is pretty disastrous timing for all the people who bought into WP8 with the flagship device and are now ready to renew with nothing in sight. The 830 is kind of a lateral move in many ways, and possible even a downgrade in some (gpu? Send to be done confusion about how well the 830 week perform in that area...). What I personally want is a 1030.

Excellent points Dee_Jay. I think you have encapsulated the feelings of many WP users.

This is a little depressing. I love my 920 (and my contract is up in Nov) but I've been waiting for a high end phone from Microsoft (Nokia) this year. After hearing about the cancellation of McLaren I don't know whether I should bother waiting longer (until Spring like Daniel said) or just going with the HTC One.

The compounded problem is the new phones will likely be announced in the spring, but given past, they may not make it to shelves until the BTS season in August. I'm in the same boat, have a 920, heavily invested in to qi, was looking forward to a 930/1030, am utterly disappointed, thought about holding off to spring, I'll probably go with the HTC, because I don't want to be stuck in the waiting game. There's usually always something better around the corner... Usually... I'm going to miss qi, going to miss my camera button, I'm worried about developer preview support and future firmware updates, but... Maybe I can finally get a decent waterproof case! Daniel, if you don't mind.... What's the future look like for the m8 with regards to do and firmware support? I've always held HTC in equal regatta to Nokia, but it seems they dropped the ball on the 8x/8s.

This waiting game is getting a little annoying and this is coming from a Microsoft fan boy (according to my family).

It's only about 11 months old if you got it day one. Do you expect the majority of people to drop ~$600 every year or less on a new phone? You risk consumer burnout if you push a new high end device too often. Besides with windows 10 on its way maybe they needed to delay we have to assume there would have been a windows 9, but they leaped over it.

I assume you're right that the Windows 10 transition, and the purchase of Nokia's devices business, have contributed to MS pushing back the release of a new flagship. I think a lot of enthusiasts, though, are disheartened about the lack of communication. To be honest, we're just greedy and impatient. Especially 920 users in the US who came on board two years ago thinking we were in the vanguard. We watched as Nokia released the 925, 928, 1020, 1025 and 930 and couldn't wait for Fall 2014 when we'd get to see many of those advancements distilled into what we imagined would be the ultimate Windows Phone (at least up until this point), and the replacement for our 920's. But here we are finally, and McLaren was cancelled and MS has been silent about what comes next. For anyone here that is planning to buy on-contract, it's hard to be happy waiting another 6-8 months for a new flagship on AT&T. Smartphones are a fast-paced business and if you're not refreshing every 12-18 months it looks bad and people are unhappy. No one expects every consumer to buy a new flagship every year, but when someone does go shopping for a new phone you don't want them comparing the competition's brand new device to one that you released two years ago.

Well said sir.... Well said.

Great points. It's almost like MFST I ignoring part of the reality of the marketplace.

I think it's pretty normal to expect a new flagship every year. Look at the iPhone, HTC, Samsung... A new flagship is unveiled every single year. This is important because not everyone's contract renewal schedule is the same, so a new device needs to be available when you renew your contract or they'll go elsewhere.

The real story here is "Why Microsoft killed their top shelf line of phones?" My supposition is they're focusing on midrange to acquire OEM partners for the upper tiers. I say its a bad move though. All those OEM partners for laptops and a lot of good it did them. So much competition on all specs.

What you said is what it looks like MS is doing with the Lumina line. I want a flag ship phone not a mid range or el-cheapo phone.

The Rock: It doesn't matter you want!

Read our story on why they cancelled McLaren. Between the Lumia 930, Lumia 1520, HTC One and the planned McLaren, Windows Phone did have a strong high-end. Without McLaren, all the carriers have a hole left on their planning charts.

Yup, I'm sitting in that hole now waiting...

Don't get crushed when it fills.

Unfortunately, is may not matter what high-end phone goes where. Until MS finds a way to properly relay WP benefits and worth to the carriers, traction for growth is going to wane. Most salepeople are like everybody else, invested in a platform and biased against WP. Almost every salesperson knows nothing about WP and/or actively pushes customers away from WP when inquiring about them.

Daniel, how do you think the carriers felt about Microsoft canceling the McLaren? Do you think it will hinder future deals?

There was justification perhaps for cancelling McLaren BUT MS should have continued heavily investing in 1 or 2 new Flagships to release in the interim. Doesn't take a lot of money and research to carefully update the L1020 model or L925 etc. With a 5" HD display, 64gb option, waterproofing and 4k video capture camera and launch device before Holiday season to keep current WP users happy whilst attracting others into the fold.

But the 930 never appeared on ATT, the largest Windows phone provider. Someone, probably ATT, created their own gap. Naming killed the Icon on Verizon. Or something.

That more likely was Verizon being bullish on not carrying any WP devices unless they got some exclusive flagships.

Plus I'd hardly call the One strong. Even their new Desire Eye with full HD screen is being referenced mid-range by some blogs. Saty-N's 1 year report card is starting to look really bad. Not only the phones. MS kept Nvidia afloat with iffy ARMs in Surface RT and 2. Now they've supposedly abandoned ARM. Meanwhile Google reaps the benefits of the K1. It's really beyond my comprehension.

Sorry to veer off topic, but now that the Icon is EOL on Verizon, will AT&T & possibly T-Mobile receive the 930?

I wouldn't hold my breath.

I can hope and dream! My 925 would be a perfect upgrade for my wife's 521 and the 930 would be my daily driver.

No evidence to suggest this.

Daniel, which phone do you personally prefer out of the 1520 and the M8?

Hoping for the 735 on ATT also, not a fan of physical buttons that can't be hidden and get accidentally pushed. Choice is good and ATT has been the best supporter of Windows Phone so far. I might give T-Mobile a chance since they will let me tether on unlimited data and ATT won't, this can't come soon enough, my 920 power button and camera button haven't worked in 3 months, so I am now fine not having a physical button, good thing I have double tap to wake otherwise it would be useless.

My 920 buttons work....the only things bad with mine is the flash doesn't work, dust in ff cam, and scratch on back. About an inch. Not on anything important. Upped to a 1520 till 5.5-6" phone when win10 is for phones.

I love the concept of soft buttons that hide, but I like the real camera button. Which 735 doesn't have.

I left Verizon a few years back after the HTC Imagio, due to their passive aggressive hatred of Microsoft. It's a shame they have NFL streaming locked up. But I'm glad I left.

Just get sports app and steal/stream live. No problem. You can even enjoy a thrilling game of snooker

Wait, is there a sports app that streams like frontrow & vipbox?

That's why I chose AT&T in the end. More expensive but certainly a lot better support.

I've been waiting for this announce sooo long!

WTF T-Mobile. When are we going to get some good phones like these???

T-Mobile is getting the HTC One for Windows too. They announced it.

They said it was coming, but no info as to when. If they can't give us a date then we can't trust what they say.

Maybe we get lucky and the AT&T model also works with T-Mobile LTE.

Not that this is going to work or not, but we are trying to let TMO know what we want. The petition has grown slowly in the last few days. The more people we can get to sign, the better our fight will be. Check it out. https://www.change.org/p/t-mobile-t-mobile-we-want-our-cyan-update-and-more-windows-phones It is very frustrating. I bought the 925 the day it was released. They talked me into the Jump program and have not released an upgrade from the 925 since. I use my phone for business purposes and a 5XX, 6XX, & 7XX are not going to do it for me.

FINALLY FFS. Icing would be Icon/920 on AT&T. I really would like 1080p.

I love "ffs". That needs to be used more. :)

I'm eligible for upgrade two days after these launch, but I would much prefer a successor to the 920 or 1020. I may just hold on to my 920 a while longer.

I thought the 830 was coming to Verizon, too. Any idea when that might happen?

That was a rumor by TK News, who has proven to be very unreliable. Verizon is getting the Lumia 735. No evidence points to a Lumia 830.

Guess I'll learn to love my M8

I don't think TK News has ever been right about anything.

GOOD, with more One M8s out there on windows htc may decide to pay more attention to the platform and realease regular app updates. Crosses fingers for HTC camera update to fix bugs with auto focus and Lamp assist.

Well this sounds positive, hopefully we should see a global release end of Nov / beginning of Dec for the M8. Otherwise it would be a wasted opportunity, having flagship phones limited to the US is not going to help the Christmas sale numbers.

they should also launch the 930 too seeing has how verizon dropped the icon

With Verizon not caring about Cyan/8.1, I'll move to AT&T. Support, choices, and advertizing is better, clearly. It's no wonder that even though Verizon is the nations largest carrier, it only has 15-18% of the WP U.S. market.

The HTC One is extremely enticing. However, I plan on waiting until spring in hopes there will be some more "expensive" Flagship offerings from MS, I would like a 4.7 or 5" to compliment my 1520. The other factor for me is that I would like to move the fam from ATT to T-Mobile.

I was told by people certifying the phone it would be around 7 more weeks, I wonder if they are actually shipping or just announcing on the 7th

Hmm..seems tempting. Never owned an HTC before.

I'm going to sit on this icon on Verizon for years if possible. I'm just another person that jumped carriers to get this phone.

This is good news for WP fans. Now just tell me launch date of Lumia 1030 and assurance that it will get W10 without any issues. And I don't mind camping outside MS store for 1 week, and I am not homeless or jobless person. Just desperate for 1030.

I was thinking of switching from AT&T to Verizon because AT&T keeps removing Qi. But... I guess that's not happening :)

Finally! I can't wait to have the HTC one

Its about time At&t got something, but with Verizon removing the Icon, the awful carrier support in the U.S. continues. Device stratification continues. Lack of the Microsoft flagship continues. Woes of we 920 owners with ending contracts continue.

I'm an AT&T customer with a 920. I haven't held the 830 yet, but I'm leaning toward it (I have played with the Verizon-edition One). My rationale: The lack of camera button and the power button being on top on such a tall phone annoy me. Even Apple moved theirs to the side. The phone does feel slippery (I prefer not using a case) I'm not a photo junkie but I would prefer the 10MP PureView Wireless charging 830 should be cheaper, so if I buy off-contract I can justfify getting a next-year refresh more easily Daniel or anyone else, I do have 2 questions: 1) does the HTC have a SensorCore equivalent for fitness apps and whatnot? I wasn't clear on if that's standard Snapdragon or if it's Lumia-exclusive. 2) are you sure that "Hey Cortana" requires a Snapdragon 800? The Nokia Conversations blog just said it needed SensorCore. Thanks!

The 1520 is still $200 on contract. Ouch. I hope that drops when the HTC comes in.

Out of these two, the HTC for sure. So tempting.

Already bought my 1520 last week. I'm good.

Looks like November 7th is when I'm finally reunited with HTC again! I can truely get rid of my 920 and keep my ATIV as my backup.

Sticking with my 920. I wish there was a flagship WP that was better, alas, nothing yet. Camera, screen, speed, size, and storage are all important.

930 with SD card and glance screen, with 830 design, this is my dream phone

Kind of late... I've been dragging my 925 for some time... good thing they kept me entretained with the different updates... I was very close to jumping to android, and I'm quiet an evangelist for WP... but I'm also a geek for devices... and my only modern option on AT&T was the 1520... way too large for me. I really hope there one more suprise on november... HTC's are not very reliable, 1520 is too large... 830 is under powered/spec.. Design (the look) on 930 is too bland... :( ... I wish samsung did something for WP... I would buy a Galaxy Alpha running WP without hesitation... (unless microsoft finally comes up with a business oriented / premium phone)

Agreed, love my 920 and would love to see a 1020 revamp!

IPhone comes monday. I am good, enjoyed WP for 2.5 years but its too all over the place.

I'm torn. The One M8 is a gorgeous phone, the Boom Sound and the Snapdragon 801 are definitely attractive...but I think I'm still going to go with the Lumia 830 (on Next) for the camera and HAAC for recording audio. Plus, it will likely be $200 less full retail. After that...who knows!

Man is the 830 coming to T-Mobile?

HTC One: Ugly phone, gimmicky device feature, I'll pass. Lumia 830: Nice device, but NOT a flagship, sorry. I'll stick with the Lumia 1020 until a real replacement flagship comes along.

I'll prefer the 830 for the Lumia apps + it's Nokia

Fabulous. I'm inclined to get both. I won't, but I am inclined. AT&T Rocks.

Will at&t include the built-in wireless charging in the L830, lets hope not...

My contract with T-Mobile (Lumia 925 is their highest end) ends in February. If they don't show more support for Windows phone I'm switching to ATT

Not till I see a flagship with Qi charging, or at least an available case with Qi. I guess ill have my trusty 920 forever. Stupid att..

I'll pick up an 830 but only an unlocked one... never buy a locked phone.

hope to see they follow the 635 example, which is to carry an unlocked phone at the MS store for slightly more. I'd pay $50 more for an unlocked lumia 830 to use with tmobile.

Still going to get a "hulk" 1520 this weekend. Daniel - that review you did absolutely sold me on it - going from a 920 to a 1520 is going to be quite an upgrade :)

I'm so lucky to live in a country where all phones are released unlocked and I can choose which carrier I want to use. :)

Any t-mobile lumia 830 chatter going around Daniel?

I'm still using my 920 on and after November 7. Every Lumia WP since then has made one compromise or another before release. The ONLY knock against the 920 upon its release was no microSD. Back in 2012, it was still acceptable. If it DID have that, it would still be, undoubtedly the best option. It's the HD2 of Windows Phone at this point. It just keeps going. When there is a PROPER flagship replacement option available I will get it. The 830 is too compromised for me. The One M8 is nice but I don't trust HTC support of Windows Phone yet. They barely offer updates on their android products. Also, why was there Desire WP variant announced yesterday? All android, and I don't want to wait 5-10months to see it rehashed anymore. There's no longer an excuse to not have it available with the android option.

The HTC Surround was really supported well by HTC when WP7 came out. The phone had the most killer speakers, hence the M7 and M8 Android/Windows having dual front facing speakers.

Bull... HTC updates regularly for the Android m8.
................................................................. I have no clue what they will do for the Windows m8 but I do know it's a great phone and getting one on AT&T or T Mobile will be a better choice than having to deal with the worst customer service of any USA carrier. With the m9 coming out in the spring of 15 one can only assume that the Windows version will too. My hope is that this time they put a great camera in it along with improved software. Then it will be a harder decision for everyone. What they have in the Butterfly 2 not sold outside of S. Korea shows that they have the technology, but are hesitate to release it out in the world until there's a real demand for it. Posted via Windows Phone Central App

The HTC One is definitely up there on my list, but i really want to know whether it will get the "Hey Cortana" feature before making a decision... right now it sounds like this is only part of Lumia Denim, but could HTC release their own updated firmware that would unlock passive listening as well?

I thought passive listening is hardware dependent, not software.

I think it is both hardware and software dependent - since the HTC One has a Snapdragon 801 processor, my hope was that it will just require a software/firmware update to enable it.

For those that want to buy a flagship phone off-contract and not pay MSRP, hit-up EBay. I got a 1020 for my wife in practically mint condition (not a scratch, not even a smudge) for less than $250. I can live with that and not having to pay AT&T $20-$30 more a month for 18-20 months on their NEXT program or a two year contract. If you go to AT&T with your own phone, each additional line after the first is $19.99 - that's easy compared to the NEXT plan, ~$40, or the two year contract, ~$45-$50.

Can't wait for the m8, I need a big screen with a beefy processor, and that dot view case, just awesome

A truely amazing, beautiful phone! Dot view just got themes too! I hope you can use your own pics like Nokia Glance.

I switched primarily to AT&T because they get behind WP. My 925 runs great. Checked out the HTC One @ Microsoft store in Orlando and its awesome. Love to see all the Flagship phones offer a choice of Windows or Android. People get there hands on a WP they usually like it better.

Wow, I can't believe AT&T is going to soon have 3 awesome Windows phones if you include the 1520. First I wanted to get the 1520, then the HTC One M8 came along with the 830. Gahhhhhhhh......what to do?

I can't wait for my HTC One! I'm on Sprint HTC 8XT. Sprint, T-Mobile, ATT will hopefully be getting their HTC One's by holiday.

I am going to replace my AT&T 920 in November with the HTC M8 for Windows. Not waiting an undetermined amount of time for a new Microsoft Flagship.

Agreed - I'm in the same boat as you.

The wait for a new flagship would not be so hard if I didnt have a YELLOW 1020 :P Would get the 1520 on AT&T if it had the wireless charging built in. Work has told me to get the iPhone 6 plus but I'm holding out....just bitching outloud :)

Time to pay off the Lumia 635 on the Next plan and line up the 830 for a run with it's Lumia family.

As much as I want a new device, I went for a used 1020 on Ebay. This will be my second 1020 first one broke from a pool drop, currently on LG G3 but I miss the Lumia 1020.

I think the one had better sound quality so that's where I'm headed.

I'm torn... Ready to upgrade my Cyan 920 though! I'd rather have the best camera over the cool features of the HTC!

Hopefully a true ms/Nokia flagship will show up on da scene n 2015 Q1 when my ATT contract ends. HTC M8 is good but those who have it now r gonna scream when da new hotness comes out! Lol.++920!

Latest intel? But these both run on Arm. ;-)

Lumia 1580 is coming to AT&T. Waiting on that.

I already tried Lumia 830 (here in Italy) and it seems a very good device (like a 930 but thinner and lighter). But if one4windows looks and works like the Android ones, the choose is of course HTC! Hope it really comes to Italy!

"The One, however, has a larger and higher resolution display at 5-inches and 1080P" Last time i cheched there were 5" displays on both phones. ps: wpcentral site lags a lot on 820 an even on i7 PC.

830 does not have 1080p screen

HD does not make it't screen smaller. Besides, 830 have offscreen buttons, so effectively it it is the one, that has bigger screen, not the One.

extremely torn, coming from HongKong where HTC M8 is not available (and no words on when, if ever, it will be here) 930: looks unexciting, overheating, average battery & camera etc, good but not worth flagship IMO 830: better looking IMO, average screen and battery, marginally cheaper HTC: best looking IMO, average camera, price, not available in HK Am leaning towards picking up a cheaper 830 as a stopgap for the next true flagship in 6-9 months time. 930 just doesn't quite cut it for me.

MS needs to skip Verizon all together and stick with att until one WP makes a big hit. Then the other carriers will want to pay to have that phone.

I think the big problem for Microsoft is they are builting too many different phones and not supporting any of them. All they need is four phones, 535, 730, 930 and the 1520. Then they should keep upgrading these phones every year.

You should be able to put the dev preview on that Icon phone I would just do that if your in need of 8.1. Cyan is really no big deal anyways other than being able to say you have it.

As a photographer the 830 is the only real choice.

Lol... and for what reason do you pick an 830?

It's an upgrade from the great camera in my 920. I think Lumia cameras and software are the best of all the current smartphones. I also like the expandable storage and all my Qi chargers will still work. What's so funny?

It's funny bc the only thing that could possibly make a difference is the MP's...which are only good for cropping a little at 10mp.