AT&T HTC Titan II makes a very nice first impression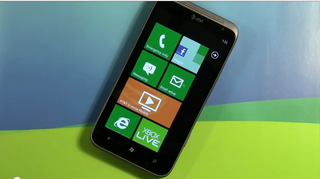 The FedEx truck dropped of AT&T's latest Windows Phone from HTC earlier today. While Nokia's Lumia 900 is getting most of the spotlight, the HTC Titan II is quietly landing on AT&T's store shelves on April 8th and it makes a very impressive first impression.
Okay... here's the tell of the tape. The Titan II measures in at 5.2 x 2.7 x .50 inches and weighs only 5.18 ounces. The original Titan measures in at 5.14 x 2.78 x .39 and weighs 5.6 ounces. And for those curious, the Nokia Lumia 900 measures in at 5.03 x 2.7 x .45 inches and weighs 5.6 ounces. These three phones are extremely comparable in size, weight and feel.
The Titan II's 4.7" Super LCD looks great and is backed by a 1.5GHz Snapdragon processor. You'll find 512mb of RAM and 16GB of storage under the hood. Speaking of the 4.7" screen, it has a unique shape in that as the face of the Titan II reaches the three front buttons, it curves out. Not really sure why it's designed this way but it gives the Titan II just enough contour to make it feel really good in the hand.
Unlike the Titan, the Titan II does not have a removable battery. There is a SIM card cover but no battery access. And where the Titan has a bare metal back, the Titan II has a rubbery finish on the back that gives the Windows Phone a little more gripability.
HTC has done a very good job at improving upon the design of the Titan with this new Windows Phone. The volume, camera and power buttons are textured to give them a better feel, the 3.5mm headphone jack isn't as recessed to give you a better connection, and the unibody design just works.
Oh... did I forget to mention the 16mp rear camera? I'm really curious to see how the Titan II's camera performs. The Titan II uses the same BSI Sensor that is found on the HTC Titan and Radar which helps handle low light situations a lot better. My main curiosity is how well the small sensor handles the larger resolutions.
Titan II or Lumia 900? I've got both and based on fit and feel alone, it's a coin toss. Over the next few days I'll take the Titan II out for a test run and get a full review up on the site shortly. From there, we'll also take a look at both the Lumia 900 and Titan II side by side to give you a better idea how these two Windows Phones compare.
Stay tuned for there is definitely more to come.
Windows Central Newsletter
Get the best of Windows Central in in your inbox, every day!
George is the Reviews Editor at Windows Central, concentrating on Windows 10 PC and Mobile apps. He's been a supporter of the platform since the days of Windows CE and uses his current Windows 10 Mobile phone daily to keep up with life and enjoy a game during down time.
I want the Lumia, but that 16 mp camera and bigger screen and battery is very tempting. I can't wait to heat a good comparison between them.

This is a great article thanks for sharing this informative information. I will visit your blog regularly for some latest post. I will visit your blog regularly for Some latest post.
Latest Melbourne Cup Results

I think I am a little more drawn to the Titan II, but I would NEVER turn away the 900!! ;) These both seem to be the front-runners, but I am a Tmo customer, so it will be a while before I ever get to see such goodness in my clip/holster... Just have to keep enjoying my HD7 til it dies out on me... It has been my trusty-guy since launch, and I am very happy with it, but all the other devices have their perks, that DO make me a little envious... :S What can ya do?? Maybe just pay full price for one of the puppies, if Tmo can't show me/its cust-base a little more of some "high-end" spec devices here soon... Fingers-crossed for that, bit Apollo might be here before I make my move (to purchase another, not change carriers, ;) )... I am drawn to those LARGE screens for my media viewing/capturing/showing off, especially with my 8 month old!! Never have I had a device that has pumped out over 5k in photos, even with 3 other "better" cameras in the house!!! Just something about having that bad-boy on ur hip, when she makes those goofy faces and sounds!!! C'mon Tmo, bring me some love!! :)

I'm in your exact position. Love my HD7. I'm just waiting for an Apollo phone, or when the 900 is released on Tmo, with an even better camera. Or so I've read...

Same here. Still using tmo's best windows phone the HD7. The 900 is cool but I want the Titan 2. I hope tmo gives us something high end soon.

I feel you. I'm rocking with the Radar 4g just because the screen is better and the opportunities for video chat make it a nice device until something great finally arrives.

Yep, sounds like a coin toss to me. But honestly, I think the price difference is a bit of a deal breaker. Looking forward to seeing a head-on comparo of the Titan II and Lumia 900...

HTC should have upgraded to 32GB or something to justify the extra $100 over Lumia 900. If you're going to be collecting megapixels you may as well have some space.



Really looking forward to a full review and comparison. Like many (I'm sure) I'm torn between a the two. I've had my HTC 7 Trophy since launch but it's seen better days. I know the Titan II (Titan 4G) is making its way to Telstra in Australia soon.

Is it bad that I own the TITAN but feel I need the LTE speed, 16 mp camera, and design improvements. I mean if I don't spoil myself who will ;-)

Thank you so much for the post you do. I like your post and all you share with us is up to date and quite informative, i would like to bookmark the page so i can come here again to read you, as you have done a wonderful job.
mighty sealer

i wouldn't call the non removeable battery an improvement. They better have packed a higher capacity one in there. Titan owners can take advantage of some of the more powerful batteries in HTC 'roid devices.

I'll stick with my lovely aluminum Titan until Apollo.

Yeah its bigger. Its 1730 mAh instead of 1600 mAh

I honestly think the titan ll will come out being the better of the two because I have the original titan and I got my lumia 900 today (yes I've always carried two phones) and i have been comparing them and Nokia beats it in screen quality and lte but that's about it but don't get me wrong I'm in love with them both. That 900 screen is gorgeous but the camera suck hope Nokia can fix that

Titan's awesome, too bad it's so much more expensive than the Lumia where I live.

It's an awesome phone and I thought I would be going for a Titan/II before the beautiful design and colour of the cyan Lumia 900 seduced me. I think don't the Nokia apps are getting the attention they deserve from reviewers either. Advantage Lumia 900 now and I suspect Nokia will be extending their advantage in that area. If you live outside the US, there is also a big advantage to Nokia Drive.

My 900 arrived today, and I am very pleased.

The price and the polycarbonate uni-body will make the 900 more desirable unless HTC produced a killer camera.

WPCentral maintains that the Titan currently has the best camera available for WP. Let's hope they didn't screw it up on the Titan II.

Oh, golly. I love my Titan but I can learn to love a Titan II or 900. I don't want to look at other phones!! Im glad this is a problem. Yey, selection!

HTC's terrible quality control is enough to keep me away from the Titan II. I bought the original Titan and the crap voice quality and poor antena made me return it. That was the third HTC device I have had to return for multiple issues.. never again will I buy an HTC product.

Terrible quality control? My HD7 is the best phone I've owned and my TP2 is still kicking even tho I retired it.

No problems w my trophy either

Seems the first generation of Titan released had back cover issues. You had to change back plate and voli'a, worked awsome. Love my Titan I

I guess I got lucky. My Titan has been great. No complaints at all.

Me too, its Titans produced before Christmas that got a iPhone issue. They changed back cover and it improved. There's a good reason the back on the Titan II is not metal like the first.

I also got the original Titan last November. I love the screen and the overall performance but the call quality and antennae reception have been disappointing. HTC has been acknowleding a problem since January but does nothing to fix it. Unfortunately, this will make me think twice on future purchase decisions. Not saying I won't buy an HTC but I will wait to hear about it first.
All manufacturers have issues with new product releases, just look at Apple. But the fix it with firmwear or replace the device. HTC is doing neither of those. Very frustrating to be on important calls and people cannot hear you clearly.

I would choose the Nokia over HTC for sure. I've had 3 HTC Android devices in the last 2 years and none of them are working now. I now have a Lumia 800, and it just screams of quality. I haven't had it long enough to compare the durability, but I can't see it being any worse.

I put a hold on buying N900 or Titanll cuz I m pleased with my Radar 4G and waiting for Apollo WP and really excited to get my hands on it.... Hope at end of this year, get a glimpse of Apollo WP8. I m really spoiled in buying these beautiful gadgets...LOL Now looking for Apollo WP8... Come on MS and Nokia show some love to customers with WP8...waiting!!!

I'm still on my HD7(which I love) but I'm very envious of at&t because they have the best WP phones all I really want is a better battery on my phone that's all really besides that, I'm good where I'm at

Speaking of quality, my Sprint Arrive has been dropped I don't know how many times. That thing is built like a tank! Saying that, I now have the Lumia and I am totally impressed and the Nokia apps takes this thing over the top. Nokia Maps, Drive and Transportation FTW!!
*** Now I wait to get my Windows 8 tablet and I will rule the world!!




I also loved the build quality of the Arrive; it just feels solid in the hand. Much more so than my fiancée's Galaxy S II. That said, the WiFi reception was truly terrible. Sent from my Lumia 900.

Didn't realize how close in size the 900 was compared with the Titan

This is my next phone unless someone comes out with a new qwerty device before july. I can't wait to be back with HTC.

HTC have had it. Their Titan £500+ phone was released just before Christmas and they have already replaced it - disgusting.

Im rocking the titan atm. I really love it. But im gonna hold on to it untill we know if we get apollo

I love the over all feel of my lumia... Hd7 is just old design..

personally the unique design of the l900 (not to mention some color) and the nokia apps are what sold me on it vs the titan, yea it might have a better camera, but the l900's camera isn't bad either, and when all i do with my pictures is email or facebook them, it works just fine.

but it's nice that we have some choice in handsets (well, if you're on att that is)

I'll wait for Apolly/WP8, since I'm 100% sure that AT&T will screw up the update process if they update at all. We still don't have the "vanishing keyoard" fix put out by Microsoft in early January, because AT&T doesn't like releasing small updates and would rather bundle them into a larger update later. Thanks for leaving me with a broken phone. Anyway, I'll stick with the Titan until WP8 and then I'll probably go with Nokia. They are really stepping up with OEM apps that fix the gaps in the platform (I *really* want the Nokia Drive GPS navigation app)

Lucky punk... You get yo have both phones

Does this have LTE? I'm sure I read it somewhere that it does...

Love the looks of the Lumia but I think the Titan 2 would make me happier, so long as the Titan's voice quality was addressed.

HTC is one of my favorite brands. They always seem to innovate stunning looking smart phones. Alex Website Admin - www.gunsafekeeper.com
Windows Central Newsletter
Thank you for signing up to Windows Central. You will receive a verification email shortly.
There was a problem. Please refresh the page and try again.