AT&T Lumia 635 now receiving Windows Phone 8.1 Update 2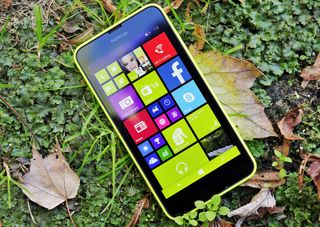 AT&T has commenced rollout of Windows Phone 8.1 Update 2 to the Lumia 635. The update brings several new features, such as MKV playback, Reset Protection, ability to connect to external Bluetooth keyboards and much more.
For a list of all that's new with Update 2, head here. The update bumps the OS version to 8.10.15137.148 and firmware version to 02173.00000.15154.50010_084, according to Microsoft's software update tracker. As a reminder, the Lumia 635 is one of several devices that will make the switch to Windows 10 Mobile once it arrives later this year.
Already received the update? Head to our forums from the link below to be a part of the discussion!
Lumia 635 on Windows Central forums
Source: Microsoft (opens in new tab)
Thanks for the tip rhapdog!
Windows Central Newsletter
Get the best of Windows Central in in your inbox, every day!
Harish Jonnalagadda is a Senior Editor overseeing Asia for Android Central, Windows Central's sister site. When not reviewing phones, he's testing PC hardware, including video cards, motherboards, gaming accessories, and keyboards.
No seriously, when will the HTC 8X get update 2?

It may not be. Seriously, i dont even have official 8.1 as my 8x still running preview for devs.

HTC is done with the 8x I believe officially.

2 years support, it's past that time I'm afraid. They may still release the update in the future, though if you want it then you may obtain the preview for developers if it's there.

My 1520 and 925 are just a little sad

Should have came to the lumias first. But maybe soon

There's nothign to give up. I just find it sad that the lumias aka phones that sell are being side-lined for the M8 is all. Good to see something like the 635 get it though

My precious 1520 waits impatiently...

Exactly... My wife's and sons phone just got an early Christmas bonus... Come on 1520...

My 925 does I don't know how though

The 920 does not benefit from Denim unless you are not on latest 8.1 using Preview for Developers. Update with latest PFD and you'll have everything Denim provides for the 920, 925, 1020, etc. Only the 1520, 930, and 830 can take advantage of Lumia Camera 5, so I don't know why other phones need Denim? Update to PFD already!

I've got it. It's not a matter of needing the software updates. It's the principal of being promised 3 years of software support and having major updates skipped by carriers. It's just another item on the long list of failures by Microsoft. I mean, if they hadn't gotten our hopes up with McLaren AND kept the 930 off of AT&T, I could have upgraded from my 920 last spring. Instead, I stuck with my 920 to see what McLaren was. That got canceled, and I was waiting because we were told we'd get W10M in the summer. Now that's looking like a fall release, meaning I passed over the 1520 TWICE because of Microsoft's broken promises. Now I can't get the promised software support on the hardware I'm basically sitting on because Microsoft's incapable of delivering anything in a reasonable time manner? I'm complaining because Microsoft's incompetent, not becuase my phone's broken.

1. Its 3 years of updates, not 3 years of EVERY update. 2. the carriers. no going around that.

1. Yes, but that doesn't mean I should be happy if that results in one update every year. Tthat's not reality, I'm just using hyperbole to explain the fact that promising software support, then skipping updates for months is crappy nonetheless. 2. The carriers didn't cancel McLaren. The carriers didn't skip over AT&T with the 930. The carriers didn't spend a year releasing mediocre phones, tell everyone W10 would be out in the summer, then wait until the lastr minute to throw out that Mobile devices woudl be 3-6 months after that. Carrier updating issues arent' a catch-all for everything Microsoft does wrong, including letting themselves get railed by carrier updating methods in the first place.

when did microsoft say w10p will be out in the summer?

1. That's the most ridiculous statement ever. You sound like a google or apple fanboy when you make that excuse. It's bullshit. 2. Really? And yet Apple DOES go around that, every single upgrade cycle, 100% of the time, and they have for the better part of a decade. So tell us all again how there's "no going around that." The bottom line is: Microsoft is failing at mobile so hard, and shitting on its customers all the way, that we should really all just abandon ship.

+830 Agree with you completely Keith!

1.They didn't say a thing about McLaren 2.They didn't keep L930 off AT&T..AT&T didn't want it 3.Ask your carrier to get the updates. Microsoft has already handed over the updates to carriers.

1. Yet they didn't make it known it was canceled until way too late for many to reasonably upgrade. 2. Prove it, or don't say it. I can just as easily say Microsoft made a deal with Verizon to never release it on AT&T, but without proof, it means nothing. It could have solely been Microsoft's unwillingness to pay for more chips to produce more 930's, for all we know. 3. Yeah, becasue saying, "may I have the update?" has ever worked. Microsoft's the one who let carriers handle that crap in the first place. Apple doesn't do it, and Windows 10 won't do it, either. Microsoft made that decision to screw the customers.

1. They never promised McLaren. It was all rumors. The only official info was that it won't be out.
2. Yet you claim MS "kept it off of AT&T. So like you said. Prove it. Otherwise it means nothing.
3. "..to screw with customers" doesn't deserve any other response than: LOL

This is the carriers' fault, not Microsoft's.

Microsoft agreed to this update methodology.

With the little market share WP has they have to give in the carriers demands. Just be glad Microsoft gave us an option like Preview for Developers and Windows insider. Apple basically owns the market and Carriers want the best selling phones. That's how apple gets away with it.

Do you have any idea what you are talking about, Keith??

The whole thing is a disaster, and if the developer previews are anything to go by, Windows 10 mobile is, at least so far, a *complete* disaster. I'm seriously thinking about going back to iPhone. Microsoft doesn't know what the fuck it's doing in phones.

LOL. Funny how much things can change in a couple of weeks. The latest build of W10m is quite nice and starting to show where this is going. I am predicting now that come October, Microsoft will have without question the best mobile platform on the planet with unparralleled integration with desktop. It will be seamless and awesome.

I got Denim on my 920, and why I wanted it was because i wanted folders and cellular data in the action center...

Denim or the Developer's Preview with the flaw that makes it say Denim?

Yes, waiting for Denim for L-920, and hopefully official AT&T 8.1 2 OS..Not getting my hopes up though..Just (hopefully) 3 month's till Lumia 940XL and Windows 10 Mobile...held off jumping ship for Galaxy 6 Edge..lol

My 920 (Italian CV) is on Denim now and stability seems worse than when it was on Cyan with PfD.

What about the 830? Why is this new phone left behind...

My contract with AT&T is over end of this month. Seriously considering selling my crippled falsely advertised 830 and telling AT&T to go screw themselves!!!!

I'm with you.. I was at a Microsoft store today and the dude was like "next time get your phone from here. We would switch it out for an unlocked one"

Yeah but the unlocked 830 only just got US carrier variant Denim less than 2 weeks ago. Still unacceptable!!

Yeah, AT&T delivered Denim to the 1520 before most CVs got it. It's starting to look like you're better off with a carrier-branded device, as long as you can get it unlocked.

Yeah, cause the updates are way better on other providers, lol. Think you just need an iPhone.

Yeah it's too bad iPhone updates and static boring home screen don't impress me, or at this point I'd consider switching to one.

What's going on here? Am I missing something? Why isn't my Lumia 1520 receiving this update before these other less than...#IDigress

I have a 1020. Will I get Update2?

I keep checking for updates on my 830 and nothing. Why AT&T? Why??? PATHETIC!!!!!!!!!!!!!

How about my 735??? The 830 and 735 were promised it a long time ago, but now we're the last ones to receive it. Typical Microsoft.

Sadly not AT&T in my case. I have a carrier-free 735, so updates come directly from Microsoft.... No carrier to blame.

I feel like the 735 is getting no love from anyone. Carriers and Microsoft

I think even if you have country variant, your update still comes through the mobile company that you are using. Maybe I am wrong though.

CV phones are still tested on the cellular networks in that country.

The 735 has received GDR2 in several countries

My 735 in the UK got the update a week ago.

Great! I'm not seeing it on mine yet though. I'll keep spamming that check for update button.

Also not seeing it on my 635 :(

WHAT!? :O
Holy jeebus I'm soo updating naow
(checking now)

Here's hoping the 830 is next. My patience is wearing thin with faux Denim and this thing randomly reboots almost every day. Some apps don't even work anymore.

You have other issues. My 830 has only rebooted maybe once. A long way from daily. Daily rebooting phones typically have a hardware issue.

I don't have these issues with my 830 and I also have faux Denim. Hard reset maybe?

What about cricket?? Since att owns them?

I'm still on Cyan. I fear us lowly, cheap-assed cricket people are at the bottom of the heap.

My AT&T 635 isn't getting it yet. :(

Im on latest DP on AT&T Lumia 635 and not getting any updates yet.

Uncheck DP and keep trying.

It was already unchecked in the first place, still no updates~

What about the Lumia 535?

To answer TAS. Beens the Id of the phone, the IMEI, is affiliated with Att, you should get it too. Unless ATT singled cricket out. Highly unlikely of that. 635 got it first because more of them were sold and that was cash for them.

I can hope I guess...thanks

everyone will get update 2

Mine still says phone is up to date. Guess its a staggered rollout. Looking forward to it. I need something to cheer me up.

I have the update and it's great! I love the Live folders and pinning some of my most used settings! You won't be dissapointed with this update

What phone do you have that has the update?

Great news! Now...full Denim and Update 2 for my Lumia 830? Haha.

What taking it so long to hit phone

To all of you, just sideload it with Nokia Care Suite. Or wait. You'll also get it eventually, so... :) Oh, and apparently, the prepaid version of the phone is the one without the update, while the postpaid already has it.

When will the put out the update

AT&T Nokia Lumia 1520 Helloooooooo!

Why only for carrier locked ones? no updates for unlocked ones...is there any updates available for Asian countries?

Now, I can expect update on T-Mobile Lumia 635!

An update from T-Mobile? Are you kidding?
Posted from my Lumia 810.

I'd enjoy this... if I could get my 635 to stop giving me a 80072f8f error...

Its kind of funny how everything is split off now some people are waiting for the next gdr while others are waiting for the next preview build and some are waiting for both. Then once Win10m goes RTM everyone is gonna forget about both and wait for that to be released.

What's taking update so long to come though

When it will be available for my 620?

When will the update hit finally my 635 keeps saying your phone is up to date

FYI AT&T updates require that you have an AT&T SIM in the phone. Otherwise, no update for you. That's always fun! Posted via the Windows Central App for Android

Not the case.Updates are pushed thru no matter what Sim you're running.

No its not I had a att Lumia carried it back to Jamaica unlocked it and used it there I still received updates

I want Lumia 830 updateddddddss

when will the Lumia 520 get update 2?

I have 2 Nokia Lumia 635s unlocked from att and placed on two Brazilian carriers, Claro* and Oi* are my devices not eligible because they aren't on att network? My regions are for stateside.

You'll still get the update beacuse there still AT&T phones and since they are AT&T you'll get the update everyone else would.

And we "preview for developers" are still stick to cyan.........U_U
(I'm running WM10 build)

Uh....that hasn't been the case for more than half a year

Hope my Lumia 630 get's it :)

The Lumia 635 (in any country) doesn't have GDR2 except by way of the insider preview trick. Check availability here http://www.microsoft.com/en/mobile/support/software-update/wp8-software-update/availability-in-north-america/

Any chance that my 620 would get the update? The native MKV support sounds good

nope....straight to windows 10 mobile....

Well, then I hope they optimise it well. But by the time 10 comes out, I'll probably have a new phone :D

There is a tutorial by me on getting update 2 on devices with microSD in the forums, check it out. You'll be able to get it today Here is the link:
http://forums.windowscentral.com/windows-phone-8-2/359510-5D-in...

Hey!!! When is my Nokia Lumia 735 going to windows phone gdr 2 update in India.My friends who own Lumia 640 and Lumia 535 got new update for wifi calling and so on.If i try the windows insider way i was pulled out windows 10.Then i had to reset it.Is there any official date for the update or is it because i bought it from Oman and now i am in India.Pls HeLp Me!!!!!!!!!!!!!!!!!!!!!!

I just wish they would update for their new phones and phones they promised 1st to get them/ get them first

I talked with someone from att and asked what's the deal with denim for the 830, he said something like they have to make sure it works and doesn't cause problems, I'm like but ur not even telling people I are working on it, do have an eta he said no, then gives me a link to a page that shows current updates, I'm like your fucking useless, att u suck. CV versions have the update so obv it's safe, I'm like u need months to check out half a software update that gives me camera features, complete waste of time they are.

Seriously they need simultaneous roll out to match apple.

You have to have carriers willing to play along to do that since it could mess with the connection to the network and they get blamed for it. Apple gets around this by doing the primary testing and by being a demanded phone.

Im still checking phone update on my 1520, hoping it come any time soon.

Telecomm companies are awesome

Hope Lumia 520 gets coz I'm tired of the same thing since January

Why hasn't the update hit my Nokia 635 gophone

Will X20 phones receive update 2?

Wouldn't bet on it. You'll get w10 though.

This is not showing up for me....?

Will the Lumia 520 get this update? or this phone is too old now?

Harish I didn't expect you post this without proof. In my tip I mentioned it's available on Navifirm and would start seeding anytime now, not that it's live it. Looks like most of them haven't started getting them.

Don't think anyone with a AT&T 635 has received it yet.

Folks in Las Vegas have from what I'm hearing. Sounds like a rolling update.

Supposedly went live yesterday.One hell of a slow rollout then.Still haven't seen anyone post that their AT&T 635 has received update 2.Can anyone on here with a AT&T 635 confirm.

There are reports of ATT 635 update 2 in the 635 forums.

Everyone in the Forums are saying this article is bunk.No updates have went out yet.

Read the top post here: http://forums.windowscentral.com/nokia-lumia-635/360543-did-anyone-else-... And there are probably many 635 owners that don't know places like this exist that might have received the update. No way of tellin'.

It doesn't matter what city your are in. Never understood the "I'm in Chicago and have the update!" posts. Software lands on a phone if the IMEI is flagged. On the beach or the moon, you will get it when your number is called. Posted via the Windows Central App for Android

I suspect many were not aware of this. I know I wasn't and heck, I'm from Chicago and no I don't have the update BTW.

All my friends who got the AT&T 635 got the update, one my my friends say that Denim is on the 635s at the AT&T stores when she whent and my other whent to the MS store and they had Denim too on the 635 on the AT&T version.

Haven't heard of anyone that has gotten it yet. But then it's not even been a whole day since the notice was posted. Could be in the next hour, could be next week

I have the update I love it! I love the Live folders and pinning some of my most used settings on the start screen

Welcome to PFD about 6 months ago......

Can confirm. At the beach with moonlight, and I got my update.

There is a schedule to accompany the release of GRD2 or only hope?

It would appear this is a cluster ***k. Sigh. To much drama on wc lately. Maybe a break is in order untill i get back my sense of humor.

There is no update. We have been trolled.

I concur. Neither of my 635's is reporting an update available.

Then what does this mean?
http://www.microsoft.com/en-us/mobile/support/product/lumia635/softwareu...

And this? Notice the "don't panic" mention. http://www.neowin.net/news/windows-phone-81-update-2-is-rolling-out-to-a...

I believe that MS has released it. I will believe that ATT has released it when I see it on my phone. Posted via the Windows Central App for Android

My HTC 8X finally gave up the ghost and I bought a Nokia Lumia 635 Go Phone and put my AT&T sim card into it. It works great. 2 seconds ago, I checked for updates and there aren't any. It would be just a novelty for me as I'm just waiting for a 5", 1080p, 8xx+ Snapdragon, 128 gig support phone on AT&T anyway. When I bought the 8X on a two year plan back at the end of 2012, It was a flagship. Now I'm waiting for an update on a 635 Lol

Getting an update on Nokia Lumia 930 Unlocked in UK.... It can only be Update 2 I guess, will confirm shortly.

Nevermind, it was a minor update as now confirmed in another page, back to the waiting game for Windows 10 Mobile...

Why haven't my Nokia Lumia 635 gotten the update

Hey Daniel, either update the article, or pull it down. Nobody is getting it over a day after the article stated it was live. Source of the update rumor?

Not a whole lot of positives about this update. But what else is new.

i am confuse who phone i am buy 1.xolo win q1000s 2.xolo win q900s 3.nokia lumia 638

Current understanding is that if you have the 635 Go Phone ( SKU 6561A ) you will NOT be getting the update. If you have SKU 6599A you will be getting the update. Since I'm terrible making predictions, especially about the future, I have no idea if the 6561A will get the update later. Check the box your phone came in for the SKU #.

Does it matter if you have a physical GoPhone but an At&t SIM card inside?

Sim doesn't matter.Go Phone is still a Nokia 635 on AT&T.Im I missing something here?

I mean I purchased the phone as a GoPhone, but used a SIM card that didn't come in the box.

The windows 8.1 update 2 going to come out next week for nokia Lumia 635 gophone according to att

The week has come and gone. No GoPhone update. Maybe next week? Maybe not.

I have not received the new update either.
Windows Central Newsletter
Thank you for signing up to Windows Central. You will receive a verification email shortly.
There was a problem. Please refresh the page and try again.