Windows Phone 8.1 GDR2 adds a Reset Protection feature to stop smartphone thieves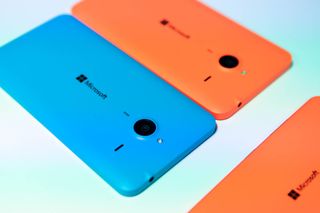 Microsoft will offer smartphone makers a new anti-theft feature if they use Windows Phone 8.1 GDR2. The Reset Protection mode, when enabled, won't allow a thief access to the phone, even if he or she tries to hard reset the device or flash a new ROM on the smartphone.
The feature is describe by Microsoft in a post on its OEM development center site:
If a legitimate smartphone owner forgets their Microsoft Account password after the device goes into Reset Protection mode, they can still ask their device manufacturer to request an unlock key from Microsoft.
We will point out that this feature must be enabled by OEMs on compatible devices when they are first made, so don't expect it to be available for the vast majority of Windows Phone products. At the moment, the GDR2 update is only available on the Lumia 640 and Lumia 640 XL, and there's no word on when, or even if, it will be released to other smartphones.
Source: Microsoft; Thanks to Aman for the tip!
I wanted a password for reset option. If someone resets phone from settings, it must ask for an account password! Its here finally!

Still there is Lumia software recovery tool ....

I think this means no to the Lumia Software Recovery Tool

The Reset Protection mode, when enabled, won't allow a thief access to the phone, even if he or she tries to hard reset the device or flash a new ROM on the smartphone.

It'll work but then you'll need to put in your password Posted via the Windows Central App for Android

It was not About thieves. My frind once reset my phone just for the sake of fun. And I couldn't do anything because the phone was in his hands and he just went to the settings page just reset it. The problem was that anyone can make such a big change on my Lumia without any passwords or pins. That was a shame. Now they have done it.

You can still reset the device, it just requires you to enter your credentials after the reset.

Seriously? I don't know that any other platform has this (not sure), so why would this be "about time" as if they were a lone hold out of security?

iOS might "have" this, but 2 months ago I asked the major telco here in Australia about it (as it requires telco support) and the response was - we're looking at it but can't give you a timeline oh and btw there is only one telco worldwide that has deployed support for this. So while iOS might "have" a similar function through DEP, it's not a function that you can readily use unless your on that 1 phone company. This solution sound way better and doesn't require telco support by the sounds of it.

What are you on about? I most likely work for this "Telco" that you won't name and I can assure that the Reset Protection feature that is built in to Find My iPhone by default does NOT require any carrier support. It works by itself.

Well you learn something new everyday :) but I was actually referring to the DEP (Device Enrollment Program) if you notice my comment.

What you are essentially referring to is MDM... This still doesn't require carrier approval or support... A great example of it is AirWatch Agent which allows over the air monitoring and control of Corporate devices...

Yeah except, I was specifically referring to the DEP. MDMs use DEP to enforce this, however I then refer back to the earlier comment about what I was told only 2 months ago about lack of availability.

Android 5.1 has this so yes they are the only one.

Pfff, Android 5.1 is a unicorn in the android world. Very few people have it.

I'm pretty sure this was in Android 5.0, becuase there are some Samsung Phones that shipped with it Enabled, at least in some markets. Reactivation Lock, I think it is called.

BlackBerry has this for ages

iOS and Blackberry have this.

Blackberry had this also until recent OS

Both iOS and Android have this.

Yaa i want also HARD RESET password option

How is this not what you want? Are you saying that it should require ms password before reset?

The Nokia 1208 feature phone have this....so MS is trying new...and say better things...

That's the option I was wondering about since WP 8.1.

Is it that hard,to let us know whether it will or won't get released before WP10 ? What's with all of the secrecy??

There's no secrecy, they said from the beginning that they won't roll out GDR2 to existing devices.

By they you mean a writer for the verge..right?

It was mentioned here as well

They wrote that there isn't a word when and if, not that MS stated it'll never get a release.

Finally! This is one of the best things about iOS and now we'll have it! Can't wait!

IOS? Yep. Only for version 6 and above. Those on 5 are screwed. Can't believe these assclowns didn't release it for everyone.

Funny saying this since this one her is restricted to wp8.1 gdr 2 or higher and oems and carriers can forbid it..those ass clowns..right

98.2% of iOS devices are on version 6 or greater, I would say that's pretty good coverage. But more importantly this is a very good thing for Windows Phone as Apple has should this feature has a profound effect on theft.

I think he means Iphone6 not ios 6.

No. He means iOS 6. It was built into Find My iPhone as part of iOS 6 and higher.

No, he clearly means iOS 6 as the feature has been available for devices before the iPhone 6 was released (iOS 6 can run on devices all the way back to the iPhone 3GS and iPad 2).

Gdr2 and windows10 can run on all devices running windowsphone8 or higher...

pena q n vai ser para o teu

great option!!! very usefull

Give this gdr2 update for older lumia devices reset protection is a must for lumia

Isn't running WP enough of a theft deterrent? :)

That won't help, read the article please.

Omg gdr2 is there only for 640 and xl. When it will come to our devices. And then we have a long waiting for windows 10 for phones. Its gonna take more 6-7 months for Windows 10 for phones

Stop crying like a baby sir....

I'm pretty sure you just answered your own question.
When Windows 10 is released I would imagine, for Insiders sooner. Microsoft is too concerned getting 10 ready than to faff around with another slow release of updates like with the Denim update.

Unless it came preloaded with your device (640,XL), you won't get it

Great inspiration from iOS but would be good to know if or when we might get it.

When you buy a new phone with it.

Inspiration from those who inspired from others?

Windows 10 will definitely have this then! well hopefully.

It would be great if they released this GDR2 update to Preview for Developers! Gabe Aul is on Windows Weekly right now. Maybe he'll say something about it.

Same here. Probably won't happen with older devices.

Finally, but too late for me. I had my Lumia 930 stolen about a month ago, and someone managed to remove it from my MS account.

I love this, I love the new MS, just hope this comes with windows 10

It took so long to get the denim update WP10 will be around before we get 8.1GDR2

T-Mobile and AT&T have to update their phones. Zero progress except for the 1520.

Now I understand why GDR2 is not readily available for all lumia devices. Once you go GDR2 and things don't turn out fine and dandy, you're stuck. You can not go back to a previous verion of windows phone and the phne will stay in GDR2 forever or move forward(? GDR3.....?????) So GDR2 is not for the faint-hearted possibly. Interesting move by microsoft to do this. Have other OEMS ever attempted this?

They'll provide options. It's not a necessary feature.

Other OEMs are too scared.

"if the device is flashed with a new image and Reset Protection is turned on, the Microsoft Account credentials that were associated with that device is required to finish OOBE and use the device" If you have the MS Account credentials you can flash your device.

Old Lumia will not get the update 2, that still force us to buy new Microsoft Mobile rusty soon to come.

Bit pointless then if no devices except 2 support. Even find my phone don't work.

Awesome, just hope doesn't have hardware limitations for older phones

It does need special hardware on iO tho, since you need to technically replace a certain chip to bypass reset protection. I expect the same for WP.

When is this coming to preview for devs?

Does gdr2 have support for Openvpn? (Additional to this theft protection, and other privacy minded features?)

Microsoft still cutting jobs! Now thieves are praying that GDR2 for the other lumias is discontinued

Come on Microsoft...plz release this update for all Lumias...atleast save the windows phone

That is one thing I've been waiting to see on windowsphone.. Great job!

Am happy MS is listening and actually analyzing feed back and suggestions. I can say that am one of those people who suggested for then to find ways of curbing thieves....we spend quite some cash for one to come and grab your phone, reset or flash it for free.???!!!!! It was part of my must have for wp10 on my list as far as security is concerned. Am disappointed though that its not coming with wp10 or future updates to windows phone for all. But with GDR2 which won't be part of the upcoming Friday update???? MS plse find a way to factor this in for all current phones running Windows. Don't make us buy knew phones coz one feature.

Also, you shouldn't be able to turn off a locked phone until unlock code is entered. If it gets stolen (happened to me twice), the first thing the thief is going to do is turn it off and change the SIM. Since all the Find my phone features require cellular connection and YOUR SIM to be in the phone, they are useless within seconds of the stone being stolen, if the thief isn't dumb. If they COULDN'T turn the phone off, it would give you up to several hours to find its location. Of course they could still hide it somewhere without call signal etc., but that is a lot more difficult for them then just turning the phone off.

Ever heard about taking out the sim? Isn't like ms can make the tray block it slef automaticaly from manual removal when a thieve takes the damn thing:))). And about location. Well, the phone does not know it has been stolen. So for this guy to acces and turn of location is quite easy... If you keep it in notifications screen. And i do,cause i need to.

Yeah well that's true. Noooo :(

It requires an internet connection whether cellular or Wi-Fi. It goes by Microsoft account rather than SIM.

Yeah I actually think you can chose either of those options. Anyway if you didn't give the thief a possibility of turning the phone of, even if they took out the SIM, chance is it would still connect to a nearby open Wi-Fi through Wi-Fi sense and allow you to track it. I know the chance is slim, but better than nothing right?

Sounds just as restrictive wp7.x was

A lot of phones have removable batteries, even if a thief cant turn the phone OFF the normal way, the thief will just remove the battery.

Saw this on the web backend yesterday at windowsphone.com

so how will this work for the vast market of 2nd hand handset resellers? Dont they usually flash a factory rom to the device for testing and reselling?

They will do what we do at my work whenever I do a warranty swap on an iPhone, you make sure that the feature is turned off before you swap it... Can't turn it off? Then no swap for you...

We should have the option to install it, even if it doesn't come preloaded(for older phones), it may not be of much value but when my mum left my 520(which I gave her & happens to be my first WP for my birthday) in some shop, it was saddening (the person removed the SIM) find my phone didn't work(mum didn't have a data plan & location was off). With this, the thieve or those with the finders keepers motto may have to return the device. And no, it being Wp doesn't mean its a deterrent (they are already so desperate & they can surely sell it off)

That's great. There should be some kind of protection for the sd card content also.. Even if the thief puts the card in some other system, he should not be able to access it..

Great :)
And if forgot password , you can still request Microsoft for a reset key. As previously I forgot my Windows key, Microsoft executive called me and told a long key then it started working as licenced version. ;)

How did you contact them?? I can't find my recovery key anywhere :c

No offense, but why would someone want to steal your $60 Lumia 635? Thieves and pick pockets are probably looking at the guy further down from you wearing an Apple Watch prominently....

Because it takes somenthing free and he earns 20$ buks for free

Why my lost lumia phone been unlocked by phone technician? Thats why i don't believe this.

You shouldn't be able to turn a phone off without putting in the lock code IMO. If someone grabs your phone, they can turn it off in an instant, meaning that any ability to make it ring, GPS locate it etc.. is gone.

In my case I have to enter 2 forms of password in order to use my Nokia 521, I have my SIM card locked and so it's my phone. I even put my sim card inside another phone and without the password you are not able to use it.

Hopefully the remote kill-switch laws will force the carriers to release the 8.1 GDR2 update for all WP devices.

Does not matter. Old phones don't support it. Did you even read the article? You'll literally need to buy a new phone to recieve these features, Lol!

i now have 8.1 update 2 on my lumia 1520 and i check the settings there is none, i hope they add in the future a must standard for all

For some reason I don't have this option on my 640 LTE Dual SIM. Version 8.10.15148.0 (GDR2)
Windows Central Newsletter
Thank you for signing up to Windows Central. You will receive a verification email shortly.
There was a problem. Please refresh the page and try again.