Here is what's new in Windows Phone 8.1 Update 2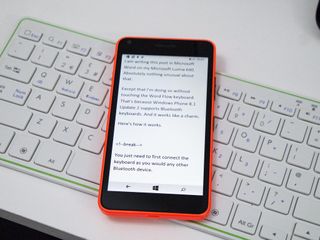 Microsoft has been hush-hush about Update 2 for Windows Phone 8.1, the second semi-major update for the operating system. The reasons should be obvious as the company is instead putting all resources on Windows 10 Mobile, which is the real future of the OS.
As a result of this priority shift Update 2 (aka GDR2) is only going to select phones as an upgrade. So far, the only Lumias confirmed as getting updated are the Lumia 735 and Lumia 830, while the Lumia 640, Lumia 640 XL and LG Lancet ship with the newer OS already installed. The HTC One on Verizon and BLU Win HD LTE also have been updated.
So what is in Update 2? Microsoft has now published the changelog on their support site. However, it is not the whole story, so we will add a few more things that have been found in using the upgraded operating system.
Windows Phone 8.1 Update 2 (Microsoft)
Settings. Find your phone settings more easily. Tap one of the new settings categories to jump to it, use Search to find a setting, or pan down to peruse in the traditional way. Additionally, phone settings can now be pinned to Start.
Calendar. Agenda view is back.
Name your phone. Give your phone a name without connecting to a PC. Just tap Settings > About > Edit name to name it.
VPN. Now you can use certificates to sign in for L2TP VPN connections. Always-on VPN profiles are now supported too, so you're automatically and always connected.
Bluetooth. Type with more than your thumbs. Use an external Bluetooth keyboard and watch the words fly on your phone. And now get your text messages straight from your car if it has a compatible Bluetooth system.
App privacy permissions. Now you control whether an app can access your contacts, calendar, camera, microphone and text messages. Just tap Settings > App permissions to get started.
As far as build numbers Update 2 starts at Build 15127 and so far goes up to Build 15148. These other additions have been observed by users as being a part of Update 2.
Windows Phone 8.1 Update 2 (Windows Central)
MKV support for video playback
Reset Protection feature
'All Apps' arrow at the bottom of the Start screen
Devices with on-screen navigation bar can now 'double tap' on the bar to turn the display off
There are also likely under the hood fixes and adjustments as the performance. Even on devices like the Lumia 640 Windows Phone 8.1 seems to be very efficient when compared to Update 1.
When, where and why?
There's no word on when the Lumia 735 and Lumia 830 will get the updates, as some GB/UK and French versions are already receiving the new OS. Owners of those devices can check for updates under Settings > Phone Update or consult Microsoft's support page (opens in new tab) to see if their phone is getting build 15148 or later.
As to why Microsoft is not pushing this update for the Lumia 1520, Lumia 930 and other devices, our guess would be the company focusing resources again on Windows 10 Mobile. It is not clear why Preview for Developers is not being utilized either, although it now seems clear that that program is now retired in favor of Windows Insider.
Further information
Need more news? Bookmark our dedicated Update 2 page for all the latest news about that OS: www.windowscentral.com/windows-phone-81-update-2 or jump into our NEW Windows Phone 8.1 Update 2 Forums for more discussion.
Are you using Update 2? Let us know if have found any other changes from Update 1 in comments.
Source: Microsoft (opens in new tab)
Daniel Rubino is the Editor-in-chief of Windows Central, head reviewer, podcast co-host, and analyst. He has been here covering Microsoft since 2007 when this site was called WMExperts (and later Windows Phone Central). His interests include Windows, Microsoft Surface, laptops, next-gen computing, and for some reason, watches. Before all this tech stuff, he worked on a Ph.D. in linguistics and ran the projectors at movie theaters, which has done absolutely nothing for his career.
I just got a 640 and the settings menu is glorious. Its a completely new experience.
I have WP for 4 years now and I never got used to the menu

Yeah my girlfriend got the update on her HTC One a month ago, I'm eagerly waiting to get it too.

Which phone do u own axmantim.. Ur gf owns htc one..thats great

I have a Lumia 830 on AT&T. Hoping they will put the update out before the next flagship drops lol.

This update is sooo bad on 830 and 735. Are they trying to get usmto update????

Agreed, prefer the new look. Pity the vpn options don't include openvpn. One step at a time.

Well the reset protection feature is not available in India on the 640... Seems like another US only feature

But my Ms account shows "check whether your device is activated with reset protection"

Download preview for developers app and singin with ur microsoft account thn go to settings

So you may want to read the article a bit and save on some of those '?' (they're quite expensive these days, need to stockpile them)

But at least throw some light on the release of the update for L730.

What light? The ONLY phones confirmed are the Lumia 735 and the Lumia 830 mentioned here and elsewhere. Notice how the Lumia 730 is not ever mentioned. That's all there is to say on it. The Lumia 730 is so far, to our knowledge, not getting GDR2. As to why that is, I have no idea. It's odd, but it's also odd the Lumia 930 is excluded as well.

Wouldn't it be awesome if people took the time to read the article you wrote before asking all these questions, Daniel? ;-)

Hi Daniel, but what about my l730 phone who got gdr2 inline from windows insider (month ago) :-)

I got that on my 930 whilst it was briefly available, lucky us :)

No you didn't. It wasn't update2 MS never offered it to the L730 :-) it was something else.

I'm still not sure if anyone actually reads your articles before commenting on them. If they don't update the 1520, I'll be patient and just wait for Windows 10. My phone still works great on 8.1.

Which is great for those who want W10, but for those who want W8 this is an important patch. The security features are essential. I want this for my 930 but I'd rather wait for the proper release than install the hack version. Fingers crossed...

Exactly! So glad I got the 830. I plan to keep it just in case I still hate W10 when it RTMs.

My 1520 and 930 run smoothly and fast The WP 8.1. I tried WP10 in The Slow ring in my 630. I liked what I saw, but it's under construction and has some bugs, not too much, as I waited, but enough to annoy my 3years old son with the delay when opening his games and using Whatsapp with their relatives. Bring it back to WP8.1 fast, and it looks and runs better than never before. I must delay the upgrade to W10 and WP10 for one or two months, waiting for the firsts impressions. But I think it'll come strong and will be memorable. Lets see...

Hey will it be available for other phones in Asia region ? I am from Pakistan using Lumia 730.
Kindly update. Thanks in advance

If you read the article, you would know the answer is no. But maybe reading is too hard for you.

Kindly read article and Dans response to the same question

Ya you are right. Just did.

Both the 1520 and 930 are still considered as flagships and they will definately get all the features from Windows Phone 8.1 update 2 when they get Windows 10. Your 1520 or the 930 are not available in my country (I live in Mexico) and they are IMO better than Galaxy S5, iPhone 6+ or Nexus 6 devices which are available where I live. IMO Microsoft should try to make next flagship (940, 940XL) available globally as the Galaxy S6/Edge or the LG G4, and not only on developed markets.

Yes, but that only applies if you want W10. Many people are happy with W8 and want to stick, and the security updates in this are essential. It really needs a general release.

It's clear that Win10 is their planned future. If you want to stick with 8.1, you're going to be left behind.

Install windows Insider and check for updates and download it.. when it prompts you to install it, click on show details and check to see its a windows 8.1 update. Uninstall the windows insider app and voila... you have update 2! Works on my 1020.. So you do not really need to wait for Windows 10 now.. And subsequent check for updates do not show you any more updates available((the actual windows 10 update does not show upa fter you uninstall the app)) Enjoy..

Indeed, Brazil isn't a developed market, even though it's a huge market, and it seems to be one of the markets where MS has reached its best numbers (more devices using WP than IOS, for example), and all its devices are available, I have only 5 of them. And one Android (M7) and one IPhone 4S, forgot in the drawer. My daughter preferred the L535.

It's already available via windows insider. the first update before the w10 tech preview

The problem is that it works for some phones/people and not others as it may skip Update 2 and go straight to W10. The Windows Insider method really is a gamble. That being said, I have it on my 920 and it's blissful!

That's exactly how I got it on my 925, great stuff! Just uninstalled windows insider after I got update2.

You can change your device info in order to get update 2. Search the windows central forums. "windows phone 8.1 update 2 guide" Wouldn't recommend however. Can brick your device. But I did on my 1520, and works well. No problems as of yet. **knocks on wood***

Only problem is you need a microSD slot to use that method, so 920 and 925 users are out of luck.

I have 1520 and I have this update.... Just sign up to the dev preview program but don't install w10fp :) it works like a charm

No, it doesn't on my 1520, it wants to go directly to Windows 10

If its asking for 10 you should already have it then. Have you tried playing an mkv with xbox video?

Unfortunately, it doesn't seem to work on my 1520. No mkv either, it doesn't even show the file in the Xbox video app. Oh well, guess I have to wait until Windows 10 - if that supports Bluetooth keyboards as well. I'm mostly excited about that ;-)

Wow, such little improvements. Btw does this mean that the Lumia update naming system has been retired? Amber-Black-Cyan-Denim-E... Pretty sad if it has.

Amber, Black, Cyan were FIRMWARE updates. This is an OS software update. Different things. Also, the improvements are quite nice, especially if you use Settings a lot or want to use a BT KB.

BT keyboard, Miracast and Office capability on a small device like a phone is going to transform future mobile workstations. This is a great news for emerging markets where people don't have PC's but have smartphones.

Daniel, wasnt mentioned in the post, but this update also modifies the firmware, see: 735: 02040.00019.14484.24002 (current) / 02177.00000.15184.36004 (new)
830: 02040.00021.14521.55002 (current) / 02177.00000.15184.36005 (new)

You have reviewed this update like 5 times already xD

Have you ever read comments on this site? I can say things a thousand times and it won't sink in.

Indians should stop asking "when in India?" ..

Indians don't ask. Others do.

Daniel, was not mentioned in the post, but this update is also firmware, see: 735: 02040.00019.14484.24002 (current) / 02177.00000.15184.36004 (new)
830: 02040.00021.14521.55002 (current) / 02177.00000.15184.36005 (new)

Great! I hope the firmware and/or OS update also fixes the Wifi/bluetooth issue with the Lumia 830. It is really starting to bother me and the phone is perfect for me otherwise.

I just installed the preview for developer and got update 2

I think you meant Insider.

Actually no , even I got the update through preview for developer . Lumia 1020 here

Just tried it on my 925, but no luck. Boooo!

It's not available on PfD eveyone knows that, OMG...you got something else. Many say they did then on further investigation they didn't.

Hope the original BLU Win HD will get this also

@RobinPaul I have it on my Blu Win HD.

I don't really get what they mean by get text messages straight from your car. I've been able to send and recieve texts via bluetooth since Nov of 2013 when I got my first 1520. Got better when I bought my car in 2014, but neither has to do with update 2.

Some car systems SHOW you the text message in the dash. That's what they mean, not using voice.

Ahh, thank you for the clarification. I didn't know that was a thing. I need to be able to afford more expensive cars haha.

Yeah, I noticed it when my Samsung Edge connected and my car asked specifically about displaying emails and text. Never knew that was a thing, so my hunch is that is what it is now capable of.

Makes sense, I wonder if that'll work if I get the update in my Ford, with sync by Microsoft lol. Can't decide if I'd prefer it or not though, sounds like it could be distracting.

I think Ford has abandoned their existing in dash systems (MyFord, which was based on MS technology) and are pursuing a QNX system. The current systems will not be upgradable to the new system and are likely dead as far as future development goes. Which is too bad, I rather liked the MyFord Touch system my car has.

I agree, but this apparently isn't a super new feature, even though I just learned of it, so it may already be a feature of mine that is not available to me because of my phone, not the infotainment system. Time will tell.

Sync is not by Microsoft. It was developed by Ford using Microsoft's technology. But the entire system was basically a flop and Microsoft probably wishes their logo was never attached... lol

I have a 2015 Ford Kuga with the Sync 1(big old ugly one) system in it and I noticed this feature as soon as I put update 2 on my L920. It's easy to use and no more a distraction than reading info from the radio display or music info. I was never really happy with the sometimes poor cortina 'read and reply' implementation which I've now switched off and solely relied on this.

I can say that I prefer having Cortana take dictation and read the text messages more on the Ford system. My HTC One M7 just displayed the texts on the system and it was mostly useless and didn't sync read/unread properly. When I switched back to WP, having Cortana read it over bluetooth, at least I can get the message without wrecking my car and even respond in short messages.

I was able to snag this on my 1520 via the windows insider app which I promptly uninstalled as I am not yet ready for Winodws 10 on my daily driver.

I did this on my 625 too.. :D

where are you located? I have an att 1520 and the insider app deploys right to windows 10 for me.

I also have an att 1520 and the samed exact thing happened to me. I rolled back to 8.1.

You can change your device info in order to get update 2. Search the windows central forums. "windows phone 8.1 update 2 guide"
Wouldn't recommend however. Can brick your device. But I did on my 1520, and works well. No problems as of yet. **knocks on wood***

Did the same on my new 930!

Installed this on my 920 through insider some time ago and it's been working flawlessly

Me too. I like how the setting are much better organized. I just noticed the project my screen function. I'll have to try that with my Xbox One.

Not likely ever unless you get it while getting the update to wm10

I believe some people who initially tried to install Windows 10 via the Insider app 'accidently' got 8.1 Update 2 instead, correct? That may provide evidence that the intention was to distribute it that way but it was ultimately decided to limit it to Windows 10 instead.

Only for some phones, like the Lumia 930. Other phones, this did not work. It was a bug and the OS update to Win 10 was built on that update for some reason.

The Lumia 930 was previously excluded from Windows 10 so it appears that at the time the Windows Insider app was distributing the latest update in which case was Update 2 to the 930 instead.

GDR2 is available through Windows insider for 730. And it works well.

i installed windows 10 on my L920 and had to install gdr2 first, and then i got win 10 update.

I got my update this way, and it work flawlessly so far. I have the update to 10 on stand by for now. Want to upgrade, but to many bugs I guess

No update for 1020 either. I guess Win 10 is the next update then.

The 1020 has the best camera, and is IMO a phone that can let amateur photographers take professional pictures, but there is an issue with the hardware of the Lumia 1020, and that is the screen mirroring feature which does not have. With this update your phone will receive BT keyboard support but without the screen mirroring you're not able to take advantage of a large monitor. Just for your information, there is a dirty way to get external monitor support on the Lumia 1020, but you need a WIndows 7 or later PC and a USB 2.0 cable. You need to download the Project my screen software from Microsoft, then connect your Lumia 1020 to your PC with the USB cable and now you can see your phone's screen on your PC. If your PC has HDMI, you can even watch your Lumia photos or videos on a large 4K TV. Just my 2 cents.

Lumia Play To will put your photos on any DLNA device, like a TV, AV Receiver, or Blu-Ray player. I use it with my 1020 all the time.

My LG Lancet came with 8.10.15148.160 stock...

Yup, this is mentioned in our LG Lancet coverage and our Update 2 topic page.

Now get text msgs directly from the car? What's this feature already when a msg received car Bluetooth will notify to read it or not... What is this new one. If anyone know please reply

I had the same question. Daniel replied a little bit above.

All what I can say . u guys doing well and smooth, but a bit slow. For the most htc's , lumia's .
Plus u guys depends on region & countries. Like others is no one , and they r from other planet .
Anyways,just this what I want to say . Thanks anyways.

Could someone translate what he said?

I think he said he is from another planet? Maybe? Tough to tell.

New in GDR2: In 640(all) 73x, M8 and other 16:9 devices with on screen buttons, Double Tapping the on-screen buttons locks the device.

Yeah, it's not exactly tapping "on them", it's more of tapping "between" the on-screen buttons :D.

One more thing, that's more of a bug than a feature, IMO. Before, when ending a call, the whole screen used to be full black/white, with only the caller's picture in the middle of the screen, with everything fading afterwards. Now, after GDR2, after ending a call, the caller's picture is still in the middle, but the lower half of the screen is almost transparent, revealing the Start Screen, while the upper half of the screen is still black/white. Check for yourself, if you have 8.1.1 and 8.1.2 devices on hand.

I can't compare as I don't have a device with 8.1.2 yet but I've seen what you're talking about. Very sloppy.

what about 730?
is it because it's dual sim?

I already have my update 2 on my Lumia 730

Give me update my Lumia 830 (Malaysia)

one more feature they added was for phones with on-screen navigation bars (630,730,640 etc) to double tap on the bar to lock the phone.

Got it in my L920 when updating to Win 10 Preview

I hace a Lumia 635 and the preview for developers and just got updated to the update 2 :)

Have a lumia 830 installed windows 10 preview via insider program but no update 2 yet

Why would you get a downgrade? LOL

Haha you did get it, just didn't see it because you now have 10 :)

I been using update 2 for a while on my Blu Win Jr LTE, I received the update in the second day of use. More likely a month ago

If the information is true then windows 10 on Lumia 1520 would be awesome. #not #frustrations #turnedinalowenddevice #wp10OnLumia1520

#nodeedforhashtagsonthissite #theyrestupid

I own a 520 and I already have the GDR2 update, seen those changes but not the big deal talking about performance, It's a little bit smoother than GDR1, I'm fine with this update :)

How did you get gdr2 on 520?

What the hell they don't release any update in a big market like India and they generally release them for new range of phones to increase their sale...

Resources. Most of their Windows Phone devs are now on Windows 10 Mobile duty. You can't really do both at the same time, and you can't hire extra people just for an update and train them. Which do you want more: modest Update 2 upgrade or Windows 10 Mobile this fall (and working well)? You really can't have both.