Windows Phone 8.1 Update 2 now live for some Microsoft Lumia 735 and Lumia 830s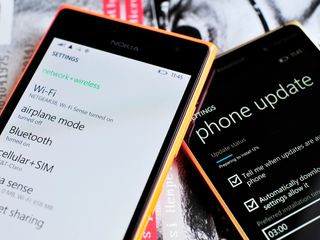 Besides the Lumia 640 and Lumia 640 XL getting OS 15148 of Windows Phone 8.1 Update 2, the Lumia 735 and Lumia 830 are also now getting Windows Phone 8.1 Update 2 build 15148.
Our UK/GB variants of both devices are receiving the Update 2 update via Microsoft's servers with our Lumia 830 now on build 15148. Microsoft, however, has not yet updated their OS support page (opens in new tab) to reflect which regions and carriers are pushing out the update, so your experience may vary.
Windows Phone 8.1 Update 2 brings many new under the hood features for Windows Phone devices. However, only the Lumia 640, Lumia 640 XL, Lumia 735 and Lumia 830 are confirmed for the update thus far. Additionally, the LG Lancet and BLU Win HD LTE device are either shipping or getting the update as well.
Windows Phone 8.1 Update 2 Main Features
Considering AT&T has not yet released the Lumia Denim update for their Lumia 830, we are leaning on the idea that they are instead doing a roll-up update with Denim and Update 2. Hope springs eternal.
Carrier released phones might take a bit longer for the Update 2 rollout to be approved. As usual, this means a rolling update over the next few weeks. Windows Central will attempt to keep track of major carrier updates and releases of this upgrade.
For now, you can post comments your carrier (if applicable) and region for others to share. Need more help? Jump into our forums for assistance:
Windows Central Newsletter
Get the best of Windows Central in in your inbox, every day!
Daniel Rubino is the Editor-in-chief of Windows Central, head reviewer, podcast co-host, and analyst. He has been covering Microsoft since 2007 when this site was called WMExperts (and later Windows Phone Central). His interests include Windows, laptops, next-gen computing, and for some reason, watches. Before all this tech stuff, he worked on a Ph.D. in linguistics, watched people sleep (for medical purposes!), and ran the projectors at movie theaters because it was fun.
Gr8.. But is it also available for Lumia 730??

No update for Lumia 830, here in India :/

Not available in Canada either

I'm in Canada and I've had Update 2 on my "locked to Fido" L830 for almost two weeks already. Dunno if it's because I'm a Windows Insider subscriber.

I got in on my 830 in Canada

When I saw this article I checked for updates and it was there waiting.

Well how could the rest of us on Rogers not get it but you do ? He can't eiither Aaron Price I'm with Rogers wireless Not available in Canada either

I have no idea. Maybe it's because I bought it unlocked off of Expansys, then put it on Rogers :/

I check daily and its still not available

Latest Update available through Windows Insider in India

730 user here.
I registered as an insider to get W10 , got GDR2

By registering as an insider to get W10 but got GDR2?

Great answer! 2 thumbs up

GDR2, also referred to as update 2 for Windows Phone 8.1 devices is an update which needs to applied to some phones. The GDR2 or update 2 is designed to fix any compatibility problems and will prepare your phone to upgrade to Windows 10 mobile. Try using the simple troubleshooting method provided here, in your case W10 didn't install, try turning phone off and on again to see if this fixes it, if not try this! 1)Delete Windows Insider app, and Preview for developers app if you have it installed. Windows indider: will give you early access to w10. Preview for developers: Will give you early access to 8.1 2)Delete other apps you don't use. 3) Settings, scroll down to storage sense, empty phone cache data, cookies, and temporary files taking up space. 4) Restart the phone. 5) Make sure you have a Microsoft account linked to your Windows phone to be able to download apps from the Store app. 6) Setup a new Windows Insider account , this can fix problems `if it was a problem with W10 recognising your account which can be a problem for some users. 7) Download the Windows Insider app to your phone. 8) Sign in to Windows Insider app make it's checked to receive update builds 9) Accept the Wp10 license agreement and choose fast or slow ring. Fast Ring: updates will be quicker but there's an increased chance of bugs and glitches. Slow ring: updates are slower but updates are tested fully before they're sent to you. 10) Connect your phone to a charger, so it has enough charge for installation, if it doesn't have enough charge, a popup will notify you asking you to charge to continue installation. your phone may restart several times for the changes to take affect, and will continue with the Windows 10 installation. Any other information about upgrading or checking to see whether your device is compatible, the links below i hope will help! http://www.windowsphone.com/en-gb/store/app/windows-insider/ed2b1421-641... https://insider.windows.com/ http://windows.microsoft.com/en-us/windows/preview-supported-phones

hello can you teach me how to get GDR 2 on lumia 730? please

Shouldn't I able to get it on be my 521 with dev preview?

Developer preview is no longer active for new updates. Last one was WP 8.1 GDR 1. Windows insider is the way to get the GDR2. REsigter as an insider, enable updates from the app. Check for updates and install First you will get 8.1 GDR 2. Than unregister from insider. If you want to get W10M TP than dont. Sorry about my grammar.

Lumia 520 directly downloads wp 10.tried 10 times and ended up with 10 not gdr2

Wt is the use of this update and UI changes.. Totally it is going to change in windows 10 mobile..

Besides I have it on my Lumia 925 already..

How did u get it on your Lumia 925?

I tried that in my Lumia 1020 and it went straight to windows 10 preview

Did u guys chose the fast or slow ring for gdr2?

Fast was only available for me.

I chose slow and am not getting any uodate

Att what are you guys doing when are you releasing the updates for lumia 830 -_-+

AT&T's handling of the 830 has been shameful. Seriously, they should be embarrassed.

GREAT NEWS! if only there's the LC5!!!

Exactly what I came here to see about. How LC5's rollout has been so unorganized is staggering.

Good...is it available for Lumia 620

Remember what happened to us at Lumia black? :D I expect the Same story here...

How about you read and try understanding the article?

Carrier releases over the next few weeks? Perhaps few months is a more accurate statement...

Still waiting on an AT&T 920 update myself...

For what? 920 on AT&T has all updates that are applicable to it.

Not update 2.. Logic is flawed.

Denim for the 920 includes OS updates (GDR1) not avalable on Cyan (going the carrier route). Try again.

No, I'm still on Cyan, yet to get Denim.

Denim does nothing for the 920. Hence "all updates that are applicable to it". Update 2 is only coming to a handful of devices, the 920 isn't one of them. So logic is fine ;)

Nah logic flawed. I want update 2. Don't care about denim. I want reorganized settings that UPDATE 2 gives.

Let's see what Denim with "applicable updates" brings to the 920... Aptx and media browsing for bluetooth. Live tile for the Xbox Music app Hide contacts without phone numbers in the People Hub Cortana phone number Network Time Protocol support Schedule phone updates This is only a few listed.

Xbox Music is no longer a system app (part of why it's a sluggish PoS, compared to launch), and my 920 has a functioning live tile already.

Are you in the PFD? Edit: It's no longer a system app but an os update is needed for the music live tile.

We were told our devices would get 36 months of software support, so regardless of meaningful features, the AT&T 920 is supposed to get both updates, and all others until 11/15.

Looks like AT&T is pulling a Verizon.... Hang in there folks

Oh god, that cant be good.

I have it on my Lumia 820 already :)

Damn I was hoping 1020, so i can get off preview

Same Here, I know we are from the older generation of phones, but it's still my main phone so it would be nice to get a little refresher!!!!

Can't see any update here on my Lumia 830 in India. :/

I have an old 1020 which means I probably won't benefit from new software updates much!!!! But I do want the MKV and BT Keyboard support!!!! When you're Ready Microsoft and O2 UK!!!!

The only issue with the 1020 having Bluetooth keyboard support is that it doesn't support Miracast, so you can't connect it to an external monitor and use your phone as a PC. But the Lumia 640, 640XL, 735, 830 have Miracast so they can benefit more on this awesome feature.

Anyone having this one their 520?? Via insider preview??

My UK-variant 735 isn't picking up any update yet....

Lumia 830 UK CV now updated to gdr2. So 730 should be available soon.

I got it on my CV-GBIE Lumia 735 about an hour ago. Keep checking!

The LTA version doesn't have it yet either...it will probably take another month...

Considering my 1520 broke and I had to pick up an 830 (feels really small compared to my 1520) I am really hoping for the denim. My pictures of my youngsters is really imortant to me.

Denim is already available. You can still use your camera even if you dont have the denim update. Go to settings , swipe to the right, go photos+camera and change the default camera app to microsoft camera.

What are "app permission toggles"

Having the option to accept/decline apps the permissions to access your microphone, messages, camera,etc. But it is pretty much useless in its current state because we cannot control dialer, sending messages, internet services and a few more things.

What the hell happened to the Preview for developers program

Already have it from 1 month

I don't think it will be released for any other phones. "Looking at a 520 screen"

No update for my 830 yet. It has Hongkong Firmware, I got from online store as this phone 's not sold in my country. Should I change my region to Hongkong to receive the update?

no you dont need to change your settings to hongkong. you can keep your settings and you will get the update when its available for your phone from the hongkong region update..

Can someone confirm if this version fixes the "multi select" in the Photo app??

Nope, the problem is still there in this build :-(

Hmm, nothing so far for my Lumia 830. I'll check later.

When did Microsoft Lumia 735 release?

I don't get why MS doesn't release it through dev preview or insider slow ring for those who want it.

Is it available for L730 in India ?

Bluetooth support for keyboard sounds exciting, hopefully this will make Windows Phone phablets with 6" or 6.5" much more better for productivity, they just need a stand and you can work on your documents on small display (like a MiniNetbook) Also if you have Microsoft Wireless display adapter, all you need is a monitor with HDMI port and you will be able to convert your phone into a workstation of the future, where your phone is also your laptop.

DANIEL RUBINO will lumia 920 get this update. Posted via the Windows Central App for Android

MOOOOOOOOVE YOUR ASSSSSSS AT&T!!!!!!!!!!!!!!!!!

Not seeing it available on my AT&T 830

French one has the update as well

Wonder if the 1520 will get the 8.1 grd2 update.......

The pixelated in-app text and multi-select in the photos app taking 20 secs to activate issues from the insider build are unfortunately still present in this build (even with a new install).

Your 920 does not have this build. The multi-select issue only occurs when a microSD card is in use.

My 920 DOES have Update 2. Are you saying I'm talking out of my ass when i clearly see it in the About page?! ...microsd card notwithstanding.

No update in India for Lumia 830

Why is this not in the PFD...?

Can I get it in my Lumia 535?

will this update 2 fix "something went wrong" error on lumia 830? my main camera is useless for the past couple of days

I don't think so, bring it to Nokia Care, according to the forum, anyone who faced it no soft recent does not solved it and it may be hardware fault.

Oh man; what a bad luck! maybe you are right. have use all the methods from soft reset, hard reset and even use windows phone recovery tool. nothing is solve. thanks man for the heads up.


Ohhh same here. I was hoping for a fix from GDR2. Since i dont have country warranty its really bad news for me...

I only see Windows 10 Technical Preview 9941.12498 on the 830

Installing now on my 830 (UK CV). :D

Have they forgotten about the Lumia 930 ?

No update for 830 in Baltics yet :)

UK CV 735 updated here. :D

I'm from Portugal, just got the update now (8.10.15148.160) LUMIA 735. :D

Just installed on my GB CV 735 :)

My 830 on Vodafone is updating now...

Lumia 1020 owners - we probably have spent the most on our contracts or purchasing this device and now, almost two years later, Microsoft has given little to no attention to this bar -setting flagship. I'm actually considering moving to iPhone or Android - even though I love Windows Phone. Hopefully Windows 10 Mobile will cease my plans if transition....

It will get Windows 10 Mobile later. It just will skip 8.1 Update 2 ;)

Hope this update comes to the BLU win HD also

Not on my Dutch 735, eagerly waiting

Why is the 930 always left out? Seems MS does not like that device tooooo much....

I wanted to update my 930...can anyone tell me a way to do it?

I hope my Lumia 630 and other compatible Lumia devices get the update soon too :)

Two days ago I updated the Lumia 820 CV (Greece)...My Lumia 1520 CV (Italy) still nothing

Available in 720 India ??

My Lumia 830 is now Windows 10 Mobile machine.

Still haven't got full denim for the 925 in Canada
Edit: On at&t

I'm still waiting for my UK Lumia 830 to get Update 2. My mobile carrier is EE.

Whatever it is due to this windows ans Stephen elop shit Nokia had to sell their mobile division and they are on the verge of selling their Here division as well and we never have the chance to get our hand on android powered Nokia devices and the mighty 1020. RIP Nokia

We will be getting the update ?? 925 users

When is going to be available for the lumia icon?

Lumia 830 (CV GBIE) updated to Update 2. Does anyone know how to enable Reset Protection, or is this still US only? Looked in Settings >> Find My Phone, only shows the send me SMS updates.... nothing else.

I think update 2 is great, pinning it is helpful. However, some functions under the application setting lists, have gone. Things like store, phone, maps, office, I actually used quite a bit.

Can you not manage that through storage sense?

why?? why sellected phones? WHY??

Because Microsoft. That's why...

What about Lumia 730 in India??

Nothing for Lumia 830 CV GBIE. Anyone else have that variant?

What about the 877 on Mars?? How can Microsoft be such evil villains to not release this update to every model in every corner of the universe at the same time. What scoundrels!!! I love these threads...reinforces my belief that mankind is doomed.

I've got it in the UK on Vodafone pay monthly for my Lumia 830.

Just got the update on my 735 (UK). Happy with the changes, and can't wait for Windows 10. Wish they'd included the new emoji, though.

My other half is installing now on her Lumia 830 CV GBIE in UK.

I think we have a better chance of getting Windows 10 with Denim on AT&T before this update.

What about our flagship 930s??

Got Update 2 running on my Lumia 830, the settings is a lot better as everything is now categorized, but I don't see the point of this, windows phone users have had to deal with the endless unorganized list of settings since WP7 and all users have eventually gotten used to it, so why revamp the settings when they are only going to change again in a few months when WP10 is released? I'm sure people could have coped with it for a couple extra months...

When is it coming for Lumia 930??

Already have mine on my Lumia 520. Ha ha using the reg edit.

Why not Lumia 1020, I don't want to change my device only for an update, unless Microsoft or Nokia release a 1020 successor

Lumia 735, UK. Got an update that isn't GDR2, settings menu remains the same.

I registered as an insider to get windows 10 but got GDR 2 ON my L730

No update yet for my Lumia 830 belgian CV...

I am from Czech republic, but I have Italian CV Lumia 830 -> updated at 4.00 CEST.

When we receive update 8.1.2

When will come for L520???

When in India ? L1320, 520? :)

Can anyone tell me how much storage space update 2 requires?

Blah Blah Blah..."be patient, it's only certain phones for now but will be rolling out to most...maybe...by Fall", "be patient, carrier updates are a little slower", "be patient, it's not in India yet but will be soon", "be patient, It's an update to get your phone ready for Windows Phone 10", etc... It's been a good run and I've tried to be patient but I'm giving up on the Windows Mobile platform...My iPhone 6 is in the mail and while I'll miss Windows a little bit, I'll be glad to not have to wait 6 months or longer for apps that are on iOS and Android - That's assuming they show up at all on the Windows platform. I definitely won't miss these update boondoggles. Peace.

No update for my 735 RM-1039 yet! I going give it a month or two since it is international version! I talking August already!

Should we disable preview for developers to get the update?

Lumia 730 will get the update?

M using lumia 735 CV GIBE i received the update i downloaded it but after all installation process i it didn't install!!! The version was 8.10.15148.16 but wtf it didn't install!! M still on d previous OS and when m checking for updates its saying my phone is up to date!!! Need solution!!

ATT 830 here, tries to skip right to 9941.12498 W10 TP. Bunk.

Is the 730 getting it tho?? In India bdw

When I get his Update (India)?

No update for Lumia 735, Sri Lanka ....

In Portugal, my Lumia 735 has the update notification

I have purchased Microsoft Lumia 640 XL OS version Windows Phone 8.1 update 2 I am unable to run silverlight application on it, When go to any silverlight application link it ask to installed silverlight and when try to installed silverlight windows wont allowed to installed silverlight what is this issue? I have purchased to run silverlight application on it and it wont allow me, What microsoft exaclty doing with silverlight application. Should I shift back to java based application run on andriod if silverlight is not supported ? Microsoft failed to run its own tool on its OS.

Is silverlight run on IE browser of Windows Phone 8.1 update 2 if yes then how if no then microsoft will used andriod as OS on its ph and tablet
Windows Central Newsletter
Thank you for signing up to Windows Central. You will receive a verification email shortly.
There was a problem. Please refresh the page and try again.