Settings gets a visual refresh in Windows Phone 8.1 Update 2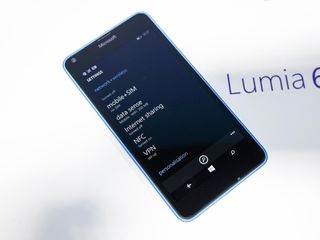 The new Lumia 640 and 640 XL that were just announced at Mobile World Congress both come out of the box with Windows Phone 8.1 Update 2. On the face of it there's nothing much different, but the settings menu has been given a little visual refresh and organization.
Now, as you'll see up top, there's no longer just a long list of menu items, they're broken up into sections like network + wireless, personalisation and more. You no longer have the swipe to access application settings, too, everything is in the one list, broken up with different headers.
A small change, but a change nonetheless.
Be sure to bookmark our dedicated MWC 2015 for all the Microsoft news and more from Barcelona!
Windows Central Newsletter
Get the best of Windows Central in in your inbox, every day!
Managing Editor - Tech, Reviews
Richard Devine is a Managing Editor at Windows Central with over a decade of experience. A former Project Manager and long-term tech addict, he joined Mobile Nations in 2011 and has been found on Android Central and iMore as well as Windows Central. Currently, you'll find him steering the site's coverage of all manner of PC hardware and reviews. Find him on Mastodon at mstdn.social/@richdevine
Finally settings will be sorted..

No. Windows 10 settings menu looks like Android.
They should have used the GDR2 settings menu in Windows 10 for phones.

Windows 10 is still in a very early stage. Functionality is what they are working on at the moment, the UI can change at any moment, so it's too early to say anything about the UI...

Windows 10s Settings look NOTHING like Androids. Androids are cluttered and have the setting options on the right. Windows 10s looks like itselfs. Microsoft didn't copy anything, they were original.

TRAVISMCENDREE, DO YOU LOOK ONEDRIVE UI IN WP? LOOK LIKE ANDROID.

Is that your major complaint? That it looks like Android?

Well, I didn't buy a Windows Phone hoping for it to then start looking like Android!!
WP has the best UI of any of the smartphone OS's. Remove its unique and interesting look, and you'll end up with no reasons to switch.

If similar settings is enough for a person to not switch, they weren't going to switch anyway.

Not like people are switching in droves to WP so MS have to get some ideas from ios and android. Main home screen remains unique

TO SPINZEROWL: I AGREE WITH YOU AGAIN!

It would look better if the icon color would change to match the accent color.

I'm actually and weirdly looking forward to this update if the picture above is accurate. Granted, Win10 is still at an early stage but I'm not sure it's all better on the settings front. I don't like the small font used in Win10, I don't like the use of Icons either, they look totally out of place and add nothing to the user experience. I do like the integration of system settings and application settings which thankfully is also introduced with Update 2. Looks like Update 2 could teach Win10 a few things about Metro v2!

If by sorted you mean sorted out/fixed, yeah... Better, at least. If you mean sorted as in alphabetical, no. Even in 10, it's not sorted that way.

FOR GOD'S SAKE!!!! im tired of you guys with an IQ of a monkey that simply dont understand that settings ARE NOT SUPOSED TO BE ALPHABETICALLY on anything. they are USAGE-FREQUENCY WISE!!!!!!! and thats why insider program should also have a iq test for acceptance into the program -_-

Lmao at that comment. Though there is a spelling mistake, you are absolutely correct on this point.

Well I go into settings a few times a month and its fucking annoying the way its organized. Its certain mot arranged by the frequency in which I make adjustments. Alphabetical would be better. Just because something is doesn't mean it should be.

It's good for you that you think your preference should be the norm instead of the vast majority of the world /S

@tips I don't think it should be changed to suit me, I think it should be changed to follow a logical pattern that is consistent with the rest of the OS. Are you going to tell me that you prefer the current order of things under settings?

it is not arranged by your usage but by idk MS(!?). anyway, the point is, i dont get why ppl confuse settings with agenda....what is their point for prefering "about" first in the list and start+theme way more down in the list? :/

Because ANY order, even an arbitrary one, is better than NO order. (And "our best guess at frequency, plus new stuff automatically goes to the bottom," is essentially NO order. "James Smith" is the most common male name in the US. Should it come first in your phone directory?

your keyboard is not in alphabetical order. IDK how it is sorted. do you want to complain on it too?

keyboard has fixed keys/characters which are all in view/ you don't scroll, they don't change positions based on usage

I'd really would like it if you could change the order like in the speed dial. That way I could have what I use most at the top. ;)

yea, now that a bar with search button is a the bottom, a button for re-arange like in speed dial should pe present too. this way everybody could be able to arrange the list the way he/she likes it. but anyway, the standard order should remain frequency wise (withou "new things at the bottom"). there really is no point to have a alphabetical order in a place like settings. that's just DUMB, period.

Would it be ok for you, oh, superhuman, if there will be a switch, which could arrange Settings in alphabetical order (for us, apes, that is) and back to whatever order you, a summit of creation, prefer (that is current chaos)? Huh?

Bruh, that's true. People just don't think sometimes

its frequency based on whose usage? Mine is not based on my usage as start+theme is always the first yet i last used/opened it several months ago!

On a generic usage, not yours. If it would be yours imagine that the order will change frequently and that way you'll never know where to find anything

so why not give users a choice? this will take care of everyone, or allow users to mark certain items as favorites which would then be always on top, as for me i prefer alphabetical order

"Wen" in Preview for Developers?

I wish it could be user specified to be frequency used from the top set or alphabetically set.

Actually, it looks better than the Windows 10 settings page to me :D

Very true. Im not really sure what MS have been up to with Metro 2.0, but at least in the settings, they've muddled things up.

They shouldn't call I Metro 2.0.... Should be Megalopolis.

There is the search too..!!

And, unlike W10, it shows me the status of each setting right on that screen. I suspect that those "section dividers" are jump list headers and that tapping one will show a list of all of the sections, making it fast to jump to another section.

Does look better than Windows 10 settings.

Yes. Waaay better and more windows phone!

Preparing user's habits to Windows 10 maybe?

That's exactly what I was thinking. Removed one pivot there, preparing our minds slowly but surely to lose pivots.

Great. Even pivot dying there.. Great stuff for late adopters of windows phone who dont need to get used to something else than how their android and ios devices worked/ Guess it will take more than 1 second again to check for store apps

So, will other Lumias get this update soon?

And it seems it's better implemented than the WP10 version. Posted via the Windows Central App for Android

Precisely because of that, one can't understand why WP10 drifted so far away from WP8 in the settings just to look more like Windows 10. Posted via the Windows Central App for Android

Yeah, because WP10 is already a finished product /S

Because it isn't but so early on has already drifted so far away from this version, that's why I said it's better implemented here. Posted via the Windows Central App for Android

And when is it expected to arrive?

When will the update 2 release for other Lumias ??

You'll get it before Verizon releases it for their customers. Posted via the Windows Central App for Android

When will it be available on preview for developer?

There's also a new way to manage app permisions. You now ca see which app uses something like location.

When update 2 will release for developers preview ? Any ideas ...

Wen in India? Too soon? jk.

I just wonder why there are only folks who ask about India.

My guess is big India user base.

There are billions of people in India, it's a huge market.

You need to go back to school. There are not "Billions" of people in India. Try around 1.247 billion. A lot of people for sure but, you would have to add over 700 million additional people or twice the population of the United States just to get that "billions" you speak of.

It's called "Indianism", a type of dry humour.

I don't care I didn't even ready the article. Just wasting a bit of time before my next appointment. I did all the above as well! MENTAAALLL

Are there any chances that microsoft could announce wp10 TP release dates for more devices this week?!

Much better than Windows 10 Settings app.

Alphabetically sorting all lists should be a law or sorts. So much faster to find things.

It's only faster IF you know and remember the correct nomenclature for the setting you are after.
For most users, sorting via 'most likely intention' is better than a long alphabetical list.
Why have 'access point settings' at the top of the list, and WiFi at the bottom?!

So you want "About" at the top of the list?

This looks better than the Windows 10 settings page..

I don't like it. Makes the settings more longer to scroll -_-

Phone name can be changed in the settings now

Better than Windows10 that look like Android

When will GDR 2 hit the masses... Theoretically?

Probably after windows 10 phones are released given the rate Microsoft has been going with its os updates.

Tell me about it... And WP users mock Android, lol!

So there is going to be a second update? When is that due?

Still better than the monstrosity that is in Windows 10. They should make these category headers larger and implement pivot based horizontal scrolling for different categories.

There's much more on gdr2!

It took them just 5 years to do this.

Microsoft is already late in releasing GDR1 to all models. What's taking them so long? Please if anyone knows enlighten me!

So we(wp8 and 8.1 devices) would also get gdr2? Or just skip to w10.

We will probly get windows 10 before gdr2

Whennnnnn.....??? Oh god... I shouldn't ask this question now... Got Denim update last week... So WP 8.1 GDR 2 should take atleast couple of months!!!

I think this October or November :P

A search button from settings
Now that's a step

That is good... Better than the win 10 approach IMO.

When's update 2 coming to everybody? Or to DP

Idk why gdr2 is a thing, now that we have builds of 10 on phone.

Not available for Lumia Icon yet. Just tried, no go.

The update is not available yet, did you even read the article??

Yes, I read the article! Did you!? Show me where in the article that it says it hasn't been released yet! What EXACT verbage anywhere in the article makes that statement! In fact, the verbage of the article may suggest just the opposite. As the author clearly states in this article, "Now, as you'll see up top..." suggests available "now." "You no longer," suggests past tense and "has already been changed." Also, notice the title of the article states "gets" (past tense) as opposed to "will get"! Granted, the verbage can be taken either way, but it most definitely was NOT stated the update wasn't yet available. So know what you are talking about before you troll someone's comments.

Phew, take a breath! Lol!

Just this feature improve on update 2? What a minor update.

Has renaming you device name feature too.. Update 2 is a small update

Can tell cuz if not MS will make it like a big announcement in MWC

Nothing yet can make me downgrade from W10, it's cool

Did you guys notice the SEARCH button :) That makes it even more easy isn't it?

I would like to see more screenshots of the new settings. Or video.

Ok organized settings were the only reason for upgrading to w10. Now I'm happy with 8.1 (when they release it for 930 actually...)

so will all current lumias get this update?

The settings in windows 10 are much much better
But this ok :D

I feel like this is much better

When does update 2 come out? And since there's an update 2, windows 10 will be Laaaaaaaatee!

They are talking about update 2 and I haven't got update 1 yet

Richard, if you tap a section header, does it show an overlay with all the section names, so you can quickly jump to a specific section? Like months in the photo app?

That's an excellent suggestion !

Since I have not gotten Denim yet I guess I can expect this after Windows 10 is released. :D :P

One more feature.. Now you can change ur device name itself from phone.. No need to connect to pc

Any idea when this update will hit Preview for Developers?

Why? Is it the same as the Windows 10 settings page?

When is the update 2 release?

Yay!!! But what about the cool icons that are in Windows 10 for PC? I hope they implement those somehow :(

I prefer this to Windows 10.

It only took us 4 freaking years to figure out a list of items ordered in no particular order confused users: and folks, this is why windows phone is doomed. Incompetence rots it at the core.

Does it have separated office apps?

Organized settings... That's what I've been waiting all my life :-)

This looks much better imo for phone then the current design in the preview.

Looks 1000x better than the Android 4.0 ripoff in the current W10 preview. Maybe they have common sense after all.

Finally. Settings always was a hodge-podge of a mess born from adding a lot of new ones with each release, but a mess all the same.
Windows Central Newsletter
Thank you for signing up to Windows Central. You will receive a verification email shortly.
There was a problem. Please refresh the page and try again.