Windows Phone 8.1 Update 2 rolling out for some BLU Win HD LTE owners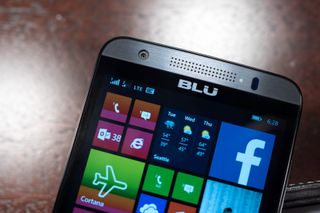 Some BLU Win HD LTE owners are reporting that their devices are currently receiving an update to Windows Phone 8.1 Update 2, also known as GDR2. The dual-SIM device originally launched last month, an LTE version of the BLU Win HD.
Update 2 has been slowly making its way out to phones, with on the Lumia 735 and 830 confirmed to be receiving the update as of early last month. Update 2 also shipped with the recently-launched Lumia 640 and Lumia 640 XL.
Update 2 is a relatively minor release, though it still adds useful new features, including an All Apps button at the bottom of the Start screen, a revamped Settings section, and MKV video support. For more on the latest update to Windows Phone 8.1, be sure to check out our rundown of the new features in Update 2.
Thanks to Caio and Dan for the tips!
Windows Central Newsletter
Get the best of Windows Central in in your inbox, every day!
"an all apps button at the bottom of the Start screen"
What is this feature?

At the bottom of start screen instead of arrow in GDR2 all apps button is present

The right arrow mark at the bottom of the start menu! On top of that its written "All Apps" in the update 2

It suggests users that you can access all apps by clicking on that all apps link!

If you click on it it swipes left, so it kinda does.

Thanks all for the reply
It's really a great community

Wow biggest feature in the history of windows phone came.. "all app" with arrow.. Im like wowwwww.. Thankyou microsoft

And they re arranged the settings app to make it easier for people to navigate. And they made the UI for making start screen folders easier so the tiles wont move out of the way when you try to make folders on the start screen, they really refined that last one, I'm impressed.

Hmm.. But that "all apps" written with arrow is the biggest feature.. Nothing can beat that feature.. Nothing.. Im really really really impressed

Pin settings to home screen,settings grouped for better search experience,hey Cortana for voice activation,app permission.More to update two then the all apps arrow at the bottom.Hope you're just joking?

I'm grateful that I have a unlocked phone and don't have to deal with carrier bull;)

Dude, you suck at being arrogant!

Nah,I'm just a smart ass now and then:)

Think the 'arrogant' jibe was meant for Fidato :)

Different/organized settings page, MKV support, Bluetooth keyboards, remote lock and device wipe, device renaming from within the phone, app permissions.

You just haven't gotten to know how virulent we can really be...

But is the update coming to the first BLU Win HD? Don't leave us in the dark guys. It's not even a year old yet and I've only had mine since December.

It really isn't that serious. GDR2 is kind of a pointless update other than the Lumia Camera updates (which BLU phones don't get) and the Settings menu categories. Your phone checks for OS updates nightly and you can check manually. You aren't missing much either way. Relax.

Blu doesn't do much to customize firmware. But that means they don't need to do much to approve and pass on updates. It's not the worst thing in the world. I can see the appeal.

I got the update on my Blu Win Hd yesterday. I have the unlocked model from the Microsoft Store. Don't know if that's why I received it and some haven't.

Relax,man. You will get windows 10.

Why is the Cortana icon in the picture an airplane?

When you tell Cortana to track a flight

(͡• ͜ʖ ͡•)(͡• ͜ʖ ͡•)(͡• ͜ʖ ͡•)(͡• ͜ʖ ͡•)(͡• ͜ʖ ͡•)(͡• ͜ʖ ͡•)(͡• ͜ʖ ͡•)(͡• ͜ʖ ͡•)(͡• ͜ʖ ͡•)

I love ❤ looking outside it. ⌒.⌒

Lolzzzz...This one was more fantastic.

Or they could, y'know, do something crazy and push it to dev preview for all devices.. But nah.. too crazy of course -_-

I'd say Preview for Developers is pretty much dead and to be replaced by the Insider Program.

Doesn't matter which one of the two is used, as long as they push it to all WP 8/8.1 devices

Well insider fast is for w10tp, insider slow could be for gdr2 at this point. Lol.

To be honest I wouldn't count on all devices getting Update 2 but we'll have to see.

Yeah I don't count on it, I just wonder why. There's not a complete overhaul making current devices incompatible or anything yet they refuse to actually push it out to all devices. I just find that odd

I agree I find it a bit odd but I think the update itself is not the problem but the timing is. The most logical explanation I can think of right now is that WP 8.1 is done and over with to them and they want to focus all testing resources on Windows 10, even more so considering it's a fairly minor update anyway and kind of a preparation step towards Windows 10. Keep in mind that while we did get early updates with the Preview for Developers program, updates still saw a good deal of testing before release.

Firmware is involved with this update.

My Blu Win Jr LTE received update two yesterday morning at ten am pacific time.Sent a tip in after the update went thru.

In fact, my own Blu Win Jr (not LTE) has received the update (new OS: 8.10.15137.148) and I also report it to Daniel.

Hope it works better than on the 920.

410 processor runs like butter.No problems at all after installing update two on my Blu Win Jr LTE.

Mine started off really well. Everything was snappier and the scrolling was less jerky. For a couple of weeks it rocked. Gradually got worse though. My WiFi and mobile connections are no longer as stable. They are ok 90% of the time, but they used to be rock solid.

No issue with wifi or mobile connection.

No problems at all with my 920

With Windows 10 other OEMs should also get in action with their devices. Sony has a good option but they won't. HTC should release good mid range devices.

Sony has lost so much money on Android they will probably just drop the phone business all together.

No way! Android was the cash cow that lead every company to the promise land, remember? Nokia would be bigger than Apple right now if they "had just gone with Android all this time." Remember?
Haha

Hp thought that 2 and how much did they lose on their tablets(including the revival of said android line)

But my 830 hk still don't have it?

Most of 830s don't have it. It had been available on some regions only. Sadly not yours, not mine.

There is a trick to get it through insider preview without installing win 10

Yes, but the version is not the same as 640 has, so it will not have protection from firmware/os recovery tool.

Off topic... For those who dont have access to new TP build...
The new store is really good... Finally Windows store and windows phone store are united.. Now you can even see the rating and review given by windows desktop users under universal windows apps... Now all we need is more apps and those are on It's way.. Have you guys checked the crossy road app?.. Seems like iOS app ;) .. Just saying.. Who knows.. We have seen Candy Crush..

My experience with the new store is very different. Very slow downloading, constant "pending" hangups. My biggest gripe is not having a goto list of all my old apps I've already downloaded from the store. Total pain to go hunt them all down in the new app.

If they hadn't have short changed the processor it would have been a nice device.

410 processor is not bad,but the four gigs of internal storage is the big problem.Running a SD card is must.Went and picked up a 64 gig SD card to slap in it.The OS takes up over half the storage leaving one and a half gigs for use.

This is really suck, every update sent first to the low end devices and those with the high ends one receive it last, what a lousy strategy.

Im with ya. I found it to be rude that my ativ s was last wp to be updated by my service provider but their precious x8(which I assume they sold remaining stock at a loss) was 2nd last to get 8.1

Its just a shame that GDR2 has a horrible rendering bug which randomly renders text and images in apps in low resolution. It makes news reading a poor experience on my 830 and 640.

And, it takes ages in photos app after tapping on the multi select arrow at the bottom to show up the select multiple photos window on my 640 dual sim. I had the same bug on my old 625 after I upgraded it to GDR2... And yes, this rendering bug is definitely there... Specially visible on the windows central app...

I've had the rendering bug quite often on the Nextgen Reader, too. There is a small delay in the selection screen appearing but less than a second.

Yes, I noticed the delayed multi-select in the photos app too, it takes about 7 seconds on my 830, it was instant on GDR1. Its a shame that we cant revert to GDR1 on the 640. Luckily I can downgrade my 830.

Yeah, WP desperately needs a System Restore feature. That is the best problem-solving feature of Windows and it really needs to come to WP.

I have never seen that on my 1520.

Try using a news reading app such as MSN News, NextGen Reader or Converge. Read and scroll through a few articles. I have tested it on a Lumia 640 LTE, Lumia 830 and Lumia 930, the bug is present on all of them. You obviously have to be running GDR2 for the bug to appear.

I am unaware of this bug. Can you or anybody else upload a comparison screenshot here? Like good (pre-gdr2) vs bad (gdr2) side-by-side...

Hope this is coming to the red WIN HD too

my orange Win HD got it yesterday. pretty sure it's color agnostic. ;)

Which phones will receive GDR2? And when?

Y U NO Push the update to the Lumias first?

Fw not ready in every region

Yeah my 1520 also Actually this news was a surprising one
Because we Lumia users used to get the update first

Really me 2 surprised ...

And we're still waiting for update 1/denim on att...

Is the 830 getting GDR2 anytime soon?

I think MS has forgotten about us Lumia users(Lumians)... Hey! We're still here.. Give us the updates first.

May be they are very busy with Windows 10.. :)

That doesn't seem to stop them from rolling out updates to other phones.

I'm surprised by this. Looks like BLU has faster updates than Microsoft with the Lumia devices

Could be that these devices are far further behind in w10 development so are bridging with gdr2??

Why always blue first,why not for Lumia

Always?... You have to explain it first .. Then we will reply to your question..

What is the benefit of buying Lumia

You will get Android as your OS... Whiners..

Haha lol you got me there

They're good phones perhaps?

My 1020 is still a great phone. I don't care about all you whiners. I still like it and won't be replacing it until October. Lumia lifecycle is working just fine for me.

Just got GDR1 on ATT Lumia 1020, so I guess it will be a year before GDR2 gets here not to mention Windows 10. Damn ATT.

Had that with my att spec. dvp basically out of the blue when I was syncing it said 7.8 was available nearly a year later

Windows 10 will be different, Microsoft will manage all the updates...

That's starting to scare me. Can't roll back my M8 to 8.1 because after GDR2, the recovery tool no longer recognizes the firmware. Good job Microsoft.

REALLY OFF TOPIC QUESTION : Guys I know this is very off topic but I want some answers
The problem is about dual booting windows 10 and windows 8.1 I've done the parts mentioned in WC here
http://m.windowscentral.com/how-dual-boot-windows-10-preview-windows-81 , then I reached changing bios order So what do I change here and what do I do? , I've downloaded the windows USB /dvd tool and put windows 10 in it using my USB flash drive (8 gb) And then what do I do ? Something is missing and I don't understand it fully PLEASE ANYONE HELP !

you change the boot priority to USB disk/hard drive.
move Windows Boot Manager below anything that has USB in it.
also ensure you have disabled secure boot.
the you can boot windows 10 from the live usb disk, and continue with the installation.
and if all of the above sounds alien to you, it's probably best if you don't install the technical preview.

Actually before I stated this comment I went to boot menu (after I changed the priority) and clicked on the USB option to boot it and install windows 10
It showed me error booting
Could this be because of the size of the USB ?

Sounds like you're using 32bit w8 to create a 64bit install drive this happens occasionally or it could be your device is setup as uefi only.
What id suggest is partitioning your drive manually 20gb of free space at minimum for install more the better.
Well there is a slightly simpler way id try using this tool https://www.autoitscript.com/site/autoit-tools/gimagex/ with your usb drive to apply the install

Nope I'm using 8.1 64 bit , I've already made a 30GB partition

heres a how to that I adapted frm this w2go setup Locate the Install.wim File Open the usb drive in Windows Explorer and enter the "sources" directory. Locate the "install.wim" file — that's at X:\sources\install.wim , where X is the drive letter of the drive. Image the Install.wim FIle onto the Drive Next, open the GImageX tool. Extract the downloaded archive and run the correct version of the program for your computer — the x64 one on a 64-bit version of Windows or the x86 one on a 32-bit version of Windows. Click the Apply tab in GImageX. In the Source box, browse for the install.wim file you found earlier. In the Destination box, choose the partition/drive you'll be installing Windows on. Click the Apply button and GImageX will image the Install.wim file onto the partition/drive. Wait for the imaging process to complete before you continue. This is the longest part, although it shouldn't take too long. Make the Partition Active You'll now need to make the Windows 10 partition active so your computer will boot off that partition when you choose to boot from the drive. First, open the Disk Management tool — right-click the Start button in the bottom-left corner of your Screen or press Windows Key + X and click Disk Management. Locate the partition in the list, right-click the partition you imaged the Windows system onto, and select Mark Partition as Active. This will mark that partition as the "active," bootable partition on that drive. Create Boot Entries on the Drive Next, you'll need to create the appropriate boot entries on the Windows partition boot loader. First, open a Command Prompt window as Administrator — on Windows 8.1, right-click the Start button in the bottom-left corner of the screen or press Windows key + X and select Command Prompt (Admin). Next, run the following two commands to switch to the Windows 10 partition, using its drive letter in place of X. Open a File Explorer window to see the drive's letter if you don't know it: " X:
cd Windows\system32 " Next, run the following command, replacing X with the drive letter of the drive with Windows on it. " bcdboot.exe X:\Windows /s X: /f ALL " (As Microsoft's bcdboot documentation page explains, this command "creates boot entries on a USB flash drive… including boot files to support either a UEFI-based or a BIOS-based computer.") thats it upon restarting you should see the boot menu option for windows 10

Thanks for all this man but I already got it working :D

This may have already been done to death, but... Who wrote BLU on the front of that HTC one? Posted via the Windows Central App for Android

Does this phone has all T-Mobile LTE frequencies?

I hav updated my Lumia 925 to Denim arnd a week ago n i hv noticed there is a quality degration in the images & Videos taken with the camera compared to WP8.1 Cyan. MS can u plx check into the image algorithm n make the correction ASAP?

Maybe your camera app need to be reinstalled.

Just live with that. My 720 is getting worst since Amber!
(Amber-Black-Cyan-Denim)

I doubt if AT&T will release GDR2. They just released Denim for the 1020.

My 1020 was great before Denim and is still great. Very happy ATT customer here!

I too am a happy AT&T customer. I don't care if or when updates are released. I play their game and just buy new phones. I don't care too much for the 1020 though. It sits in a cabinet with all my older devices.

I already installed it through windows insiders

..."the update for the 830 as early as LAST month" Really ? no.

I saw that too. Never believe everything you read on the internet!!!

That bodes well for the eventual availability of Windows 10 for this phone.

Im using on my 820 and I like it.. The way of settings are listed (groups) soo kool :)

I'm getting the blu win HD lte so I don't fall victim to carrier updates for windows 10 release. And besides it looks like a much better phone than the price point.

I would imagine that it's a nice phone. I moved two family members over to then from Lumia 521s and they love them. I was leery since Blu is still kind of an an unknown but they've done great in their 6+ months on Windows, in my eyes. Their devices fill a pretty big gap in the Windows portfolio.

Well I do also see a lot of mixed reviews online from people. So I plan on going to the in store model and texting that out and how it feels in hand. And all the other good stuff in examining a phone.

Yeah, that's a good idea. They have them on display at the Microsoft Store (the physical locations). Last time I was there, they had the whole Blu lineup, so you can test for yourself. I love my Lumia 925 but if I broke it, I'd probably run to a Blu Win LTE or a Lumia 640 until Microsoft makes their Win10 and Lumia flagship phone plans known.

Oh I love my 925 too, just need something fresh and not bound by a carrier.

Lumia 1520 owners, unite!

My Lumia 535 already got it, hahaha :D

What's the point of having been enrolled in the developer preview on a Lumia aka Microsoft device then????? Pointless and sad

Dev preview was great for people with carriers delaying updates like Cyan and Denim. We couldn't get the new firmware but all the OS updates were there. Hasn't had anything new since update 1 though.

Anyone got this update on their 925? I have one but not got this update yet. (UK)

Does this update include support for keyboards? Posted via the Windows Central App for Android

Haven't got it yet for the older model of the blu HD 5inch

For L520 available or not ?

It is, if you join Insider. It downloaded GDR2 to my 520 and then offered Win10 preview. You can turn off automatic updates and ignore the notifications.

Just got it tonight on my Verizon HTC one m8.

Any feedback on how well mkv support is?

In my Lumia 520 I haven't g got this update but blue did got..... That's really nice of it......

What features will we get in GTR2?

This is off topic, but are there any cases for this phone? More specifically, I need a heavy duty case, but I'll take whatever I can get. Posted via the Windows Central App for Android

Received GDR 2 on Lumia 630 via windows insider app.No issues at all.

Where's Lumia love? 520 n x20 series phones slated to get this one or not?

M a pfd wp 10 for my 520.could i upgrade it to gdr2..can anyone tell me??????

On an unrelated note, what a blatant design ripoff.

Prestigio MultiPhone 8400 DUO and 8500 DUO also have GDR2. OS version: 8.10.15137.148

My lumia 920 still hanging. What i do. After update own phone w10. Please give me suggestions. Posted via the Windows Central App for Android

Is that update available to Nokia Lumia 730 in India

Windows 10 is in developing stage only it may have bugs just revert back to 8.1 using recovery tool it's better

Now they have 5 notification center

The Indian "version" of the BLU Win HD: the XOLO Win Q1000: also received the GDR2 update.
Windows Central Newsletter
Thank you for signing up to Windows Central. You will receive a verification email shortly.
There was a problem. Please refresh the page and try again.