Windows Phone 8.1 Update 2 also brings MKV video support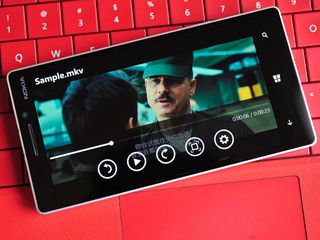 Windows Phone 8.1 Update 2 aka GDR2 is slowly making it out the gate to various phones. The update comes preinstalled on the new Lumia 640 and Lumia 640 XL. However, the OS update managed to sneak on a few phones due to a bug in the Windows 10 Technical Preview update a week back, including the Lumia 930.
Over the weekend, we dived deeper into some of the new features of Update 2, but we missed one: Matroska MKV video support.
Matroska Video Stream is a popular container file for media, like movies and TV shows and is used widely on the internet.
The feature was mentioned in our comments by brdloch, and we were able to confirm this observation this morning on a Lumia 930 running Windows Phone 8.1 build 15116.
To test for the feature, we copied over a 5 MB MKV video file sample at 1280 x 536 resolution to two phones: Lumia 930 with Update 2 and a Lumia 929 (Icon) with Update 1 and Lumia Denim. Windows asks if you want to convert the file, to which we answered 'no' on both occasions.
The result is obvious. On the device with Update 2, the video and thumbnail preview are now listed in the Xbox Video app, whereas nothing is shown on the device with Update 1.
Of course, Microsoft has already added native MKV support to Windows 10 for both PC and mobile (phone), so even if you do not get Update 2 – which is looking likely – you will get it with Windows 10. Regardless, it is great see it finally arrive for Windows Phone 8.1 for at least some users.
Unfortunately, only the Lumia 735 and Lumia 830 are confirmed to be receiving Update 2 at some later point. It is not clear if other phones will as well.
Watch our video above to see it all in action!
Daniel Rubino is the Editor-in-chief of Windows Central, head reviewer, podcast co-host, and analyst. He has been here covering Microsoft since 2007 when this site was called WMExperts (and later Windows Phone Central). His interests include Windows, Microsoft Surface, laptops, next-gen computing, and for some reason, watches. Before all this tech stuff, he worked on a Ph.D. in linguistics and ran the projectors at movie theaters, which has done absolutely nothing for his career.
That means Lumia 730 will get it?

M also confused brother I also have 730...

I have got it via TP on my Lumia 730 (India). works too good

Would like to know how exactly. I don't want W10 yet, but want GDR2.

That has been explained many times in the forums.
Use the windows insider app and take the first update, and refrain from downloading the second update which is windows 10 TP for phone. Yes, its risky to try it out since there is no guarantee that you will receive the update 2. As Daniel mentioned, its only for 930 and for few 730/735 and 830 as of now.
You can either opt out from the windows insiders program or don't go ahead with the update available after the first level update. Not that good to go, its risky and your personal decision

I'm using gdr2 on my Lumia 730.

And how is that possible??

This is possible using the Windows insider app

Guys, I am rocking GDR 2 on my Lumia 1520 as well, as mentioned, this is possible using Windows Insider app. Here is what you do: - Make sure that you already have 8.1 on your phone (mine had Denim update and I prefer that you download Denim before you continue). - Turn off developer preview if you have it on. - Go to settings>phone update, and check off the option: "automatically download updates if my data settings allows it" - Go to Windows Insider app, from there select FAST ring. - Go to settings>phone update, and check for updates, download and install. - After updating, this is GDR 2, if you don't want W10 technical preview then don't download any other updates even if it notifies you that there is another update (it will keep notifying about TP).

Man that beast can handle windows 10 TP ....8.1 update 2 sounds so yesterday for me!

What's the size of the second update? Using a Lumia 920, registered for TP and initially on Denim update 2, I had downloaded and installed a 89mb notification. Hours after, I'm notified of a "critical update" that will require about 1.5gig of hard disc space. Is that likely to be the WP10 preview? Lumia 920

Mine GDR2 just updated , and it runs too smooth and I like this latest update. Its quite descent, :)

Runs very good on my 1020...and even the battery life its improved

How u did ??? Via selecting fast ring update or slow ring ???

Can we face prblms upgrading to windows10 official build if we use this method for upgrading to gdr2..
Any idea

Read the article... L735 and 830 are official part of it.... Noone can answer your question yet.

Yes, you get it. I restored to W8.1 due to memory card problem and updated W8.1 with update 2. And once again updated to W10 preview.

The update 2, if released before Win10, will bring this to every phone.
In general, Win10 will bring it to every phone anyway, regardless you have Update 2.

If you are sure your lumia has gdr2 heres the tutorial open windows insider select fast ring then after that phone update will check for update and it will notify you the updates are available then downloa the update while downloading the update uninstall the windows insider app to stay on gdr2 so you will not get the tp update even you check for updates

yes my phone working in .mkv file

How do I get it on my 620 (India)

Any word on when AT&T might get around to releasing GDR2 and the long overdue DENIM update for the 830? Hopefully they are bundling both updates together at this point? Any day now would be great!

No idea. My bet would be that they are skipping and waiting for Windows 10. Or maybe they are putting Denim + Update 2 together, one can dream.

I really hope they are not skipping the update, I bought the 830 specifically because it was advertised with having denim and the camera updates. This would make me have second thoughts about upgrading on release again if this is the case

This is what you get by becoming a carrier slave. Unlocked FTW!

NEVER buy a phone based on a promised software update. Its too bad it wasn't really advertised it was Denim "lite" however.

Thanks Daniel! Guess I'll go back to reminding @ATT, @ATTCares, and @LumiaUS about it on Twitter! :)

Is the update 2 available for the 925 cv in the U.K. without using the Windows 10 TP upload?

No. There are no plans from MSFT to give you it either. Only 735 and 830 as article stated.

No, I don't think so I've got the cv, but didn't get it until the bug with the Windows Insider update. It does run nicely though.

I got it on my 930 in the UK through the insider blip that gave Update 2. Good to get some of the goodness without TP. Would not go TP as its my main driver.

I hope MS rollout Update 2 for all high end Lumia models.

Why not ALL Lumia models that are running 8.1?

Windows phone 8.1 Update 2 coming soon (may be in a week time) ..Told to me by an employee from Nokia care!!

it would be great if they release win 8.1 GDR2 for every mobile as it contains many features which all of us wanted from the very begnning...(Yes! I know those featres are also coming in win 10 but many people(existing users) is not liking win 10 already.)

I don't even have denim, still on cyan + w10. Weird combo 920

The AT&T 830 situation is truly ridiculous. Not Icon level ridiculous, but still ridiculous.

I wish my Lumia 720 gets it... Otherwise I will use VLC.

Not sure if devices with 512MB of RAM should have something greater than Cyan or Denim, I have a 625 and tried the WP 10 preview for a week and my device just got slower, feels more laggy and perhaps is time to say goodbye to Windows 10 upgrade to devices with less than 1GB of RAM. With that said, why would users want to upgrade to WP10 on a device with 512MB of RAM anyway? The Lumia 435 and 535 are now the starter phones in both emerging and developed markets and come with 1GB of RAM, I'm sure these devices will be able to be upgraded to something better than Denim or even think in Windows 10.

You know the WP 10 preview is exactly what is it right? A PREVIEW... unfinished software. Were you expecting your phone to emit pixie dust from it?

It's laggy on every phone. Even the 1520 struggles. Microsoft makes it smooth with a magical process called 'optimisation'

My 1520 breezes with ease, only a short resuming screen when coming from an app to the start screen. Also the start screen lags when music live tile is active I just made my music tile small and everything seems ok

Do you like your cellphone?
I also have a 625 and I hate it.
The only good point is the 4g.
I know it may be unfair, but I don't want to buy another one WP cellphone

What do you specifically hate?

The constant "loading" thing and some apps like messenger are too slow. Multi tasking is not real because if I am listening music with Spotify and want to use Facebook messenger I can't switch between without closing messenger. It is really sad. Most part of apps is so simple and yet crashs a lot. I don't have games because it always crash in some point and the cell really gets warm.
Ps for haters: am not saying Android or IOs are better. I am saying this cellphone is not the right one for me. Maybe one with 1gb would bring a better experience

I really like my Lumia 625 because of the nice camera with Flash something the most popular WP device (520) does not have. I also like the super sensitive screen with Gorilla Glass, the FM radio, the Dobly headphone enhancement. I liked the microSD card until a few weeks ago since it got bricked and lost lots of photos I didn't saved on OneDrive, but I do love WP and will never pick up an Android device. My next phone will probably be the Lumia 940 once it arrives to Mexico to my local carrier Telcel (América Móvil)

Yup, it's a great phone (I really like its design), the biggest downside, of course, is the RAM.

I don't really understand how come that Lumia camera on the 820 don't open quick and with the denim update won't be any improvement many says that is by hardware limitations but how come that android phones with lower specs can get innovations and windows phone don't by a hardware limitations, even my tablet which is low in specs works the ok Google , I don't know if windows Phone 10 would run smooth with 512mb ram phones since have more recharged graphics things.

What's the point if it's currently only for the midrange devices, Microsoft need to consider this seriously to show more support to those who invested in its high-end devices.

They're only interested in market share. Low-end and mid-range phones are where they make their money so they will be prioritised. I personally think they need to strike a balance. What happens when a low-end owner want to get a high-end phone? Brand loyalty is something I don't feel they properly appreciate.

Is so noticeable in Chile MSFT have forgot that this market exists and just 1 operator brings wpndevices but not all the line of products and the support of updates is terrible in this market, I don't see that be looking MSFT by market share anymore they rather assumed that wp is a niche market and are happy with it

Nice, still no folder play?

IIRC xbox video already has support for .srt !

Why I don't have the GDR2 on my Icon, wich is basically the same as the 930??

Second that question myself

Think u can get it with developer preview

Nope been trying lol no love yet

I wasn't even able to get it on my 930...

It may be basically the same, but its still a Lumia 929, not a 930.

After installing update 2 on my Lumia 1320... My phone is behaving like iron man... Everything is stable.. Battery backup is better then the previously which was on 8.1 and denim... Even improved graphical interface

I noticed that it seem quicker, and scrolling improved. Unfortunately, scrolling has returned to being jerky. The mobile internet is not as good, some apps seem to struggle with it.

Wow I was just copying the Evangelion movie to my phone a couple of days ago. Seeing you guys show this is such a coincidence lol. Almost feels like you took a screenshot from my PC lol

Love the first two movies so much, but part three...ugh, what'd they do.

We need a 2.5 part before 4

The third movie was exactly what they said they didn't want to do before releasing the first one, they said action was the priority and all that metaphysical stuff would be put apart. Anyway, I have a Lumia 520 and I'm considering to upgrade into a mid range, shall I get a 830 or 730?

830. Also look into Lumia 640.

Was cool to see 3.33 in Columbus in theaters, but still waiting on the BluRay release.

That's a shot from Edge of Tomorrow guys

Try looking at the second photo.

That's very good news, I won't be able convert my movies to MP4(etc.) anymore. Good job!

I have a 930 in the insider program and didn't get update 2

Consider yourself lucky. It's buggy as hell.

Update 2 isn't buggy, it's full blown finished commercially available update for WP 8.1. Runs just like all other updates Properly!

Is that a fact, or are you just supposing? FYI I had it installed on my L930 and reverted back because:
1. Notification sounds were not playing anymore, alarms included
2. Some videos were not playing anymore because of some decoding problem (YouTube, Storyteller, Lumia Camera included)
3. Recording video was not working anymore (MS Camera crashed, Lumia Camera got stuck)
4. Microphone was not working anymore in all apps aside from voice calling (Cortana, Shazam, Wavemaster etc)
And yes, the new "app permissions" were properly set up. Reboot did not help. Reset did not help. Just warning overeager people.
P.S. Commercially means they're selling it to you. :)

I updated my 930 UK through Insider App and not had one issue, it's my main driver and used a lot.

They are selling it to you. You paid for the handset running WP and they are supporting your OS with updates. It part off the deal until support ending for that product is announced.

People have bugs with ANY official update. It happens. Doesn't mean its a bad release. Wipe the phone and fix them. Done.

Update 2 buggy? I don't have any issues with it on my 930. @Terrence A The branch (insider app about page) has to be WPB_CXE_R2 to receive Update 2. R1 won't get it. It's possible to change the branch by flashing another product codes' firmware with Nokia Care Suite. My 930 didn't get the update either with the stock firmware

Damn thanks Patata was wondering I really didn't want to reflash my phone again. One is their a way to get R2 without reflashing can it be side loaded. If not and I decide to take the plunge which product firmware too use I currently have the DE CV I had the North Europe CV some months ago but my phone was acting up and had alot of crashes and problems.

R1 or R2 doesn't matter. I also had the DE CV with R1 and didn't get the update. Yesterday I flashed it to a swiss ROM (T9 CV) and then I got the update through Windows Insider. I am still alt R1. I don't think there is another way right now, than to flash it.

Btdub edge of tomorrow best Sci fi movie of recent times.

Yeah saw that last week and it was pretty good!

Came to comment the same..why isn't anyone talking about the film :P

Aliens blah blah boring...

Hi, Hi got update 2 for my lumia 535 before upgrading to windows 10 technical preview for phone. Its awesome.

That's an important feature

Ok Dan... any idea if update 2 will ever make it to former AT&T flagships (e.g. 920)? My thoughts are that, although MS has made the committment to 3 years support, AT&T will have none of it and will stand in the way of any future upgrades for discontinued phones.

I got an update on my 1020, when I selected Slow Ring. Not sure what it was. Perhaps just Denim? This is an AT&(T)errible model.

perhaps they should just roll out update 2 using preview for devs, like all the previous finished OS releases.

Glad to know. Can't wait for Lumia 640 XL's full review!

I'm done with updates for my Lumia 625, I tried WP10 preview and I don't like it, to be honest the OS feels much slower on a device with 512MB of RAM After I rolled back to Cyan my device is much faster. With that said, I still think there should be an upgrade for TubePro app on devices with just 512MB of RAM, not sure why but lately my youtube videos I'm watching stop after 3 or 4 minutes, up to a point when It was required to restart the device. This is just unnaceptable since youtube works good on cheap Android devices with same 512MB of RAM. If tubepro is not fixed soon I'll end up downloading my videos before I watch them, and I really don't like to do this because you know, youtube Terms of service prohibit to download its videos, I don't want my IP address to be banned from youtube because I'm downloading their website videos into my phone.

The W10 TP isn't done yet and it's slow even on my 1320, so it has nothing to do with 512mb ram Regarding youtube, why not try Mytube!, Tubecast or Metrotube ? And about banning your IP lol won't happen :)

Will Lumia 720 support gdr2??

Any news for USB OTG support in windows 10 ???

Hey guys! I got update 2 on my L930 last night, however i donts see any changes. Settings layout is still the same, no all applications sign on the bottom etc..any ideas?

How come bro? I thought it will be there since i downloaded it and installed..

Do you have "insider" app ?

Yeah bro..thats how i got update? So thats why is strange..i chose Insider Fast option.after that the phone restarted itself and instaled updates,restarted again but everything is same..

Hmm, weird i've no idea !

Then you don't have GDR2.

I have it on my BLU HD LTE, didn't know about the mkv support, thanks!

will lumia 730 get this update along with the 4g variant?

It is but nobody knows when...i have 735 and im waiting for regular update for it...with Win Insider i aint sure it will download GDR2...

no luck on 928, wants to update to TP10. not going there yet!

Think there's some specific encoding required for the MKV to be recognized by Xbox Video. I have a 1080p sample video with DTS MA 5.1 audio and it doesn't show up in Xbox Video. Updated 920 to GDR2.
Daniel, you should probably also have a look at 640/XL and possibly the 930 if they are compatible with the new Reset Protection feature in Update 2. EDIT - Xbox Video now sees the video after re-copying the file into the videos folder but says it cannot play the file. Moliplayer could play it flawlessly.

I have a Lumia 920 with update 2 (through Preview for Dvelopers) and I can't play an .mkv file. My Video app (not xBox xideo) can "see" it, but I get a message that the video file is not supported. So, Moli Player for the time being...

Heard somewhere that Windows 10 will come with native HEVC support. Is it coming to older devices? atleast on software? Moliplayer is showing no signs of it, despite several requests i made. I see low end androids (Galaxy Core) playing atleast 720p HEVC using MXPlayer. PS: VLC beta supports the codec, but is terribly optimised. Expecting coming updates to improve on that.

Supports equalizer for phone speaker as well

That's a hardware feature.

Which phone do you have? It would be nice if an upcoming update added equalizer for speakers to my 920.

What about 520 ? Will it get gdr2 update :\???

I got the Update 2 through TP on my 920. I'm not getting Windows 10 though. I'll wait until it's stable and reliable. :)

Yes! I have the right phone! +830

congrats! enjoy your life

yay. now add .avi support aswell. and have option to delay or advance .srt subtitle playback on videos

AVI support is already in place.

i have 2 lumia 830 and 635. I've made update on both phones. For update needed insider. After this update aka gdr2, windows 10 update was possible. ​I didn't know about this feature. I'll tested right now. 10x ​

Can I Update Windows 8.1 Update 2 on my lumia 520???

Lumia 730 should recieve this update !!

My Lumia 625 running on update 2

I own a 730.. Waiting for it!

Really feels great when you see your device is one the device whose gonna be updated first!

Converting my video files to play them on my Windows Phone makes me feel like I have a PSP again.

how about my Nokia Lumia 720? :p

Double tap on navigation bar to turn off the screen is one more feature.

Windows phone 8.1 Update 2 coming soon (may be in a week time) .. Told by an employee from Nokia care!!