Lumia 930 users can grab Windows Phone 8.1 Update 2 with Windows Insider app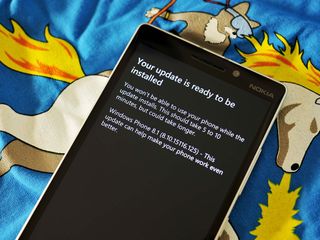 Although the Lumia 930 was excluded from the Windows 10 preview today due to a scaling issue, users can get Windows Phone 8.1 Update 2.
Earlier, we reported that some users are seeing Update 2 on their phones and not getting Windows 10. Microsoft has started a thread in their support forums (opens in new tab) to try and figure out why. However, for Lumia 930 users, it looks like you can just upgrade to Update 2 and not get Windows 10.
Is that a good thing or bad? Update 2 is actually a very nice update with a new layout in Settings that is clearly more organized with jump lists and a search tool. There are also some other minor cosmetic changes, like the 'All apps' with the arrow near the bottom of the Start screen (before it was just an arrow).
Presumably, you will also get the new Bluetooth stack that supports Bluetooth keyboards. We demonstrated this new feature earlier this week on the new Lumia 640.
To get Update 2, all users need to do is download the Windows Insider app and sign up for the Fast Track. The phone will check for an update and download the new bits. Windows 10 will not be installed. The build number is 15116.
For Lumia Icon (Lumia 929) owners, this trick evidently does not work, as we could not get it to do anything on our in-house device.
Should you install this?
This is an unsupported update, and we cannot guarantee your phone will not suffer some unforeseen consequences. Please do this at your own risk and perform a backup first! We also do not know how long this 'trick' will last, so consider your options wisely!
Has this worked with any other phones like the HTC One? Let us know below in comments!
Thanks, Ryan S., and others for the tips!
Daniel Rubino is the Executive Editor of Windows Central, head reviewer, podcast co-host, and analyst. He has been covering Microsoft here since 2007, back when this site was called WMExperts (and later Windows Phone Central). His interests include Windows, Microsoft Surface, laptops, next-gen computing, and arguing with people on the internet.
It'd be really nice if the One was included in this roll out too.

I agree, that's the only thing I miss on HTC other than the camera- support.

My phone is already upgraded on windows 10 (old build) nd I check for new update my phone got fast ring configuration update not the new build update.........what I do now.....guys please help me...

Try switching to the slow ring then back to fast ring and see if that helps.

I try it .......its not helpful for me.......but thanx.......

If you're on Windows 10 right now, it is obvious that you cannot install Windows Phone 8.1 Update 2 using this method. You cannot `upgrade` to an older version of the OS. So the only sollution is to restore your phone using Lumia Recovery Tool to Windows Phone 8.1 and than try and check if the trick works for you... Good luck !

1520 has been rolling out update 2, installing 10 now

Are you having problems changing your background image, and excessing pictures in picture hub?

That might be because of excess pictures on the device.

Actually it did trigger build 14219 for me, guess that's still the latest for the M8 currently.

Yea, that's the current latest build.

This is a 60mb update. I got for my 1020, India.

Myne was 92 Mb Italy Vodafone

What happens if I turn the phone off during the gears spinning?

yeah, dont do that!!!!. It took the better part of a days to get my phoneto get out of a annoying boot up loop.In which you need to use the Nokia Repair Tool to get it going again. your gonna need some patients and timing but it'll work, i had to do it but i was able to get it back to 8.0 and start all over again.

Commenting using the Dev Preview on my Lumia 1020.

Updated my 930 to update 2 without issues. The settings are much cleaner.

Did this with my 930 and 1520 after discovering it on the 920. Happy chap :)

I have it on my 1520 right now!

Does it fix Bluetooth settings? So you can set a device to use for speech and another for music?

You can already do that. You just need to connect one of the devices (I think speech) first, then tap on the music-only one next.

Tried to do it on my 920 - didn't work. Ended up with WP10!!!

Mine does. Uninstalled Insider app and sticking to GDR2 for now lol

You might want to disable automatic updates. Uninstalling won't solve anything, because the app already modified your registry.

if you guys provisioned your phone for tp 10 but decided to stay on the gdr update, make sure you do a hard reset after you have gdr2 because if you dont u will eventually be forced to the tp10 update.

If you'd follow this guide you'll see how to stick with Update 2 http://wmpoweruser.com/windows-insider-app-delivers-windows-phone-8-1-up...

+930 Nice surprise for us from MS! :)

GDR2 has more loading screens for me on 925. The People app takes time to launch that it didn't on the previous version. But surprisingly most apps are loading just a tad faster now. Pretty sure now they're working on fixing the loading/resuming issues which is GREAT.

That's because your phone is using the CPU to reinstall some of the apps. Wait until all the apps finish installation then try to open it.

I waited for it to finish (and for the phone to cool down). There is a hint of a delay when loading the People app and I'm not just imaginging it. But overall, things like the weather app and whatsapp have had their loading time cut short, or maybe the animatations are a few miliseconds faster, who knows. It's perceptible though. The ability to pin individual settings pages as tiles is excellent.

Is it any faster seeming?

Just installed this on my 930, can defo see some performance improvement, especially in the browser. Loving the new setting as well, much nearer! A little bonus, you can name your phone in the about setting now :) ​ ​ ​ ​

how did u do it man? cz me i am trying but its not updating...plz help.

I also got windows 8.1 update 2, but no sign of Windows 10, when i enter windows insider, it keeps restarting the phone ( Lumia 920 )

Sign into the insider app again then do the phone update. Should work then. :)

Exactly this. I did this on my sister's old Lumia 920. First it installed update 2, then after going into Insider, then phone update, Windows 10 was offered. Repeated the process on my own Lumia 920 to just install update 2 (my 920 is still my primary handset, not ready to plunge it into Windows 10's unsailed seas!)

Yes it will restart ...after restart then u check for the update .....you will get the update ...i was also having the same and got what i want ...happy owner of ur windows 10for l920...

I did check for updates, I tried 100 times, something is wrong. I uninstalled windows insider, then reinstalled, Still no result :(

Did you enroll the windows insider program again? Do the same steps. This did the 'trick' for me to receive W10 TP.

yesterday night, about 3 AM, i recieved windows 10 update, installed it. TBH, it's little laggy, so many resuming screen. then i rolled back to 8.1, the upgraded to update 2.... I recomend you not to install windows tech preview, just give it some time.

I don't think officially, the icon is getting win 10. Hence update 2. (this is speculation on my part due to Verizon EOL the device early)

Big deal. Ms stores still carrying it so its not really dead yet

Way to jump the gun, I'm gonna have to poke some holes in your tinfoil helmet though. 1) Any phone you sign into the windows insider app will download GDR 2 2) All phones will get 10, its excluded from this update because of a scaling bug. See? No conspiracy, stop spreadiing BS ._.

1) not true, still haven't gotten 8.1.2 on my One

Its not exactly EOLed - same with the 1020, end of life general means end of support AND end of manufacture.

Just plain wrong. People shouldn't make such statements when it is clear they are just making things up.

the 1020 is EOL but is getting 10, the icon can not get the gdr2 either at this point, that pretty big specualtion on your part.

This is completely untrue. The only reason why the Icon/930 do not have access to WP10 preview is because of a screen scaling issue with the preview. Both the Icon and 930 will get WP10. It is just not available for this round. I don't recall the specific window that Microsoft will continue to offer support for each device but I believe it is through 2016.

Is this update 2 comes to 534 plesssss.... . Give us that update.

There are some country variants like the 534D in Italy or many other

I got some kind of update on my Icon but my hopes were dashed

I got one as well but I didn't want to install it in case we weren't supposed to get it.

Well I'm gonna take the risk. I'll let ya know if the update works fine

I got one to and don't know what it is on my Icon.

Same.. Im about to check my girlfriends Icon OS version number

I had on offer in Insider L830 Threshold, suddenly, W10 TP. I do not want W10, only GDR2

Yeah, that's what I want too on my 1520...not sure how to swing that one :/

We need to update the named Threshold Flighting, maybe it was a mistake from Microsoft

Don't the updates normally come separately? Or is Microsoft bundling GDR2 with the W10TP update for everyone except for the 929/930?

Not really sure, TBH. I have to do today's update from an 8.1 device, not one with 10 already on it. I suppose you could intercept it if that is the case, I need to test.

I updated ​my 1520 to GDR2. Phone rebooted and I was offered to download TP, I just declined. Now running GDR2 smoothly I didn't allow automatic download in update settings ​

how to download the build, it keep saying no build for me

This same thing happened on my 925.

Dan, can you verify if an incept can be done just to get GDR2 without TP. 1020 att.

i provision my 1020 for the windows 10 tp. after it downloaded the gdr2 update and before the tp10 update i hard reset my phone, so now it has gdr2 with no intent of offering an update for windows 10.

my 830 also got the gdr2 update as part of the upgrade process to tp10, that phone was not previously provisioned for windows 10.

I just would like to know why Update 2 isn't available for Developers Preview Program yet?

Hey Dan, wanted to install W10 on a 920 but got update 2 so thought what the heck and tried my 930 and 1520. Lo and behold update 2 on both of them too and running great.

Try upgrading to GDR2 and then hard reseting the phone...

I just installed upd2 on my 930, thank you for the tip :) !!!
Unfortunately wp10 bricked my L1520, I enter the unlock pin than it freezes :'(

U r the guy behind that video editor rit?

Try to take out the sim card

Had the same with my 830 PDF too. MS are funny guys. After Insider app 'Fast Ring' I had 10TP ready for download without any option to decline it. Any attempts with Windows Insider gave me "update is pending. install it and come back". Ok, I installed 10TP. Than, with LSRT reinstalled back 8.1. Than got to Windows Insider and there was only 'Fast Ring'. Not two options as usual. Checked 'Fast Ring' again, and got GDR2. Crazy ;-)

What model of 830 do you have, I'm on ATT US model, I have not seen anyone on this model get grd2, when I did it the update bumped me to .341 but not grd2

RM-984_1045, Country Variant Russia. As I said, I was on the latest PFD version. With insider app I've got only 10TP without any other option. After LSRT I've got 8.1.1 and only after that GDR2. Try LSRT. Check, what version it will offer. In my case it was 15063.

Check this guide http://wmpoweruser.com/windows-insider-app-delivers-windows-phone-8-1-up... ,I have Update 2 on my 1020

Updated my L930.. no issues so far. The device seems pretty stable

and camera saving pictures much faster (on my Lumia 920)

How are your notification sounds working?

maybe MS was touched by all the moaning here this week? lol

Or maybe their servers got screwed up by people hammering for updates all the time, and ended up pushing out Update 2 for Lumia 930 accidentally, lol... *jk*

Tried to install it on 1520, touch issues everywhere.

really? how come? I am updating as I type

Phantom touch, tried to restart my phone again. Let's see.

So what you're saying is that it's acting normal? I keed, I keed.

Absolutely no issues so far on my 1520. Ideal excuse not to update to W10 until office and data toggle issues are ironed out.

Same happened on my 1520 att model, but I went straight to wp10 without getting an update to grd2, I was on latest official denim.

On update 2 Lumia 925 T-Mobile us for now till I get home

The trick works on the 925as well? I may try it to just get GDR2 if I can prevent the WINDOWS 10 installation

Heres the trick, after downloading the GDR2 , you know how it downloads, then it says preparing update, right before it prompts you to install now, hit start, go to storage sense and delete Windows Insider app. Then jump back into the update screen and proceed to install GDR2. When the phone reboots as usual during an update, when ur finished thats it, nothing else will happen cuz windows insider app is uninstalled.

Yeah I actually did this and am now just checking out GDR2. Don't know if I should jump to 10 or not, still debating that. But overall there's not much different. I think they changed the People app from Silverlight to WinRT because it shows a "loading" screen now. Annoying as hell. Looking around for more changes :)

Win 10 TP is quite buggy plus you can't swipe to get options easily like before

I actually tried this a few hours ago (despite knowing W10 wouldn't come). I ran into the server problem and didn't bother anymore. I'll try it again to see what happens.

I'm not trying this until there is an official update waiting.

Yup, nothing on the icon. Great.

I did a check with my Lumia Icons and they both did an update (after I did the fast track on win insider). It was a "1 meg" download, it forced restart, did the gear cog thing, then did the migrating data deal....then says, insider fast configuration update is installed.... nothing after checking for updates again. And version is still same.

Settings are still the same?

Yep settings are still the same.... :(

Same thing with my icon did upgrade and versión is 14219 i think its the same

Same with my HTC8X Verizon

Mike, yeah, that is exactly what happens on mine too. That's as far as it gets, no GDR2.

This happened to my Lumia 930 as well though. I got through the update process and everything, with the merging the data and you know the deal. Now I'm with the exact same build, but on a 930. Tried to choose the fast ring again - but only starts a reboot - and my phone's up to date. Should this work on all Lumia 930's?

Same for my Icon. Haven't noticed any changes to the settings.

Really weird right? Felt like I was the only one. I've been trying back and forth to enable the slow/fast ring as well as tweaking around with Preview for Developers with no success...

Yup, me too... Guess it is a staggered release of some kind... My 930 is a Telstra branded handset anyways, if that helps?

Same on my icon as well... Oh well was really hoping we'd get to try win10. Here's to hoping I can have enough patience to wait on a new flagship phone for Verizon. Although they flat out have no windows phones in the store near me and constantly try and tell me you're the only person to say they like windows phone.

Same here (L930) weird... (And sadly my L620 does not want to work anymore so no W10TP to try :( )

After installation of GDR 2 Update on my Nokia Lumia 625, I started downloading windows 10. But from last 3 hours its stuck on 5%. Please help what to do.. Ho to restart the download. I cant stop download.

I too got like that. But after some time it changed to 50%

Dude its now more than 4 hours.. And still 5%. My WiFi is running smoothly.. Getting about 6 mbps speed.. What the hell man..

Mine too stuck at 7% for hours, wifi is okay. MS servers have problem I think

Mine was stuck at 94% for the whole night. Now it's finally preparing to install.

Bro me 2 stuck @ 5% no idea about what to do ? you have any changes ??

It happened to me before. Turn off your phone, then take off the memory card and then turn on the device. This will solve your problem... Just make sure you wait 10 min, sometimes it takes that long in the beginning of the installation

I'm using a 720 and I just got an update for windows 10 technical preview....yippy

Hows your 720 performing now???
Cause today m gonna get or on line 720
It's already running first w10 tp very smoothly..

Does it come with new music and video app?

That's what I wanted to ask. I want those apps to be perfect.

my att 1520 say no build for the whole day, no updates at all

Register first as an Insider (its different from the MS account only)

Got an update for my one. Will see if it is this one.

My 1520 is now on win 10 TP, all I wanted was 8.1 GDR2... Guess it is time for recovery tool guess I'm going back to 8.1 GDR1

Before you install any update there's an option to check details, if it isn't what you want you can then cancel.

If you are willing go go thru it again this will work... Install windows insider, sign up and when it says you're ready, go to check for updates BUT make sure to uncheck install updates automatically. Ok so download GDR2 again, once it says preparing update, then it'll ask to install, but before you do, go jump to storage sense and delete windows insider app! Now go back to update screen and proceed to install gdr2 :) When you're phone reboots as usual, it'll stay on gdr2 nothing else will happen the insider app is gone.

Lumia 830 as well, just updated my phone, working good so far

What model 830? I'm on att us version and won't get grd2

Wish they officially release the update 2 for 930.

I have it here on my 930 in UK.

Have it here on my 930 (India), working smooth without any issues.

There is a serious bug in unofficial GDR2 on L930. Notification sounds do not play sometimes. I believe it happens after using Bluetooth. Take care! I had to roll back to GDR1 and reflash my phone.

Same problem here, though I don't use Bluetooth. Now I regret getting this update.

Lumia 930 notification sounds and ringer are messed up after this update.

Am I the only one for whom it's working perfectly fine on 930? :O

This happened with my Lumia 730.
What should I do to get back to supported 8.1 or windows 10.

I have an HTC 8X, finally I am allowed to sign up for the fast ring, I received the "insider fast configuration update" but no update 2 yet.

I just would like to know why Update 2 isn't available for Developers Preview Program yet?

I just installed it on my 930 with dev Preview...

I currently downloading update version 15116 on my lumia 535

I don't get it. I have the icon and it went through the download and install process but I do not know what was installed

It installs nothing. You can take the fast or slow track. The ICON version doesn't change.

I have no idea how W10 is going to be ready this summer with the laggy, poorly scaled, buggy, release today. It is actually worse than the previous build, with more hamburgers than Fuddruckers, stuttering, resuming and loading screens at every turn, and just generally bad design and UI everywhere. The sad part, is that it looks pretty good and performance and UI are great on desktop. Glad to see where their focus was

Yeah I'm wondering the same thing. It looks and behaves like an alpha version at best. :/

When they say summer they probably mean late August, early September, so they still have some time. Besides, they might release Windows 10 (the one for desktop users) then and a couple of months later Windows 10 (for phones)...

GDR2 Seems faster! There'll be no stopping the Windows 10 juggernaut

So I decided to try WP10 and the first update was to Denim 8.10.14219.341 for att Lumia 635. Next up wp10...

This happened to me on my att 830, got this build not grd2, next one is w10, but I wanted grd2

730 in India shows this update!

Which update is available for 730????
Is it gdr2 or wp10???

HTC one here, it downloaded the fast track update. Then there was a software update, but not quite sure what it did doesn't look like the update two.

Well I just tried it on my Deutsche Telekom 930. It didn't work. No GDR2 through the Insider program here. Wouldn't be surprised if Microsoft had already pulled the plug on this.

Did you have PFD turned on? I had to re-enable my PFD app before I was able to get update 2. (930 RM1045 HK)

I did. Still nothing. I tried turning it off, nothing. On, nothing. It installed the Insider Fast Ring update but then no GDR2. (If the update is still available, then it's probably because the phone has carrier software. I'm on a 930 RM1045 TMO-DE which is the Deutsche Telekom version. TP and PFD normally pass over that but maybe in this case it didn't.)

Stay with GDR1. Just rolled back with reflashing. Notifications do not play after some time (or using Bluetooth, had no time do identify issue with details).

Thanks for the heads up. I don't use the 930 as a daily driver anyway, but Bluetooth is handy to pass stuff to my fail my driver since NFC doesn't work.

"daily driver" not "fail my driver". Damn WordFlow

Tried to install update 2 on my Lumia 920. It worked on my 520 which I am updating to 10, but in my 920 it wants to update straight to 10 without GDR2 but I don't want 10 on my daily driver so not downloading.

there seams to be a fade effect when we unpin an app from the start screen... Also, facebook was installed... Didn't had it before...

What a big different between fast and slow insider?

I am also getting 8.1 update 2 on my Lumia 535 after logged. Into windows insider app

Hai guys ... My phone updated to GDR2. LUMIA 730 in india

Hark now hear the angels sing,
A new king born, today

Do anyone already use win10 on Lumia 620? Please share it...thank b4

How do we set the new security feature ?? "reset protection" and "WiFi calling"

I just want Denim and GDR2! Move your ass AT&T!!!!!

Is there a way to get GDR 2 without installing the Windows 10 TP on my 925? I tested 10 out for all of 10 minutes, and it was too broken to use.

OK, this may have been covered before - but I haven't seen it... Question: I have both the "Preview For Developers" which got me 8.1, and the "Windows Insider" apps installed. I've decided not to install 10 until it's officially released for my phone, since I only have the one phone. Should I expect to get Update 2 using the "Preview For Developers" app (eventually), or is everything moved over to the "Windows Insider" app?

You get GDR2 with windows insider after the update is finish you reopen windows insider for WP10 update but since you dont want to install it just uninstall the app

Thanks... So, you're saying that future updates won't come through "Preview For Developers" - only "Windows Insider"?

Well for GDR2 yes, but maybe preview for dev will be used in WP10 !!

Thanks, Man - I appreciate your feedback. I'm not going to even think about WP10 until the final release is avaialble - just seems like there are too many bugs right now to install it on my only phone. And, I know they're not really "bugs" since it's a work-in-progress update, but you know what I mean.

yeah I'll do the same, no WP10 until his final release if i like the reviews and the features, but i just install GDR2 update and its a nice update !!!

Wow - this forum is pretty much impossible to use on 8.1 IE11! Doing the same here. I'm happy with what I have with 8.1 - so I'll wait. :-)

Off topic. Buy hot to switch off phone in windows 10

http://windowscentral.com/commenting-guidelines

Is it safe to download in my Lumia 820

The risks mentioned in the article apply to all Lumias...

Smooth on my 930. Looks like an official release already

No Update 2 on HTC One. Only update was the "fast ring configuration" everyone is getting.

Ya, same here at my HTC 8X, I think it's a good sign, it seems like we are going to get update 2 then windows 10 soon.

My 1520 received this update. I thought it was the Windows 10 TP.

Maybe, the risks are explained in the article.

is windows phone store down ??

Got 8.1 update 2 on my Lumia 535 :D

warning samsung ativ S users - I tried this approach to get update 2 & installed latest s/w but now my phone continually reboots, anyone else have this issue?

My ATIV S just updated but its only 8.10.14219.341 No issues at the moment that I've noticed.
Although this isn't GDR2. It does say that I can install fast insider update. I'll just stick with what I've got for now.

I did the fast ring update, I had to use the samsung s/w tool to install a previous version to get my phone to work again, so now its just updating from earlier 8.0 builds towards 8.1. I think I'll wait til others have update 2 successfully installed on an ativ s before I try again.

Same here. Just getting my phone back in order after reloading to 8.0. Ugh, painful mistake.

Icon please, I beg you MS. I just want GDR2. I'll wait for official w10, but so close! Just one more phone!

Dude as much as I'd love to have gdr2 on my Icon between that and early Windows 10 there's no need for being inpatient

Any one notice that now we can turn off screen with double tap on navigation bar Lumia 730 gdr2

I am using Lumia 930 I am not get Windows 10 preview when you launch I am waiting

Went forward after Update 2 and got Windows 10 for Lumia 920. Lets see how kt works.

Ok, actually got an update for my M8. OS build 8.10.14219.341. Not sure if that is build 2 or not. Afraid to go any further with updates though. Hate to see 10 screw up my phone if it is even available.

That is the most current HTC 8.1 Update 1 software. Same as my HTC 8XT on Preview For Developers with official 8.1 Update 1 from Sprint.

I was about to sign up for the insider program after reading about the update 2 in some phones. This kills all my hopes as I just want the reset protection featuring from update 2 in my icon ( and every other devices I own)

likewise, in my opinion, they should give this little function to every device as a separate update as soon as possible

Well without the requisite fw it wont work

All we're saying is that it should be available for everyone nothing else. If complex firmware update have to be done for this, obviously it'll take some time. But our major hope remains in Windows 10 update

Are you talking Windows 10 preview or the final Windows 10?

So I guess that this doesn't mean the Icon?

No icon again. Looooooooonely icon.

I would like to get the update 2 but not w10 on my 928, is that possible? I guess it should first download and install update 2 then w10, so I could let it do the former and opt out of fast ring before it does the latter

Even my locally branded phone has Update 2 via Windows Insider

Nice! Just got my 930 today, delivered a few days earlier than expected. I was happy to see I had Denim once I got through setup this afternoon. And now it looks like I also have Update 2! Settings look better for sure. All the apps are now downloading and it's past my bedtime, so I guess I won't be trying my new phone on the first day. I hope nothing goes wrong overnight. Can't wait to put this device through its paces tomorrow :)

Man... They couldnt solve dimming? Lumia 730

Apart from the Settings layout, haven't noticed anything different on the 930

W 10 now downloading on my 730 India

My Icon is downloading updates right now. Edit: Actually it was just the Windows Insider Fast update.

still downloading mr brown?? pls tellme

It just downloaded and installed the Fast Ring Config. Sorry, No joy for us Icon owners.

My 930 got an update for 10.0.12534.6 - running without scaling issues so I'm happy about that but pissed about MS claiming there is an issue :p

Hi, how did you manage to install it? On mine the PFD app started working again and I get to enroll for fast builds. each time afterwards it keeps rebooting. L930. Carrier CV NL but the phone is not locked to any network. ANy ideas?

What is the change camera Lumia 1020 after upgrading...i updated my 1020 but gat nothing change camera software..

None, the 1020 isn't eligible to get Lumia Camera 5...

Looks like they may have shut this down. I've tried everything I can think of, and it keeps telling me my 930 is up to date. Dammit, Jim!

On a 1020: Would using this to get to Update 2 automatically bump my phone to Windows 10? Because I personally want to get it to Update 2 and then stop.

Nope, did it on mine and just got the GDR update.

How do you stop it from going to W10? Uninstall Windows Insider after the first update?

Yes. From Storage Sense. Also uncheck download future 10 updates in insider app.

Alright, thanks for the help. What build number should I be looking for, so I don't accidentally install Windows 10? In other words, what build/OS number has been assigned to Update 2? I'm currently on 8.10.14219.341. Thanks again for the help, everyone!

To further clarify: I see the article mentions the build being 15116, but the update current available foe download is 10.0.12534.56, which leaves me concerned it's going to jump directly to Windows 10, which is not what I want (at this time).

is GDR2 update size is more than 500 mb ?? :'D

I was using the 1st build of w10 on my L730.. A few hours ago.. I got the 2nd build.. And two hours later i got the fast ring configuration update.. Can any1 tell me why the second update was aired..

I'll wait for the official update. Taking risk now may cause serious issues, lets wait and hope for the best ! ;)
L930

I have w10 waiting to install instead of the update 2 on my 1520. Is there a way to prevent the automatic install that says is going to happen on the 14th?

Hmmmm, I got Update 2 on my 920 but cant get Windows 10. On my 930 I can't get Update 2. Have configured for the Fast Ring in Insider. Am in Australia, don't know if there are region restrictions?

In Australia too, with a country (non-carrier) version. No update for my 930 even though it said there was one.

I've set the "Fast rin" and the phone has restarted. After this I opened "update phone" menu and there was an insider configuration related update, but not the GDR2. I didn't receive GDR2 for my L930 :( (Hungary, T-Mobile)

I got the update 2 but can't get w10. My 925 keeps telling me that my phone is up to date

My Lumia 930 only got fast track update installed and that's it, no GDR2...

This works on my 920. But I want windows 10 but after installing windows 10 it prompts an error. Anyone?

U people dont believe it but my micromax canvas w121 got update 2 from insider app

This update is useless... Nothing new in this.. Only the settings are categorized...

You can also pin your settings to start screen as well the other things noted in the article including BT stack for keyboards. Might be placebo, by my 930 seems to be running smoother, especially after having some issues with "resuming".

I have a 930, if I go into the windows insider app, it only gives me one option, the windows 10 TP. how do I get the update 2?

When you go through it accept and press next then go to settings phone update and your phone will pull update or you pull manually

You have to use the Lumia recovery tool go back to 8.1 then you'll be able to install new alpha aka technical preview. Keep in mind its no where near final so don't be upset that this is the step you must take

Well it installed something but nothing looks different and there are no other updates available *shrugs*

Guys please tell me what is the difference between insider slow and insider fast

One seems faster than the other... Obviously!!

Error code 8018830 when installing appears...downloads but doesn't install, 1320 user...cant open is the message.

Lumia 1020, no W10, but got WP8.1-u2. :)

Any chance of getting GDR2.0 using DP and not TP I just want GDR2.0 and not W10.
Any suggestions??

Not currently possible. It's up to Microsoft to release the update through the PD in the future.

WARNING FOR PEOPLE ONLY WANTING GDR2: Got the update 2 on my 1520 with insider and then stopped with the next available update (win 10 preview) since this is my only phone. Uninstalled Insider just in case. But even after reboot, it's still prompting me to update to win 10. Is there a way to unregister from insider now? I've also disabled and re enabled my PFD and it's still asking me about win 10 update... Guess I'll way for it to automatically search for update tomorrow and hopefully it'll say there isn't any updates... Didn't think I'll need a way to get out of the Insider program. will update if anything changes.

Similar to you, I am also asked to Windows 10 update. Wondering what will happen if I am supposed to get some other carrier updates in future.

Technically that is possible, but I think there most likely won't be any more major (or otherwise?) updates until win 10. And by then, when win 10 is RTM, we would want to get it through Insider first maybe? or maybe someone can try turning off updates, update to gdr2, and not check for updates on reboot? Maybe it won't prompt for win 10 update? Or maybe not since you're already registered on their server side and/or registry already set on your phone (similar to PFD)....

Try resetting your phone.. It'll put configurations back to "normal" but retaining Update 2... Only thing is you'll have to reinstall everything from the ground.. Other thing you can try is to Reinstall Windows Insider.. Enroll your phone and then from the app Un-Enroll it .. I Think (and expect) that option is Available, 'cause i'm staying on GDR2 like it or not on my 630

Right on. I guess that a hard reset would do it as well since it does the same with PFD. I'm just betting on no updates until win 10 release anyway so I can skip a hard reset (not too bad either since a lot can be restored now). And no option to unenroll from Insider (unlike PFD), via the app or the website. First thing I checked of course.

Download the update for TP10 but don't install it. Store it !

Yes yes, that's what we're doing when we only want gdr2. But the issue is once you upgrade to gdr2, it looks like your next update has to be win 10 preview. We're hoping to opt out of the preview program now and get back to either regular carrier updates/oem updates or PFD updates. I mean what happens when a new official update comes out now (unlikely before win 10)? Will we get it? Or when win 10 is ready (most likely ok of it's like PFD)? Anyways...

Looks like they figured it out. To only get gdr2, make sure to uninstall Insider while it is downloading the gdr2 update (before it even checks for win 10). Once you've installed gdr2 and it checks for any other update (win 10 preview) if you still have Insider installed, you can't seem to get rid of the win 10 update prompt after. At least I haven't been able to yet. http://wmpoweruser.com/windows-insider-app-delivers-windows-phone-8-1-update-2-to-any-handset-which-does-not-support-w10m-tp/

Can I get gdr 2 in my Lumia 520?????

I followed this instructions and it shows me a message for install the version 10.0.12534.56

Any bugs or issues in update 2 for Lumia 730 in India?

Is The Windows 10 technical preview for phones already to install on the Lumia 520?... I followed this instructions and it shows me a message for install the version 10.0.12534.56

Got it on lumia 920 too:)....But now installing windows 10 technical preview.

What's the size of the update?

guys, would you recommend installing Windows Insider now to get the update 2? plan to use it on my primary phone. please advise. i really try to avoid this install preview thingy because i'm not familiar with the technicalities.

The risks are explained in the article...

which phone are you using?. if its a 930 you will only get update 2. ive installed it on my 930 with no problems, very minor changes

mine's a 535. yeah, i'll jst wait for the official release instead. i was jst curious about what it does/ new updates are.

Can I update Windows 8.1 2 in lumia 520?

Using a Lumia 830 here.
How did you guys get only GDR2? Because it only shows me Windows 10 TechPreview as available for downloading.
And I'm surely not wanting Windows 10 on my phone, with all that lack of identity UI changes.

got update 2 on my 930 through the insider app with no problems, makes very little diffeerence, runs ok

I downloaded update 2
Now my phone star to download a another update
But it stuck at 5% what should I do????????

Got GDR2 on my 930. Settings are much nicer, although the absence of the "kill switch" is disappointing (unless it's in there somewhere).

Downloaded Windows Phone update2 through Windows Insider App in my Lumia 925, Finland
After update:
OS: 8.10.15116.115

Just downloaded update 2 on my 1520. So far so good. Settings is changed. Apart from that nothing else.

Not working anymore? Not finding any updates at all on my 930. :(

Can anyone tell me it's available for HTC 8s pzzz inform me if it available for me remember it.

I did update my Nokia Lumia 635 but experiencing an issue which is when I lock my phone I can't access locksreen until I restarting the phone. if anyone is experiencing the same and did fix the issue please let me know..... Thnaks

The L920 India got the gdr2 update?

Size of First update and second update

Just finished installing on my 920

I got an update for my lumia 1020 but this one is not the 60MB one. It requires wifi!. So i think i m getting win10 on fast track!

Hmmm going through preview fast ring, my icon rebooted and installed an update.

Updated to update 2.. Thanks guys for the help.. OS working good. 2-3 new features such as double tap to sleep. Enjoying them. Not heading for the wp10 now

gcdc_lumia If you don't understand technicalities please don't install it.

Can I download the GDR2 Update in my L830 without Windows 10?

Maybe. I did it with my 1520 and just stopped updating after GDR2 had finished

It seems that this is a random matter. Some of us received GDR2 first. Others only W10.
I am in the second category, I just want GDR2 but my only available download is W10 TP.

I used the recovery app on pc to get 8.1 back and then updated again through windows inside en I just got gdr 2 on my 1520....

cgranjaobando we put win 10 tech prev on a 520. It is slower. And pressing 'all settings' does nothing. So I'm searching for a solution to the settings problem.

It also works for the 1520

I installed new update that is update 2 on my phone 930 but everything is the same no change at all ! ​ ​

930 is the worst Lumia phone ever ! ​

...and you are the worst man ever.

Doesn't work for me. Been waiting all day on the fast ring on my 930; no GDR 2:(

I did this on my ativ s it installed the update but its now stuck in reboot loop.....

Upd2 on my 1020, seems to work just fine

A few minutes later it wanted to install w10... Haven't done that yet though

Updated my UK 930 (was locked to EE but I've had it unlocked). Works like a charm!

Are BT keyboards working with 930? If yes. Might go with this.

Updated my UK sim free 930 just now. Nice one MS!

Does anyone know if it increases or decreases the System Files in Storage Sense? Is 10 bigger or smaller than 8.1? Is the second update to 10 larger or smaller to storage than first W10 build?

do not update lumia535 with the latest firmware upgrade...touch issue will increase

My touch sensitivity is smooth on my l535 after upgrading it to gdr2

my lumia 535 runs smoothly even without gdr2

My Lumia 920 got update2 but no more updates are available. Come on, I need to check win10

My 920 got stock In start screen after installing windows 10. All I can see is the icons above. What should I do?

What? I got no Gdr2? I only got Windows 10 update? L930

I don't get it on my 930 here in Belgium :/

I got the update on my 930 but I don't see any change. Hmm.

Just "fast ring has been configured"

Just great. Now my 920 is stuck on airplane mode. :(

The strange thing with this update, installed without problems on my Lumia 930, but i did't see any changes.

after my L925 got updated to Update 2, got a message that Windows Insiders has been rebooted and now under Phone Update I see another update being downloaded... I just wanted to update my phone to 8.1 Update 2 and not WP10... It seems maybe WI is first installing the update 2 in order to prepare the phone for WP10 update... Plz confirm if someone else faced the same problem... Is it possible not to download the next update or stop from installing it...

Yes, it happened with me too, although i want Windows 10, You can either turn off tour WiFi to stop downloading the update

Ya. Turn of automatic updates and the Win 10 update will just sit there. I was able to get Update 2 without downloading Win 10 on my L925

What are the features of update 2

My L930 received an update but, nothing is changed on my phone. I dint get any GDR2.0. Did the support end or what..?

So this update is necessary if I want windows 10 on my order phone ?

Installed on my 930, no issue found yet, but seems getting a better performance

I can confirm that on Lumia 630, i got GDR2.. Still updating but Windows Insider first installed GDR2. So I'll stop here until I see some news about Windows 10 TP... And if it gets a little more usable will go to Windows 10... By now will enjoy (? GDR2 and explore it 'cause, at this moment nobody said anything about this build, only that they got it... And i know, I know, Windows 10 is totally more "important"... So i get it.. If I get the time.. will make a Post on forums to show if I find something new on GDR2

Just got Windows 8.1 update 2 on my 920 on windows insider app!

I want this for my 1520. 8.1.2 is currently more interesting.

I can confirm that Update 2 can be installed on Lumia 520 via Windows Insider, however I'm unable to upgrade to the WP10 Preview Build. TBH I'm not interested in WP10 as it currently stands probably until when it's released in its final form.

I didn't get gdr2 . How can i disable signout or disable the insider program to not install windows 10 on my lumia 930 help plz

Before you install the update (but after it has been downloaded), uninstall the windows insider app.

+930 upgraded to 8.10.15116.125, Branch - WPB_CXE_R2 - no problems I can see.

Just updated my 930. Works like a champ! Thanks!

My Lumia 930 did a bunch of updates after signing in the fast ring but no differences in the settings view or so... Checked for updates but doesn't find anything... Is this a regional thing perhaps?

Switched all language and region settings to united states but still no joy...

look i am furious ..my lumia 630 dual sim is experiencing same problem

Windows 10 Preview came out for Lumia 520 today morning. :)

Been upgraded 8.1 (2) nokia1520 uk

Guys i got GDR2.... :) on my LUMIA 730

Guys i got GDR2 on my lumia 730 just now .... :)

My 920 also stuck on GDR2. I changed branded PC to CV and now I have win10 for testing. In normal phone 640XL still on GDR2

The latest TP was too unstable on my L735 so I have updated only to GDR 2 which also can be installed on non Lumia/Microsoft handsets.

Working on L630
Got GDR2 and now uninstalling the Insider app because i don't want WPTP10

Updated my 930, now I can't play vocal messages on WhatsApp...not a big problem though

There was an update, but my 930 is still on 8.10.14219.341 ...

guys i got GDR 2 on my lumia 730... without w10...

I did the whole routine on a lumia 930. Insider program, update check, update was installing...rebooted but still on old version 8.10.14219. No sign of any changes. Is here anything I can do?

shit, my lumia 920 directly jumped to windows 10, without Update 2....

bad luck Brian here. any solution for QHSUSB_DLOAD or I'm dead?

My 532 got gdr2 from insider. I kept it.

Just got the update on my 930. I don't actually like it saying 'All apps' I prefer just an arrow. The settings layout is better.

Do you know if BT keyboards work?

Any news on if the Icon can receive Update 2? Or is this just for 930?

Was able to get GDR2 on my L925 on T-Mobile US without downloading Windows 10. Turned off automatic updates so I yet wouldn't go to Windows 10 without me wanting it to because this I my main device. I already see performance improvements on my L925.

I wish the Icon which is the same phone could grab Update 2.

Working for me and running fantastically......great improvement on an already good 930..feels like all the little niggles have gone...

You realized that in 5min? The bugs that plagued 930 are still there. For example now even IE makes the screen blink sometimes (and I'm not talking about flickering). More and more I'm thinking to buy iPhone :(

Am I the only one who's not getting notification sounds anymore?

930 really sucks for a high end smartphone. No glance screen and no preview updates

My 930 is my daily driver, I think I will skip this because as I understand it Windows Insider burns in the path to the 10 update servers meaning you wouldn't be able to get any future 8.1 specific updates without a complete reinstall

I merely turned on the Windows Insider in my Icon yesterday. It downloaded something and has been in a continual reboot cycle since. Can't even get it hard reset with Volume Down button as it reboots to reset it. Weird.

It doesn't work for the L930 Vodafone Branding, Germany

730 India got update 2. Its pretty smooth but there is a serious bug in GDR2, Notification sound is disabled sometimes ..

Not only 730.... Windows phone is full of bugs...

I am so pissed off with this update even the calls are mute.. Anyway to move back to update 1 without flashing

How u updated to gdr2,plz tell me,if I updated with gdr2 in future I will not get windows 10??thanks in advance..

Is double tap on navigation bar to lock the screen hardware dependant ? Did not find that option in Lumia 630.

Lumia 930 is so lucky...win10 tp is full of bugs...no apps opening... Can't open photos...

German unbranded Lumia 930 here, no Update 2. :|

check drwindows.de, there is why: http://www.drwindows.de/content/6126-windows-10-preview-fuer-phones-brin...

Win 10 tech prevew Is nasty.....so many errors... Cant open any apps...glance screen settings not opening...and also the fonts are so tiny...new people app is totally ugly.. Microsoft must take this as serious issue.. Otherwise windows phone will dead for sure.....

In my humble opinion... I think windows10 has got a lot of potential, the only problem is the bugs should be addressed and I don't think its an easy job. It takes time. Microsoft is doing is best to give users the best. It's just a TP (which was warned by microsoft that bugs will exist) so calm down and wait for the official one ;)

Installe update on my Lumia 930 but not gdr2. Im still on 14219

When I am trying to update my L925 got error 81882d2

HW can I get gdr2 update on my Lumia 730??pls help me guys..

Better don't update its full of bugs notification sound is disabled. If u still wanna get it install Windows Insider app sign in and go to settings and phone update u'll get it.

Got GDR2 on 930, seems stable enough for me :D

Nothing here on this 930 :((

The Lumia 925 gets it too

Try win10 and roll back to win8, looking forward for the stable version.

Im getting windows 10 preview fast ring with insider program on my L820 Vodafone UK

Did it to get update one on my 635:)

I got some update on my Lumia Icon (from windows insider) but don't see any UI changes! So not sure what the update did. Went thru all settings and no visible change was seen.

Updated my 930 unlocked from Brazil. Everything working good but there is a small bug, anyone who done the same can confirm to me if ''find my phone'' option on the settings opens or just crash?

Checked for updates hoping to see 8.1 GDR2, but see 10 instead. How do I not install? Says will install by 4/14 3 am?

Wireless charging does not work for me after the update :/

Less buggy than Windows 10 build, Photos seems to be taking a long to load though

I was trying to install Windows 10 on my Lumia 1020. But got this update instead. Now, Windows 10 update download is stuck at 5%. New things in this update apart from mentioned ones are: 1) You can change phone name from Settings > About. 2) Settings now also has App Permissions to 'control what apps do on your phone'. 3) Now backup also backs up the application data like your scores, notes, etc.

Same me bro today morning

No. 3 is not new. The welcome screen also told me that WiFi sense is new, but that's been available for a very long time.

GDR2 work on both my 1520 amd 830,,very nice,,Follow the instructions and all should be good
http://wmpoweruser.com/windows-insider-app-delivers-windows-phone-8-1-update-2-to-any-handset-which-does-not-support-w10m-tp/

does anyone know what happened to the settings which could be accessed through the swipe right menu, such as Search, Maps, Wallet, etc?????? I know its all consolidated but do I have to update maps via the HERE app or is it somewhere in the settings?

And Icon. I got an update last night and was able to get on to the insider app and pick either the slow or fast ring for it. I wasn't able to before yesterday.

I got 8.1 update 2 on my blu win HD hmmmm

Got update 2 on my Lumia 1520. Able to rename my phone. Is this new feature? Or part of denim update?

I think I got this update for my M8, I was hoping for the W10 =(

In 520 can I update OS 2..plz tell me guys..

Just updated to 8.1 Update 2 on my 930 in the UK and no issues so far. Will not be progressing to TP though, this is my main phone so staying right here for now.

I love the 930. But the only reason Im not switching from my 920 to 930 is because the phone doesnt have LTE. I mean why not?

In the US it doesn't have the correct LTE band for US carriers. It is an international phone so it has all the international bands. Though, HSPA+ still gives me around 14-16mbps on T-Mobile.

930 with no LTE? it has my friend .. i own one

Stick with official update even it's slow

Just got WP 8.1 Update 2 on my Lumia 925!
OS version: 8.10.15116.125

No return to two tile look.

App Permission is also new feature that was not in Update 1.

is it possible to get the update by NOT going to the Insider app?

Got it on 1520.3 (RM-938). So far works fine. Seems faster (not joking).

For whatever reason I can't seem to get the update servers to offer my 930 GDR2. Weird.

Tried this but only got "fast ring configuration" instead if GDR 2.0
Interesting...
Lumia 930 Swisscom Switzerland

Nokia Lumia 630 Dual SIM is true windows phone 8.1 GDR2 up update with Windows Insider.

Prepare for unforeseen consequences...hmmm....half-life confirmed!

Tried this on my L930 and nothing changed

Well I am officially confused. Did everything correctly. Downloaded Insider, got an update wth spinning and all and the only difference is extremely fast loading of Here Maps and my camera button is even faster. Still says update 1 and build 14219. Any help please? Lumia 930 on Telstra in Australia. oh and Cortana now in Alpha.

When it comes for Lumia 730

If I now install windows insider (for the first time) on my L730 will I get GDR2 or W10??

After the gdr2 update my 1020 doesn't overheating anymore.at least for now.all apps opens now a little faster.system gone down from 2.1 GB to 1,9 GB.app permission is present.i don't find the reset protection

I have an icon and went throw the insider update just to check it out and there was an update that was only 1mb and installed in less than 5. It didn't get me update 2. Anyone know what it might be?

Lumia 930 users, who wonder why they can't get 8.1 update 2 through the Insider App: check "about" of your Insider App. If it says Branch WPB_CXE-R1, then you will not get the update. Only WPB_CXE-R2 will. This is what drwindows.de explained.

Final judgement: don't install this on your L930!
1. Notification sounds don't work, not even in the ringtone selection screen from settings.
2. Video does not work in some apps, tried in Internet Explorer and Lumia Storyteller.

Yep, I can confirm all three issues you pointed out with WP8.1 Update 2. Going back to previous version...

Might want to add another one: 4. Microphone does not work in some apps (Cortana, recording apps like Wavemaster, Shazam etc.), even though they have permission in the new App Permissions setting. Problem persists on W10 TP on my L820, too.

Actually any Windows Phone can get it ,follow this guide http://wmpoweruser.com/windows-insider-app-delivers-windows-phone-8-1-up...

guys i am nokia lumia 930 user...i have received an update but i havent install it....i want ur advice guys if any of u can help me out with ur xperience if anybody have downloaded it and hws it performing? plz guys tell me i need ur help guys...thanks in anticipation...

Updated my Lumia 920 CV-DK denim firmware version to WP 8.1 update 2, (no interest in a WP10 right now) and now my phone says cyan is back again, guess this is still the old firmware bug again?

My icon had a went through a small update less than 1mb. Not sure what it did. Wasn't update 2. Anybody have any ideas.

i hv juz updated it through insider...bt i cnt see d difference...not evn os version. its still 14219...plz guys help me out..

Yes I have installed it on my Lumia 625

I have done the above steps a few times on my Lumia 930 and the first time I did get an update but when I go to About my version is: 8.10.14219.341
I have tried several more times to get another update and nothing happens. Any advise would be much appreciated.

In update 2, Pebble is now all time connected with windows phone. Notifications for incoming call, call status timer and music section are working much better.

Please windows 10 for 930

After gdr2 my 930 started to have proximity sensor issues. Sometimes screen stays black and I cannot end call normally. Anyone else having same?

Anyone with at&t Lumia 1520 on GDR2????

Yes i did it on my 1020, afterwards, i signed back on preview for developers app,and also got,some minor but new update.. So far is working very smooth , like never before..

Hi. Anyone. Is there an update log? I've updated my 930 but only see the settings more organised .

Hello, when I could expect GDR2 update for Nokia Lumia 930? I do not want to use windows insider app.

can i install in lumia 630?

May my Lumia 625 be updated to window 10 software when I am living in Hochininh city, Vietnam ?

How could I activate auto answer incoming call featured on my Lumia 625 ?
Windows Central Newsletter
Get the best of Windows Central in in your inbox, every day!
Thank you for signing up to Windows Central. You will receive a verification email shortly.
There was a problem. Please refresh the page and try again.