Verizon HTC One M8 for Windows now getting Update 2 upgrade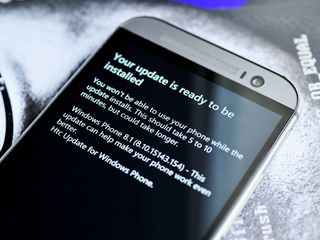 Looks like Verizon is turning a new leaf as this morning we can confirm that their HTC One (M8) for Windows is now receiving Windows Phone 8.1 Update 2 build 15143. This release is slightly behind yesterday's 15148 release for some Lumia 735s and Lumia 830s, but it is still in the Update 2 category.
Verizon has not detailed the update although it is confirmed via their support services and accompany PDF file (opens in new tab) that mentions 'OS upgrade to General Distribution Release 2 (GDR2)'.
We should caution that if you still have the Preview for Developers program enabled, you will not see today's update. Instead, you need to open that app and un-enroll in the program. Only then will your phone see the update waiting on the servers when you check for an upgrade.
We have previously mentioned the main features of Update 2, which are listed below and apply to the HTC One too:
Windows Phone 8.1 Update 2 Main Features
The HTC One (M8) is still one of our favorite high-end phones on Verizon, so it is exciting to see it pick up this upgrade. To check for the update, head into Settings > Phone Update > Check for update (see the note above).
Thanks, Nicholas L., for the tip!
Windows Central Newsletter
Get the best of Windows Central in in your inbox, every day!
Daniel Rubino is the Editor-in-chief of Windows Central, head reviewer, podcast co-host, and analyst. He has been covering Microsoft since 2007 when this site was called WMExperts (and later Windows Phone Central). His interests include Windows, laptops, next-gen computing, and for some reason, watches. Before all this tech stuff, he worked on a Ph.D. in linguistics, watched people sleep (for medical purposes!), and ran the projectors at movie theaters because it was fun.
Is there a list with all the phone's that are going to receive this update?
Is everyone going to get this one? Or just a select few...

You'll receive the OS update eventually.

Haha, don't be so sure. This is great news for Verizon fans though!

I don't think so. Some device will get Wndows 10 directly.

Not entirely some need this to properly take wm10 update

Already installed on my One M8!

I've had this on mine for a while

I got the update on the past weekend. But the thing I don't know how to do it is, How to secure the phone against reset and flashing firmware? Please if someone knows, I'd highly appreciated!!!

Ativ s still stuck on gdr2 wp8 -_- ...

I have installed wp 8.1 dp but i wanted to point out how bad support for that phone really is. :D

The WP8 GDR2 for Ativ S is not developer preview, it's final release version, but not all Ativ S receive this update yet, most Ativ S users still get stuck with GDR1, still no GDR2 available. This is the reason I decided to replace my Ativ S with a Lumia 930, I think I've been waiting for update for my Ativ S for too long, switching to a Lumia phone is just a matter of time for me.

Nice move with buying 930 it's a great phone and also a huge transition from phone with so bad support as ativ s. Do any of you guys know if insider preview win 10 will soon be avilable for ativ s?

Got wp8.1.1 last month guessing a hspa variant

I am excited to see this on my Lumia soon. Hopefully att wont update their m8 before the Lumias.

It's actually pretty good.

The update or the m8? Hopefully the former.

Hmmm...somehow this reply went to the wrong post. I meant the camera...it's not nearly as bad as the rumors allege it to be.

Yeah it kind of is. Even the fans of the m8 will tell you it is the weakest part of the phone.

Nope. I have one and it definitely isn't. Check out this comparison with the Icon: http://www.neowin.net/news/camera-shootout-htc-one-m8-vs-nokia-lumia-icon . With the exception of the first image (which the Lumia wins handily) and the last image (which the M8 wins handily), it's pretty close. Now check out this one vs. the L830. http://fortheloveoftech.com/2014/11/18/htc-one-m8-vs-nokia-lumia-830-cam... . I'd say it's player's choice! Sure, the Icon has the better camera, but not by that much. The 830 is probably in a tie. The One M8 is also a phone you can actually buy today. It has possibly the best or second best camera of any Windows Phone currently on sale at a major US carrier. That is to say, if you walked into a carrier store and wanted to get a Windows Phone and your only criteria was camera quality, you would probably walk out with the M8.

Yeah and crazy good battery life on the m8!!

Why hate on the M8 for? Support the platform, not the OEM's.

I'm not hating. Just hoping att does right by Lumia owners.

Okay... so when is the ICON?

Same thing I'm thinking as I doubt my sgh-t899m will get this or w10 on time

This news is about two weeks old. Verizon pushed it out two weeks ago.

Thanks for telling us this two weeks later. Posted via the Windows Phone Central App for Android

Well you have to admit they dont always pay attention to their email vs the forums for tip submissions that most will just give-up

I've had this update for at least 2 weeks. I installed W10 and rolled back via the recovery tool and this was the same version that installed.

Ok, so I got this update on my M8 over a month ago, back when WC reported that the M8 was receiving an unknown update. And, I don't have any update this morning. Anyone else?

Yeah my girlfriend got it a while ago, a month sounds about right.

I commented below with the same statement. I got it about a month ago. Confirmed the same build number and in the about section you can see it says "Software: Windows Phone 8.1 Update 2" The biggest change that i've noticed is the settings menu is grouped by category now, so that should be an easy way to tell. If you've got it then I wouldn't expect another update to be coming down to you today.

Is it comes to previous for developer in Lumia 520

No , it's wasn't comes in lumia 520 for previous for developers

I will love to see Windows Phone 8.1 Update 2 on my Lumia 830 soon.

I have had it on my 930 for quite some time now. Got it when they released the first W10 build and it's been great since day one. Love the new categorized and searchable settings!

Sounds like this may not be limited to just a couple of phones after all? Maybe the Icon gets it before Win10, too?

You know Verizon unfortunately shafted the icon for this phone. Look how long it took to get 8.1 lol but maybe it will before win10

My Lumia Icon is waiting! :)

I started using my M8 for the last couple weeks, giving my 1520 a break and I find I really like this phone. The camera is its biggest weakness but I like the M8 a lot.

I had to use the m8 the last three days because I broke my 1520. And I can not wait to get back to my Lumia when it is mailed to me.

And that's your opinion, Micah. I have both Lumias and the M8, Lumia does get better support but the M8 is still an excellent phone.

I have an m8 unfortunately. It's an alright phone. But Lumia is still far better in most categories.

I agree. I've had the M8 for months but never used it until recently. It is really a well made phone. It feels nice in the hand, nice and balanced feel and the battery is amazing. Much better than expected. Its flagship grade for sure and the specs: 2.3GHz quad-core Qualcomm Snapdragon 801; 2GB RAM; 32GB of storage plus a microSD slot ain't no slouch either. Other than the camera, HTC did their thing with this phone.

Shame it's not being pushed to AT&T or through the Dev Preview, but it's still nice that this update isn't limited to a few Lumias and the BLU Win.

Eh, strange things happen. Hopefully win10, will bring out the big guns of flagship from Lumia aka the windows phones most people want when they think of flagship(1020, 930, and 1520 successors.) and I hope to see blu bring some of their amazing hardware for the low and mid range so that it wont be like now....being stuck with HTC as our sole windows phone flagship.

Were you to use the Blu Win you might find a better appreciation for the M8 (esp the camera).

I've had this on my HTC M8 for Windows for maybe a month now... strange that it is being reported so late. Maybe they pressed the go button too quickly for me :-)

I could have sworn I already got this update several weeks ago on Verizon for my HTC one M8. Was there a prior version of 8.1 Update 2 that also changed the layout of the settings page?

I got my VZW M8 a few weeks ago. I believe that it's had the category view on the settings since I got it; I don't recall seeing an update get pushed through since the first round of updates upon unboxing, so the M8 may gotten the update a while back.

....and in other news AT&T continues to lag and disappoint with no update in sight! Once the undisputed king of WP, the shine is going... What has happened to you AT&T????? ***sigh***

Most phones dont have update 2 and it honestly isn't a major update.

Update 2 isn't very big news, but Lumia Denim IS big news, particularly for 830 which is 8 months overdue now.

Agreed! For Lumia 830, which I have, without the long overdue OS update we're not able to use the updated/new Lumia Camera app with the new features. Would love to see and use the new camera features found in that app but can't since AT&T has apparently forgotten WP customers.

Why isn't gdr2 on preview for developers?

So Verizon drops the ICON and every other Lumia device they carry in the Fall of 2014 to make the HTC M8 their flagship Windows Phone. Then, after Verizon FINALLY decided to update all of their Lumia devices in 2015 - they put the HTC M8 at the BOTTOM of their list for upgrades. IS THERE ANYONE OUT THERE WHO VERIZON WON'T SCREW???

How is the m8 at the bottom. I don't even like the phone but it has been getting updates.

Considering that the Verizon Lumia and Samsung Windows Phones already have the update, I would say HTC is at the bottom or very close to it. Just more proof that Verizon could care less about any of the Windows Phones customers or Windows Phones manufacturers. Yet, after seeing every Verizon - Lumia Windows Phone customer get screwed, Microsoft pieces together another exclusive phone deal with them for the Lumia 735. Apple, HTC, and Samsung can't stop lauging. Idiots. Get in line kids and see it for yourself. Watch Microsoft and their exclusive carrier deals single-handedly kill their Windows Phone business.

You should educate yourself. The HTC M8 got update 2 before the Icon and before many of the phones.

My Lumia Icon, the "mighty flagship of the Windows Phone world" has been crapped on since Nokia/Microsoft gave it to Verizon! I was never so glad to hear Microsoft say that updates to Windows 10 phones will NOT be dependent upon carriers, just like Apple. If Microsoft really wants to make it in the mobile phone market, they need to build no more than 3 or 4 model phones (like iPhones) and ensure all models are available on ALL carriers (like iPhones). Otherwise, people will continue to get pi55ed off about their phones not getting updates before/after other models.

So sad this phone was buried by Verizon. This phone is still locked to U.S. right?

When for Lumia 930, Microsoft/Nokia's latest flagship?

Lumia 830? Hello AT&T where are you????????

Is the 822 ever going to get Update 2?

Anyone experienced problems described in link after upgrade? http://forums.windowscentral.com/windows-phone-8-1/356397-text-rendering...

Meanwhile, the rest of the works continues to wonder why this phone hasn't had an official release in *any* market outside the U.S. Not even Canada or Central/South America which share pretty much all the same frequencies as this handset supports.

I received this update OTA from Verizon about a month ago... Am I missing something?

I don't understand why this hasn't been pushed through in the Preview for Developers program. Or is that abandoned for/merged with the Windows Insider program? It's confusing these days...

Waiting for the update still on T-mobile. Getting a bit annoyed with the update schedule on T-Mo.

I didn't get for my 830...

I must be lucky because I got this update at least 2 weeks ago on my M8.

Actually, I received my Update 2 this past Saturday (May 30). My Icon had a cracked screen so I went into the Microsoft Store to get a new one because of my warranty but they don't carry it anymore so they gave me the HTC. Started setting it up as my phone at the store and it proceeded to download Update 2.

When this update comes to Lumia 520

While I am happy that a Windows Phone is getting an update in a "timely fashion," I am curious as to why Verizon always updates the One first (perhaps it's because of the name....).
Windows Central Newsletter
Thank you for signing up to Windows Central. You will receive a verification email shortly.
There was a problem. Please refresh the page and try again.