AT&T Nokia Lumia 820 and 920 coming November 9th for $49 and $99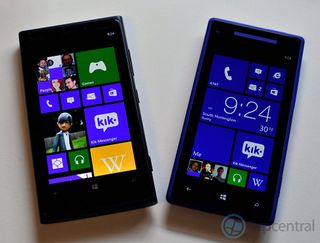 It's official. AT&T has just announced the date and pricing for the Nokia Lumia 820, Lumia 920 and the HTC 8X as well and by our estimates, AT&T is getting very aggressive with pricing here.
The Nokia Lumia 920 will be available this Friday, November 9th for just $99—a full $50 less than what Best Buy was pricing the device at just a week ago. In addition, AT&T will be offering a free wireless charging plate with each purchase of the Lumia 920 while supplies last. Windows Phone Central accurately brough you that news a few days ago. Preorders start tomorrow, November 7th.
The Nokia Lumia 820 will fetch for just $49, also available on Friday, November 9th with preorders also beginning tomorrow.
The HTC 8X will surprisingly come later in the month, before Thanksgiving but with no firm release date yet set. That device will command a higher price tag for $199 for the 16GB version and just $99 for the 8GB option, which will also be available California Blue and Limelight (yellow).
There is little doubt in our mind that AT&T is making the Lumia 920 the best option with heavy subsidies. Coming in with 32GB of memory, the Lumia 920 is significantly cheaper than the same offering of the iPhone 5 with comparable memory ($299). Throw in a free wireless charging pad and for $99, users are getting a very good bargain for what is arguably one of the most powerful devices on the market today.
Full presser below...
Windows Phone 8 smartphones arrive at AT&T Nov. 9; pre-orders begin Nov. 7
Special AT&T Promo Offers Free Wireless Charging Plate With Purchase of a Nokia Lumia 920
DALLAS, Nov.6, 2012 – AT&T (opens in new tab)* announced today the availability of three new smartphones (opens in new tab) in its growing Windows® Phone 8 portfolio. Beginning Nov. 9, AT&T customers will be able to purchase the Nokia Lumia 920 for $99.99 and the Nokia Lumia 820 for $49.99. Before Thanksgiving, customers can pick-up the Windows Phone® 8X by HTC® with 16 GB of memory for $199.99. Additionally, AT&T revealed an exclusive version of the Windows Phone 8X by HTC with 8 GB of memory in California Blue and Limelight (yellow) for $99.99. AT&T is only carrier to offer this device in Limelight.
Starting Nov.7, the Lumia 920 and Lumia 820 will be available for pre-order at www.att.com/lumia920 (opens in new tab) and www.att.com/lumia820 (opens in new tab), respectively. The unrivaled leader in Windows Phones, AT&T has sold more Windows Phones than any other carrier.
Nokia Lumia 920
The Nokia Lumia 920 includes the latest advances in Nokia PureView imaging innovation. The 8.7-megapixel camera features advanced floating lens technology, dubbed 'optical image stabilization' which helps eliminate blur by compensating for hand movement while photos or videos are being shot. The camera in Nokia Lumia 920 can take in five times more light than typical smartphones to capture top quality photos and videos in low light.
In addition to its 2000mAh battery – the largest battery Nokia has put in a smartphone – the Lumia 920 includes built-in wireless charging capabilities** for an easy, convenient way to get more out of every day. For a limited time and while supplies last, AT&T will also include a wireless charging plate – free of charge – with each purchase of a Lumia 920.
The Lumia 920's 4.5-inch PureMotion HD+ ClearBlack display is protected by Corning® Gorilla® Glass and is optimized for readability in the brightest light conditions, even outdoors on a bright day. In addition to its durable, scratch-resistant, curved display, the Lumia 920 also has a new sensitive touchscreen that lets you type with fingernails or while wearing gloves.
Available in red, white, black, yellow and cyan, the Lumia 920 is available for pre-order beginning Nov. 7 at www.att.com/lumia920 (opens in new tab) for $99.99 with a two-year agreement.
For more information, please visit www.att.com/lumia920 (opens in new tab). A look at the Lumia 920's features in action is available in this video (opens in new tab).
Nokia Lumia 820
The Nokia Lumia 820 is a snappy, mid-range smartphone that delivers high-end performance in a compact package. It features the same unibody look and feel as high-end Lumia smartphones – including a ClearBlack display and new sensitive touchscreen – in an attractive design that supports exchangeable shells. These exchangeable shells, which are sold separately, are available in range of colors and features, including wireless charging.
The Lumia 820 offers the same exclusive content as the Lumia 920, including Nokia Drive, a turn-by-turn voice navigation solution, Nokia Music, a free music streaming service and Nokia City Lens, an augmented reality application that uses the phone's camera viewfinder to provide information about points of interests in the surrounding area.
The Nokia Lumia 820 comes in black and is available for pre-orders beginning Nov.7 at www.att.com/lumia820 (opens in new tab) for $49.99 with a two-year agreement.
For more information, please visit www.att.com/lumia820 (opens in new tab).
Windows Phone 8X by HTC
The Windows Phone 8X by HTC boasts a pure unibody design perfectly sculpted with a dramatic taper that feels thin in your hand and its stunning 4.3-inch 720p HD display (1280 x 720 pixels) brings photos, video and Web pages to life.
The 2.1-megapixel, 88 degree, ultra-wide front-facing camera is able to capture self-portraits of you and the faces of up to four friends all at once. The 8-megapixel rear-facing camera with an f/2.0 aperture allows you to capture great photos and videos – even in low light. As the first-ever Windows Phone 8 smartphone with built-in Beats Audio™ technology, this device gives users authentic, studio-quality sound. The device has a unique audio amplifier that powers the 3.5mm audio jack and speaker to provide improved sound for music, video and even gaming.
The Windows Phone 8X by HTC will be available in two models – California Blue with 16 GB of memory for $199.99 and an AT&T exclusive in California Blue or Limelight (yellow) with 8GB of memory for $99.99.
For more information, please visit www.att.com/8xbyhtc (opens in new tab).
For the 2012 holiday shopping season, AT&T will be the only U.S. carrier to offer new Windows 8 tablets to their customers. Samsung ATIV smart PC offers customers the blend of PC capability with the convenient tablet form factor. Beginning Nov. 9, the ATIV smart PC will be available in AT&T company-owned retail stores nationwide and online at www.wireless.att.com (opens in new tab).
AT&T customers have access to the nation's largest 4G network***, covering 285 million people. AT&T has two 4G networks (opens in new tab) that work together for customers, LTE and HSPA+ with enhanced backhaul. That means AT&T customers are able to enjoy a widespread, ultra-fast and consistent 4G experience on their compatible device as they move in and out of LTE areas. With smartphones on other carriers' networks, when you travel outside of their LTE coverage area, you may be on a much slower 3G network.
*AT&T products and services are provided or offered by subsidiaries and affiliates of AT&T Inc. under the AT&T brand and not by AT&T Inc.
**Wireless charging accessories sold separately.
***4G speeds not available everywhere. Limited 4G LTE availability in select markets. LTE is a trademark of ETSI. Learn more at att.com/network (opens in new tab).
The names of companies and products mentioned herein may be the trademarks of their respective owners.
Daniel Rubino is the Executive Editor of Windows Central, head reviewer, podcast co-host, and analyst. He has been covering Microsoft here since 2007, back when this site was called WMExperts (and later Windows Phone Central). His interests include Windows, Microsoft Surface, laptops, next-gen computing, and arguing with people on the internet.
Who's going to pay TWICE the price for HALF the storage? The 16GB 8X is going to get its ass kicked. The 8GB might sell, though.

The 8X is the same price as the 920...

Think you mean the 8S, not 8X

ATT isn't selling the 8S.

From the article:
"The Windows Phone 8X by HTC will be available in two models – California Blue with 16 GB of memory for $199.99 and an AT&T exclusive in California Blue or Limelight (yellow) with 8GB of memory for $99.99."
That would make the 16GB 8x (half the storgage of the 920) twice the price. The 8GB 8x (1/4 the storage of the 920) is equal in price.

Granted, I am getting this purely from this article. I cannot seem to actually load prices on ATT's site. :(

The 8GB 8X is the same price as the 920 but has 1/4 of the storage. The 16GB 8X is TWICE the price of the 920 for HALF the storage.

The article says 8X w/ 16 gb of storage for $199. The Lumia 920 with 32 gb of storage $99.

Any word on off contract on AT&T? Not best buy. And can it be unlocked?

Try $599. I really hope it's less because I want one so bad!

pizzalovinhulk is probably so happy. As am I.

One word sums this story up.... WOOT!

I don't get it, I thought the Lumia 920 already comes with a wireless charging plate?!?!?

No its capable of, but it's an accessory...

It comes with wireless charging built into the phone, the 820 requires the shells. But you need a wireless charging accessory.

That's a really great deal! Picking the 920 is a no-brained at those prices!

How does Nokia make any money with these prices? Honestly, is there ANY profit for them with these prices?

That's a carrier subsidy you are seeing, not so much Nokia directly, it still costs $600 off contract. Its AT&T that's taking the hit.

No mention of the contract price, though. Probably something ridiculous like $80/mo for 24mo, so after your contract's up, you've paid close to $2000 on a plan you probably only use 20% of.

That price seems about right, but the contract doesn't have any bearing on that. It's the same price with or without a contract.

if you go w/o contract, u have prepaid options like STraightTalk, which offers 45$ for everything unlimited

The contract price has no bearing on what smartphone you get. I have 6 family members on a family share plan and have unlimited talk and text and 10GB of data to share and we each pay $55/ mo.

American contracts don't work that way. The price of the phone is independant of the phone you purchase.

Some people in other countries wonder why we get new phones every two years. They ask... "What's wrong with your current phone?" What they don't realize is if we don't get a new phone every 2 years... we're basically throwing money away. I wish my monthly payments would shrink once my contract was up... or if I buy an unlocked device on my own, but it just doesn't work like that here. I think T-Mobile and some of the smaller carriers might be different though.

ATT contracts don't have a minimum plan. They do require a data plan with smartphones. However, who buys a smartphone without a data plan? Also, the plans cost the same with a contract or without. So, where is the benefit of buying the phone?

Do you know where i can get it off contract?

Nokia gives it to AT&T at close to Normal prices, AT&T makes money out of their plans to recover the costs.

It could be part of the exclusivity deal, with ATT maybe selling the device at lower margins. Because it's exclusive, ATT will gain new customers and new contracts because of the exclusivity of the 920 which makes up for the reduced margin on the phone itself.

Not sure I can get on board with the idea that ATT is eating all of this. Pushing a device is always a balancing act, not to mention when a new iPhone is recently out. I don't see how ATT could take the risk without some kind of cover from Nokia.

It's AT&T's risk so why not benefit from it?

AT&T eating the cost is really the only reason I can see Nokia being on board with making this device exclusive. It's not like AT&T did a huge ad campaign to sell the device, so that motive is out of the question.

From what I understand, the Iphone has a large subsidy because Apple sells their phones to the carriers for a higher price than most other oems. So maybe even with the larger subsidy for the 920, it's still cheaper for ATT than selling an iphone. They are hoping the lower price will get more people to get 920s and they'll save money overall.

Wow, that is a freakin' steal!

You got that right. At this price, it'll be interesting to see how that 8X fares in comparison.

Goodbye HTC, apple, and Samsung. A cheaper phone with more storage (except the ativ) and better features. Hope they advertise a lot better than the 900.

None of those companies (especially Apple and Samsung) are going to be going anywhere. I hope the device sells, but it's not going to beat out the iPhone or the Galaxy, likely not even if all we are counting is AT&T sales of these devices. This is a case where I would be overjoyed to be wrong, but I doubt that I am.

Let the "dancing around the office like an idiot" begin!

My only delema now is...wait till black friday for a better deal, or guarantee a wirless charging plate. 2 more weeks till black friday is not that much longer to wait. What to do....

You can think...the plate will cost at least $30-$40 on a place like Amazon...so, the phone is only costing $60-$70... You really think it is going to drop to $1? Maybe... You could always get the phone, if it goes on sale for $1, just go and pay the $35 restocking fee, get your $100 back and then pay the $1 for the phone.

Get it 13 days before black Friday that way of there is a better deal you return it and get it again but if not then you keep it...best of both worlds

That's the first thing that came to my mind. Resist to buy on Day 1. Curtieson and Zeronoise have some good advice, there. I'm also going to check with Costco. They usually come down a bit, but then again will they also offer the charging plate? Can't wait to find out.

All is forgiven ATT. All is forgiven.

Oh yes.... AT&T... everytime you tick us off, you find a way toapoligize. What great prices. The 8X officially became uninteresting as compared to Nokia.

Sorta sounds like spousal abuse

Whoa... calm down. We're still talking about AT&T here. All is not forgiven, but this is a good gesture to keep customers.

I have no problems with ATT nothing to forgive as far as I am concerned.

You must be in a good coverage area then. Lucky!

I do too. Lived in Vegas, Nevada. Perfect there......and then Eugene, OR. Both places have been amazing. I would not want to use ANY carrier in a high pop and high tower place. Shit service no matter how "good".

Well, throw in a few commercials advertising the phone is 100 bucks and 50 bucks, pretty sure we can wrap this marketing campaign up. This thing is priced to freaking move! Good job At&t, I still hate you for making us wait so long, but love you for this annoucement. Love hate relationships are so complicated and stressful.

NINE, TWO. OH! NINE, TWO, OH!

Yes!!! And THANK YOU to all the great forum members that confirmed this price yesterday!!

Why can't I upgrade early!?!

You can... Tell them I gave you permission ;)

All definitely would be forgiven if AT&T allows Lumia 900 owners to upgrade early... Yeah I say that would be fair

Yeah it sucks that I can't upgrade until mid-late 2013 and I'm running a Samsung Focus.

Ah I'm out of contract in February. I have to see if I can upgrade early

The latest someone can upgrade is 20 months into their contract, so if you contract's up in Feb, you should be able to upgrade this month(and renew for two years, of course).

I was told it's actually 18months so it's worth trying!

ATT screws that up ALL The time. They once let me renew 6 months into my contract. Half the time they have no idea when your actual renewal date is. It never hurts to go online and see if you can. And if not it doesn't hurt to go to the ATT store and whine at them. They've been able to override it in the past.

Hmm, I might have to swing by my local store and complain a little. Lol.

Call and ask. I did it when the Samsung Focus was released. I talked to someone about my loyalty as a customer, the fact that I have three phones in my household that use ATT and the fact that my entire family uses it. Basically they made the determination that they wanted my business and let me upgrade early.

So, can those who pre-ordered from Best Buy (and have not had their orders cancelled like me) call up and pricematch to AT&T?

I'm wondering the same thing, trying to decide if I should cancel now before it goes through, or call to see if they'll sweeten the deal.

I pre-orderd on Best Buy because I wanted to guarantee a cyan 920. $50 cheaper and a "free" charge pad is enough for me suffer through annoying sell reps in a physical ATT store if need be.
So should I cancel and pre-order at Best Buy or will they price match (with charger)?
Can I get it shipped to my house if I pre order through ATT.com?

Looking for guidance here. Thanks in advance.

I just got off the phone with Best buy. The order will not change to the lowered price automatically. What we can do is after we recieve the phone is call them back and they will credit the account the new price amount. If the free charger is not with the phone we can also show them the information on that and they will match that offer as well.

I can verify this. Just called my local BB and they also said that I i show them the price and they call and find it to be the case, they will match the entire deal, price drop and free accessory. So that's great news

OK wow. Thanks guys, glad I didn't panic and cancel my order. :)

Only problem is BestBuy frequently issues "in store credit" for that kind of stuff. They don't always like to give you your money back exactly. I'm on hold with them right now to cancel the order. They won't let me cancel online.

I couldn't cancel online, but when I go to bestbuy on my smartphone, was able to cancel.

Is Best Buy offering the wireless charger or is that an AT&T exclusive?

They will price match so long as a local competitor has it in stock. You can likely even go in once you have the phone and ask for store credit for the difference. The store won't be overjoyed to do it since it's a loss at that specific location without any sort of sale, but it is within their power to do it for you.

Too good to be true. Makes anybody wanna switch carriers. Lucky those on ATT. Oh well, some guys have all the fun, some guys have all the pain, some guys do nothing but complain.

Can you pre order at the store or just online?

gimme two of those bad boys!

I wonder if we can preorder in stores? I don't want to miss the free charging pad!

$99 ?? Whoaaa, if you got money you can donate some 920's . LOL

I don't follow your logic. If you got money you can donate just about anything...

Finally, an official announcement! I'll be up bright and early F5ing until I can get my pre-order nailed down :D

I think I can accurately summarise the general consensus among Windows Phone fans here: "'Bout damn time!".

If only my upgrade was due!! that price is insanely low O.O

This is why it's an exclusive. In Australia it's only $5 a month for 24 months. The phone price is added to your monthly contract. They really are selling this thing cheaply thanks to exclusives.

yeeeah, on a $60 a month contract working out to a minimum of $1560 over 2 years.
$65 a month is pretty steep. More than what i paid for my iphone 4 for the past 2 years (then again that was with 3, this is with telstra.....)

People need to understand that this is simply the price of admission here in the states. AT&T and Verizon have nationwide coverage. A nation that is far larger (in terms of coverage map) than any of the nations people are mentioning. Keeping that infrastructure going has huge costs. Even pay as you go isn't $5 a month here as someone suggested, and with pay as you go you often times, depending on the carrier, have spotty coverage, reduced data rates, etc. etc. And I haven't even mentioned LTE. Everyone is chomping at the bit to get on LTE, yet they are complaining at the costs. It's the cost of moving forward, unfortunately. Can't have your cake and eat it too, as they say.

In Finland (or Sweden, or similar) I can pay USD 18 a month for unlimited HSDPA-speed data with 1000 mins of talk time and unrestricted network sharing on a nation-wide carrier whose coverage and network quality far exceeds that of ATT&T or Verizon. The latter have only limited rural coverage and even in urban areas signal quality varies.
It may not be the worst situation globally, but it isn't particularly good either. The contracts are really, really expensive for what one gets.

I'm just curious. Does the governement subsidize the construction of the network? If so, that could explain the cheap price. You pay less for the plan but pay way more in the form of income taxes, VAT taxes, sales taxes, etc.

Again, you are speaking of Finland. Compare the size of Finland to the size of the US. I am not saying this ti be rude. I am saying it because the land mass is just THAT big. On your plan, can you roam outside of Finland? Say you to the UK. Or Hungary. Or any other European country. Is there an extra fee? In the US one can go anywhere within her 50 states and Puerto Rico and not pay roaming charges. The point is, simply because of land mass, comparisons to tiny European countries don't work.

No commitment- $450. Straight Talk - $45 a month + Tax


Wow they are going to sale like hotcakes! What about T-Mobile I needs answers now?!! Lol! Come on T-Mobile!!!!!!

The lumia 920 is only exclusive to at&t for 6 months. So no one really know how other carriers will price during that time.

On Nokia's website for the Lumia 810, they have it priced at 99.99 for people on the Value plan and 149.99 for people on the regular plan. I hope this is wrong because if its not thats the most rediculous price not matching of carriers I've ever seen.

Also keep in mind that those prices are after a $50 mail in rebate.

Yeah ,my at&t buddy was right, he said windows 8 phone coming at 9. wohooooooooo
I'm so excited to get lumia 920 for myself.:)

Hopefully this is the date where Rogers gets more 920's out, too. Still no phones (920) in London, Ontario. :(

Going to trade my HTC Titan in as I have a line due an upgrade.

wow, this is a gamechanger price....

I'm a Verizon customer, but this may make me switch. I have 14 days to try it out, and it I don't have any issues with their network then I'm switching.

Thank God! Time to lose my iPhone I've been using for the past 2 months waiting for this. Can't wait to go back to WP!

Wow. I've seriously been on the fence between the 920 and the 8X, especially with the Nokia's camera disappointments... But damn, this pretty much seals the deal for me. Nokia get that camera fix out ASAP!!! :)

Same here. Sorry HTC, I was strongly leaning towards the tennis ball yellow 8X. Probably not now, though.

You have Nokia camera dissappointments?

I just reinforced my pocket seams for the 920.

This made me laugh out loud. They say all comedy has an element of truth. LOL

Not to mention the extra $100 you'll have in there!

Finally! Was that so hard AT&T? I'm going to be pre-ordering this at midnight!