Samsung ATIV S Neo (AT&T) - Hands on and first impressions
We go hands on with AT&T's latest Windows Phone, the ATIV S Neo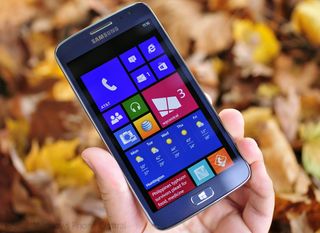 This past weekend, AT&T released the Samsung ATIV S Neo, their first Windows Phone 8 Samsung device. Released earlier this year on Sprint, the ATIV S Neo is a version 1.1 of the original ATIV S—more slight refinements than an overhaul.
Samsung was once again not interested in promoting their device so we had to go out and buy the phone ourselves, instead of a standard review unit. The phone runs for $99 on contract or $420 off and while many Lumia fans won't find much to gawk over, the phone is a solid entry into the Windows Phone category.
We'll be following up with a full review in a bit, but here are our quick impressions of the latest Windows Phone 8 device for AT&T. Check out our video tour and high resolution photos after the break!
Samsung ATIV S Neo (AT&T)
Windows Phone 8 build 10512 (Update 3)
1.4 GHz dual-core Snapdragon CPU
16 GB internal storage; expandable with microSD (up to 64 GB)
2000 mAh replaceable battery
4.77-inch 1280x720 TFT display; 306ppi
8 MP rear camera, LED flash; 1.9 MP front facing camera
LED charging light
MicroUSB, MicroSD, MicroSIM
4G LTE
5.04 ounces (142 grams)
5.33 x 2.72 x 0.36 inches
On paper, the ATIV S Neo is a solid mid-range Windows Phone. While it lacks the 1080P displays of the forthcoming Lumias or a high end camera, the specifications are respectable. The design of the hardware can be summed up simply as 'classy'. The chrome trim shimmers in the light and royal blue hue to the device offers a nice change from standard black.
Audio quality was solid although reception was not as good as other Windows Phones, resulting in a drop from LTE speeds to HSPA+ in the same areas as other devices. Likewise, GPS was wonky, resulting in unusable device for navigation (positioning was bouncing all over the place, lagging severely or just not finding the satellites). The GPS issue was hit and miss with it working better in rural areas rather than urban. It's not clear if this is an isolated tower issue or something with the device, though we have never seen it before with a Windows Phone.
One of the neatest features is the charging LED light, which is hidden to the left of the ear speaker. It comes on when the device is charging, but only when the display is off. It serves no other function i.e. for missed calls or a voicemail, but it's still a nice touch. It's red when charging, but changes to green when fully charged. We also like how the Back and Search button are hidden when the device's display is off but "shine through" the chassis when illuminated. It makes the device that much cleaner looking.
The camera is a standard 8 MP shooter with a single LED. It's passable but let's be honest, you're not getting the ATIV S Neo for its lackluster camera. Images are muddy and uninspiring in moderate light, but acceptable in day time shots.
While Samsung is phoning it in with Windows Phone, the ATIV S Neo is a device we wanted to just pass on due to the low bar they have set for themselves. As it turns out, the Neo has a fantastic display, feels great in the hand and it looks damn sharp lying on our table. However, the reception weakness and GPS woes have us giving pause to recommending this device just yet.
We'll follow up more with the ATIV S Neo in the coming days. For now, you can ask questions below or head into our dedicated forums: forums.wpcentral.com/samsung-ativ-s-neo
The AT&T Samsung ATIV S Neo is available at AT&T Stores and online (opens in new tab).
Windows Central Newsletter
Get the best of Windows Central in in your inbox, every day!
Daniel Rubino is the Editor-in-chief of Windows Central, head reviewer, podcast co-host, and analyst. He has been here covering Microsoft since 2007 when this site was called WMExperts (and later Windows Phone Central). His interests include Windows, Microsoft Surface, laptops, next-gen computing, and for some reason, watches. Before all this tech stuff, he worked on a Ph.D. in linguistics and ran the projectors at movie theaters, which has done absolutely nothing for his career.
Looks like a good piece of hardware!

Just like the Polycarbonate Nokia devices then, polycarbonate being plastic!!!

Samsung is using cheapest plastic for their phones,which indirectly is harmful to our skin.They kill people for making profit themselves.Its so harmful for our hands see here http://tiny.cc/klcf6w

Yes let people realise this and hate samsung products

Yes, posting an utterly corrupt picture really proves your statement! Good job! [/sarcasm]

Its still last years hardware. It seems like a minimum effort by Sammy to fulfill whatever contracted obligations that have with Microsoft. If they won't support Wp, then I won't support the.

Got to agree. I didn't mind it feel/material of the phone, but the hardware engineering is pretty atrocious. After being stuck with the Lumia 920 as the only launch phone-I won't lie: I didn't want the HTC 8X because of its low storage space and I was originally wanting the ATIV S-my choice was clear. And I quickly fell in love with the device. I have no regrets.

Looks like a WindowsPhone Galaxy S3 :) actually I like it

Agreed. And, which makes you wonder, why couldn't they just drop the WP OS into the S4?

Cuz it might cut into their GS4 sales.

I don't see how that's a bad thing. The money would still be going into their pockets...

"you can please some of the people some of the time, but you cant please all of the people all of the time" business is business. Samsung is holding androids winky real tight right now and it won't change until some company finally knocks android off there pedestal.

Well, it might be Samsung itself coming with their own OS soon..

I wouldn't honestly be surprised. Pretty soon there will be too many to choose from. Wasted sales for customers who dont know if a OS is good or not. I feel bad for ppl who buy those cheap android phones. That are like $100. My mom got one and I personally brought her to return it for a 521. She's very happy with it

They likely will once they can confirm 1080p support (though GDR3 allegedly does that). We may very well see an S4-like handset for WP some time in 2014.

Wife has an S4 and I do like the chrome trim. The display is beautiful-much better than my L900.. I would almost consider this over the 1520 for the 4.77" size instead of 6"..

Yeah, just like the ativ s.

Looked weird not having a back/search button on the early photo.. had to skip ahead in the text to see it mention it being backlit :)

My favorite part of the ATIV S was with its battery; this is a beast that just lasts a day and sometimes two. Also the expandable memory and large screen size made it one of my favorite windows phone devices ever. The main 'but' was with its lack of substantial updates (read: Nokia-like updates) and its poor integration with other Samsung products (like smart tv).

Daniel, how does this compare to the OG Ativ S? And a side note question - are there plans to review the Asus T100 tablet?

I do a brief comparison with the original ATIV S in the video. Original is thinner and more square with a silver back. Other than that, they're fairly similar. No immediate plans for the Asus T100, but we'll see.

Cool. Hope you guys do a review as some folks are seeing the T100 as a viable choice to the Surface from a pricing perspective. Like the Neo but would still choose the unlocked Ativ S for $260 at ExpansysUSA...

I'm on Sprint, would the unlocked version work on their network?

There's something I really dislike about physical buttons on the front screen. Much prefer a smooth front.

It's super convenient though for turning on the phone, it also serves as a nice "landmark" for when using the phone but no looking at it.

Yes, that is one thing I miss about the Quantum. I don't really get the "war on buttons." I could push buttons all day long.

The Quantum was such an underrated phone at the time.

The Panther, the Optimus and the Quantum...I wasn't that big of a fan of the Quantum, but LG was doing it right.

I don't understand why a button the the front is more convenient than a button on the side. Especially now that we have Glance.

Two buttons to turn on a phone is more convenient than one ;) I agree Glance is nice to use, but having a physical button is pretty great too.

Agreed - I still really miss all the physical buttons on my Optimus 7...I don't get the point of having capacitive buttons when we already have capacitive screens - it's redundant, and less functional. Being able to rest your finger(s) on the button area without clicking them makes it so much more comfortable to hold.

I'll prob get really flamed for this, but Apple got one thing right on the iphone, one button to rule them all.

You can wake the phone up much more easily when it is laying on something like table or desk. Just click the button, no need to grip it.

Or just double-tap the screen with Glance. I guess we'll just have to agree to disagree... though I do note I seem to be outnumbered. I personally love having the front completely flat and glass... thankfully for me it seems Nokia is in agreement (and MS if the Surface is an indication). :-)

About double-tap with Glance, can you confirm it doesn't drain the battery that much ? Didn't dare to set it

I thought Glance was a Nokia thing? No?

Yes, but that's my point... I would far rather have a Nokia with a nice clean face and Glance than a Samsung with a physical button. Of course, I really don't have a problem with hitting the power button on the side... I don't quite get the "it's inconvenient to reach that inch to the side" crowd either. Prefer the nicer design over the savings of 0.0000001% effort.

The original ativ s looks much nicer.

Daniel, you know very well why Samsung did not sent you any review units for the Ativ S Neo, and why wpcentral will NOT get any review units for any future WP devices for any carrier in the US market. Stop making it a Samsung issue, and come clean with the real reasons. It will make you far more honest to the eyes to the world, especially when you have become the fanboy of Nokia. Did you think Samsung was joking months ago? Now you know they are not!

lol Remind me again why I went out an bought one if I'm a Nokia fanboy as opposed to just ignoring it...

Kudos to you Daniel for buying it so you could review it, even though Samsung didn't send you a device to review.

Whoah. Looks like somebody's got a case of the Mondays. Lighten up, dude. Jesus.

Nevermind him. He's a troll here, has stalked me on Twitter, etc. He's kind of funny, actually--you should see his YouTube videos, worthy of /r/cringe http://www.youtube.com/user/mequetrefe413?feature=watch

Just checked out his videos.......wow

Wow doesn't accurately describe it. I was more like WTF Holy #$@%, with my jaw to the floor. Does this guy really think he will get his point across, whatever it may be, by spouting the nonsense and jibberish the flows from his mouth.

Well Daniel, I got the guts to face you on YOUR TURF, unlike you and your team of goons who hide behind fake profiles just to push the agenda of yours which is flawed at the very least. Have in mind I have contacts in places you wish to have based on working for a contractor which deals with companies like Qualcomm, General Dynamics, and Samsung. I know you are still hurting for exposing you as the FRAUD YOU REALLY ARE, and why no major tech site will ever take you seriously, and let's not forget the CDMA carrier community outside of Verizon (and yes, there is more than Sprint and US Cellular). by the way, thank you for the plug to my video channel! I knew I was right when I saw details of visitors to specific videos, and saw data coming from a specific domain or two linked to YOU! :-P P.S. if I was you, I would be very careful of what you say about certain companies.......

http://i.imgur.com/6DgUOkj.jpg LOL

Two can play this game.... pic.twitter.com/m7t5fMxkMd

Uhh..trying too hard, Mr Potato Head

I rather be "Mr. potato head", than have the hairdue which probably was stolen from a troll doll which could have been found from a kids' meal sold at a major fast food chain several years ago. And he still batting .0000, while making a fool of himself and making himself IRRELEVANT. Ask any writer from any major tech website why he has not been invited in such a long time? Anyone?

Dude you stink. I can smell you from all the way over here. PO-Tatt-OOh.

Lovely, the fake profiles defending the real troll!

I can assure you I am not a "fake" profile. Secondly, if you want to try to make a point on something since you claim to be a writer, learn how to spell and use proper English. Hairdue = hairdo, hence you do your hair not that your hair is due for something. Kids' should be kid's due to the fact that multiple kids are not eating one meal, well maybe in your case they are who knows. Thirdly, if you are going to reference baseball the proper stat for batting average is only three spots behind the decimal point i.e. .000 not .0000. Last, when you use caps it implies you are yelling thus losing your cool and taking away any credibility that you may think you have as you should not have to yell to try and get a point across unless you are a child.

You poor, pathetic soul...I almost feel bad for you.

I'm not too worried about some supposed conspiracy theory...Planet Nibiru is coming Mathiuz!

Okay. I couldn't make it 2 minutes into the first video. I had to stop. Sorry.

WTF... I just wasted 9:28 min of my life watching the latest feed from the link *facepalm*
I am mad at you Danny right now :|

Pointing out the benefits of one hardware vendor over another does not make one a fan boy. What is the point of reviews if we can't be honest? And if you're one of those "all the news on this site is Nokia" guys, just give me a break. The site doesn't create the news, they report it. If Samsung has no WP news WPCentral can't invent it.

It's unfortunate that Samsung isn't promoting its Windows Phones much if at all. Samsung was huge in Windows Mobile. I still remember the ads for the Jack with Ozzy Osbourne. I haven't seen any Samsung Windows Phone ads at all.

http://m.youtube.com/watch?v=lv4bsGQ1kms He has thirteen followers and absolutely no vid views.Don't waste your breath on this guy Daniel;)He's just looking for attention.

You mean public views, like from ones who do not have google accounts? Nice try Chad on defending him.

No need, Daniel can hold he's own,and to be more accurate twenty to thirty views per vid is pathetic.Try actually putting out content people will watch instead of trolling for views.

Coincidence that this guy is lording over his 30 views and a couple hours later Daniel posts the "WPCentral hits 3 million unique views per month" article? Maybe Daniel is feeling threatened... :D

http://m.youtube.com/watch?v=kjN6BJM_Dpw#Lol,Good one!This guy has already posted a vid calling Daniel a scumbag.Talk about power trolling.

Lovely, the fake profiles defending the real troll!

Fake Profile?I hate to break it to you, but these are real people posting on WPC articles.After watching some of your vids, I can see that you need help, professional help.It's Sprint that has been cold towards WP and Nokia not the other way around.Sprint has even said that it's a wait and see game with WP, instead of jumping in and wanting to offer WP to their customers.

I am talking all the profiles surging in here defending Danny Boy and company. Daniel is a troll with a paid position just to push his agenda, but that is a different category of trolling. My issue with Nokia? Being a cheater, and demanding to use the same obsolete homemade CDMA radios that got them that big fat lawsuit against Qualcomm years ago to the same carriers which had the legal obligation to Qualcomm of informing them (which includes Verizon and Sprint). Nokia is very disliked for that, as well as for their negotiation tactics of demanding Apple/Samsung like treatment, but refusing to use Qualcomm made radios which will only cost them between $8-15 more per unit for the first two years. This will be a moot point once Microsoft takes over the Lumia line next year or so. have in mind CDMA IS still the dominating cell technology in the US market, as most regional/rural carriers use CDMA over GSM/UMTS because of coverage and maintenance costs.

CDMA is dead Tec,even the Military is moving away from CDMA.The largest carrier in the U.S Verizon is moving towards LTE and GSM.By the end of 2014 CDMA phones on Verizon will be a done deal, and all their phone's will be GSM only. Even China Mobile is moving to LTE.You do realize that it was a patient lawsuit? and Nokia pays royalties to Qualcomm,and on top of that I live in one of the biggest city's in CA, and Sprints coverage here is nonexistent.Sprint has bigger problems to worry about then Nokia,Microsoft,Qualcomm and CDMA requirements.

As a former/current QUALCOMM, Nokia and Sprint employee (not necessarily in that order), I am really embarassed for him. Kind of a cross between Jabba the Hutt and Cheech Marin, spouting utter nonsense. I wasted 8 minutes of my life listening to his verbal diarrhea... Sad really

These videos are so strange... like cocaine fueled ramblings of a huge CDMA fan (who knew these exist?) who hates Nokia and Daniel for reasons he never makes quite clear but seems to think everyone understands. It sounds like someone on the street corner with an "end of the world" sign. He seems to think Daniel gives a crap that he's gotten an extra 10 views from the links that Daniel has posted here, when all 10 of those views have been people simply slowing down to watch the carnage of a car wreck on the interstate. So bizarre!

Remember the cliche? All publicity is good publicity. Once you give him attention, he wins.

Sure. Though in this case I'm not sure why I would care if he thinks he has "won"... it's not costing me or the site anything. Much like Daniel linking to his videos... it's at least good entertainment. :-) Personally, I'd love to know exactly what this guy thinks he's talking about... it's absolutely fascinating.

I think MS is a bit more at blame for their relationship with Samsung when it comes to mobile. Sammy & HTC were the only two players keeping WM afloat. Once MS kind of locked them out of WP development (along with the OS license fee) they went full on Android with HTC being slightly more neutral. The first NOK deal pretty much sealed it. The only way MS gets Sammy back as a serious backer is by giving them something similar to the first NOK deal or at least dropping the licensing fees.

No kidding. A lot of us seem to forget how many handsets Samsung and HTC pumped out for WP7.

they pumped out poor selling WP7 devices for ATT only. In the meantime while Verizon blocked WP7 the best they could (huge iContract just signed) collectively Samsung's Galaxy line took off (across all carrier) while they then used the lame ATIV branding for "windows" ROTFLMAO what a dumb idea! Samsung is a copycat company with good screen technology. That is all. The calling/radio problems Daniel outlines was apparent on the original Focus devices too.

WP7 in general did not sell particularly well, so I don't know if it's fair to pin that on any one manufacturer. Microsoft at the time did not have much to compete with the likes of iPhone and Android.

Oh the blackjack!!! Memories.... Thank you for the trip down memory lane...

I love my ATIV S and like Samsung as a company. I follow WPC frequently during the day. Not once do I get a hint that the WPC writers are Nokia fan boys. They're fair and just; tell is how it is. You in the other hand, need to cool off.

Its not a good thing that there is no decent competition in Windows Phone. Nokia are making great phones - now. But a company needs to be kept in check, if they start to compromise on quality or drive prices up, consumers can always go elsewhere and they should fear that. But where else would one go today? The landscape is otherwise pretty void. I have no great love for Samsung, but I would like to see them, and HTC, making more Windows Phones, backed up by decent software, to broaden the choice. Was this off topic?

Are they going for retro? or just lazy?

If u want window phone u should get nokia lumia phone..bec not a single update has samsung pushed to their window phone.except microsoft gdr 1/2..but all time nokia pusher somthing new wit update.gdr2+amber and now gdr3+black

Those hidden Search and Back buttons are certainly a nice touch. I hope one day soon Nokia adds a multi-colour (for custom notifications) LED for the Windows Flag button or something. No external notifications of missed calls/emails/txts is really a weak point of the platform. Hell, even my decade old dumb-phone had that.

Well that looks ugly... :D

So what makes the 8X "premium" and this "midrange"? I never see what's so premium about the 8X.

8X came out in late 2012. This is late 2013. Regardless, those terms are arbitrary. Many do not consider the 8X "premium", though at the time, it was easier to make that argument than in November 2013.

But it was announced first, that's gotta count for something right?

What weather app are you using?

Check the hardware specs for yourself before making statements like these.

I like my neo, but only because its a wp8, otherwise I wouldn't have given it a second glance. I actually think I had less issues out of my 8xt, but the specs are better on the neo. I hope that there will be more cases for it now (crosses fingers for seidio) that its on att as well. I doubly hope for sprint to get Nokia since I'm confined to them.

Who cares, Samsung is shit, never had good build quality nor esthetics. Let them build flimsy hardware for flimsy software (Android)

You're right, Samsung is the Sh*t. I had an Omnia 7 for 2 years no issues. I currently have an ATiV S, I wish I could say I've had no issues with it, but I would be a Liar. Still, only one issue with Sammy over the years is really good for me. I've had Samsungs since the Flip Phone era. I am a VERY VERY Happy Samsung Customer. I just wish they would put more effort on the Windows Phone Platform.

I got a Samsung Printer/Scanner/Copier with WiFi and other goodies
Seems to work


Sorry, that's what I meant. That they're like the energizer bunny in that they keep going and going and going. The Omnia 7 I gave to charity cause I got the Ativ S.

So, a cheaper Ativ S? Got it.

Cheaper and less features, except talk time. So teen girls should get this phone, check.

I'd buy this phone in a heartbeat if it were LAST YEAR. It was really the only new WP8 phone I wanted at the time. Now, with outdated specs, it's hard to justify when newer devices are coming out so quickly, and will be either the same price or $100 more on contract.

You can wake the phone up much more easily when it is laying on something like table or desk. Just click the button, no need to grip it. They DID release this device LAST YEAR. But for some reason Sprint and AT&T decided to wait a year to pick it up, but not before requesting that Samsung make an ugly version of it first.

They may have thought that just selling the ATIV S as is would put people off since, as you said, it is "last year's phone." So, they had to touch up the hardware to make it seem like this was a tailor-made device that can't be bought anywhere else. It might be why there are so many versions of basically the same Nokia Lumia phone (920, 925, 928).

I'm the biggest Samsung fan everrrrrr, but also as big of a windows phone fan. So here I am, caught at these crossroads. Do I go Android to have the latest Samsung technology, or do I go with Nokia for the latest windows OS??? Note 3 or Lumia 1520??? If Samsung would just release as good hardware for windows as it does for android. The world would be a better place.

I like Samsung too. But my OS needs exceed my love for them as an OEM. Going droid would mean i would need to use Google again and no bueno for me.

True, going Nokia would just mean getting used to a new device, but going android is a whole new world.

I have a Samsung Galaxy S4 Active Urban Grey
and I sold my Lumia 920 Red
I'm looking forward to seeing the Lumia 1520 in glossy Red
A new Note 8 might be interesting, but it certainly haven't the Assertive Display

A good upper-mid range device. Keep in mind that WP8 is a relatively lean operating system, so the ATIV S Neo should be a mostly fluid experience, despite this being "last year's hardware." I'm still hoping for a good S4-like Windows Phone, but in the meantime, I suppose this is a good stop-gap measure for Samsung to enter the US market with the ATIV.

I has it. Sprint though, not AT&T. Really solid feel to the phone, and I think it's because it's at least partly derived from the S4. Happy with it so far, and I've never been anything but "meh" with Samsung.

I've also noticed a lot of positive response coming from owners of this device. We may be bewildered by Samsung's lack of advertising, but consumers seem to really like the Neo: http://shop.sprint.com/mysprint/shop/phone_details.jsp?deviceSKUId=76200055

So, apart from crappy reception, crappy GPS, crappy camera, and average display, it's a good phone.

Does Windows phone 8 have the NBA Game Time app in the U.S.?

Set your region to the UK and download it

Anyone else in the US try this and work? I'm still on 7.5 so not sure if it's that or that I'm in the US or that I'm using Samsung Focus S?

I've had the ATIV S Neo for a few weeks on Ting (an MVNO using Sprint's network), and so far I love it. A removeable battery is important to me, and to the best of my knowledge, the ATIV S and ATIV S Neo are the only Windows Phones with a removeable battery and screen resolution of at least 1280 x 720. (The few Lumias with removeable batteries are only 800 x 480.) Also, with the hacks available on xda-developers, I was able to trick GDR3 into giving me the extra column of tiles on the home screen. That's a killer feature IMHO.

If I am on Sprint, I say "thank-you" to Samsung and grab this as there is no Lumia love on the horizon at all. If I am a HUGE Samsung fan on AT&T and sick of Android, this would work.
Not sure why anyone else chooses this. And I loved my Focus S to the point that the ATIV was my first choice. Now..... Not so much.

http://forums.wpcentral.com/samsung-applications/241822-missing-samsung-apps.html

I have the Ativ S Neo in hand as I write this and I have to say, its a really decent phone. It was either this or that HTC on Sprint, and the only way I would've taken a Nokia (if they would've had it) was if it had a removable battery. Seriously, this device is excellent, I don't care if it is Samsung or whoever, I just care about my own hardware requirements and to be able to change my battery has always been big for me. Also, this dude has a 720p display, its not as if its hard to see small text and images are as sharp and crisp as can be. Its got an equalizer array for music, and I love that Samsung made an "app folder" option so I can put my 7 year olds games all in one place. Final mention, I'm not a "professional", but I think the camera is great. I had an 8x10 of my daughter printed up recently of a shot I got of her at a school event recently that came out absolutely perfect, so no, I don't believe the camera is bad, you just have to use the camera button in a way that you push it halfway in to auto focus and then snap it. Don't be too biased because its not a Nokia folks, it is a good performer, and has a fantastic display. Nothing to let me down or in any way degrade the Windows Phone experience.

Just the mid range phone...i m expecting something lot higher end,,

GPS issues? They must have found a use for the horrible chips they used in the galaxy s.

Personally, this phone is kind of enticing. I'm still looking for a worthy successor of my Trophy (N928 wasn't it). Removable/extendable battery, expandable memory. And I know it's counter-thinking, but I feel like it would take a beating because of it's cheapness. This thing would probably also have phenomenal battery life given it's smaller screen. Lastly, it looks nice and thin like it would be good in the hand. I don't know why everyone is obsessed with numbers: more cores, more RAM, more pixel density, more screen. My Trophy was a champ that never had any issues. But because it had lesser specs, the battery life was great. It worked like a phone should.. Even my dual core 928 wasn't sluggish at all (though the battery life and hardware quality was atrocious). The whole reason I like windows phone is that it doesn't require a lot to be a stable, fast, simple OS. I think MS was as successful as it was because they went to the basics of what a phone should be. But recently I feel like adding more to the equation has hurt Microsoft and its OS. While the speed is up, the screen is up, and the numbers are going up, I feel my satisfaction is going down. My 928 was buggy as hell and I've been reading a lot of the same for many W8 phones. At least Samsung is keeping with the basics. Though it seems they did fail a bit on the basics ... I think if it had better GPS/reception and camera, and I'd look to this phone as my world phone. Maybe I should just buy another W7 phone…

I had a Lumia 920. I got the Gears issue so I got rid of it. My experience with any NOKIA device has been subpar. Samsung on the other hand has been a champ. And since I notice a lot of you HTC WP7 people, I guess they seem to be ok as well. I haven't had any issues with WP8 as an OS at all. It's faster and smoother than WP7-WP7.8 for sure. I had those on an Omnia 7. Plus you also get Free Turn by Turn Navigation regardless of OEM. Personally, if you're happy, I would wait til Mobile World Congress Next Year. I keep reading rumors about an HTC Harmony (an HTC One type phone for WP8)

I need a new phone because my 928 broke (good riddance). I don't want to get the 929 because I don't trust Nokia. I hope Verizon gets some new Windows Phones other than Nokia, possibly this one, or the HTC Harmony. Gosh, I hope the HTC Harmony is actually released ... and soon.

I've had two Nokia WP8 devices and never had an issue. I put them through a lot. They are used as test devices as well as my personal devices. Maybe it's just the carrier you're buying them from? We also just recently picked up a 1020 and a 625. Both of these devices have proven to be great as well. The first thing I did when I received them was perform a hard reset. I did, with my very first device, receive the gears issue. But I beleive this has since been resolved in Amber and if not, you can use the Nokia Care utility to fix a device with the gears issue.

Why would the carrier be to blame for faulty hardware?

Yuck plastic garbage phone

I have this model (through Sprint) and have not experienced poor GPS reception, even when hiking a deep swamp in southern Florida (with my phone in a waterproof bag). Maybe someone driving near you in the city had a GPS jammer on? It has been a rock solid phone for me.

Same here. South Florida, GPS has been fine since I got it. Maybe just a regional issue.

Does the ativ s neo have different hardware than the ativ s? My ativ s has very good reception, no gps issues and a decent camera. Just wondering if I got lucky or if the ativ s neo is built differently.

Other than charging led & cdma chip (ativ s is gsm), i presume it's the same as original ativ s. I also have no problem in gps. Daniel said it's working well in rural, so presumably he got his a-gps turned on & sprint bts not working really well in more congested urban.

Of course they didn't promote this device, they haven't promote any Windows Phones, just Android.

Did you get a chance to test the Bluetooth on this device? The company I work for started rolling out the Samsung ATIV S and we had to stop due to the Bluetooth issues. We tried contacting Samsung and they denied any issue about Blueooth. We finally found a walk-in service center in Mississauaga that confirmed there was in fact a problem with the Samsung firmware on the device. After numerous calls to a Samsung rep, they finally admitted it was indeed the Samsung firmware, and not Windows Phone 8 (by the way, GDR3 does not resolve the issue). Last I heard, Samsung had no intentions on releasing a firmware update to fix the Blueooth problems for the original Samsung ATIV S. What a bummer. Bluetooth is very important for those who work in sales and drive a lot...

I don't seem to have a problem with BT in my car. Is it a call quality thing? Yeah it's definitely not perfect, but people can understand me just fine when I use it.

I definitely have this problem, and others with all things radio. The bluetooth issues with me are primarily while in-call. For instance, I can be listening to music through a headset, and then get a call, and the call sounds like it's coming through a lightyear of space full of gravitational interferance. Everything is warbly and you can't hear or understand anything; it's just noise. Other times, all forms of data will simply stop working. I mean cellular data, Wifi, and just recently bluetooth connectivity has stopped working. WiFi settings will stop detecting networks, or data throughput will suddenly just cease. Rebooting the phone does not necessarily fix these issues, nor does turning off all but the radio signal you want to use.

Led charging indicator. This what i missed on my original ativ s.

I might be wrong... but. Doesn't the Neo use a different screen type from the gen one Ativ?

Nokia do not capitalized much on their strong features such as the Qi and many more. They have Qi to some devices and some don't have. They must have sold more hundreds if the other devices that have no Qi would have shipped with it. Same with Samsung, who has strong financial back up to splurge on marketing, but they do it only on their Galaxy devices. They don't spend much on their Windows Phone devices. They might have sold millions of these if they do take care of its marketing.

with the ATT bring any phone option for the GoPhone service, the ACTIV without data is a large enough display for W8 functions, but small enough for a phone. The ATT nokia option is quite a bit smaller screen. $100 a year for basic phone, wi-fi nearly everywhere, lots of storage for music/photos (don't need the ipod anymore). Works great for me.

There is nothing wrong with Samsung products 1st and 4most, and the Samsung Ativ S Neo is an awesome phone 2nd. I have been using Samsung products 4 years and ABSULUTALY LOVE THEM! StreetKingz, Samsung user

<Heartbroken>Bought this because I read the Ativ S had the radio and thought this had it. It doesn't</Heartbroken>
Windows Central Newsletter
Thank you for signing up to Windows Central. You will receive a verification email shortly.
There was a problem. Please refresh the page and try again.