Samsung ATIV S Neo now available at Sprint for $149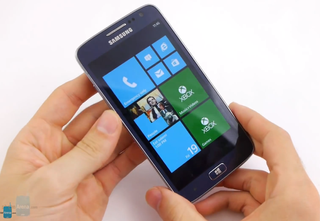 It was only the other day when we looked at Sprint announcing the Samsung ATIV S Neo, stating the Windows Phone would be available Friday 16th. Today's the day and the handset is now listed on the Sprint website, available for order. Priced at $149.99 with a 2-year agreement (new line or eligible upgrade), the Samsung ATIV S Neo brings a premium experience to the US network.
This price is including a mail-in rebate reward card, but $150 for a high-end smartphone is a solid price for those on Sprint who have eagerly waited for such a Windows Phone to launch. Running Windows Phone 8, the Samsung ATIV S Neo also supports 4G connectivity and comes with numerous other goodies.
So, who's picking one up?
Source: Sprint; thanks, AlexanderJJJ, for the tip!
Windows Central Newsletter
Get the best of Windows Central in your inbox, every day!
Rich Edmonds was formerly a Senior Editor of PC hardware at Windows Central, covering everything related to PC components and NAS. He's been involved in technology for more than a decade and knows a thing or two about the magic inside a PC chassis. You can follow him on Twitter at @RichEdmonds.
Does it come preloaded with gdr2?

Hey look, last years phone is now available.

Funny thing is: it supports things that current flagships do not. If the Ativ S Neo was on Verizon I would have definitely chose it over my Lumia 928. 20ish actual gigabytes of storage just isn't cutting it.

Last year I waited and waited for the Ativ S and it never showed up. The hardware is what I wanted over any Nokia. Ended up getting a 920 instead. Too late!

Hey, look, it's the best WP currently available on Sprint.

Knowing my luck (at&t L920 owner), they'll probably throw in the amber update as an immediate download for this Samsung unit. Lol

Afaik Amber is a Lumia exclusive update.

Why would anyone get a Samsung when theres Nokia?

Is it the law not to choose Samsung?

Well yeah....just like dogs and cats cant live together

Yea cuz u want to buy quality at a better price right

Lumia's aren't available on Sprint yet. A million people bought a Samsung Windows Phones last quarter and it looks like Samsung is going to continue to support the platform. Which, for the entire WP platform, is great news. It will keep Nokia on their game, which they have been. With all that said, I am still in the Nokia camp. I just wouldn't discourage someone from buying a Samsung phone, as long as it is a WP. Hopefully the majority will still choose Nokia, as WP doesn't exist without them.

A high end device with expandable memory. That's why.

What good is expandable memory when it can't be used for apps. I have been forced to rely on the cloud and it's quite convenient. I do have unlimited data though so it helps.

The built in storage would be fine for apps alone. But when you factor in music and video use the built in storage just doesn't cut it anymore. Couple that with abysmal battery life when constantly streaming from the cloud and unlimited data plans being the exception, not the norm, the devices like the Lumia 928 look alot less appealing. Despite expandable storage being for media use only.

True.. for videos and music nokia should provide sdcard support in hight end devices

Samsung still makes good phones not as good as Nokia my opinion but imagine galaxy line Samsung's for wp8?

Would not be the same .people buy Samsung galaxy for the crazy features and WP don't have all that stuff yet

The Ativ S is a superb phone. I have the UK version along with a 920 and have to say the Ativ screen wipes the floor with the 920. Its beautiful!

I agree the ATIV S does wipe the floor with the 920 but not this phone. Either Samsung or Sprint got rid of the Super AMOLED screen and put a TFT LCD screen in it.

The Samsung's are actually really good, its just they can't compete with the masses amount of Nokia smartphones. Samsung have exclusives, like grouping applications, and video croppers. Nokia do not have those things for low end devices, but .only for high. But not group applications. If Samsung did a phone equal price to my phone (Nokia lumia 520) i would defiantly be tempted, as Samsung are a solid manufacturer. A cheap windows phone, made by a solid, rich manufacturer is perfect. Although Nokia make the best smartphones, but Samsung are the best smartphone maker in the world, no? The most successful. Although I am a Nokia lumia owner, I love Samsung, Nokia, and Htc for coming to Windows phone. I prefer Nokia, but i love Samsung just the same.

Nokia has plenty of exclusives where you been son? Even a video cropper. Check it

Not for Nokia lumia 520;-) I know, but Samsung has lots of exclusives, and so does Nokia, I'm not stupid. I wish there was a wp which had the Samsung and Nokia exclusives combined.....but that will never happen! Just proving that Samsung aren't rubbish wp manufacturers! Anybody who make windows phone i support.

Well the 520 really is not a real WP. And you did say this: "Samsung have exclusives, like grouping applications, and video croppers. Nokia do not have such things." Which actually indicates that you think Nokia doesnt have them and may in fact be stupid but yeah. I am not sure which phones escpecially the lower models get the exclusives. But Nokias blow Samsung out of the water in almost every sense. Trust me I used to have a Focus and Omnia 7. Dont get me wrong, I love samsung, just wish they would put more effort into Windows Phone and get Android outta their ass. Nokia and Samsung with full support would have to help Windows Phone grow.

Exclusives: Nokia Pro Cam, Smart Cam, Video Trimmer, Video Upload, Photobeamer, Hipstomatic OGGL Pro, Vimeo, nokia music, Nokia exclusive Weather Channel and ESPN apps, Cinemagraph, Panorama App, Creative Studio, Transfer my data, plus all the Xbox games (6 month exclusives), and other 6 month exclusives which expired like Bloomberg and such.

This phone is just a dumbed down version of the ATIV S, which is a better looking version of a 16 month old phone (GS3). If the ATIV S was available at launch of WP8 in the states I prob would have picked it up over Nokia. But because there was no USA support, I got a Nokia 920 and have never looked back. I am glad to support the titan of WP.

Looks like you're a little out of the loop. I think you missed the 3000 other discussions and articles chock full of the fact that there's no Nokia devices on Sprint.

because sprint doesnt offer a nokia, and won't offer one for who knows how long? I wasn't even replying to this post, wth wpcentral?

Removable Battery, MICRO SD, basically the same specs as the GALAXY III. How many GALAXY III have sold compared to the Lumina?

Heh, I ditched a 920 for an ATIV-S because it's an overall better phone. Higher capacity removable battery that lasts me 2 days, a bigger, better display and SD card storage for my pics, music and videos. The 920's camera was nicer, but that's not a priority for me. Having used both phones, the Samsung is better IMO. Samsung gave me GDR2 weeks ago and app support and updates have been great lately.
So does that answer your original question?

Personally I think the Nokia App blow the Ativ S out of the water. Free GPS alone does it for me. I'm on Wind Mobility and I was just up in cottage country here in Ontario. Basically Wind drops service But I can roam on Rogers but I have no data. Nokia free GPS and Downloadable maps and POI were my savior.

My ATIV-S has 1GB ram, 16GB storage, a MicroSD card slot and a 4.8" display, all for a lot less than the (almost) equivalent Nokia.Almost forgot, a 2,500mAh battery too ;)

Forget about new ATIV device, where the hell is GDR2 update for ATIV S phone?!

got gdr2 on my ativ s last week.

Same here, I'm on O2 in the UK.

At&t is testing it out for samsung

Samsung has no immediate plans to launch a device for GSM carriers at this moment. They are focusing on the CDMA market in the US.

What's with the physical home/start button in most Samsung phones? It's 2013. Does anyone actually prefer that to an even, smooth surface?

I think they are just sticking with what sold well: The Galaxy S series.

i really like the physical home button for waking my phone. possibly i am just used to it since i previously used a samsung focus.

That is about the only thing I miss about the iPhone. Getting used to no physical home key was an adjustment on my Lumia. After 8 months, I still find myself hitting the home key to wake the phone. But, physical keys can wear down and stop working properly, so it probably better without one. Looking forward to the double tap feature with GDR2/Amber update.

Well, yeah, all hardware can wear down. The power button could, the camera button, the volume controls, and the touchscreen. If you're worried about hardware failure, it's better not to buy a phone.

The home button gets used the most often of any button. A colleague of mine had an iPhone 4S and the home button became very unresponsive. He had to push it extra hard to get it to work. Point taken... I am personally not concerned about hardware failure… but that is my guess for why Nokia doesn't use a physical home button. Functionally, I would still prefer a physical home button mainly for waking the phone, but the double tap feature should suffice.

Ah, I understand now. Yes, the iPhone's home button sort of "sinks" into the device, but it's actually a touch (pardon the pun) elevated on the ATIV S. If it jams, so be it. Hopefully it'll last me at least two years. :)

Don't want to say anything too negative about its usefulness, but that double tap can sometimes be like a quadruple tap. On a few occasions it took even more taps. Hopefully it's just a user error.

I don't remember the Focus having a physical home button.

oops. you're right. was thinking about my samsung ace.(horrible phone). mea culpa.

I actually prefer the physical button too, easier to wake the device then spending an extra second locating the power button.

Double tap to wake, sorted. :)

Double tap to wake destroys battery life on a device with already mediocre battery life. No thanks.

I much prefer the physical button over the capacitive home key. Next thin you know power, volume, and shutter keys will be capacitive. Ick.

I prefer capacitive home button. Front of screen should be all capacitive... just looks crappy otherwise. Side buttons will remain physical. Easy.

If only I could turn off haptic-feedback for the front buttons :(

I'm going to try to hit the Sprint store today and pick one up. Good timing, too, because my current phone is starting to gasp its dying breaths.

Hope you have better luck than I am. None of the stores around here are carrying them. Online orders only

Unfortunately, that is the story. It seems that manufacturing issues have caused a delay, as it happened with the Galaxy S3 and S4. Shipments were expected from Samsung, and all the stores can do is order them.

go buy nokia people!samsung doesn't do shit for WP ,and by the way this phone is as ugly as its brother galaxy

Where do you people come from? This article isn't about Nokia. It's about a Samsung device coming out for Sprint, which doesn't have a Nokia device available.
But you probably didn't know that. You likely just came in to comment in order to shit on Samsung and tout Nokia fanboyism. If anything, you should be happy that the Windows Phone platform is growing and expanding, not trying to exclude certain manufacturers. God, people like you are getting really annoying.

Couldn't have said it better myself!!!!

Doesn't do shit? You haven't been paying attention, then.

FFS another misinformed troll spouting crap!!! Hmm, almost weekly updates for all their apps along with new apps released into the Samsung Zone, and the first manufacturer to start rolling out GDR2 to customers devices. Yeah, Samsung doesn't do shit for Windows Phone!!!!

I'm glad Sprint is finally offering something. I'm not crazy about the design, but glad there's an option for those who need to stay on Sprint.

Not available at any of the Sprint Stores here. I want to physically compare the 8XT to Ativ S Neo

Same here in CT. I just called seven of the nearest stores. Two representatives told me that none were being shipped to stores yet that it was only available by direct ship, but the stores could order it for me. Apparently the press release stating that it would be available in stores today was incorrect. I am more than a little disapointed.

None in Minnesota either. Sprint is so unprofessional.

This has to do more with Samsung and their manufacturing issues as they are still playing catchup on the S4. Not Sprint's fault for the most part.

Where did you get this manufacturing information from? Do you have a link you'd care to share?

None showing up in Ohio either. Has anyone actually seen this phone yet at a Sprint store or Best Buy? I have been out of the phone market for over 2 years now with my antique Arrive .... is this normal not having the phone in the stores on release day?

I called every sprint store in Chicago and no one has it here either... The answers I got ranged from "we'll have to order it to the store for you and it should be here in 4 days" to "maybe next week" to "no idea when we'll get it". Really dissapointed given that my Arrive needs to be replaced ASAP... Pretty sure this will be my last sprint phone ever unless they really step up their windows phone game.

Not available in Georgia!

someone should go undercover in one of the Sprint stores and inquire about the phone or just a phone in general, who's willing to bet that the sales rep's will offer you something other than a WP (which should be the most recent released phone on Sprint)?

They told me yesterday, called 5 stores, that they wouldn't be carrying any. There's not enough demand they all keep saying.

Now, you are really sounding like you are making this up.

206-682-0114
206-205-0280
425-688-1701
425-746-7750

Call em.

Not enough demand? The phone just got released today. How can they know that already? Or maybe they are just assumming that most of the WP8 users already left for other carrier offerings. Perhaps this isone reason why Sprint continues to bleed customers.

Exactly Stiv X. Its like Sprint doesn't want to get out its own way.

One wonders if this will be enough to save the WP platform on Sprint. It's a battle of form vs. Function. This phone has plenty of "function" (expandable storage or the lack thereof) is one of the most talked-about features in any flagship phone), but will the lack of "pretty" in both case design and screen result in low adoption rates? Even if it was also pretty, would it be enough to get people to trust that Sprint would continue to improve their often-spotty network? Will Sprint give it even a nod on the marketing side? Does it support the new "SmartTV" and Smart-Device platform like the Galaxy does? These are the questions at hand for this device and for the future of the WP platform on Sprint.

None available here in queens ny either they told me only from online

They're even having extreme trouble getting me the sku number

What a total joke...they have a press notice a few days ago saying they'd be in stores today and NONE of the stores around me have it or know anything about it. I hit my local corporate store this morning and waited 20 minutes just to be told they don't have it and it will probably be a week before they get any shipments. They didn't know anything else about it and had no signs/promotion of any kind. I called 3 other corporate stores within 30 miles and all of them were clueless and didn't have any. Same story from 5 other non-corporate stores.
PATHETIC!

Same story. The difference is that I had little faith in Sprint... so I called all the stores beforehand. More than half the stores were confused and only a handful had managers around to tell them it was "delayed" a week. This is after they announced it on the 14th that they would be available in stores on the 16th...



Umm...I'm running HERE Drive on my ATIV-S with maps downloaded to the SD card. Since the Samsung was nearly 100 EUR less than the 920 pricewise, the minimal cost for the GPS Navigation app still put me way ahead on costs.
While I have nothing negative to say about Nokia or their products, I find the fan boy mentality that prevails here a bit much sometimes. Give credit where credit is due...the ATIV is a very capable Windows Phone.