Sprint finally announces Samsung ATIV S Neo for Friday, August 16th at $149.99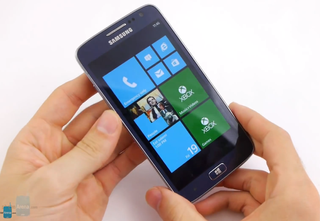 There has been plenty of information that we presented recently leading up to August 16th as the release date for Sprint and the ATIV S Neo. Now the CDMA carrier has come forth with an official announcement on the device and have confirmed that date.
According to the press statement, the Samsung ATIV S Neo will go on sale Friday, Aug. 16, in direct ship sales channels, including Sprint Stores, Business Sales, Web Sales and Telesales at 1-800-SPRINT1, for $149.99 with a new line or eligible upgrade, two-year service agreement and $50 mail-in rebate via reward card, confirming what we reported earlier.
The rest of the specifications are also in line with what we previously reported, including a dual core 1.4GHz CPU, 1GB of RAM, 16GB of internal storage (and up to 64GB expandable), a 4.8-inch TFT LCD display (1280x720) and a removable 2000 mAh battery.
Full press release below…
Samsung ATIV S Neo, the First Windows Phone 8 Smartphone from Sprint with International Roaming, Available Aug. 16 for $149.99
Samsung ATIV S™ Neo will be available in Sprint direct ship sales channels, including Sprint Stores, Business Sales, Web Sales and Telesales at 1-800-SPRINT1, on Friday, Aug. 16, for $149.99 with a new line or eligible upgrade, two-year service agreement and $50 mail-in rebate via reward card1.
The first Windows Phone 8 device from Sprint with international roaming capabilities, ATIV S Neo is the perfect balance of productivity and fun with a 1.4GHz dual-core processor, 16GB memory, 1GB of RAM, microSD™ memory card slot supporting up to 64GB (microSD card sold separately) and removable 2,000mAh lithium-ion battery for up to 14 hours talk time. Live Tiles provide the information you want at a glance, delivering the most personal smartphone experience possible.
Featuring an 8-megapixel main camera with LED flash and a front-facing 1.9-megapixel camera for video chat, ATIV S Neo helps customers capture more with their smartphone. It comes equipped with a variety of preloaded camera apps, including the Beauty Shot mode for smoother-looking skin in headshots; Manga Camera to give pictures a fun twist by turning friends and family into cartoons; and built-in Photo Editor, which allows the user to edit, color, effect, decorate or share their pictures quickly and easily. ATIV S Neo also has an external camera button that works even when the phone is locked or sleeping, so you never miss a shot.
The large 4.8-inch high-definition display enables crystal-clear photo and video viewing. Sharing is easier than ever with ATIV S Neo featuring ATIV Beam using near field communication (NFC) to share photos, video and music with other Windows Phone 8 and select Android™ devices.
Parents will appreciate Kid's Corner, a built-in second screen just for children only available on Windows Phone 8. Adults can curate the apps, games and content available in Kids Corner, while keeping their own smartphone world separate so they never have to worry about their child emailing their boss, buying apps or deleting pictures. Pandora and other popular apps for Windows Phone take advantage of this unique feature by automatically filtering out explicit content when running in Kids Corner.
This Windows Phone also makes it easy for customers to stay productive while on-the-go. With Office Mobile, users can access, view and edit Microsoft Word, Excel and PowerPoint documents from anywhere. Customers can also count on Office Mobile to keep content and formatting intact so documents still look great when back on a PC, Windows tablet or Mac. ATIV S Neo includes the Samsung exclusive Now feature, which highlights top news, weather and relevant information at a single glance.
Microsoft Office 365 offered by Sprint is available for small and mid-sized businesses. It includes Sprint's unique Carefree Cloud migration and onboarding assistance, end-user level support, predictable monthly costs with no up-front infrastructure expenses, pay-as-you-go plans, savings by bundling all of the necessary tools, and advanced options to simplify management further, all with a single bill and single point of contact. Sprint recently announced expanded plans available with Office 365, including enhanced audio conferencing and availability at select Sprint retail stores.
Join the conversation:
What feature updates caught your eye? Are you excited about Samsung ATIV S Neo coming to Sprint?
Related Links
1The American Express Prepaid Reward Card ("Card") provided in connection with this Rebate offer is a prepaid Card that is usable at U.S. merchants that accept American Express Card. Some limitations apply. The Card is not redeemable for cash (except where required by law) and does not provide ATM access. Use of Card constitutes acknowledgement that it is given as a reward and no consideration, value, or money has been paid by the holder to American Express in exchange for this Card. USE OF CARD IS SUBJECT TO THE CARDHOLDER AGREEMENT. SUBJECT TO APPLICABLE LAW, A $3.00 MONTHLY FEE WILL BE ASSESSED AGAINST CARD BALANCE, STARTING SIX MONTHS AFTER CARD ISSUANCE, UNLESS FUNDS ARE EARLIER DEPLETED. For BALANCE, customer service and Cardholder Agreement, visit americanexpress.com/sprint or call 866-608-3756. Card issued by American Express Prepaid Card Management Corporation.
Windows Central Newsletter
Get the best of Windows Central in in your inbox, every day!
Daniel Rubino is the Editor-in-chief of Windows Central, head reviewer, podcast co-host, and analyst. He has been covering Microsoft since 2007 when this site was called WMExperts (and later Windows Phone Central). His interests include Windows, laptops, next-gen computing, and for some reason, watches. Before all this tech stuff, he worked on a Ph.D. in linguistics, watched people sleep (for medical purposes!), and ran the projectors at movie theaters because it was fun.
Wow the ativ finally in the us and it only took a year lol

That phone does not look aesthetically pleasing. Thank science for phone cases and that this phone had decent specifications.

Thumbs up for thanking science.

It's like they looked for the most staid blue ever. "It will go with men's business suits?". What were they thinking. I'd love to see Lenovo get in this Windows phone game.

Totally. Lenovo knows what a good design is. Of course, the build quality can not compare with nokia, apple or Samsung. Hate it or love it, these companies win out with attention to consumer need and excellent build quality.

Because its not a neon color its not pleasing? Give me a break. For all the professioanls that will love this phone, it looks awesome. Only people who feel a need to stand out would want some juiced up candy colored phone.


Would have prefered black, white or gray over this..not-quite-navy blue. =/

I'm not a fan of Samsung, but I have to say that the color of this phone surprised me (in a good way). If the color is accurate in this photograph, it's quite a beautiful blue (no, it's not navy or royal)...a blue one might find more common in Asian or Scandinavian countries in industrial design. Sexy in an understated way.

How do they come up with these names?

They say better late than never, but I would have thought that this phone would go for $100 to entice customers.

Right.. Sprint must want WP Users to leave..

There's a reason Sprint is in 3rd place and falling: Mismanagement.

Good for Sprint I guess, but why the eff does everyone like Samsung phones so much? This phone looks so ugly to me.

Still don't know if I should get this phone and finally say good bye to my HTC Arrive. I'm hoping that Nokia and the new Sprint will come to an understanding that will allow for the release of a nokia windows phone. But, I'll be heading to Sprint on Friday to check it out. Maybe this time around the customer reps will have a little more knowledge about the phone than when I bought the Arrive.

Still don't know if I should get this phone and finally say good bye to my HTC Arrive. I'm hoping that Nokia and the new Sprint will come to an understanding that will allow for the release of a nokia windows phone. But, I'll be heading to Sprint on Friday to check it out. Maybe this time around the customer reps will have a little more knowledge about the phone than when I bought the Arrive.

If you're holding out for Nokia on Sprint, you're gonna be using that Arrive for a lot longer, man. Since they're just releasing this one, you're unlikely to see another WP8 device on Sprint for at least another year, even less likely a Nokia.

I know what you're saying is true but it still cuts deep. LoL But seriously, I don't want to leave Sprint because of the unlimited data especially since I travel alot and my Lumia 920 is used mainly for work but the data plan sucks. So having my personal phone with an unlimited data plan really helps out a lot. So, I guess it's time to wait a week after this one comes out and check Amazon for a price drop.

I didn't know you had a 920... You're spoiled... This phone is fine for you on Sprint... And here I was feeling sorry for you.. Lol❕❕

Dont' count on it. Nokia and Sprint probably won't happen anytime soon. I thank the lords I am spoiled by having two different accounts/carriers for personal and work. Means I get to own a device on every OS. I would have purchased this device if Sprint/Samsung would not have waited several months despite the meh specs. WP8 is such an awesome OS I can look past the specs, to a point.


Have you forgotten the fact Microsoft was ordered by the FCC TO BECOME Qualcomm CDMA compliant two years ago as a result of the hearings held in regards to coding and cell network security when it comes to personal data? Explain to me why there were zero second generation WP7 devices on any CDMA carrier in the US.

stop blaming Sprint fr a problem Microsoft was responsible for.

I see you saying this all the time, would you mind providing a source?

Don't use Google Search anymore but did again just so I could search for that source since I couldn't find it in Bing - got nothing too so probably just false information. In any case, that has nothing to do with the long-standing issue between Nokia and Sprint.

Tmobile offers unlimited data and no contracts. Oh yeah and they have the 925

Except for the fact that unless you pay even more money, T-mobile throttles or cuts down your data usage after you've hit a certain ceiling. And their cheaper pay-as-you-go plans aren't that great.
Oh yeah, and the 925 is pretty much the same spec-wise as this.

I'm going to have to disagree with you on that one. I do not believe Sprint is much cheaper, if cheaper at all in regards to the unlimited data plans. We're going to have to agree to disagree on this one. I just know Sprint is not the only carrier with unlimited data plans which was my point.

Regarding the phone comparison. We don't even know if Samsung will support the WP8 product like Nokia does.

I pay $75/mo for my unlimited plan. (And I mean unlimited, without a cap or throttling after x-amount of gigs). The same plan on T-Mo is 90+ once you start adding texting and voice to it.

Again, agree to disagree. I went on their websites, and I'm seeing Sprint at $80.00 and Tmobile with the same plan at $70.00.

At face value, yes, that's what it is when you just look at the front-page costs. But when you go to check out, you're not counting the subsidy on the phone itself on T-Mobile.
If I got a Lumia 925 (which is "free" on checkout), my monthly bill would be $92. That's an intial $50 for the unlimited talk and text, +$20 for unlimited data (at that $70 now), plus an additional $22/mo for the phone. $92/month on Tmobile. If I do the same thing for Sprint, for say, the HTC 8XT, my "due monthly" total in the checkout is $80. Sure, I'm paying for part of the phone up front, but you're eating the cost either way. I'm looking at my monthly bill over time. I happen to have a discount, so I pay less than than what I would on T-Mobile.
There's also a matter of coverage, but that's a completelyd ifferent topic. Agree to disagree, indeed.

The T-Mobile $30 prepaid plan with 5GB of 4G Data, unlimited texts and 100 minutes beats everything else to me. Loving it on my 925! :D

It being mid August,, Nokia is about to announce some new devices next month, so I would wait if I were you... I hate using this saying, but with this phone Sprint was too little, too late, this time... Maybe if these were released around May it would've made more sense... Can you get a 928 to work on Sprints network❔

Don't know if an unlocked model will work with Sprint but it is worth checking out. Plus, it will help me avoid signing a new two year contract. Thanks for the idea, don't know why I didn't think of it. The 920 is mainly for work that's the reason why the plan sucks but provides great benefits when I have to travel with AT&T coverage.

To my understanding, Verizon phones will not work on Sprint's network.

This is correct. The only phones Sprint allows on its network are Sprint phones.

As a fellow HTC Arrive user, all I can say to you is, the HTC 8XT is great! A lack of high-end specs here and there, but it's nice and solid, just like the Arrive was. 8GB might kill the deal for you, but if you can get past that (comes with microSD slot after all), and you have liked your Arrive, you will like the step up from HTC.

One of my devices is an 8X. LOVE IT.

How many phones do you need? LOL
Do you have one for each girlfriends for yours?

Are you trying to get my wife to kill me? Besides, I thought they made an app for that. But on the serious side, I get a lot of calls from co-workers with various issues throughout the day. They decided, I needed another line or I would quit answering my personal cell. I have to admit, it can get old.

The correct answer, from someone else typing this on an Arrive, is to finally say Good Bye to Sprint. Just waiting for the 1028 myself to hit Verizon, then I'm back on the best network I've been on, and I've been on them all now. Long live Verizon (though I like the colors of AT&T, the 1028 can be "colored" via the wireless charging and camera grip covers. Perfect way around Verizon's "blah" corporate-style mentalility! :-D

Don't be a slave to these carriers, own your phone.

I'm on Sprint with the Arrive and the announcement of this phone is just horrible. It took Sprint 8 months to get this phone out and promised they would release updated versions. Well they held that promise up by releasing an uglier and lower spec phone than the original and at an expensive price. This should have kept the Super AMOLED screen and not TFT LCD. That one feature was the main thing going for it other the battery and storage. I'm not going to sign a 2 year contract to get a phone that's already a year old and at $150. I'm leaving for ATT.

My guess on the display was to cut costs to reach that "$150" mark (granted, it's after a MIR). It's a bit of a let down but evidently something needed to be trimmed.

I understand having to cut costs but the GS3 is $99 and the Nokia Lumia 928 was $99 on day 1 all with AMOLED screens. Even on top of that is its the same screen size from the GS3 and ATIV S so its not like their are extra engineering costs to make this phone rather than the others!!! I blame Sprint mostly for the pricing.

Chris, have you seen the costs for Qualcomm CDMA 3.0/4.0 components (even when made by authorized manufacturers). They go for about USD $10-20 more per device compared to staying with Qualcomm CDMA 2.x components. I worked for a contractor for Qualcomm and General Dynamics, and CDMA components, although more secure for network use, cost a bit higher than GSM components.

If im not mistaken the lumia 928 is subsidised priced at 99 look at the 8x at day its 199

I think the 928 can be had for free now? The 8x is currently available for free with 2-year agreement. I think Chris may be looking at the pricing as comparing it to other current devices and prices. If this device released on Sprint 8 months ago I doubt the price would be even discussed. You can purchase the HTC One on Sprint for as low as $99-149 for 2-year agreement. The specs on the ATIV S-NEO is not nearly as nice as the Galaxy or One, but the subsidized price is similar. I won't compare OS's because I love and prefer WP8 over android.

I understand the complaint about pricing. I actually understand the every complaint about Sprint and the lack of promotion of WP8 devices in general. Sprint and Samsung set WP to fail on Sprint, again.

The screen type may be an issue for some, but as you mentioned yesterday it's a debate the user needs to decide. Not everyone like super amoled screens.

Now, if the internal storage was the rumored 8GB, that would have been a major problem for Sprint and Samsung.

Leave for T-Mobile instead if the coverage in your area is good. The 925 is amazing.

Finally. New phone Friday! Hopefully, being a Samsung, it gets more accessories than the HTC as well.
Looks like the Sprint rep I spoke with in person yesterday straight up lied to me (he told me it wouldn't be out until the 30th).

Hopefully, being a Samsung, it gets more accessories

Don't hold your breath. I own an ATIV S (not "Neo" but roughly the same thing) since March.

For those complaining about the specs and design, you need to realize they are not much different than the Nokia Lumia 9xx line. The design is not a concern for Samsung because their phones at the high end are well built.

I've long read how Samsung phones feel "plasticy" and cheap. My wife has had the original Galaxy "Epic" 4G Wimax phone for about 3 years now. She's dropped that phone on our hardwood floors at least two dozen times. That thing takes a lickin' and keeps on tickin'! Definetly a solid build quality. She's looking forward to getting this Ativ and will be a convert from Andriod to WP this friday.

Expandable memory and removable battery? I know a lot of people that will jump on board WP with options like that.

Yep, sent back my HTC 8XT because of those features, +16GB of memory, HD screen, I'm buying!

Here is my issue. Sprint dropped the ball, and waited until 3 days before the launch to officially announce the phone release date. The network in my area has been horrible, and they have done nothing to convince me or my wife to spend $300 to upgrade our phones and stay on this network, where as we can wait 2 months till our contracts are up, drop sprint and save money on devices while moving to a more stable network. I was looking forward to the release of this phone, but between the recent network issues and the way they handled this, sprint would have to do something drastic to convince me to keep giving them my money.

Does anyone know if the accessories for the Galaxy SIII or the Ativ S would work for this phone?

1280x763 is a bizarre screen resolution...

It's likely a typo (but I'm guessing you knew that). My ATIV-S has a screen res of 1280x768.

Now let see them promote it along with the HTC 8x. This means nothing if they dont promote it and let it die like what they did to the arrive.

And two years late for Microsoft to become Qualcomm CDMA compliant in regards to Windows Phone. That reason alone was why Sprint along with USCC, and all the regional prepaid and postpaid carriers decided to wait and never offered second generation WP7 devices.

Ummm.... They had a first gen WP7 device. CDMA was there. In fact Sprint had it in March 2011, and it took until 5/26/2011 for Verizon to launch. MS was six months behind on CDMA... Two years ago.

China Mobile code was the main reason no CDMA carrier in the US WOULD TOUCH second generation WP7 devices. Why do you think Qualcomm CDMA enforcers like Sprint and US Cellular waited until the GDR2 ready devices showed up. Ask in any CDMA forum why they endorsed Sprint in making sure Microsoft became compliant on time.

also, make sure you check all the filings from Microsoft at the FCC, and you should find a request for an extension to meet CDMA standards now in place, and they requested an extension until late October.

So I did a search just now in the fcc filing system all the way back to jan 15, 2012 and guess what i did not see what u propose. Do you have an alternate source, mine is here

How about I owned one on day one? If memory serves it was March 16, but since it was more than two years ago, I'd ask for a little leeway on that. I do know that I had that Verizon Trophy, also a cdma phone, on May 26, day one. Sprint's coverage was unacceptable.

sorce for mrmdj31675 claims, I have arrive now for little over 2 years, i have seen the claims many times but no source for back up

Sorry... In WPC app, so thought it was reply to me. ;-)

You keep saying that so had to go back to Google Search after more than a year to search for it since I couldn't find it in Bing - but couldn't find it there either. Probably just false rumor you're spreading.

The Neo has ARRIVED....no pun intended.

it WAS intended. Hence the all caps ARRIVE. lol

I have been very crtical of Sprint and there lack of WP8 offerings. I have also in regards to the Neo Ativ S. I have to say though this is a much better offering than the HTC phone. I am a fan of the HTC boomsound front facing speakers, but only 8GB of storage? Come on, man. The Neo has 16GB...thank you! That means this is actually a much more usable phone. I am dissapointed in the screen, but in my past experiences, the Super AMOLED is a battery hog. At the resolution this may be acceptable. I will have to play with one.
Regardless, I hope the WP8 phones on Sprint do well so they are forced to support them.

Sprint "Telesales" denies even knowing about the phone and says they have not received"Official notification" that Sprint will even carry the ATIV S Neo. Way to go Sprint!!!

Joepan, stop making false allegations.

I have to back joepan here. Though I did not call telesales, I contacted three nearby sprint stores in CT and not one of them was familiar with the phone, nor had any information about it. I did this after reading the WPC article documenting the official announcement. I just hope I can find this phone and trade in my arrive this Friday; I've been eligible for for more than a year.

Call them. I did, to place a pre order and that is what the agent told me.

Got the same, went into three stores and only the third knew that the phone was announced but they had no other info so I couldn't pre order

Sammy!!! Finally a windows phone... And its for Sprint?! When you gonna show some love to att? I'm a big Samsung fan, but a bigger Windows fan... So the only rational thing to do is take my talents to south beach, (assuming there's a south beach by Nokia HQ).

I'm excited for this - My wife is ready to upgrade from her Arrive. I offered to get her an HTC One, and she said she doesn't like Android, and wants to stick with WP - given that, I am very happy that Sprint finally has a second option. The 8XT should have been a slam dunk, but then they dumbed down the screen to 480p... It's almost as if they're determined to leave at least ONE KEY FEATURE from each phone. The Ativ, seems to have opted to omit the "Sexy Design" feature, which I'm totally ok with.

was this phone made with left over parts from the galaxy line of phones?

So much for the 16 Aug launch date. A "shipment delayed" message was sent out to all the Sprint stores last night. Something tells me the marketing department didn't coordinate with the shipping department. LOL
Windows Central Newsletter
Thank you for signing up to Windows Central. You will receive a verification email shortly.
There was a problem. Please refresh the page and try again.