Sprint ATIV S Neo gets spec'd out on Samsung's site; confirms 16GB storage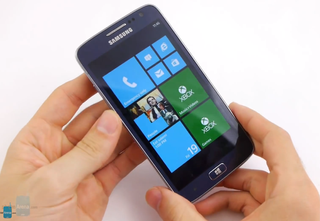 Yesterday we brought you the news of a new Body Glove case for the upcoming Sprint ATIV S Neo from Samsung that was appearing in Sprint stores. While in and of itself that news is not exciting, it did hint that an official release of the phone was close.
Today, things are moving even more as Samsung has listed the phone on their official site with the full specifications. As far as we know (and we could be wrong), this device page is new and it does confirm a few lingering questions. For one, the ATIV S Neo does have 16GB of internal storage and not 8GB as reported earlier. Combined with the up-to 64GB of expandable storage, the Neo should satisfy most users.
However, a small potential area for a letdown is in the display. According to Samsung's specs, the ATIV S Neo will only use TFT (thin-film-transistor) LCD screen technology instead of HD Super AMOLED, which is found on the ATIV S proper. That's not necessarily a terrible thing but TFT doesn't have nearly as good outdoor performance as HD Super AMOLED. (Interestingly, even a Samsung video demonstration points out the superiority of AMOLED over TFT).
Other than that, the specifications for the ATIV S Neo look to be what we've expected: 1.4GHz dual-core CPU, 1GB of RAM, 4.8-inch 1280x720 display with a replaceable 2000 mAh battery (rated for 15 hours talk time).
The Sprint Samsung ATIV S Neo is expected to go on sale this Friday at Sprint, though the carrier and manufacturer have not confirmed that data officially. The ATIV S Neo should be priced around $150 after a $50 mail-in-rebate and will be the first highend Windows Phone 8 device for the US based CDMA carrier.
Source: Samsung (opens in new tab); Thanks, Kromatico, for the tip!
Windows Central Newsletter
Get the best of Windows Central in in your inbox, every day!
Daniel Rubino is the Editor-in-chief of Windows Central, head reviewer, podcast co-host, and analyst. He has been covering Microsoft since 2007 when this site was called WMExperts (and later Windows Phone Central). His interests include Windows, laptops, next-gen computing, and for some reason, watches. Before all this tech stuff, he worked on a Ph.D. in linguistics, watched people sleep (for medical purposes!), and ran the projectors at movie theaters because it was fun.
Frankly to wait a year to release a phone only to release what is almost enitrely the sam phone just with different radios is pitiful...

Ativ S Neo and 8XT are welcome additions to Sprint,whatever helps push WP is a good thing in my book.

Yes, but the Samsung Galaxy S4 on Sprint has a 1.9 GHz Quad Core with 2 GB of RAM and 2600 mAh Lithium Ion Battery on a 5" Super Amoled (1920X1080) display and 13 MP camera (2MP front) for $199.99 after $50 rebate. This Ativ S Neo is 1.4 Dual Core with 1 GB or RAM and 2000 mAh Lithium Ion Battery on a 4.77" TFT (1280X720) display and 8MP camera (1.9MP front) for $149.99 after $50 rebate. I know specs don't matter when it comes to WP, but for $50 more, you sure get a LOT more for your money with the S4. I would totally spend that extra money for those specs in a heartbeat. It's BS that Windows Phones get these lower class models. And we wonder why people aren't buying them.

I myself am an Android user, for the most part. However I picked up an 8X because I had an Optimus 7 for a little while and wanted to try Windows Phone 8. I agree with you for a savings of $50 I don't see many people opting for the Neo as opposed to something like the S4.
The Lumias all have their points.
The Pureview Cameras on the 920, 925 and 928. The 1020's camera which is it's own league. The features that Amber brought and all the apps that Nokia has made for Windows Phone. Now that makes those devices stand out. (In addition to the beautiful body on the 925)
The 8XT, yeah that one seems average but it is a cheaper device. It has the Boomsound and a small form factor.
The Neo is basically a CDMA Ativ S which in itself was pretty much Samsung going "We need to make a Windows Phone to keep MS happy, here lets use some S3 parts and make this." It does not stand out, the only features that do make it stand out is the removable battery and micro sd card.
Now I know we need to wait for GDR3 for 1080p support and improved specs (Yes I know specs don't matter as much on Windows Phone but the 8X is a bit slow...) but frankly that should be out now. The competition will not slow down so Microsoft can update their operating system. Yes these devices are great for people who want a Windows Phone device on Sprint but for everyone who goes in and do not have thier minds made up it probably will not appeal to them

Can't blame Samsung or Sprint for the specs though. Even if they wanted to release a Galaxy S4 with Windows Phone 8 they couldn't since the OS doesn't currently support quad core or 1080p displays. I firmly place the blame for this one on the Windows Phone teams doorstep. The ATIV S neo has year old specs because that is the best you can do on WP8 currently. I do blame Samsung for not releasing the ATIV S phone in the US though. They had no excuse for keeping the ATIV S out of the US for a year.

Can't we blame Sprint for the price though... if it is indeed $150 after $50 rebate? They are giving less of a subsidy for WP. It's only $250 (plus $50 rebate card) off for the 8XT... compared to $350-450 off for Android or iOS depending on the phone. If we can't get the specs, we should at least get a better price to get these phones in people's hands.

Sprint digs deep and always find new ways to suck. But I still say better late than never for the Windows Phone fans on that carrier. I'm sure I would own this one and be pretty happy with it if they had a LTE network in Vegas worth a dog gone.

Actually, there is some LTE active in Vegas according to stats from s4gru.com which they have been dead on with all the deployment.

Don't be a negative Nancy. Those of us on Sprint are just happy to have a WinPhone 8 device.

Remember Sprint bragging they won't release outdated phones, but new ones. What a joke. Still I hope there is some traction on Sprints Network.

The same goes for all those Nokia Lumia devices on the 92X range. So what is your point?

each one still has a different feature that makes it better, not take away special sauce and add a different back cover

Better? The hardware for all three devices is more or less identical.

I remember that. Sprint is full of sh!t. I'm glad they finally got some Windows phone and I will be getting the Samsung Ativ S Neo this wkd if it comes out on the 16th. When the GDR3 gets released, it will help the platform and satisfy those who wants high specs when Windows Phone doesn't really need it. I as a Sprint customer am very disappointed in Sprint with their choise and way of opperation towards Windows Phone. They have no support towards the platform but I'm glad they will finally have more.

It's about time they came to the party.

Sweet! Best option for us on Sprint right now, I'll be picking this up very soon!

The 16GB internal storage, and Samsung's cash flow should hopefully make this a device that's supported & upgraded. I'm glad I'm returning the HTC 8XT.

Fingers crossed this comes out within a week or so. My Android is starting to crap its internals inside out and I'm looking forward to the switch.

No kidding! I just had to reactiviate an old LG Optimus S in order to hold out for this!

That white one looks slick

Here's hoping they actually sell that color, and not just the plain looking one they've been showing pictures of. I doubt it though. It looks like that image is just supposed to be a fade-in type thing, and not an actual color of the phone.

Yeah, that's what I think it is too. A faded version of the normal blue one. I doubt they'll have it in gray and white... unless it sells like crazy, which it won't. Whatever, I'm just glad it's coming with 16GB storage (unless that's a mistake). 8GB is simply not enough by 2013 standards... even with the additional storage for music/pics/videos.

I love the "Windows Phone" branding on the back and it is such a sexy phone.

Very Good that Samsung is getting involved in WP now. Wonder if their flagship will be mouth watering.

whatever it takes for WP to gain more market share is a "WIN" for WP as a whole. The more WP devices gets pumped outhere to consumers the better! So kudos for Samsung and Sprint... I wish they sell as good as Nokia's.

This phone better be on sale Friday so they can take my money Saturday. My Daughter and I are seriously in need of new phones now. My Arrive has been limping along since my contract ended in March.

The Ativ-S is a very good device in the WP ecosystem.

This is basically a Galaxy S3 running WP8. Decent but not $200 on 2 year contract before $50 MIR decent.

Amazon was selling the 8XT for $0 on a contract. I'm wondering if they would also sell this phone at a reduced cost.

The TFT display is better than amoled for WP. Does anyone recall seeing Samsungs on display it retail? The burnt in images of tiles?

I think that's because their displays are on for the greater part of the day. I've had a Samsung Focus with Amoled and did not have a burn-in problem. However, it did make me concerned for having say... a clock app on for long periods of time. That said, I prefer the Amoled screen to LCD. It just makes the colors pop a lot more.

I'm not sure TFT is better than AMOLED, I mean ultimately it's personal preference but I link to a Samsung video that touts why AMOLED is better than TFT, so if they believe it...

Has anyone called a Sprint store and asked? Would an employee even know?

My guess is no. The employees in the Sprint stores hardly know anything. There are 5 Sprint stores around me to my knowledge and I've walked into all of them asking about Windows phone and they all look at me dumbfounded. They don't know anything, and even if they did, they're doing a very good job at playing dumb or being secretive.

You're right. They don't know anything unless it's an iPhone, HTC One, or maybe Galaxy S4. Even then, they don't know more than people who visit cell phone websites. Luckily for them, most of their customers know even less.

They csr's don't even know anything about the android phones they sell. They point, smile and simply agree with anything you say regardless of how foolish it sounds. They told a friend of my with an iphone to pull the battery out, count to 3 and put it back in to reset it.

Maybe your friend did not specify he had an iPhone device from the beginning...

While I am aware that the Ativ S has been available outside the USA for some time what i don't understand is why people insist of trashing this phone. if you put is next to some of the Lumia's (which ain't that impressive) it matches up almost identically specs wise. So lets drop all the BS about it being inferior.

It's not about comparing this to a Lumia. It's comparing this to say... the Galaxy S4 at only $50 more (if the Ativ S Neo is priced at $150 as shown above). Yes, Android needs better specs to run smoothly, but the differences are pretty large. This doesn't account for the Ativ S Neo having 16 GB storage:
http://www.phonearena.com/phones/compare/Samsung-ATIV-S-Neo,Samsung-Gala... If anything, this compares to the SIII... which you can get for $99.99 on Sprint or on Amazon for 1 cent to $29.99 depending on contract.

Yeah, but if I pay $99.99 for the SIII, I'll be stuck with an Android phone. I'll gladly pay a little extra for the WP!

Like I said, you can pay $29.99 on Amazon for the SIII (upgrade or 1 cent for new contracts) ... or pay $199.99 for the Ativ S Neo (with a $50 rebate card)... or whatever price Amazon will sell it for at launch. It's more than a little extra. Yes, Ativ S Neo hasn't come out yet, but at those specs... the price should be a lot lower. I'm not trying to talk people out of Windows Phone. I'm most likely gonna buy my wife the Ativ S Neo whenever it comes out, but we're never gonna get enough people to switch if prices aren't lowered.

I don't quite understand what your point is. Are you saying it should be cheaper??

Yes, he is saying it should be cheaper. This phone is basically a Galaxy SIII spec wise. Right now a SIII goes for $99.99 at Sprint with a 2 year contract. The ATIV Neo is $150. AFTER REBATE (you pay $200 out the door). So you are paying $50.00 premium for the WP8 version, which compared to the S4, is behind. Yes I know WP doesn't need quad core processors to run smoothly, but for many it is simply a numbers game as most people don't know. Te math doesn't add up, the Neo should be cheaper.

Specs wise ?? U need to go and see the difference between Lumia and others you obviously haven't looked in that department fanboy !!

Actually look at the stats before calling someone a fanboy. You seem more the OMG LUMIA BEST #1 type, when it appears you haven't actually compared the stats: http://www.phonearena.com/phones/compare/Samsung-ATIV-S-Neo,Nokia-Lumia-925/phones/7934,7850

Why would they take the ATIV S, which looks great, and make it ugly like this?

Guess that's all she wrote......
I refuse to move to a TFT screen, AMOLED is my fav, and I will not accept anything less. 13 freaking years with this damn company and I swear I'm done!
Sheesh!

yeah i fell the same way...i waited forever for a good wp8 device on sprint and then they throw us a tft screen. PFF! My solid preference is superamoled. I'll probably still give it a try though.

TFT screen doesn't necessarily equate to "bad", you know. Some of it's personal preference on the display, so for you, that may be the case. My undertstanding is that TFT eats up less battery life than AMOLED. So there may actually be a plus side to it. Hell, even the iPhone uses IPS, which is just a slightly different version of TFT. Unless you've actually had enough phones that have been AMOLED to truly develop favoritism for it, mind telling me what you don't like about TFT? How many TFT displays have you had vs AMOLED? Just trying to make sure you're not saying "AMOLED is my fav" after owning like, 1, and no TFTs in the past. I'll be checking it out in the store before I buy it, for sure, but I'm willing to bet that it's not a big enough difference to be a deal breaker. I'll gladly take more battery life.
Windows Central Newsletter
Thank you for signing up to Windows Central. You will receive a verification email shortly.
There was a problem. Please refresh the page and try again.