AT&T Samsung Focus S now on back order?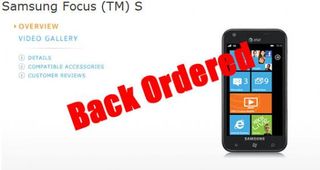 It looks like the HTC Titan isn't the only AT&T Windows Phone on back order these days. We've received numerous tips in the last thirty minutes from readers who have received emails this afternoon from AT&T with news on their Samsung Focus S order.
Unfortunately the emails weren't shipping confirmations but rather notifications that the Samsung Focus S they ordered is on back order. So far there hasn't been any indication when the Focus S will be back in stock. Oddly, if you check out AT&T website, the Focus S appears to still be in stock.
The news comes with mixed blessings. Nice to see the new Windows Phones flying off the shelves and bad that AT&T wasn't better prepared. Looking over at Amazon Wireless (opens in new tab), they are showing the Focus S as shipping in 1 to 2 weeks. Hopefully, that's a good measure of time and everyone getting the back order emails won't have to wait for long.
Thanks for everyone who tipped us on this and thanks goes out to ninja1043 for the pic!
Windows Central Newsletter
Get the best of Windows Central in in your inbox, every day!
George is the Reviews Editor at Windows Central, concentrating on Windows 10 PC and Mobile apps. He's been a supporter of the platform since the days of Windows CE and uses his current Windows 10 Mobile phone daily to keep up with life and enjoy a game during down time.
on Amazon it was showing these phones as shippiing in 8-9 days over the weekend. we ended up getting the focus s and focus flash on att.com, should arrive tomorrow.
I didn't see that happening with the android phones, I wonder if that's because of larget stock or more models to choose from.
In any case, AT&T should see this as a sign that people will be windows phones if they have a good price point

Wait for the typical naysayer comment in 3...2..1.

Bring it! My wife and I each got one of these last weekend and are really liking the Windows Phone UX (coming from iOS). There were two Focus S's in stock at the AT&T store -- we bought them both.
I went back in yesterday and, to my surprise, they price-matched the $99 online price. That, along with the $25 marketplace promo deal essentially made this a $75 device. Very pleased!

All windows phone 7.5 mango are all excellent phones. I also know a friend who have HTC Arrive 7.5 Mango and loves it. The querty keyboard is a great to have

Ordered mine (from AT&T) shortly after midnight, Saturday morning and my order has already shipped; Should be receiving it tomorrow. Can't wait!
I feel for you guys who are backordered. Hang in there! Won't be too long I imagine.

Tried to order at midnight but it was making me choose a different data plan. Did not want to lose my unlimited plan so I called customer service in the morning to make sure I could get it back after selecting another plan to get the order to go through.
Guess that 10 hour delay caused me to be backordered :(
Have to wonder if it's because of high demand or low supply.

I walked into an AT&T Store today and purchased a Focus S and Focus Flash for my company. No issues getting one in my town.

I called AT&T Buisness Care today and the rep. I talked to said that there is a warehouse in Texas that is shown as being "replenished" they went on to say that that may mean they are loading the phones into inventory, or they are waiting for the shipment to come in from Samsung, the the rep was trying to assure me that because the warehouse was in "replenishing" mode that I have nothing to worry about and that the phones should be sent out soon. If i do not recieve an email from AT&T by Friday they told me to call back and see the status then. Hopefully they have the phones they are just getting them all inventoried and such.
The rep also stated that 790 devices are in 1 warehouse and another warehouse is replenishing. whatever that actually means. What i may try to do is go to the AT&T Store and see if they have them in stock and see if they will honor the sale from Saturday.

Could be great news for Windows Phone if the demand did indeed cause this. I tried to order my Focus S at midnight but AT&T wouldn't recognize the promotion. Rep set me up in the late morning on Saturday saying that they changed their coding in the system in 2009 and my plan was old so the system wasn't recognizing it as eligible for the promotion. Seriously? 2009? C'mon. The rep was very helpful and I'm pumped to have the phone on the way (hopefully it doesn't take 2 weeks) but AT&T should have been ready for this. Disappointing because I was so looking forward to getting my first smartphone in my hands this week. Here's hoping all of us dealing with this mysterious backorder get the phones soon.

It seems to me that AT&T is having problems with their order tracking & notification system. I ordered my Focus S online at about 00:15 on the 26th and so felt fairly confident that I would be one of the first customers receiving one of these one cent promo phone. I was therefore surprised when I received an email from AT&T this afternoon stating that the device was on back order. However I was even more surprised (pleasantly so this time) when I received another email ten minutes ago with a tracking # stating that my order shipped. But, that's not all... A few minutes after that email, I received still one other, again reiterating that the device is back ordered, and that I'd be notified when it becomes available. Some very confusing communications from AT&T no doubt, but I'm at this point inclined to believe the FedEx tracking website which states that a package is in transit.

Thanks for the update. So it appears things could be more than a little messed up over at AT&T.

It appears so. The very last email specifically states, "Unfortunately, items in your order are out of stock and are backordered. We will ship them as soon as they are available," yet the FedEx website states that the item (same order #) is in transit and will be delivered on the 30th. AT&T may in fact be experiencing a shortage of devices to fill all their orders, but their series of conflicting email status updates are certainly muddying the waters quite a bot.

So I curiously just logged into my AT&T account, clicked on my orders and my Samsung Focus S order shows as shipped with a FedEx tracking number. I have yet to receive any emails from AT&T about this. But like you, I'll trust the FedEx tracking information. Mine also is scheduled for delivery on the 30th.
So take heart anyone who has received the backorder emails. Maybe we received some faulty information.

Definitely stick with FedEx tracking info-my ATT order status still showing Saturday info..

Mine was backordered, but I got an email early this morning saying that it had shipped, and has a FedEx tracking number. The estimated arrival date is 11/30. Hopefully this means that their supply chain issue is resolved.

I went to the local AT&T store to grab either a Titan or Focus S on Sunday with their penny sale. Apparently I'm not eligible for an upgrade until 8/2012, so I left empty handed and sad. :(
When I was there I asked why I can early upgrade to an iPhone, but I can't early upgrade to a new Windows Phone. The sales guy didn't have an answer for me, but explained I can pay the $500 or $600 dollars to buy it outright. Yah, no thanks buddy, how about you let me pay the early upgrade fee and get the damn thing like you can with iPhones??


Thanks for credit guys! Still no shipping info for me :-(

I bought my Samsung Focus S on Nov 8 at the local AT&T store. They had only one (1) unit shipped to them that day. Since then I have tried to find a rubber case or something to protect the phone, but not even Samsung has one on their website. It's slightly smaller than the Samsung Infuse 4G which is the closest device in form factor, but still too big. So what is it with this phone? I really like it, but Samsung and AT&T don't seem to have put too much interest behind it and are pusing the Focus Flash over the Focus S. I'm at a loss for the lack of enthusiasm over this phone, which I couldn't wait to get to replace by Balckberry Bold of 5 years, but it's like the bastard child of the WP7 devices. WTF? Anyone? Anyone? Bueller?

I ordered my focus S on 26th evening, 3 hrs before the 24hr sale was going to run out. Mine was backordered and 10 mins back i got an email from ATT saying my phone has been shipped. :)

I tried to take advantage of the penny sale over at AT&T. I ordered my phone about 10am Pacific. Sunday I got the email, about this. The worse thing about this, the email states if the phone is backordered for 30 days that they'll automatically cancel the order. Reading these comments, that phones have shipped gives me hope. Especially nuruddin.bu, ordered 3 hours before it ended and the phone shipped, wow.

I got my shipment email last night right after another backorder email. Should be here tomorrow.
Went to an AT&T store to compare against the Titan. I can see why people like the Titan over the Focus S.
Windows Central Newsletter
Thank you for signing up to Windows Central. You will receive a verification email shortly.
There was a problem. Please refresh the page and try again.