Aussie readers: Want ABC to support Windows Phone? Get involved!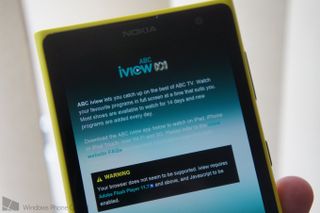 Australian Windows Phone news blog, Windows Phone Down Under is kicking off a small campaign to show the country's public-funded broadcaster just how much demand there is for platform support. Just like we did recently with BSkyB, if you're wanting ABC (www.abc.net.au) on your phone, you'll definitely want to check this out.
While we compared this campaign to our own, WPDU is going about it slightly differently. Instead of relying on a social campaign, the site is urging everyone who owns a Windows Phone and resides in Australia to visit the ABC website this weekend. The idea is to have the platform spike on website analytics.
They're not asking for you to spam the websites, though. WPDU have provided a handful of links that can be clicked through once, and when completed in the designated order it should leave a trail showing Windows Phone consumers interested in the catch-up server (which isn't available on Windows Phone).
WPDU reports, "in recent months has confirmed that approaching mid 2013 Telstra Business were seeing Windows Phone devices selling at a rate as high as 20% of its overall ranged monthly handset sales to its business customers." There's certainly some level of demand witnessed by mobile operators.
Unfortunately, it's an up-hill struggle when you're attempting to get companies and organisations on board to release apps for a platform they don't feel has a high enough ROI. Luckily, as noted above, ABC is funded by the public.
It's a sound idea, without having to rely on social media. That said, should you want to lend a hand on your social profiles, you can. Simply tweet at ABC with the hashtag #ourABCtoo. Also, be sure to get word out about the campaign itself to get as many consumers rocking their Windows Phones this weekend.
Head on over to Windows Phone Down Under for more details on how you can get involved, as well as links and more.
Rich Edmonds is Senior Editor of PC hardware at Windows Central, covering everything related to PC components and NAS. He's been involved in technology for more than a decade and knows a thing or two about the magic inside a PC chassis. You can follow him over on Twitter at @RichEdmonds.
Speaking of ABC, spied a 920 on Agents of shield the other day round the start of the episode.

Great idea, I would kill for an ABC iview app

nice work sheeds. let's hope this works!

The prblem with most of these companies, (similar to the one i work in publishing) everbody has a iphone. We publish app for our books but don't have an app for WIndows 8 or Windows Phone. 90% of the machines in our company are Windows machine with the Directors going to Macs, that is half the problem they feel you are a nobody unless you have a iphone, but are very short sighted with the revenues that can be generated making apps for Windows 8 and Windows Phone.
We need to get Sky, EurosportPlayer,MotoGP to start realising we are out there and do not want iphones or Android phones.


IPhones, ipads, Android, are for pleasure. When they're all done jerking off, 90% of them will convert to MS windows for all their productivity needs.

My most wanted Windows Phone app :-(

Clicked the ABC sites mentioned by Sheeds in his article. Will do another round with wifey's WP8 later; and another round this Sunday. Way to go, Sheeds! - Lumia 920 & 820, AUS

I would like MSFT to address and correct error code c00d36c4 before much else,this is a sad joke that we have to deal with this crap

Foxtel has good app which you can get abc info

Have email ABC about iview on windows phone the other day and the reply was they were looking into it and may be something they would do in the future.

Yep ABC mainly source Gizmodo, they are hooked on apples, hopeless support, just hopeless.

Since I am an Aussie tax payer and the government fund this left wing jerk off fest that is the ABC, they should be supporting all devices. If the other public broadcaster SBS can do it they have no excuse.

SBS is a commercial station. You can tell because they run commercials. Agreed that ABC should work out an iView app for WP8, but disagree that it's a left-wing jerk off fest. AFAIK it's the only station that actively holds itself to account, and while it may have a certain left-wing leaning at least its programming isn't absolute unfiltered rubbish. The worst is when a news program runs a story about another show on that station - marketing dressed up as "news". Bleh.
Windows Central Newsletter
Thank you for signing up to Windows Central. You will receive a verification email shortly.
There was a problem. Please refresh the page and try again.