UK readers: help the platform out and #getskyonwindows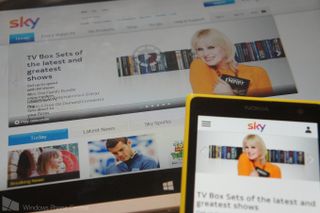 Windows Phone and Windows 8 remain in the struggle to attract support from the major media broadcasters here in the UK, including the BBC and Sky (or BskyB – British Sky Broadcasting). The former has started to show signs of platform backing with the release of iPlayer, but there's still room for improvement.
Sky on-the-other-hand has yet to produce the goods. You can help us change this by getting involved and making the company alter its view on Windows Phone.
So why do we need Sky apps on Windows Phone? As we already know, apps look superb on Windows 8 and Windows Phone and so we're sure the company would create some great experiences. It would provide Microsoft some more leverage when it comes to attracting customers away from competitor platforms. Official apps are everything these days.
Also, services like Sky Go (opens in new tab) and Now TV (opens in new tab) are an important part of the broadcaster's overall package, enabling customers to effectively take their subscription out the front door and with them on their travels. As well as Sky Go, the broadcaster also has numerous other properties loaded on both iOS and Android, while Windows Phone only features Sky News and Sky Sports News.
So what would we like Sky to do? With Windows Phone grabbing 12 percent of smartphone sales here in the UK, that's quite the share. This shows there's bound to be demand for official apps, which are not available yet on the store. We'd like to see those official apps launched, and native apps over simple wrapper.
Sky News on Windows Phone 7, back in 2011.
Where do you come in?
So, UK readers, how can you all get involved? Simply take to Twitter and use the hashtag #getskyonwindows (and tweet @SkyHelpTeam). We're attempting to drum up as much support as possible to really show Sky just how much demand there is for solutions on both Windows 8 and Windows Phone. Just like BBC and its iPlayer, all it takes is sheer determination from the community to make a difference.
As well as publishing tweets using the above hashtag, be sure to head on over to the Sky online forums to let your voices be heard. It's worth noting that Sky only allows subscribers to access the community forums. Lastly, spread the word! Let everyone you know who owns a Windows Phone (or Windows 8 device) and has an active Sky subscription that there's hope.
Sound off below if you've reached out on social media about this issue.
Update: Head on over to sky's website to voice your suggestions too. Thanks, topleya for pointing this out!
Windows Central Newsletter
Get the best of Windows Central in in your inbox, every day!
Rich Edmonds was formerly a Senior Editor of PC hardware at Windows Central, covering everything related to PC components and NAS. He's been involved in technology for more than a decade and knows a thing or two about the magic inside a PC chassis. You can follow him on Twitter at @RichEdmonds.
As someone who is moving to Sky soon, I'm backing this all the way

Everyone else having the same response i assume https://sky.response.lithium.com/portal/conversation/1015521

Why can't we have a sticky on WPCentral homepage that lists all major apps missing along with the Twitter and support accounts of companies behond them.

<strong>If 50% of all WPCentral visitors pounded those companies on their Twitter accounts publically, those apps will be here in less than 3 months!</strong>

tweeted them and got this response:
"We understand how popular these devices are and can appreciate your interest in getting our apps on your own device. Unfortunately at the moment we have no plans to support Windows Phone with Sky Go. You will the find latest information and any updates at our Help Forum; http://helpforum.sky.com/t5/Sky-Go-Discussions/Windows-Phone-8-and-Windows-RT-Windows-8-RT/td-p/1308733 Cheers, Jason"

so 10% marketshare isn't enough is some markets.


Just bombarded them with tweets, and will continue to do so until they get the message....tweets are free.

After what happened with #2instawithlove?????

But, but, I'm a Virgin Media customer ;-)

One of the reasons I'm moving to Sky, at least they support some platforms, VM barely have a decent SkyGo equivalent

Virgin Media is pointless unless you have a large tree or tower block making it impossible to get Sky. I have Virgin for internet, but their tv offering is poor at best. You get much less of the channels you would actually watch on the basic package, (Fox for example for Walking Dead and American Horror Story), their on demand doesn't have as big a collection, HD is free on VM, but they have much less HD channels and most of the ones they have are free anyway. They also make strange claims on their adverts, like the one making a massive deal out of 'undelete'... But Sky has that too, so its an odd thing to advertise. Also most premium entertainment comes through the Sky brand channels, and VM has access to less of them. I don't know where id be without Sky Atlantic. Theyre also now flogging TiVO, which used to be available in the UK for Sky... But nobody liked it and it left the UK.

I disagree. My Virgin Tivo is great. There are more than enough channels available for me to still have a massive backlog of things to watch. I don't have to pay £15 extra for a few more HD channels. My internet just trippled for no extra fee. If there are any shows I cant watch on my subscription, i can find them on the fast reliable internet with little bother. But the best part for me is that not only do I pay less for what i get from VM than I would comparable Sky, my money doesn't so much go to Rupert Murdock. Rather it goes to a bearded man that sails balloons and makes spaceships. And this is why its good to have choice, our own opinions, and cognitive dissonance.

There internet is fast, which is why I have it, but its not what i would call reliable. Your money does go to Rupert Murdock, as Virgin have to pay Sky for most of their content. Its not £15 extra for a few HD channels, for starters Sky has around 25 more HD channels at my last count, plus 3D channels. And the charge is £10 not £15, and you don't have to pay that if you have multiroom or other such things. You get a lot more value for money on Sky when you start adding premium packages, on account of the fact they own almost all the premium channels in the Uk.

Already have They 'Currently have no plans to support Windows Phone' but im not going to give up going to hassel them via all forms on contact haha

Consider it twated!.....wait that can't be right!!

You might want to check this out as well, maybe helpful if we all submit and tick other and input Windows Phone http://voice.sky.com/html/assets/form.html?utm_source=Sky+Help+Forum&utm...

Cheers for this. Completed it. Everyone else, please complete this if you can.

Just completed this, found it strange there was no mention of there Xbox app

Why do they hate windows so much??

Its not hate, its a lack of awareness

Sounds like they need a realy good shove then !

I spoke to Sky last month about this and their response was:
"Currently, we do not have any information regarding future releases for the Sky Go service and it's availability on new computer, mobile or gaming platforms. At the time of writing there are no plans to introduce the service on any new platforms"
Let's still tweet them though!

This is great. I hope your UK readers get behind this. It's been a thorn is the platforms side that locally, there are holes in the app catalogue.
I want Sky to get right behind Microsoft for another reason too - I want that whole integration with XBox One too!!
In other news, I think I saw Steve Dixon using a Surface tablet on air at the weekend. Sky abandon iPad for Surface Shocker?!

Will never forgive them for messing with the good name of SkyDrive.

My thoughts exactly, because of them my favorite SkyDrive will be named something probably very bad.
And considering this BSkyB is a UK thing, why should it matter worldwide? I'm still pissed over this.

Exactly the first thing that came to mind when i read this post.

Yep. I was wondering as they were the ones that said SkyDrive was taking their name illegally. But, more companies coming to WP the more the platform will thrive. Think of Youtube or instagram. We may not like what google is doing but an official YouTube app is what everyone will talk about, even though we have better options with 3rd party devs. Same goes for instagram. Sad truths

If anything, they should be favouring Microsoft and Windows Phone more now. I will leave them a couple assertive tweets and see what they have to say about it.

excellent point there my dear fellow

Virgin Media all the way ;)

I agree, but if a lot of us will tell that we moving to sky if app is available that's can trigger somebody. Doesn't mean we have to use it. At least will help sky customers with wp.

Need the same in Australia for Foxtel. Would like it on my surface 2

SkyGO barely works on windows pc platforms or android. Sky are in bed with apple and will be for a long time.

We need to do that for Sky Germany as well!!!

Problem is that SkyGo on Windows uses Silverlight for DRM... And we all know there is No silverlight Support on wp8 or Windows rt...

Yes there is...
Explain WP7 app compatibility then.
Plus Silverlight is almost exactly like WinRT (used in Windows 8 and WP8) A lot of Silverlight code runs in WinRT and vis-versa.

I sent you a tip about this weeks ago when Sky backtracked on RT support and said on the help forum that support for W8 and Wp8 will not be happening.

Now all posts on the help forum regarding W8 and WP8 have been locked.

Could you keep us non U.K. folks up to date on your progress? I hope you can get noticed. Good luck and wishes.

I say we all stick it to 'em. Have never had so many retweets.
No support in windows for silverlight is a poor excuse when neither ios or android support silverlight either.

Ages ago we had this: http://www.virgin.com/news/virgin-media-offers-tv-go-nokia-n8
I remember it was not great and buggy, but it was available.

as a sky user a Windows 8.1, windows RT and winphone 8 owner it BUGS me BIG time. You can get skygo to work on Windows 8 and if you have a look on sky's forum you'll find out how to do it

What does "UK" stand for?

I can't help but wonder if you're being serious...

Rain, tea and fish & chips...

Ah, the perfect trinity. Fills one with pride :-)

I use the Sky New and Sky Sports apps in lieu of BBC. I've sent the tweet, hopefully they'll take notice.

Just had a reply:

Good Afternoon. We understand how popular these devices are and can appreciate your interest in getting our apps on your own device. Unfortunately at the moment we have no plans to support Windows Phone with Sky Go. You will the find latest information and any updates at our Help Forum; http://helpforum.sky.com/t5/Sky-Go-Discussions/Windows-Phone-8-and-Windows-RT-Windows-8-RT/td-p/1308733Cheers, Jason

Clearly they don't understand, standard ctrl+v garbage from Sky, expected nothing less/more tbh...

From the Sky Windows and Windowsphone forum from two days ago October 7th
"We appreciate your enthusiasm to discuss the nuances of the argument for W8 support but for the moment the decision has been taken to not support it in the near future."
So that's that, shortest twitter campaign ever #wasteoftimetheyaren'tinterested

Apostrophe in hash tag #epicwin :P

I tried getting support for this on the forums here but with very little response unfortunately. http://forums.wpcentral.com/windows-phone-apps/229573-help-put-pressure-...
Everyone needs to get on the Sky Help forums and put some major pressure on them.

The post above yours is from the Sky Help forum and is from a Sky spokesperson.
They have now closed the forum, no further comments can be posted.
I have reported their response to the moderator as inappropriate, one last attempt to be heard.
;-)

Just start a new one or post in the new one complaining about the lockdowns

I just wish they'd give us our name back #SkyDrive

Would be a good start if they could get sky go working properly on windows desktop.
When I use it on my win 8 pc, it can no longer open a new video window in IE10, doesn't work at all on chrome and Firefox works but gives a frame rate less than 2fps!

Isn't this the same company that assumed people are so dumb that they would confuse them with SkyDrive, and filed a trademark infringement suit against Microsoft? (Then again, some people really are that dumb. But why punish everyone?)

Maybe emailing their ceo with your thoughts :)

I am gonna hassle Virgin Media for some WP8 & W8 Apps :)

Find contact details for relevant people in their executive team and fire your frustrations at them along with their social media support channels. http://corporate.sky.com/about_sky/our_board_and_management/executive_team CEO: Mr Jeremy Darroch jeremy.darroch@bskyb.com

Television is for gimps (except for Top Gear)

I found it humorous that their customer services got bombarded with those tweets for a few hours and then got back to their real customer incidents later than usual with an apology for the slow response. Should have kept up the momentum for longer.

For my Win Phone I would just like the Sky Remote Record app, that way when out and someone mentions something on TV I can fire up the app and set my Sky+ box to record it. Not interested in Sky Go on my phone, screens too small, but definitly want it on my Win 8 RT tablet.

#getBTsportonwindowsphone Screw sky id love to see BT sport on my surface!! I contacted BT and the dude says to me, no one uses surface! Compaines in th uk only develop for ios and android, sad really! Sooner microsoft get some stores open here the btr then people can see how awesome the products are, ya really cant leave it up to pc world, there stores are a joke!

Done it, I also tweeted Joe belfiore about it a week or so ago but obv got no reply lol suggest everyone hassles him too. But I fear apple keeping it off windows tbh they only supported android because user demand forced their hand but apple apps are far better

Why tweet Joe Belifore about a Sky/BT Sport App?

Why not lol better than not tweeting him :D

Just spoke to Sky today regarding a Windows Phone 8 app and they have not ruled it out, but the 10% market share in the UK is the only thing holding it up, from the response I recieved it seems that maybe 15%+ (guessing) marketshare may be the trigger needed to bring Sky Go to our platform, they are in active talks internally about this very app. Hopefully within the next few weeks or so the platform will get that much needed boost with the availability of the new Windows Phone 8.1 handsets..and it would mean that before the end of this year (better late than never) we should have Sky Go on Windows Phone.. on a side note Microsoft.. please hurry up with Cortana in the UK already....it may also be worth leaving your comments on the sky user voice forum http://voice.sky.com/html/assets/form.html?utm_source=Sky+Help+Forum&utm...
Windows Central Newsletter
Thank you for signing up to Windows Central. You will receive a verification email shortly.
There was a problem. Please refresh the page and try again.