Competition and Markets Authority in the UK clears the BT and EE merger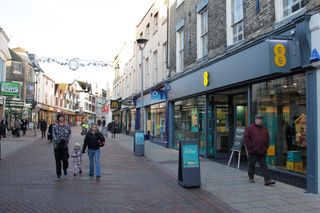 BT is set to merge with EE, and the company has just received the green light from the Competition and Markets Authority (CMA) in the UK. This body has approved the merger, which clears BT's £12.5 billion acquisition of EE to become the UK's largest mobile telecoms company. The CMA found that the merger of the two companies would not result in substantial lessening of competition in the UK.
According to findings:
Considering various potential outcomes resulting from the merger, such as the continued incentive to provide services to other providers on a wholesale basis, no evidence was found that could cause issues for the wireless and telecoms industries. The two companies operate largely in different markets. EE is a main player in the wireless industry, while BT has barely any share of the market. On the contrary, BT has and will continue to expand in retail broadband in which EE isn't a major competitor.
Source: UK Government
Rich Edmonds is Senior Editor of PC hardware at Windows Central, covering everything related to PC components and NAS. He's been involved in technology for more than a decade and knows a thing or two about the magic inside a PC chassis. You can follow him over on Twitter at @RichEdmonds.
So what about the 4G spectrum that BT bought via a subsidiary (Niche Spectrum Ventures Ltd) during the auction lol.

Well, that may just be ignored as it was going to happen anyway. I have been with Orange/EE for years but since they stopped Orange Wednesdays I have no reason to keep me here, especially as Virgin Mobile offer cheaper deals and use the EE network. Wonder when the Microsoft Sim will be available. If they also ran a virtual network using EE.... err BT....that would be considered too.

Look into Life Mobile, owned by EE!! The missus pays £10 per month for 3000m/unlim txt/3GB data. Freephone customer support, 30 day rolling contract, no credit check. I believe the do unlim mins/unlim txt/6GB data for £15 per month! Also 1500m/unlim txt/1GB data for £4 per month. I'd go with them myself we're out not for the fact my average data usage on Three is 329GB per month during the past 12 months, with the lowest being about 28GB lol.

Will take a look at them as well. Thanks @Matt

Go easy on the M&S food porn man

@2tomtom, Looks like it and I know alot of people who switched when orange wednesdays went the way of the dodo.

mmmm......possible result is price rises: http://a.msn.com/r/2/BBoetsj?ocid=Money Just what we need!

The 4G spectrum that BT bought might be used in rural areas to improve Broadband (DSL).

Possibly, but until it happens I'll remain skeptical :P

My birthday is today and i wish w10m release to me today as a gift from MS

STFU - There you go.. my present for all those off topic w10m release cry babies in that comment section

@adrian1338. I know it can be frustrating. However take a chill pill dude! :).

I hope MS listens to you. Anyways Happy Birthday from an active Window Central reader

Maybe the merger will make it happen...not...

@haykol. Happy birthday and please refrain from off topic comments in the future, okay?
No where in the article is Windows Mobile ever mentioned lol.

I doubt they'll release it before next week, still, happy birthday!

Actually, it looks like you got your wish to some extent: W10M is being rolled out to the Lumia 535 in Latin America. Congratulations!

I am waiting w10m in my lumia640

Can you please, for once in your life, try to remain relevant?

I am waiting for my pizza to arrive

for those outside of the UK, that do not know these companies as much... EE have a Windows mobile 'account' app, and BT have a Windows mobile Wi-Fi app... so both good in my eyes - EE also have the best 4g coverage by far in my area of UK

Yup. Hopefully means more support for Windows in future from the combined business. I'm EE on phone and as of next week BT for internet.

BT have various Windows Mobile apps. BT Mobile Account app, a BT Cloud app, and a BT Wifi app. The BT Sport app is coming soon I am told. ☺

Also BT employees get Lumia phones as their standard work mobile. Specifically 640's.

Remember BT was Cellnet, sold off. Then became 02, now 02 owned by three UK. EE was orange and T-Mobile which was 1to1(T-Mobile). They swap and change over the years. So really only Vodaphone, EE and Three now? All others apart from 02 was just ghost mobile operator's.

What do you mean ghost mobile operators? O2 are not owned by Three. That deal has so far not been approved and may never happen.

Interesting analysis.... http://a.msn.com/r/2/BBoetsj?ocid=Money wonder what the user benefits really will be over time?

It says this makes it the biggest mobile operator, but is it bigger than the O2 & Three merger on mobile space? I recall that making Three the biggest player by far?

If the O2 & Three merger happens they will be the biggest but this looks doubtful. The CMA receive advice from Ofcom and currently they are against it due to reduced competition.

I'm hoping they do a bundle deal for mobile and fibre and tv would make a good package if they do it right Posted via the Windows Central App for Android

I understand that is why they bought EE - so they can offer packages across the mobile, broadband, TV and land line.

Just BT ensuring it can keep 4g expensive to protect its copper to homes. Posted via the Windows Central App for Android
Windows Central Newsletter
Get the best of Windows Central in in your inbox, every day!
Thank you for signing up to Windows Central. You will receive a verification email shortly.
There was a problem. Please refresh the page and try again.