Autodesk starts trialling a Windows Phone version of AutoCAD 360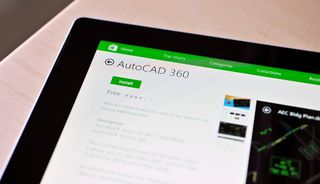 Autodesk is testing a Windows Phone version of the company's AutoCAD 360 app, which is currently available on Windows 8.1. The Windows app was released last year, allowing users to view DWG, DWF, and DXF files. It's a feature-rich experience and we're pretty stoked to hear it's coming to mobile.
The AutoCAD closed group of testers have received invitations from the company to try out this trial version of the Windows Phone app. Unfortunately, not much else was revealed and we're short on details, but it's good to know such an app is in the works. Here's what is currently available in the Windows version:
Open 2D and 3D DWG drawings uploaded to your free* AutoCAD 360 online account
Work offline, then easily upload changes when you are back online
Upload and open files directly from email or your device
See all aspects of your DWG file, including external references, layers, and image underlays
Use multi-touch zoom and pan to easily navigate large drawings
Draw and edit shapes with accuracy using Snap
Select, move, rotate, and scale objects
Add and edit text annotations directly on your drawing; no need for paper mark-ups
Validate distance measurements in the drawing while you are onsite
Save edits to your AutoCAD 360 online workspace, so your drawings stay up to date
Share your designs with others directly from the mobile app
Add comments and images and invite responses using the Design Feed
Plot your designs to PDF or DWF and share them via email
We'll hopefully have more to go on soon, as well as an idea of just how many items from the above list will make it to the mobile release. Would you be interested in AutoCAD 360 for Windows Phone?
Thanks to the pleasant soul who tipped us!
Rich Edmonds is Senior Editor of PC hardware at Windows Central, covering everything related to PC components and NAS. He's been involved in technology for more than a decade and knows a thing or two about the magic inside a PC chassis. You can follow him over on Twitter at @RichEdmonds.
Yes!!!!!!!
At laaast......

This would be a cure for my inpatient
for Windows 10 preview for My L1520..

How so? AutoCAD is a dinosaur.
If they added tablet touch interface to Revit... That would be useful.
Then you could atleast zoom and pan the model on site.

Is this available in android????

Yes but not sure why you're asking that on a WP site. https://play.google.com/store/search?q=autodesk&c=apps&docType=1&sp=CAFi...

Not sure why you posting a link to a google site on wp

Yes there's a 360 CAD for Android

I was about to ask the same, just to give congratulations to AutoDesk team if Windows Phone was the first to smartphone OS to have this app.

I definitely would interest in 360 CAD for Windows Phone

It's like my work is endless if I use it on my phone. -_-||

Any mechanical engineers here delighted to see this? :D

Electrical engineer here, whom is happy about the news!

How does AutoCAD help in EE? Just curious :)

For EE = Wiring diagram+building plan+piping+cable trunking .

Don't forget the Electronics Engineers for circuit design.

WOOOOOOO. Lol jk. But foreal this is cool.

Civil engineer here, sir! :)

Yay Posted via Windows Phone Central App

Awesome,I work in architecture so this is great

If/when my ministry allows the use of OneDrive, this would be a killer feature on my work phone!

OMG... AutoCAD on WP... Cool... Its good to have it .. Mech. Eng here ;)

So excited for this, w000t!! And people say WinRT is worthless childs play!

Seems like a universal Windows 10 app would be more worth their time.

You may not have read/fully understood the article. They already have a Windows 8.1 app, and this is being built from that, which means universal app. The question is whether current phone API/screen options allows all features or if they will limit it for now and add more later with Windows 10. Therefore no reason to wait.

No Weber in the article does it imply that.

Damn the company I work for has just changed to android because we need cad in the field. At least ill be able to use it on my own phone, better late than never.

Need more medical / life sciences apps. But welcome Autodesk to WP.

I'm happy to see the support from Autodesk.

Oh great news, my work is all about CAD :) sticking to WP

Autodesk Sketchbook WP version(universal) please. I have also sent an e-mail asking for sketchbook for WP. But they said, they have no plans. This AutoCad360 is not that much useful...

I literally bought an Android (Asus Memo Pad 7 me572) for this app so I could use it at work.

finally app gap is closing I think! Now I can boast of my Lumia to my fellow android guys :D

Great news, it makes me happy that they are supporting the Windows 8.1/Windows Phone platform, but speaking as an Architect with 15+ years of experience using AutoCAD, these mobile apps are very close to being useless on a phone. Not only that, if i need to open AutoCAD on a tablet, im going to use the real deal, not the stipped down 360 version - thats the beauty of full blown windows tablets......why use photoshop touch, when you got the real software. I guess, if your in pinch, and you need a dimension or something like that it has a use, but if your drawing CAD drawings on your phone, you probably need your head examined. Full blown AutoCAD will work great on an Atom tablet - i use it on my Dell Venue 8 Pro all the time. Now, give me a Revit viewer on my phone/tablet, and then we are talking.

Of course it's never about really drawing and working on a phone. But it's quite handy for quick reviewing and notes...

Yeah, like you've been working on something, visit the site that's under construction, and need to make notes of needed changes. So many reasons that this is needed. Well, I don't personally need it, but it would have been nice 11-12 years ago. :) Glad for the community that this is arriving.

I'm with you on the Revit end. It works well on my surface pro 2, soul be nice to have a viewer for my 1520. Good to see an Architect not stuck in the mac world with Vectorworks.

I agree but I could see it coming in handy now and then. I would never try to draw on my phone and really don't care to on my laptop as it really doesn't have the muscle or graphics for my 3D drawings however I have been in a pinch before where I didn't have a PDF in the cloud to let me see what I needed and this would help if I didn't have quick access to my laptop so I could see it being useful with 2D plans. But I also have to say you have made me interested in installing AutoCAD on my DV8P just to see how it handles drawing in 2D. I currently use an app (back to the drawing board) with my pen for quick sketches in the field. They are not high quality but it does export to .DXF so I can view them and even clean them up in AC. I would never have thought AC would run on it though.

Photoshop Express on my phone is actually useful, for different reasons obviously ;)

That would be awesome! :)

Awesome...mechanical engineer here...

Yup Civil Municipal and Structural Technologist here

Ha, this news made my day a lot better. :)

Great news. I hope other Autodesk apps follow soon.

Also, lets hope Adobe starts working on Universal Premier Suit apps for windows too.

This is great news. My uncle in Spain recently switched over to a Lumia 930 from an iPhone and this was one of the apps he missed most. We just discussed this 3 nights ago so it's great to hear they're bringing it over to Windows Phone. I really hope this will release as a true Windows 10 Universal App. Posted via the Windows Central App for Android

Wow!!! Finally. Coming of age for Windows Phone!

Great news. Bring Autodesk BIM 360 Glue too.

So...is Google gonna buy AutoDesk too??

Never, such a big company will never bend to google.

would be great, but i would guess you will need a large phone for it to be useful

I used to use this all the time on my iPhone 4 so a little bitty screen works okay but not as well as a big one.

Finally... Now there are no apps that I need that are on the other platforms. I have asked Autodesk for this for at least a year.

This is good. Compared to the news related to pebble watch, meaning someone actually invests in WP without being asked or court.

What I'd love to see: Full-fledged AutoCAD for Windows Phone.
But maybe it could happen after Windows 10 goes global. And if Autodesk decides to do that with the next version.

It would be great indeed if pulled-off the right way but honestly i dont think it would be possible. Autocad behaves poorly on average PCs (while using big files/projects) i cant imagine how the best smarthphone could out perform a PC. Even so, i cant imagine the proper user interface to use it Best regards!

Microsoft HoloLens AutoCAD? Anyone?

At least! Thank you Autodesk

As an architect and WP user i must say this is great news for our platform. I installed Autocad 360 on my iPad the very day it was released a couple of years ago and i tought it was going to be a game changer tool for me, but it was not the case, it is a great viewer and a show off of course but nothing more. What i want badly is a 3dsmax viewer!!!

Yes! I would get it for my Windows Phone and my Surface if it was available.

wow i'm waiting for it as an Civil Engineer!

Looking forward to it's release

Finally and very welcome because I really need it and please fix the app for WinRT,I can't use it on my L2520 when traveling.

Yes! I even wrote to them last year asking about a WP version of this great app. Being an architect myself and working with drawings, this app is a must.
Windows Central Newsletter
Get the best of Windows Central in in your inbox, every day!
Thank you for signing up to Windows Central. You will receive a verification email shortly.
There was a problem. Please refresh the page and try again.