Avid's Sibelius music composing app to be optimized for Surface Pro 3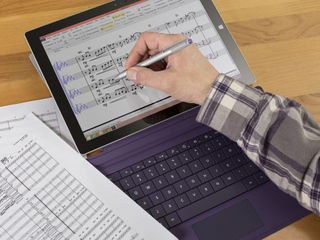 Microsoft and Avid have teamed up to help develop a new version of Avid's Sibelius music composing app that will be optimized for the Surface Pro 3 tablet.
In addition to multi-touch support designed for touchscreen devices, Microsoft says that Avid has put in a mode called Annotate in the new version of Sibelius that will work with the Surface Pen:
The Surface Pen will also allow Surface Pro 3 users to quickly add, select, edit or erase any music notes created in the Sibelius app. It will be launched later in the second quarter of 2015 for a monthly fee of $24.99, a 12-month subscription for $239 or a permanent license with 12 months of updates for $689.
This news comes on the heels of another music writing app, StaffPad, that was recently released for all Windows 8.1 pen and touch devices.
Source: Microsoft
Would be cool if they had a feature to write out tablature.

Nope, its to only write music (notes), not tablature.

Where are the people who complained about $70 for staffpad? This costs 10 times as much, yearly.

Well, Sibelius does come with a couple aces up their sleeve. I know there is a feature in Sibelius that allows you to connect your keyboard to the computer, play a song, and it puts it to music. I have Sibelius 7, and I will be the first to admit it's pretty expensive, but it does get the job done, and then some. Posted via the Windows Central App for Android

Huh, I guess Sibelius is back from the dead because up until a few days ago, I thought they were no more.

I use both Sibelius and StaffPad now, and they work really nicely together, at a combined price that's less than what this Surface 3 Sibelius will cost for a permanent license, so it'd be a no-go for me (as much as I'd enjoy the hi dpi support in this new Sibelius). However, this is a very welcome addition to the Windows music ecosystem!

What do you do?
What do you play?

Music major in university, I play the trumpet!

Quick question... Do you know if either one support alto clef for viola work?

Yes, both apps support it, and both will let you change the clef in any particular bar as well (say you wanted to use the tenor or treble range of the cello in one part). However, from my experience, it seems to be a tad faster in Sibelius to do this due to it being a more full featured app (so you get those lovely key commands and such).

Thanks! Curious more for my son and high school graduation. He won't be studying music (professional pilot), but has been invited to play with a small college's symphony by the director/conductor as his college schedule allows. He does really enjoy working out passages by ear, as well as arranging and transposing parts for viola from, say, our church hymnal or our organist's scores. Its just difficult to find viola scores in alto clef anyway. Probably a bit heavy duty for what his needs would be though.

I tend to prefer Sibelius for the professional capabilities (for when I give music to a professional player) that lets me tweak every dimension of the score. It's better for fine-tuning things like page turns, spacing, etc. However, StaffPad is capable in a different way, and that's creativity (and price, and it uses the Surface's screen and pen better). But it is missing some professional level features. If he's in need of an app for personal use, then StaffPad is a really great and generally functional choice. (There are probably lots of notating apps without the pen feature that are cheaper, too. I haven't tested many out.)

Very good to know - appreciate the input!

Avid finally did something right. I've moved on to Studio One now. PreSonus needs to get Notation running on this

And here I am, poor and using MuseScore. :P

While we are at saying every Windows app getting optimized for touch like they should since hybrids are a nice feature. 3dsmax 2016 got it. Multitouch support Enjoy more freedom when interacting with 3D content. http://www.autodesk.com/content/dam/autodesk/www/products/autodesk-3dsmax/images/features-2016/multitouch-support-large-1066x685.jpg

Apps like these show the power of Surface, and excellent marketing.

I couldn't care for sheet music creation software BUT it overjoys me to see big whigs in Music Production software working closely with Microsoft. I've longed for the day that MS would compete outwardly with Apple for the music production respect because so musicians blindly buy Apple for studio use and don't even consider Windows when it could get the job done or excel at the task they're using it for. I hope MS stick with this pattern and get more Music Production software optimized for the new Windows experience.

I am a musician and the only reason I use a Mac is that there are some programs that you can't get on PC. I use Mainstage for love performance and there is no PC equivalent. But I will be getting a Surface 3 Pro in the near future.
Windows Central Newsletter
Thank you for signing up to Windows Central. You will receive a verification email shortly.
There was a problem. Please refresh the page and try again.