AVIS Car Hire for Windows Phone and Windows 10 Mobile can help with your rental needs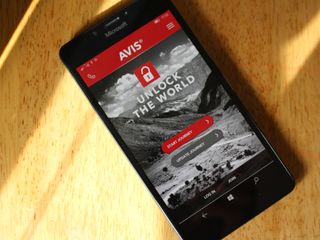 The AVIS Car Hire app has launched for Windows Phone 8.1 and Windows 10 Mobile users, allowing customers to find and book car rentals from the agency.
Here's the breakdown of what AVIS customers can expect from the app:
Book cars and vans- Search effortlessly for rental cars or vans (vans in selected geographies only), with results filtered by size or features. Hone in on rent-a-car locations at airports, train stations and cities; see which Avis station is nearest to you or view them on a map. Spot at-a-glance vehicle details, including features and driver requirements.
Add handy extras - Useful extras can be added with ease on the new Avis app so you can get the most out of your adventure. Choose add-ons from sat nav to ski racks, super-fast mobile Wi-Fi to child seats, and, at every stage of your booking, find a price rundown of what's included.
Log in to save time - Make your booking experience yet more seamless by logging in. Now you can pre-populate future bookings, manage settings like email subscriptions and update personal details at any time.
Manage bookings - Plans can change: Check or amend your Avis car hire booking details at any time; upgrade your vehicle, add a driver or secure more extras for your dream journey.
Track loyalty benefits - If you are an Avis Preferred, Preferred Plus or President's Club member, we've made it that much easier to view your tier status (and benefits), number of rentals, spend and rental history … you can even add on any missing rentals. Not yet a member? Anyone can join Avis Preferred for free using this app.
There's no word if AVIS plans to launch a UWP version of the app for Windows 10 PC and Mobile.
Thanks to Windowsphoneapps.es for the tip!
Download AVIS Car Hire from the Windows Store (opens in new tab)
This is cool! Imo, more people should release for both versions of mobile. There are still a lot of phones on 8.1.

There are phones that are still running on 8.1 but you have to think of the future. At some point (1 year or so, most people who actually use apps will upgrade their phones; considering a contract length of 2 years). This might mean that it is not worth it depending on the economics of the company and profit of the app. Creating an uber app for 8.1 might be worth it but a Safeway app might not. Especially because creating 8.1 app will disable all new features (and smoothness) when running it on 10.

Yeah this is a great point, but if we are really talking about contracts, most of the people on 8.1 don't really have anything to upgrade to, unless they choose to buy an unlocked phone. AT&T only has one Windows phone, T-Mobile only has one too, and the rest, not so much unless you want a 735 on Verizon, which can be upgraded to w10m. I really hope that my dad's phone will hang tight for as long as he wants because the only Windows option on T-Mo is bigger than his current phone.

I agree, but there is little support from Ms, why would developers waste money on platform.

but yet developers do develop for the platform. They don't see it as a "waste".

Avis? Hopefully they will launch Zipcar app soon too. I don't need it, but would be useful for the platform.

Hey how come this guy was down voted twice for his comment but Daniel was given to thumbs up for his?? U guys all suck!!

lol. I think the "I don't need it" ruined the comment.

Some people are just salty.

I would prefer Alamo / National having UWP W10 apps

Avis is our preferred supplier at work so this will be useful.

Says it's "currently not available."

These are the kinds of apps that can end up salvaging WM from the dustbin of history; those niche apps that not many people may use, but are hella handy for the ones that do. Good on you, Avis!

I'm a bit confused, I already have an Avis app (W8.1phone) and have used it frequently. It's actually been quite good. It is all I find in the Store, spread installed of course.

Yeah, the listing comes up only if you click the link above. However, it will not let me install it yet.

Avis has had an app in the store for a long time that already does all this.

The store listing says it's a rewritten app.

I think there might actually be two apps. This one based on some of the wording sounds like it may be UK centric. I have had an app from the US store for quite a while

Cool! will use it for my next trip!

This appears to be a UK version. The US version has already been in the store.

It's always been an international app. I frequently used this app booking in the USA and using in Europe. Presumably, this app will be the same, just a new/better version. Strange they wouldn't release it under the same app listing though so existing customers would get it automatically.

National is quite....good...not UWP yet.

Correction from a grammar geek. It's home not hone. Home in on, like a bomb. Hone is to sharpen, as in hone your skills. Don't be hating, it's my mothers fault.

How about Zoom Car app for Windows. Also Plz bring back the FM...........
Windows Central Newsletter
Thank you for signing up to Windows Central. You will receive a verification email shortly.
There was a problem. Please refresh the page and try again.