HoloLens video clips show how the holographic headset works from the user's perspective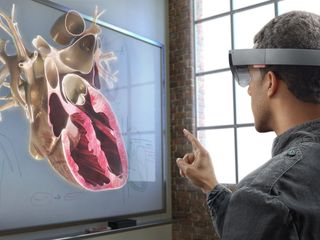 Microsoft continues to promote its upcoming HoloLens augmented reality headset as the next big thing for viewing virtual content. The company quietly posted some new B-roll video showing some simulations of how people might use HoloLens, and it includes footage that shows for the first time how images from the device look from the person that's actually wearing the headset.
As shown in the above screenshot taken from the video, the HoloLens image is clear in the middle of the user's field of view. Many people who have actually tried on the headset have stated the field of view is a bit narrow, and now we can see that is indeed the case. The entire video is well worth checking out as it shows how Microsoft sees HoloLens being used in businesses like CAD design, architecture and more. Be aware that this is a B-roll video intended mostly for media outlets to use in stories, and as such lacks sound for much of its length.
Microsoft plans to begin offering HoloLens developer kits for sale to software creators sometime in the first quarter of 2016 for the price of $3,000.
Check out our impressions of the new HoloLens Experience showcase at the NYC Microsoft Store
Source: Microsoft; Via: WinSuperSite
I believe I saw this video before...it doesn't seem new.

A lot of the stuff in it comes from older videos, but some of it doesn't look familiar to me.

Field of view seems pretty good to me

I won't judge this befor I acctually used one.

I would say it's almost similar to the rift. Currently in the Oculus Rift, you do have a full perspective with peripherals, but you have to keep your eyes straight and move your head (otherwise if you move your eyes, its super blury and unreadable). The Hololens does not have peripherals (the screen cuts out), but from my experience as long as you keep your eyes straight and move your head, it's fine and your don't notice too much is missing. I'd describe it as looking at a television screen that's always directly in front of you.

Is it actually comfortable to wear?

Surprisingly yes. Maybe its because it seems like its so big and heavy, but it's actually really light for it's size. I got annoyed though wearing it with my glasses (as they stated you should be able to do)

Wondering if one of Microsoft's side projects is aimed at cars... "Intelisafe" at 2:20

That FOV keeps bothering me. Then I think about the sheer awesomeness of the product and think I could maybe bear it.

As a glasses wearer I deal with a smaller FOV anyway so I think once you get used to it, the smaller FOV will not be as big an issue if at all.

Tried it on on the october 6th event in NYC, It is really amazing and even though the view is not as big as people might expect it is a pretty awsome experience.

Does it match up realistically to these videos? As in, is the FOV in the videos accurate to how it is in real life? I know that's the point of the videos....But wondering how accurate they are

it is really like you could see it one the event ( https://youtu.be/Cu0uIp7atp8 ​ ) but with the view that you see in the image/picture in the article above, on the event they did not have the actual " holographic weapon controller" but a regular xbox controler for people that were lucky enough to win scratch lottery. I was really impressed how well it worked and can imagine that in time this will be the way will interact with the world around us.

Will they be improving the FOV in future?

Notice in the new videos, they show the hologram in a"window"to illustrate how much of the hologram you can actually see

I want to walk on Mars, too!

THE FoV is rather wider than previous reports have suggested. covers about 75% of the overall viewing angle, so hardly periscope, postage stamp size.

It looks bigger than what i have seen

Yep, quite possibly the most boring thing I've ever seen!

FOV is limited but does it matter at this point? It is more a showcase of what can be done and it give the developers the opportunity birth ideas and test them. I am sure the FOV will be better when it reaches consumers. I think maybe cpu/hpu/sensors needs to be better before this is possible. In a few years I am sure I have one if these bad boys at home :-) May as well start saving so by the time it launches I can buy one for the whole family haha

That video wasn't complete in the editing room. Someone must have uploaded "hololens_feature_video_test_008-TEMP.mp4"

My question is what's the battery life like on this? I really don't see it being useful for games cause there is no way this thing lasts for more than an hour or two. I hope the charger is accessable so that a third party can make a belt or bandolier battery pack to keep it running....
Windows Central Newsletter
Thank you for signing up to Windows Central. You will receive a verification email shortly.
There was a problem. Please refresh the page and try again.