Baby's first CES: Experiencing the world's largest tech show for the first time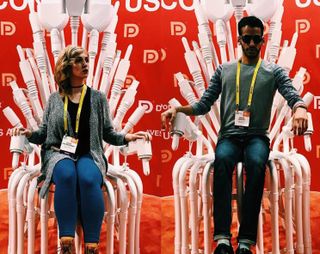 When I was a kid and my parents could still stand being within a city block of one another, I was often dragged along on incredibly long car trips to furniture and fireplace tradeshows, the largest being High Point Market in North Carolina.
Every time we went, my parents would pack armfuls of pamphlets and paper into the car, picking up samples and arguing pros and cons of one unit over another. Simply put, it was business. I wouldn't wander around with them much, though; normally I'd be dumped in a kid's area with plenty of other snot-nosed children whose parents tugged them along to these big grown-up hullaballoos.
There wasn't much for kids to do at these things, my parents said.
But High Point wasn't just some big, boring, adult convention, my dad explained. It's actually the largest furnishings industry trade show in the world with over 11 million square feet of show space and over 2,000 exhibitors, and when he told kid me that, I was like,
"Wow. That's… Really, really big? Cool?"
When I turned 23 (and my parents could absolutely, positively no longer stand being within a city block of on another), I was given the opportunity to experience my first tech trade show, the largest being the Consumer Electronics Show (or CES) in Las Vegas.
While High Point Market is big, CES is gigantic. At literally double the size, there are nearly 22.5 million square feet of show-space, and the city of Las Vegas becomes an inevitable black hole of technological advances for a full 3+ days with companies like Samsung and LG showing off their most innovative, eye-catching, multimillion dollar projects.
I spent some time browsing through old CES articles and websites that detailed high-points of past CES's. There were ground-breaking, futuristic wearables like Google Glass, surgeon-steady drones that precisely hovered over their intended targets, and artificially intelligent robots that would adapt and teach its human master new foreign words every day.
"Like the world's coolest show and tell, but like… Really, really big? Cool!"
I asked a few of my editors if they had any advice.
"Whatever you think it is, times ten," said Derek Kessler. "Bring good, already-broken-in shoes for walking. Pack light. Have a spare battery pack (or two). Hydrate. Don't be afraid to say no."
Other people echoed the same thoughts, and so I packed a comfortable pair of boots, made room in my clear, CES-issued backpack for bottles of water, made sure my backup battery was charged, and set off on a plane ride from Winnipeg, Manitoba, Canada to Las Vegas, Nevada (side note: I should have taken the pack light note a bit more seriously. RIP the backpack I had to leave behind in lieu of those overalls I never wore).
It was my first time at a tradeshow as a grown-up. Weird.
You know that scene from Annie where she first gets introduced to everyone at Daddy Warbucks' mansion and they sing 'I think I'm going to like it here'? When I got to CES, that scene essentially happened, but it was with a lot more robots, VR headsets, and 3D cameras (and it was entirely in my head, but that's neither here nor there).
The entire show was overwhelming, whimsical and fantastic. Every massive aisle had something new and mind-bending to offer, with passionate vendors looking to offer it (some even trick you into watching virtual reality pornography, but that's a story for VR Heads).
From the practical smart tech that seemed like something out of a sci-fi flick like smart umbrellas, skin-scanning, moisture-measuring devices, and self-driving cars, to the silliness of iPhone cases that resemble butts and a $200 smart hairbrush (opens in new tab) (not everything needs to be smart, k?), the 2.5 million feet of showspace presented itself like a twisting hedge maze of innovation and blossoming creativity.
Looking for a home beer brewery? That exists. What about a wheelchair that helps the user stand and and reposition themselves? That was there at CES, too, and it won an innovation award. Looking for a Star Wars' video game (opens in new tab) that literally lets you use the Force (aka your mind) to take down bad guys? Yup. That's for real.
And as I wove in and out of aisles last weekend, pushing past the tens of thousands of people that had descended onto Vegas for this massive techy trade show, it hit me: no matter what you're looking for – whether you're dealing solely with smartphones or smart home tech, drones or 3D printers, virtual reality or artificial intelligence – there was something for you at CES.
If you're a kid being dragged to the show by your parents, there are incredible new toys being made that can let you scan your creations into digital existence. If you're a teenager, there are incredible social media tools like 3D cameras and action cams to record your weekend shenanigans and action shots.
If you're a young professional, there are electric bikes and scooters to get you to work on time while still saving the environment and itty-bitty storage devices that store HUUUUGE amounts of data, and if you're anyone of any age, there are drones and self-driving cars to ogle over and dream about.
If you're a grandparent, there are attention-grabbing toys that are bound to keep any grandchild's fascination, and if you're looking for something to help monitor your heart, health, and safety, you bet your bottom dollar there's something there for you, too.
CES isn't just a massive show and tell, it's an experience – it's a great big place to explore, regardless of your age or what you do for a living.
CES is an adventure, and I'm so happy that I got to be there.
Windows Central Newsletter
Get the best of Windows Central in your inbox, every day!
I always wondered how people are able to be in big crowds like that. Myself I can't even take a bus without feeling like I'm going to **** myself nevermind being at a place like ces

I noticed that you were the minority in the sea of testosterone. Were there any obstacles or advantages for women there other than the obvious shorter bathroom lines? I really like that bag, btw. :)

The 1st year at CES is always mindblowing. regardless of what's on the show floor. This was my 4-5th year, and for the 1st time, I was not impressed. I think it was the sheer amount of drones and VR/AR stuff this year, but nothing really jumped out and blew my mind this year.... granted, with over 2million square feet (not including off-site rooms/presentations) it's near impossible for a person to see everything the show has to offer.

Maybe one year I'll forgo Christmas shopping and take in CES. Nice to see a Canadian on staff.