Back In The Day for Windows Phone 8, a Facebook blast from the past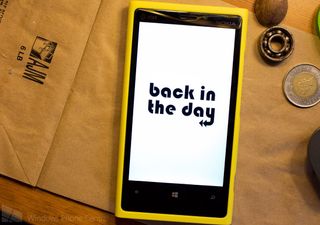 Back In The Day is an interesting Windows Phone 8 app that lets you pull up photos or status messages from your Facebook account that were posted a year ago.
Back In The Day's interface is rather simple and straight forward. You have to sign into your Facebook account and give the app authorization to view your photos and status messages. Back In The Day does the rest by going back a year to see what you were doing.
You can also pin Back In The Day to your Start Screen to easily glance at your activity from a year ago.
There is an in-app upgrade available ($.99) that will search for your activities from the past ten years, include pictures you've been tagged in, share today's post, and more frequent Live Tile updates.
Back In The Day may not appeal to everyone but if you are a heavy Facebook user, it could prove to be an easy way to reflect on the past. I think if it had the option to pull up current events for that particular date it might have a little more appeal. Maybe have the ability to swipe between a Back In The Day page for Facebook and one along the lines of a "Today in History" page.
The core Back In The Day Windows Phone 8 app is free app and goes back up to two years with your Facebook updates and photos. You can find Back In The Day here in the (opens in new tab) Windows Phone Store. Again, to unlock the additional features and go back ten years it'll cost you $.99 with the in-app purchase.
George is the Reviews Editor at Windows Central, concentrating on Windows 10 PC and Mobile apps. He's been a supporter of the platform since the days of Windows CE and uses his current Windows 10 Mobile phone daily to keep up with life and enjoy a game during down time.
Interesting idea...
But wait a sec, Facebook is not 10 years old. I guess it would do 9 years history for now, if you started day 1 with Facebook.

yup, will give it a go. It's that nicely useless app that gives one's startscreen a new sense of "depth" :)

You can put items on your timeline from the past, even before your birth.

keeps crashing to startup on l920

Hi, I'm the developer for Back In The Day, and I'm trying to track down this crashing issue that several users have been reporting. I have a Lumia 920, but I'm not able to reproduce the crash.
I have a few questions that I'm hoping will help me determine what's going on:
1) Does the app ask you to submit a crash report when you run it again after the crash?
2) Does it immediately crash again when you run it a second time, or ask you to sign in to facebook again?
3) Are you living in North America? (so far, everyone that has reported the crash has been outside of North America, and I'm wondering if it's related)
Thanks for your help!
Jordan

Same here, exits when trying to connect to fb, asks to submit crash report when opened then exits again. I'm in Australia by the way

Thanks denniski, and sorry for the inconvenience.
I'm assuming you're sending in the crash reports? I unfortunately haven't received it yet. If you're sending it, can you please make sure it's being sent to: BackInTheDayApp@gmail.com


I'm having the same issue. Lumia 920 in Australia. Select to send crash report, then it tries to connect to fb again... Then crashes yet again... :'(

WP is doing great on the app front.
WPCentral guys, I tipped you about this and don't think you ran the story. I think it is VERY important:
http://www.gsmarena.com/windows_phone_apps_on_the_rise_in_the_coming_year-news-5797.php


Thank you for the link. Good news indeed. :-)

Nice. I hope the numbers are accurate.

Crashes on L920, after loading Facebook data.

Sorry to hear the app is crashing for you :( I'm not able to reproduce the crash, so I'm hoping you may be able to help me out. Does the app ask you to send an error report when you start it again after the crash?
Btw, there's a pending update that changes the way the app loads its data from Facebook, which might fix this issue. Hopefully the update will be approved in the next few days.

Yup, crashes all right :)

A wish TimeHop could be at least ported to WP. I agregates all your social networks and gives you a glance of what you did one year ago.

i have got viber and its for me everything i need, plz viber fix that contacts not showing bug and im happiest man on planet earth

so i get to see one status update which i posted? how do we get to see more?

Yes, the app will update its live tile once per day. Think of it like an "On this day..." calendar, but personalized to your life.
There's an update coming shortly though that will you manually switch between pictures. And with the paid upgrade, the app will automatically update its live tile more frequently throughout the day (instead of just once per day)

Unfortunately it crashes on my HTC 8X as well :-(

Hmm, I know the app is working on at least several HTC 8X, so it's not a hardware issue. Are you able to send in the crash report so I can hopefully figure out what the problem is? Please make sure the crash report goes to BackInTheDayApp@gmail.com
Thanks for your help! And sorry again for the inconvenience :(

I reinstalled the app, rebooted my phone. No luck. It asks me to send a crash report but I'm unable to send it somehow. Love the idea of this app btw, great idea.

Hmm, what do you mean by being unable to send it? Does it correctly launch your email app after you agree to send the crash report, but you just can't send the email? Or does it not even get that far?
Thanks again for your help btw. I hope we can get it working for you!

It doesn't even get that far. Once I press 'ok' it continues to load the application and crashes again. If I can do anything to assist, please let me know. I'd be glad to help.

Hmm, that's not good. I'm not sure why it's not properly sending the crash report. I'll definitely have to look into that...
In the meantime, I've already submitted an app update earlier this week that changes the way the app interacts with Facebook (to make data retrieval more reliable), which *might* fix the issue, though I'm not very optimistic. I'm hoping the update will be available in the next several days. If you could try out the update and let me know if it happens to solve your problem, that would be greatly appreciated. And if not, hopefully I can figure out the problem and get another update out there quickly.
Thanks again for your help and patience!

No problem, I will install the update once it's available and send you some feedback!

For those experiencing the crash, could you please do me a big favor and let me know the regional settings on both your phone and facebook?
Phone
In Settings, click on language+region, and please let me know:
1) Phone Language
2) Country/Region
3) Regional Format
Facebook
Near the top right, click on the settings icon, and then go to Account Settings, and please let me know your Facebook language.
Thanks in advance!
Jordan

Hey Jordan, it sounds like a regional issue, try setting the regional format in language settings in the emulator to something else like netherlands dutch, it may be an issue with format if you are doing anything with dates. I had issues like this in the past with my apps.

Awesome, thanks for the suggestion! I'll give that a try...

I wonder who will get a stupid Facebook phone. Suck part it will have android OS. They should have used windows phone OS.

If FB was that smart they would have made the official FB app for WP by now :)

Well I have a Lumia 920, and while it doesn't crash, it gives me the message that it can't find any facebook posts/data once I connect it to Facebook.

I'm in the US for reference. I'm wondering if it could be because my language setting is "English(Pirate)" instead of "English(US)?"
I know some sites/apps have problems with non-EnglishUS languages.

Hi Andy,
Sorry to hear you're having trouble and that it's not finding any data for you. I've re-written the component that talks to Facebook to make it more reliable, so hopefully when the update is available, this issue will go away. Can you please let me know if the update fixes this problem once you get it?
Thanks,
Jordan

Timehop is better, but not for WP..

Could you please let me know what it is about Timehop that you like better than Back In The Day? (Aside from, of course, the crashing issue many users outside of North America are experiencing, which I'm hoping to fix asap :)
Also, are there features that you feel are missing from Timehop?
This is just the first version of Back In The Day, and I'm definitely planning on improving it over time, so please bear with me, and hopefully I can give you exactly what you're looking for...
Thanks!
Jordan
Windows Central Newsletter
Get the best of Windows Central in in your inbox, every day!
Thank you for signing up to Windows Central. You will receive a verification email shortly.
There was a problem. Please refresh the page and try again.