More reports of changes to Cortana suggests a Microsoft update is inbound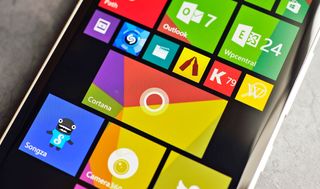 A few weeks ago, we reported that some modifications to Cortana were occurring for a select few people running the Windows Phone 8.1 Preview for Developers. By the time we posted an article the changes had rolled back, signaling that Microsoft was testing the waters with the refresh to their new personal assistant.
Since around midnight last night, a few users in our forums are once again seeing the changes, including the screenshots posted below. In addition, a few tips have rolled in from people noticing the new improvements. Unfortunately, only one of the writers on the Windows Phone Central staff have the updates yet, so it's not clear if this is a slow rollout, testing or something else.
The changes to Cortana reportedly include all or a few of the following:
Asking "What is my name?" and having Cortana speak it back
Importing of your Stock watch list from Bing Finance
New animations on the Live Tile, including weather icons
Cortana will verbally respond to select inquiries (not just chitchat)
Modified layout of news, including dividers between sections and a smaller font
New quiz option at the bottom of today view to let Cortana learn a bit more about your personal interests/habits.
New "Give Cortana Feedback" link at the bottom of Cortana's today view.
Microsoft can dynamically update Cortana because the pages generated are in HTML5, meaning there is no need for a software update on the phone. Microsoft creates the update on the servers, and pushes them to users when demanded. Some of those enhancements include increased usage of Jen Taylor – the original voice of Cortana in the Halo gaming franchises – when asking questions and engaging her for personal information.
Microsoft recently indicated that Cortana would be updated twice a month in an effort to bring new features and improvements to users on a regular basis.
Like yourselves, we'll be eagerly checking our phones all day to see if we notice any modifications. Sound off in comments if you have them or if you have observed any other changes that we have not noted in the above list.
Source: Windows Phone Central forums; Also, thanks to SONNY, Rahul, and Quoc-Thy N, for additional information; images courtesy of Georgi Ivanov3
Daniel Rubino is the Executive Editor of Windows Central, head reviewer, podcast co-host, and analyst. He has been covering Microsoft here since 2007, back when this site was called WMExperts (and later Windows Phone Central). His interests include Windows, Microsoft Surface, laptops, next-gen computing, and arguing with people on the internet.
wow that was quick Daniel. now I know why cortana sings oh danny boy the pipes the pipes are calling ! :)

"What is my name?" and Cortana replied with "you are Darwin"
Finally!

It should be: > Me: "Say my name" > Kathy (Cortana's alias): Heisenberg! and she should sing "Say my name say my naaaameee!". Just saying..

I changed my name to Heisenberg and told Cortana..."Say my Name"
She replied..You are Heisenberg, in a tone which impled that she didn't really gave a damn.

I already got weather icons. Has the update been pushed?

These Things aren't there by my phone

Well they wouldn't be BY your phone, they would be INSIDE of it...

The fact, apart from his grammar, is that we don't have such features yet :/

Most of us English is not our language, so it's okay if we wrote something wrong.

I would say MOST is a huge over statement, I'd say "some" or "a lot" I'm pretty sure the vast majority of users here speak native english.

I'm pretty sure "most" is accurate. Like 60%.
WPC is actually the only site delivering fast news about WP and Windows specifically.
The brazilians send their regards.

Hola Brazil from Minnesota. I don't have the update either. Actually I don't think it is an all or nothing thing. I have some of these features on some days and not others.

You are completely missing the point. :) He is talking about the language, not the features. :D

And the language is portuguese, not spanish. Olá, not Hola ;) Yes, we have some brazilian sites dedicated to WP, but the fastest way to get news is WPC. in fact, brazilian sites usually use WPC as source.

I would be curious to see this data. Daniel?

Did someone get it yet? Is it the same as other so called update

I did. She said my name!!!

Really useful indeed, I frequently forget my name, especially when drunk. :P

Am with you, on this one. Also not native english, will go with "MOST". Forgot my name, again, what a gimmick!?

Need to have those stupid questions covered, that people ask when trying Cortana for the first time.... "What is my name?" Is one of those....

Who am I? Where am I?
Could come in handy :P

"Where am I?" has usually worked for me from day one.

But there is a bug though wherein the fonts are dimmed if you launch cortana through search button. Its pretty annoying. Hope it gets fixed.

Interesting, mine are only dim as I slide up to get to that info. Goes to dark almost immediately.

I hope this fixes my Cortana live tile problem. The same stupid New York Times story has been stuck on my Cortana tile for the past two days.

Maybe it's a really important story? :)

It's not a tumor, not a tumor at all! xD

Say to her, "I wanna ask you a bunch of questions and I wanna have them answered immediately"

I want to play a game called who is my daddy and what does he do?

I had to turn off Cortana from settings and then turn her back on. That seems to have fixed the problem.

It's the Times, so it's fictional anyway.

Is there a Cortana lock screen? I'm still on WP8, so can't check, but the today info sounds like it could be on the lock screen.

I have no idea what you are trying to convey

And what about time? Easy to implement, what is problem?

Walking home now and just checked. All the changes posted in the article are live for me.

Ask Jay to send Microsoft a mail explaining how to make fully readable headlines on a live tile.

Pretty nice improving :) just need it world wide :D If you'd like to check out some of my work:
http://forums.wpcentral.com/introductions/288791-wallpapers-i-make-throu... thanks and sorry for so much self promoting hah :) also commenting so you guys can check it out too. :)

I keep having can't search right now errors! Very frustrating!

Looks like mine is updated; i am at work so i can't try it all out but i do see the dividers which is real nice

I hope it's released soon for other countries

I've had the stocks for a while but, I just noticed the quiz at the bottom.

Where do you see the quiz?

I didn't see yall mention that Cortana also gives you notifications for severe weather updates in addition to just weather. I received another one today. (Or have I just been lucky and not had any severe weather in my area until last week?)

I started receiving those around last week myself. Being in Oklahoma City, we generally have many of those. ;)

Mine is updated. Smaller font is cleaner, looks better.

The one on the right has happened to me for quite some time. It appears to only happen in the morning though, where she said either what is one the screenshot, or "good morning, here is a quick glance at your day"or something like that with a news story and weather like shown, and anything on your calendar.

Where's this "Soon" UK update for Cortana? 'Soon' ended already

I'm not expecting it any time soon. When I heard it was coming to the UK "soon" I took it with a pinch of salt, or maybe a whole bloody pot of it.

I see you´re not familiar with the meaning of the words "comming soon" around here...

Well "in or after a short time" is how it's defined. What time is considered a short time is anyones guess. It could be any time between in a few seconds and the end of the universe (if you believe in the hot death theory).

Frustratingly slow. They could give me quiet hours to make up for the wait, but no, it seems impossible to decouple quiet hours from Cortana.

Bulls@it...We want new country support.Cortana is completely useless to my country and phone as a feature.........

I have everything except the feedback and the getting to know you better features that are supposedly at the bottom of the screen

"I can give you better suggestions of I know more about you. Mind answering a few questions to help me out? Yes. No."
So I picked No since I didn't mind.
"No worries. If you'd like to tell me more about your interest later, just head to the Notebook."
Cortana needs to rephrase that question or she'll get alot of Nos.

saw it yesterday or the day before i think? isnt back yet

That's great news, i saw the stock thing for a little while then it disappear, so good to see it back.

Cortana is the redeeming part of Windows Phone 8.1 to counter the bitterness that is the Xbox Music app.

You people really need to stop with the music app.

Why? After 3 WP8.1 updates + several music app updates it is still buggy as hell. I use my phone more for music and social stuff than phone calls so for me and I get the feeling a lot of others it is crucial - in fact I'd rather have them fix all the issues than get Cortana in the UK - now that is a sad state of affair MS!

Man music app is barely usable, and I pay monthly for it... It's starting to piss me off too! I have been pretty patient but getting this app perfect, should be more important than Cortana updates in my eyes, people are paying for this service!

But don't you think the XBM team and the Cortana team are not the same people? So Microsoft can simultaneously work on both the music app and Cortana.

Just counting the days for the official WP 8.1 to hit

I wish when I used a headset she sensed she was in my pocket and didn't turn on the screen.

Still no changes for me yet

Guys, any idea when Cortana might be coming to Australia?

Just change region... other than non-celcius displayed temps its not much different. if you lived in the US and travelled to AU you would expect it to work and it does. Just dont talk slang... but I think thats even true in a lot of cases in the US too.

"Say my name b****" responds with my name still, I know I'm not the only one who true this.

I've had the stocks I follow in Bing finance for awhile and had noticed a weather icon for Cortana at one point but it was for just a night I think

She doesn't say my name :-(

Nothing here. Lumia 920. USA.

Titties! Keep on keeping on w/ the updates MS!

las vegas nv only change ive noticed is there are 4-5 news sections being shown on her screen vs the usual 2, doesn't say my name (which Ive always thought her not saying it completely negates a reason for us to have a reason to tell her our names?! ) lumia 920

She says my name. I see the new layout of news but I don't see the quiz option anywhere there.

Damn it! I want to use Cortana:/ The WP 8.1 update can't come soon enuff,but adding the Action Center and gutting the Me Tile is going to take some getting use too.How about a HTML5 Me Tile Microsoft for Facebook and Twitter notifications.

Nice Update!
She finally responds to "what's my name" (it would be nice though to respond by name to my queries "e.g. You have no appointments for today Mr. Smith")
Oh well, I just finished the quick questionnaire about my interests and now let's play and see what's new.....
Lumia 925 Black 32GB

Don't have this but the first thing that popped up was directions home from work, which is new. All this time I've been getting lost, now I can finally go home! Thanks Cortana!

Microsoft needs to put the Bing Vision icon on Cortana's page ASAP. Say "Scan barcode" and she performs a Bing search - and the top two results are links to Android and iOS QR code apps. That's sad.

I still think that people will prefer the Google Now cards. White background, cleaner UI. Data broken up better. Why does MS insist on black backgrounds?

Change the theme colour to white. And you will have what you want.

I agree with that, I would very much like to have an option independent of general theme.

I like dark backgrounds - easier on my eyes and better battery life.

Please add Bing vision to Cortana home screen next to music search icon.

Still can't say the current time.

+925
Previous Windows Mobile voice assistant responded to "what's the time", "what's my battery level" etc
But at least if you say "show me current time" it does show you current time it doesn't speak but at least it shows....

Why the fuck do you all need to know your names?

Lmao. Well it was actually one of the most complained features missing when Cortana was first launched...however, I'm pretty sure those complaints meant that your named being used in a query....eg
You: What are my appointments today Cortana?
Cortana: You have no appointments Twinkie Tits or your name...

I always thought she would say the name when it opened up, like indigo did.

I just updated my Lumia. I have these :) Checked and tested moments ago. #WP81 Rocks!

I see that the graphics are changed a little. Titles are animated differently than WP UI we are used to.

I've had the stock symbols showing up for a few weeks now. I originally had some of the changes, like the "send feedback" link, but it disappeared and hasn't yet returned.

I had cortana, with my region changed to US. I've had my phone reset ...and after that Cortana is missing... Can any one please help me, on how to get Cortana back...
L625
India

Bro, same with me here...
L520
India

Thanks bro...so I'm not the only one,facing this problem. I wish some one could help us out :|

Just change the region and language and speech language and restart ur phone and it will be welcoming u ;) try it

Without having to deliver a separate SOFTWARE UPDATE to update Cortana, Microsoft should be quick enough to bring a hell lot of changes to it quickly...

In New Orleans,LA. I've had all these for weeks now. They've been there so long, I didn't realize that's what you were referring to in you're previous article. I have a stock app pinned on my start screen and I have my portfolio info in Finance. I didn't figure this was an update so much as Cortana learning like Microsoft said.

Please Daniel the background image.

I still don't understand why "Do Not Disturb" feature can only be enabled if you have Cortana enabled on the phone? Why is this useful feature tied to Cortana - which is battery consuming and somewhat optional (ahm..) feature for many users, while "Do not Disturb" is a very important feature.

Nice, I now know who I am, love Cortana for finding songs quickly from my extensive music collection whilst driving!!!!

Does this mean I got the update, because she knows I'm Norman?

I have Cortana enabled in New Zealand & no new features here yet. But the live tile has suddenly stopped working so no longer getting any news headlines on the tile.

Cortana already allows stock quotes - you just had to search for the quote in Bing and then ask for it to be tracked. Shows up in your daily preview just as it does in the image above.

Could I have USB tethering and OTG instead of Kotana (Cortana)? Still waiting for REMOVAL of XBOX, open account on 'me' phone.

All this talk about windows phone 8.1 and majority of us still don't have it which sucks!! It couldn't come soon enough.

Is there any possible way of knowing when Verizon might release this? No rush, just curious.

I've had these changes a few days in Australia. I think its a reward for my MS account logging into with a Lumia 920, Surface Pro 2, Xbox One, and PC. Best things I find are stocks Cortland pulled the stock that I sit on a board for into hub plus also added interests of Xbox, MS and Windows to my only previous interest being Windows Phone. She's knows me better than my own mum haha. Cortana is like a fine wine only getting better with time. Look forward to her coming to Surface in future that would be awesome.

Hey nutta, region set to us though right?

Yep USA which is a problem for AU store. Just bought a Lumia 820 on eBay for $150 use it for media player and music and to check for AU apps. I think it's worth having Cortana I use it every day for reminders mainly. I think she learns from Bing apps too hence pulled stocks from Bing Finance.

No changes here in Vic yet :( 925 + 920

I have the watch list of Bing finance and Cortana just asked me some questions to show me my interests. Also there are some lines that separate each section. Looks very cool.

As the months roll by I really do wonder what the hold up is with official release of 8.1

so sad it is an amazing front end for bing...which just lacks too much data compared to the "other guys"

I noticed the dividers right away. I did not notice anything else until I clicked on the Weather live tile. Then when I scrolled to the bottom I got the quiz. It seemed like the quiz she did when I first installed WP8.1. I have not seen the new weather animations though.

When she can love me like scarjo in the movie Her, then MS has done its job and done it well!

Lol!! I think Cortana is closer to Samantha than Siri is.... Cortana will live it's first than Siri will iPhone users. Loved the movie by the way!!!

My wife's Lumia 1020 shows the update, but neither my 1020 or my 920 are showing it yet =(

Yep the update is here!!! For some reason i didnt have the update till I changed my name again in settings I don't know if it was just me but it worked.
Saludos desde Guatemala!

Has anyone else had trouble with Cortana connecting to the internet? I'm on wifi, no cell data package for L1520. Turned off data sense. Been doing this for a couple days. The IE works fine.

The stock import was a bit buggy - I kept getting GE turn up on Bing.com. There, I would go into the Interests and delete that stock only for it to turn up again. Finally when I deleted it from the phone Interests section it stayed deleted. Also, another stock showed up twice in the phone stock list. I guess this is in Beta.

She does tell me the stock market, but not my name.

My Cortana doesn't say much when I ask her a question...

Said my name, yes...separations etc.

I had it briefly and now I don't

I was told to find the video - What does the fox say? (I am still not sure what the heck it was that I watched) So, sitting there with the person who told me, I used Cortana to search for the video. I was shocked by what happened when I asked her... The person that told me to search for it was blown away.

OMG! SHE KNOWS MY NAME! I sound like a freshman in High School, but Dude, she spoke to me!

Still not saying my name. I didn't see any changes. Any ideas how to get this working? I'm using Lumia 1520

I am not seeing any change either, I am using Lumia 520

Yesterday, for the first time, she told me when I needed to hit the road to get to a meeting whose location is not in my "Places" file. But, she still doesn't know my name or offer me any quizzes at the bottom of my today page.

It's showing in my phone but music icon isn't showing.

Try saying "I love you"
Cortana: "Aw, I'll bet you say that to all the phones."

When I tried that, it said "Thanks, Ditto"

I got the update. More fun with Cortana. Oddly I seem to be the one person I know who actually uses Cortana (or Siri or Google Now for those heathens).

Just a question; has anyone tried is using Cortana while connected to Bluetooth? I'm wondering if its an issue with my specific Bluetooth device or is it a general Cortana issue because mine doesn't respond.