Badoo dating app for Windows 10 Mobile set to make a comeback soon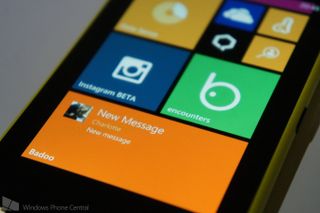 The Windows 10 Mobile version of the popular dating and social app Badoo has been removed from the Windows Store, but the company has indicated it will be coming back soon.
Over 320 million people worldwide have signed up for Badoo. It has a Windows Phone 8.1 app in the store, and it's been there for some time, but the version for Windows 10 Mobile was recently removed (via Windowsphoneapps.es). However, the Badoo Tech Twitter page has indicated to us the app will be returning to the Store.
Hi @JCalMN, Badoo will be available on Windows 10 shortly ;)Hi @JCalMN, Badoo will be available on Windows 10 shortly ;)— Badoo Tech (@BadooTech) September 12, 2016September 12, 2016
In related news, the Badoo Tech blog recently posted an article on how the development team is using the Windows Phone app as an "experimental platform" to test new features that can be used in the iOS and Android versions in future updates:
Badoo added that Windows Phone doesn't have as much device or OS fragmentation as Android, nor does Microsoft allow for third-party forks.
If you still need to check out Badoo, the Windows Phone 8.1 version, which also works on Windows 10 Mobile, is still available in the Windows Store.
Thanks to Blade800 for the tip!
See Badoo in the Windows Store (opens in new tab)
I just use fab. Lots of horny girls and lads on it for horny fun

Does it actually work? I'm legitimately curious because lets say I just broke up with my girl and wanted some "fun"...

Fabswingers.com. UK only but. Sign up and you will be breeding in know time

Fabswingers.com. UK only but. Sign up and you will be breeding in know time

Hahaha I'm in the US though dammit! xD

Try it mate. I think ive been chatted up from USA before. Can't hurt to look. You Don't want your balls T- baggin the floor lol..

Hahaha I'm dying from laughter

Hey there, you both, there is a private messages section in this site! Just to let you know :P

I like to air my laundry. I also like sugar walls

Full of fake profiles though

Good to hear that an app would be making a comeback. I am eagerly waiting for linkedin, premier league and disqus UWAs.

Removed then coming back. Cheeky one, no?
Well, I have seen this a lot recently.

Yes it was temporary. Have you read their blogpost about Windows Phone? I recommend you to go check the article. Must read.

Yes, I knew. The user experience can be less disruptive if there is no gap here.

I agree, yet every single company seems to do this. Don't really understand why though.

yay...dating app for a less than %1 of the marketshare phones....Who will I find with this??? No-one? lol

But they also have iOS and Android apps, so I'm confused here?

Dude don't get confused. He is just a troll

damn your stupidity has no limits xD

probably just as well he can't get a date

Gotta love stupidity....I'ts the only nuance where both parties can claim ignorance on both ends and be right. lmao

This should suit you well. You definitely need to get out more.....

It's cross platform, connects with ios and android.

Wow, I thought you couldn't go below zero clue... First of all, 3% of their users are Windows Mobile users... Second of all... The app spans all platforms.

I find the idea of using it as an experimental platform to be very interesting.

Me too. In fact its genius idea how we can have all apps if all developers adopt this. Bad news is I dont think they will.

I guess it's the good thing about a small market share. If only all devs saw it this way

Good to hear this from the Badoo Tech Blog : "We tried lots of software like Google Docs but the main problem was that it's hard to search files in folders among other docs you may have. We also tried Evernote but it had a serious disadvantage - you have to share each note you create. As we are the Windows Phone team, we decided to try out Microsoft OneNote. This suits our needs, and it even allows us to deep link to the exact note in native applications! So we started using a shared notebook and created really good testing documentation. We also created a special regression checklist which contains links to our brilliant shared notes. If we had a new joiner today, we would just need to give him this document and it would almost be enough for him to start testing applications properly."

This is why rooms was so darn awesome for collab.

Guinea pigs :D Anyway I used this app for some months and they really updated it a lot with all the features and bugfixing. It was a bit slow though.

Brings new meaning to Insiders.

I think it also has to do with the fact tht we are already used to beta testing n giving feedback as part of the Windows Insider program....Probably, they feel this crowd wud actually help them make better products than the crowd using Android/iOS....

Just like the Amazon app made a comeback.

Wellllll...Amazon is a web wrapper, this will hopefully be a "real" app.

They should add a filter showing weekly Facebook use. Set filter to zero and find true love.

I love this app.....especially the part where there are these beautiful women from a town about 30 minuets away from me......THAT HASN'T EXISTED FOR ABOUT 75 YEARS, other than being a dot on a map.

I live the fake profiles on this app, how do they propose to this?

The location part does seem to be off but I've got laid so many times from this app.

Do these developers remove their apps and then later update them, just to get mentioned twice on sites like this? It's such an annoying trend.

I see some trolls have got out of the basement.

I found my now wife on Badoo. Haven't used it for a long while and there was a lot of crap to filter through at the time.

Just where I'd look for loose women - on a W10M app
Windows Central Newsletter
Get the best of Windows Central in in your inbox, every day!
Thank you for signing up to Windows Central. You will receive a verification email shortly.
There was a problem. Please refresh the page and try again.