Band Camera Control lets you snap photos with your Windows Phone from the Microsoft Band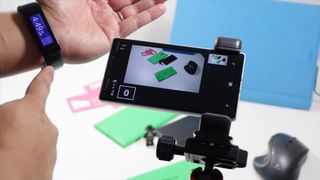 You can now control the camera on your Windows Phone device by giving vocal commands to your Microsoft Band. This is possible thanks to the app, Band Camera Control. After installing the app, just press and hold the action button on your Band and say commands such as 'Camera take a photo' or 'Camera take 4 photos in 5 seconds.' We tested it out on the Lumia Icon and it actually worked. See it in action in our hands-on video.
The app itself has two sections with just text and a few buttons. The first section explains the app in text, with sample commands. Here are some of the things you can say:
Take a photo
Take 3 photos
Take a photo in 10 seconds
Take 3 photos in 12 seconds
The other section in the app lets you send feedback to the developer or rate the app at the Windows Phone Store.
Band Camera Control uses Cortana to pass the commands, so you need to have Cortana on your phone already set up. After sending the commands, the app's camera starts shooting. It currently shoots in Automatic mode. There are no settings to turn on flash, change shutter speed, or adjust exposure compensation. For example, when shooting against a bright cloudy sky, I want to increase exposure compensation. Unfortunately that option is not available yet.
This can be handy if you need to take self-portraits from far away. As long as you're still within reach with your phone via Bluetooth, you'll still be able to take the photo.
Band Camera Control provides a unique solution that many Windows Phone users are going to like. However, we think it needs a little help from a designer to polish up the app. You can grab it now from the Windows Phone Store for 99 cents. Are you getting this app? Let us know in the comments!
Hey, look at me, I'm first.

Downloaded it this am, glad you guys wrote this up, besides music controls, this was another top feature I was looking for!

Where did you buy that Camera Grip? I want it.!

I got one from this site, the universal fits my iPhone 6 Plus as well as my 1020. Works great. http://www.istabilizer.com

Sorry to hear you're unwell

Very nice!! I thought you would have to press a button on the band tho, but this is great too.

I would prefer this option for a few reasons, one being I refuse to use Cortana until they give us the option to replace that British bimbo with Jen Taylor.

I wonder how it will sound in Chile... :S

Yes a tile that just let's me replace the shutter button would be awesome Posted via the Windows Central App for Android

I could seriously use this... Gonna have to wait for a MSB2
......................
Still say the next band needs a camera...
I like how it works on my workmates galaxy gear, whatever smartwatch.

I think they should have a series, for different price points... Obviously the camera bands would cost extra =P

Hey, you know what❓.... That's a terrific idea. Camera Bands.
......
As long as they offer a model with a camera actually affixed to the watch itself... The second Galaxy Gear watch moved the camera from the band to the watch, and supposedly that's supposed to be easier to manage... But, to have interchangeable camera bands❓ Ingenious idea.

Sweet... There is also an app that plays a guitar chord with the band. Awesome.

It would be helpful to the rest of us if you'd tell us what the name of the app is that you are speaking of and/or provide a link. I've got you covered though: jamBand http://www.windowsphone.com/s?appid=d72ed1cd-6ee3-48b4-883d-3fd3882b7ca9

This is telling me that MS is gearing up for the next Band coming soon with all these brilliant ideas popping up for the Band

Easy purchase!! I'm going to run out of tiles! :)

I am sure Microsoft sees the Band ecosystem growing organically. App developers see many opportunities in expanding the utility of the band/WP inferface. Will Micorsoft release version 2? I would hope before October and the Xmas shopping season. First we see the Band released without any leaks. We see microsoft add capabilities to the Band. Then we see apps poping up like turning your Band into a flashlight. Then we see Microsft expand its distribution system to retail stores and overseas. Now we see more interesting Apps. Could it be that the Band gains considerable traction in App developement. Now we see Win10 on the horizon and one could argue that Win10 allows you to easily write an app that utilizes the Band, Windowes Phone, Tablet, Laptop and PC. Could it be that the Band (disticntly differnet than the iWatch) has a more compelling story to tell coustomers?

Does this take pics by vocal command only, or can you manually click from the band? This has some major appeal to Icon owners such as myself who want to get creative with that fancy 21MP camera. Remote click also opens up a lot of fun possibilities like stop motion animation!

Not working on my Lumia 920. Anyone else with a 920 having this issue? Timer is visible in lower left of screen then closes. Reported it to dev.

I'm having the same problem with my 920.

It takes such small photos. Wth!?? It not a full sized photo

It's not the size of the photo but how you use it that counts ;)

Similar issue as E1iz4beth, on my Lumia 1020. Timer pops on screen, camera opens than nothing happens. I'm just staring at my screen.

I'll wait for more review but this needed to happen...cant the treasure tag be used as a remote for the shutter?

I just got this app and it only does a web search for photos

Microsoft needs to incorporate this and other ideas.

Hi people I'm the developer of the app :) It seems a few people are experiencing crashes when opening the app with voice command. I apologize for that. I cannot reproduce the problem on my phone, but according to stack traces it seems to be due to the timing of initialization of some media elements - this is fixed in the next version that I am sending in to the App Store today. Some new features in the update: Preview/keep photos on the Band and receive countdown notifications to the Band (these options are configurable). Other troubleshooting tips: If the app does not open at all, it's because of missing configuration on your phone: Check what speech language you have specified in phone settings. You should also be able to use the normal Cortana from the band Try with a simple command like 'Camera take a photo' ? Are you able to use other voice apps on your phone? When you press and hold the search button on your phone, you can activate Cortana and press the 'see more' text. This opens a list of apps that have installed voice commands on your phone. Do you see Band Camera Control in the list? If not, try to reinstall the app. Also check the region phone settings. For Regional format, you should use "Match phone language"

Thanks, JensGorm, I was about to report the great Customer Service you were providing me, to the group. Looking forward to the update. I'll email you the result..

App is working awesome on my 1520 RM-938. I was really impressed by how well it worked so I went to tell my roommate and said "The future is here, I can take pictures of your cat from my wrist while I am in the other room." Now he just thinks I'm creepy and drunk. I love this app even more now!

I have a 1020 and I am seeing the same issue. Camera exits on launch. I see a square with a "100" and then it crashes.

JensGorm, THANK YOU SO VERY MUCH for creating this app! It works PERFECTLY on my Lumia Icon! I love that you added the vocal response "picture has been saved to camera roll." My only critique would be that there is a bit of a delay in voice command to actual picture taking. I understand this is bluetooth connection limitation that you probably can't control. If I may, I'd like to suggest, if possible, to add a "vocal countdown" to the process. I have noticed that the screen counts down the seconds before taking the shot. If this could be vocalized through the phone's speaker ("taking picture in four, three, two, one"...flash) it might feel a bit more polished and let people know when the camera will snap the picture (and that it's actually processing your request to take a picture since you can't see the screen from the back end of the phone). Just an idea. Otherwise, I love this app and I'm certainly glad I purchased it! I've already used it quite a bit. Thanks again for creating this great app as I can now be included in the pictures I take with my friends!

Thanks, I appreciate that :) As for the vocal countdown, it will actually do that already, if you specify a specific countdown such as 'take a photo in 10 seconds'. But you're right that it is a bit slow, I'll improve the speed in the next update :-)

I am unable to get this to work on my uk variant 1520, I have English Cortana installed properly and the preview updates

Simple question. Can you indicate how easy it is to work with the Band and do you expect alot of rewrite once Win10 is released? I dont write apps and I was wondering if Microsoft supplies tools that make your app developement easy. I understand that there are differences in the ability to write apps on android and google in that maybe these ecosystems are easier to use. Besides the low volumes of Bands in the market place and the low share of windows phone, I wonder if the reason for writing the app is lucrative (Microsoft will by your app and include it in the basic operating system of the Band) or simly a creative effort (a hobby) that you hope will be rewarded.

Thanks for developing this! Hope to see a version compatible with the 635 soon.

Now, make the music control on the band!

Music control is already on the Band. It works with Cortana. Just hold the task button on the Microsoft Band and say "Play (song)" or "Play (playlist)" and it will start playing that song/playlist. You can also say "next song" "pause" "stop playing". All of these commands already work. I use it at the gym since my phone is in an arm sleeve while I'm working out.

I wonder If all the camera api's are available to use?

Only two things I ask for the band. 1. The ability to reply emails and any other text app and 2. Music app control for when doing exercises. You have your phone in your arm or in your pocket and you have to take it to control music. If MS add those two features to the band that should be killer! Thanks.

You don't need the band to use voice to take photos. There are already Windows phone apps that do this by talking to your phone. Vocal Camera is just one of them.

The phone microphone cannot hear you when you are at the maximum distance of a bluetooth connection. I have vocal camera but it is limited by the audible distance whereas the Band app sends the audio over the bluetooth connection which is greater than the microphone capture distance.

Microsoft includes Weather, news, and a browser in Windows phone so in your opinion, no need for developers to develop weather, news or browser apps. Thanks for sharing doing nothing for WP.

That's not my opinion but thanks for making that assumption!!!

The app is cool but not really for me

Does anyone know if t some of these apps are written by a common developer and can be or she combine some of these features in a single app? I've had to make a folder because there's so many of them.

Me too. I have like 8 Band apps in a folder.

Such a cool idea... but it appears to use only the front facing camera, which is kind of a showstopper if you have the Lumia 630 like I do. Allow it to use either camera and I'll check it out!

It doesn't appear that way according to Mark's photo. It looks as though he's using his rear camera.

Appearances can be deceiving - when I try to install it on my Lumia 630 myself, it tells me that I need a front-facing camera, so it needs a front-facing camera.

Yup, ditto here. L635 not supported. Can't even download if you don't have a front facing camera. I'm assuming this isn't intended.

Thank you for pointing that out. I will fix that as soon as possible :)

Hey JensGorm, me again. Thanks again for the app, and this was going to be my next suggestion. Please add ability to switch between front and rear facing cameras. Maybe add a "settings" section in the app to allow switching between cameras and perhaps choice to use Lumia Camera as default camera? Do that and I think you could ask $2.99 in the app store for this app! Great app! Thanks again.

Hi The front cam capability is no longer a requirement in the newest update of the app. Next version will support specifying rear or front cam (a selfie voice command will be supported).

Selfie galore! MS needs to market this way and see the reaction: Band-controlled selfie phone. Maybe even bundle this as a special edition for Selfies.

Very impressed with the development community for the Microsoft Band so far. This is promising.

No trial, no purchase, especially for a brand new App that requires interoperability between two devices.
Looks like it doesn't get along well with the L1020 out the 920, my two devices. I think I'll wait for it to get out of Beta.

Really use full. And can you also see on the screen on your band what you are taking a picture of? I really don't see how this would make it easier or faster to take a picture.

I was just thinking about ideas for an app and thought "I know! remote camera shutter!". Then this popped up... :(. Back to the drawing board haha.

I really hope Microsoft introduces 2nd Gen. Band with the next Lumia flagship and both be waterproof. I'm so tempted in buying 1 now but I really need it to be waterproof.

What size are the photos that it takes??

5376x3024 on the Lumia Icon

SWEET, I'm on an Icon...THANKS!!! Buying!!!

I'm starting to actually want a Microsoft Band, despite it not being that useful to me, just so I can show it to the people who will inevitably show off their Apple Watch. :p

But what Camera app does the app opens? Is it the default camera? or just the normal "Camera" of the phone and not the Lumia Camera 5.0?

For a minute I forgot, I don't have a Microsoft band. Sucks!

Update was released, but still having trouble on my 1020.

Yes, I'm sorry about that. I have now actually managed to reproduced the problem on a borrowed phone, and have fixed and sent an update to the store - I hope the update will be available quickly!

Awesome! Thanks for the update. Working like a charm on my 1020.
Windows Central Newsletter
Thank you for signing up to Windows Central. You will receive a verification email shortly.
There was a problem. Please refresh the page and try again.