Baseball legend John Kruk recruited for Nokia Lumia 900 commercial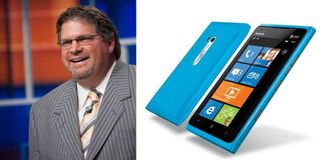 While we wait for the AT&T Lumia 900 to grace our growing Windows Phone collection here at WPCentral, it shouldn't be a surprise that Nokia is already thinking about how to promote the darn thing. Their attempt at "carpet bombing" consumers with Lumia ads is called Operation Rolling Thunder and one of those strategies may be using famous baseball player (and current ESPN Baseball Tonight analyst) John Kruk in some shape or form.
We know this because the man himself tweeted as much yesterday, stating:
No other details were given, so we don't yet know in which capacity Kruk was used, but safe to say it's for AT&T and presumably the Lumia 900. Should be interesting to see what comes of it in the coming weeks.
Source: Twitter; Thanks, Will (@h11wiscan), for the tip!
Daniel Rubino is the Executive Editor of Windows Central, head reviewer, podcast co-host, and analyst. He has been covering Microsoft here since 2007, back when this site was called WMExperts (and later Windows Phone Central). His interests include Windows, Microsoft Surface, laptops, next-gen computing, and arguing with people on the internet.
Well MLB is the only major US sport with a WP app.

There is? I could not find it.

Well there was the at bat so for last season.

Its called at bat 11. Since the 11 season is over we have to wait till at bat 12 comes out on opening day any pay for the app again...since they consider it a different.its b.s. If you ask me. But it's worth the $ if you're at work and wanna listen to the game through the app.

Good news I suppose.. I know nothing of baseball. Is he the real life Kenny Powers?

Baseball is the same as cricket but you run in circles instead

Sweet! Thanks guys for posting this out here and giving me credit for the find! Much appreciated. =)
I religiously check this site now, the best WP7 site. Thanks again and can't wait for the 900 to drop, been wanting to get rid of my Skyrocket since I got it.

Props on the scoop, man. Thanks for sharing. WP fans needed some good news about the 900.

Kruk is a cool cat. Nice to have him on board. Now we just need Justin Bieber, Labron James, and Tom Brady on board :-D

Not labron but Jordan lol

Labron has haters Jordan don't have any haters lol

Jordan was great - in his day; Surely, there are some active atheletes (not retired) who can fit the bill?

Personally, I don't think having retired atheletes showcase new, innovative, and attractive devices, as appealing. Windows Phone needs eye candy for its eye candy!

or someone liek Derek Rose or Kobe thats who I would of went for

How about LMFAO? That would be huge!!

If Kia can get them you'd think MS/Nokia could pull something off..

Love Krukker, too bad stupid MLB didn't make an At Bat app this year (also didn't release it for BB). @SmoothDog you forgot your /s

http://mlb.mlb.com/mobile/atbat/
Its coming out opening day. Kruk is a good pickup for the WP7 team.

I live in US and baseball came from cricket. But it's less fun than cricket. To be honest I don't care who is the commercial but as long as it's on tv and they sell lots of phones. NOW T-mobile get your act together and get better wp7 phones.

If theres gonna be another transformers movie I'll see a lumia phone in it :)

Lumia needs to be Bruce Wayne's phone in the new Batman. Microsoft needs new faces all the young kids don't know who this guy is. Are they trying to cater to the old guys or the young and vibrant generation. Microsoft needs to get some young up-incomers to represent their phones like what they did with Kendrick Lamar. If I was in MS marketing department I would have an add with atheltes, artists, actors etc all using Windows based products and show casing the world how Windows can affect their day-to-day business.

I dont get this form of commercial...i guess you have to be american to buy a phone just because a former baseball player "recommends" it ( dont intend to offend anyone )

They're also limiting their market as no one knows who he is outside the US... Not that it matters as we generally don't get US ads, even in Australia (unless dubbed over).

It's called "celebrity" endorsement. Each country will have their own form of it, I'm sure. Doesn't mean anything other than they got a known name for said market to help push their product. Nothing more. Nothing less. Don't read more into it than that.

Let me just say this to those out of the US. John Kruk no longer plays Baseball, however, he currently works for ESPN. In the US, ESPN is HUGE. It is a mammoth brand and the commercial will no doubt emphasize this. In other words: John Kruk alone = Meh John Kruk + ESPN = BOOM!!!

Agreed maulerx kruk and ESPN together on.message big help

Maybe a Finnish born hockey player like Pekka Rinne and Nick Backstrom.
Windows Central Newsletter
Get the best of Windows Central in in your inbox, every day!
Thank you for signing up to Windows Central. You will receive a verification email shortly.
There was a problem. Please refresh the page and try again.