Battery for Windows Phone 8, an attractive battery performance tracker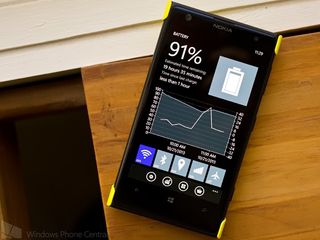 There are plenty of battery performance apps available for our Windows Phones. You can now add Battery to the list of Windows Phone 8 apps that can chart, track and keep you updated on how much life your Windows Phone battery has left.
But Battery will go a little further by offering shortcuts to key Windows Phone settings and the option to backup and share your battery performance data. It's one of the more feature rich battery performance apps in the Windows Phone Store and is easily worth the time to check out.
The main screen for Battery has your battery level and performance estimates at the top of the screen. A performance graph fills the center of the main screen and six shortcut tiles line the bottom.
In tapping/holding the chart display, you will pull up options to save the chart as a picture, send the charging history to email, and save/backup/restore the data to/from SkyDrive.
Shortcut tiles include access to your WiFi, Bluetooth, Location Services, Cellular, and Airplane Mode settings as well as a flashlight utility. Along the very bottom of the main screen you'll find four control buttons. They access the settings, pull up your battery statistics, pulls up a page listing the shortcut tiles, and one to make a donation to the developer.
The page listing the shortcut tiles allows you to pin the tile to your Start Screen and change the tile color (default is to your current Windows Phone theme). Just tap/hold on the tile you want to customize. If you don't want or need the shortcut tiles, you can disable them as well.
Settings for Battery cover general issues such as the color theme for the main screen and Live Tile, choosing your battery icon for the Live Tile, and access the Lockscreen settings to display detailed status from Battery. You also have settings to determine what notifications you'd like active and a few settings on the chart display. There's a nifty color setting for Battery, dynamic, that changes the theme color from green to orange to red as the battery level decreases.
Live Tiles support all three sizes with the wide tile displaying the amount of time left on your battery, time since last charge, and the last tile update time/date. Live Tiles refresh every thirty minutes and the full battery level will be displayed as 99 due to OS limitations.
All totaled, Battery is a rather nice battery app for your Windows Phone. In just using it for a short time, Battery can hold it's own against many of the similar Windows Phone 8 apps in the store.
Battery is a free app with the option to donate $1.29 to the developer to show your appreciation. You can pick up your copy of Battery here in the (opens in new tab) Windows Phone Store.
Thanks, Nawzil, for the tip!
George is the Reviews Editor at Windows Central, concentrating on Windows 10 PC and Mobile apps. He's been a supporter of the platform since the days of Windows CE and uses his current Windows 10 Mobile phone daily to keep up with life and enjoy a game during down time.
I love this app. By far my favorite battery application which I've been using since may.

The first one downloaded and the last one :)

I have used it before. Ran into accuracy issues and battery drain but otherwise a good app.

In my experience this app raises the battery usage by 1.5%, which I think is a lot for a battery app . :)

I just don't see how an app that only activates for a second every half hour can increase your battery usage by 1.5%. I really think all the claims of battery apps wasting significant battery are a myth.

Almost a direct copy of mybattery, but nice app and toggles a nice touch

Huge difference to MyBattery? because this shortcut thingy I had quite awhile in that. Zoom in chart and all is nice in MyBattery.

I use the app that is approved by Nokia Poland. I use Skinery Themes for shortcuts.

This app is pinned on top of my Start screen with a wide tile.

I've used since I got my Lumia 920. This may or may not be the most feature packed battery app; but it got its basics covered, adheres well to the metro design, and has customizable live tiles.

Why does a battery app need location services and video/stills capture?

Location services - WP's API requires this to get location's status (whether it's on or off), it is displayed on the shortcut, no marketing or advertising purposes
video - there is a shortcut to the flashlight

Thanks for the explanation!

Always preferred this battery app over the others, good job

Been using this since the day I got my 620 two and a half months ago

I prefer the other app called battery, this one had drain issues and failed to run in the background, even though i had no other background tasks enabled.

If the live tile is ugly, I don't pin it or download it.

I don't know if it was coincedence. However, I could never get a good signal at work. My battery would drain very quickly. I read here at some point in the past that battery applications had problems with draining the battery. So, I uninstalled. The very next day and since then I've gotten a LTE signal at work. No more battery draining problems.
I may resinstall this application again just to see if it was the problem.
Anyone else have this happen?

Battery drain was bad since I got the app since I deleted battery life is twice as good. Can't test your connection theory here at work, the building is in the middle of nowhere and made from metal so the signal is always sucky. Will check tonight at home where I should get at least the 3G which never worked (got the battery app from the start)

This app has an issue: if you choose live tile color same as phone theme and then change theme accent, live tile color stays previous forever.

Using it for a while now, confirmed on the tile color glitch, but if I simply tap the live tile, and hit back, it changes back as the theme selected. So no issues here. Regarding draining, I had no problem. Samsung Ativ S

I've just tried that again right now, nothing changed. The tile color have stayed the same. Lumia 920, tried on native wp8, amber and now on gdr3. Other apps like weather by Microsoft change color after updating their tiles respectively. Are you sure that way really works on your phone and it's not your assumption due to analogy with other apps?

My bad dude, you were right. Had to go to battery app settings and select phone accent every time you change the color theme. I apologize for misleading you!

Ah, never mind, man :) I just hope that's gonna be tuned soon, til that I just use the "dynamic" color. And I'd say got used to it.

I hope its better than Enless Soft's one.

Am I the only one who doesn't see a use in these battery apps? My 928 lasts me all day, and knowing the percentage doesn't help me in any way

Guess there is a reason why all these apps also offer shortcuts for connectivity ;)

I tweeted the developer last night and he responded in an instant, he said a shortcut for rotation lock will be added in 1-2 days. Good job!

I use this app and the shortcuts are excellent.

After trying a few other battery apps, I finally settled on Insider. Does its job well, in addition to giving information about storage space at a glance, and also has the same connectivity shortcuts.
Oh.. And it also shows you the current Bing background and allows you to download the previous 6/7 Bing wallpapers.

Used to use Battery Discharger. Now using this app! Downloaded it laterally minutes before you published the article lol

Follow this tips to get a great battery life.tips here(click):::http://bit.ly/H7oBOa

Cool features, but this app did not play well with my phone. Had the app for 4 days and every time i hit around 25% battery life it my phone would discharge battery as fast as it could while not even using the phone. According to the app, I hit over 100%/hr dischrage rate at one point. Deleted the app, no longer have the issue.

Same here, my battery would empty swiftly and I'd maybe have the phone last a day. Since I deleted the app I can make it to almost two days.

Tried this... Decent but Inside Pro is 10 times better... Try it to believe it!

The only thing I can say to indicate how well I received the App is despite the free version not having any reason to purchase I bought it.

The app i use called Battery is prety similar in functionality except for the data backup. Live tile is much more customizable and it shows 100% charge so i'm not sure about this so called OS limitation.

The one you mentioned looks better. I don't know if this one also has power drain issue?

i use the other one called Battery as well, better than this.

Sapped my battery like crazy even without background task on. Since I deleted it my phones' doing twice as good.

Been using it for long time but it's been quite wrong in recent weeks. Besides, it seems WP API does not allow very precise and informative graphs, like you can get on Android, so usefulness is quite limited. :-/

Although i haven't downloaded it yet, its sounds very similar to the insider app....which i think is good, more or less with the same features.

One more power sucker.
All battery apps are the same.
The best app is Nokia phone itself.

Why Live Tiles to refresh every thirty minutes requires activation Data Transfer or WiFi?
Windows Central Newsletter
Thank you for signing up to Windows Central. You will receive a verification email shortly.
There was a problem. Please refresh the page and try again.