Battlefield 1 getting two night-time maps ahead of next expansion pack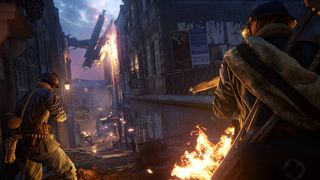 New plans have been unveiled for upcoming content for Battlefield 1, including a new night-themed multiplayer map. This is the second map to be revealed outside of the previously established expansions packs and is expected to drop in the coming months.
The newly announced map, "Prise de Tahure," takes place in France and appears to be heavily centered on a destroyed town. The level will also be one of the first to take place during night-time, which can make for a whole new angle on gameplay.
Image 1 of 2
The announcement of this map follows on from the previously revealed "Nivelle Nights" – a level currently in testing through Battlefield 1's Community Test Environment. This offshoot of the core Battlefield 1 experience allows players to test new content and provide feedback before a public launch. While Nivelle Nights will be releasing for Premium members sometime in June, Prise de Tahure will only be entering the CTE "shortly".
Both maps will be available this summer, bridging the gap in content between the "They Shall Not Pass" and "In The Name of the Tsar" expansions. Although we're yet to receive any hard information on this Russian-themed DLC, the pack's full contents will be showcased at Electronic Arts' upcoming showcase event, EA Play 2017.
See our Battlefield 1 ultimate guide – tips, tricks and more!
See at Xbox Store (opens in new tab)