Battlefield 1 getting two night-time maps ahead of next expansion pack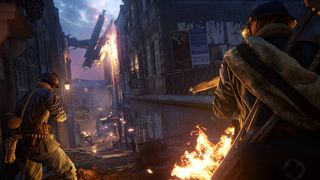 New plans have been unveiled for upcoming content for Battlefield 1, including a new night-themed multiplayer map. This is the second map to be revealed outside of the previously established expansions packs and is expected to drop in the coming months.
The newly announced map, "Prise de Tahure," takes place in France and appears to be heavily centered on a destroyed town. The level will also be one of the first to take place during night-time, which can make for a whole new angle on gameplay.
The announcement of this map follows on from the previously revealed "Nivelle Nights" – a level currently in testing through Battlefield 1's Community Test Environment. This offshoot of the core Battlefield 1 experience allows players to test new content and provide feedback before a public launch. While Nivelle Nights will be releasing for Premium members sometime in June, Prise de Tahure will only be entering the CTE "shortly".
Both maps will be available this summer, bridging the gap in content between the "They Shall Not Pass" and "In The Name of the Tsar" expansions. Although we're yet to receive any hard information on this Russian-themed DLC, the pack's full contents will be showcased at Electronic Arts' upcoming showcase event, EA Play 2017.
See our Battlefield 1 ultimate guide – tips, tricks and more!
Matt Brown is Windows Central's Senior Games Editor, Xbox & PC, at Future. Following over seven years of professional consumer technology and gaming coverage, he's focused on the world of Microsoft's gaming efforts. You can follow him on Twitter @mattjbrown.
I have a question here. Is any of these maps "They Shall Not Pass", "Prise de Tahure" , "Nivelle Nights" and "In The Name of the Tsar" available in SINGLE PLAYER COMPAIGN MODE?

No. If you're playing the game solely for single player, there will be no expansions or anything there. All the DLC is for multiplayer. As it has been for all Battlefield games.

Irritating that these two new extra maps are going to premium only. Whether or not DLC should be a thing is another argument entirely, but if you pay for the premium pass, you should get more content, I agree.
That said, why can't these extra maps come to non-pass owners too? We still paid for the game, and these weren't included in the advertisement of the premium pass so there's no obligation to bundle them.
Game development costs, I know, but I just feel these should come to everyone. Titanfall 2 is doing a great job of new free maps and content.

Yeah, it's a bit weird - Battlefield 4 had the free Night Operations, so it'd make sense for these to be a natural successor? Seems stupid to divide the community up even more? Feel like it'd benefit the game's player base over time.

In addition, BF1 for PC has a smaller community, so players are really needed, even on DLC maps.

Wow.... I guess it isnt just my imagination...... I admit I have been obsessed with The Division the last 2 months, but I tried like 3 times in the last month to go jump in a BF1 game and I would go through all the game loadings just to find I have been placed in an empty map....(something I wish could be a setting to not be placed in empty maps!!!) Each time was like a 10 minute attempt to get into a game w/o any success..... BF1 was my first pre-order and even splurged on the $120 version....... Is there a clan or group to join?

I really need to play this more. It is such a great game, but I hardly ever have time to play.

Oh cool no HDR support yet...

HDR isn't even on most people's radar. Most people want better GPUs, CPUs, or 4k/1440p 144hz.

Prise de Tahure is a free map.

Supposedly Prise de Tahure is a free map. And why can't I edit my comments?

Ring 3 got an update yesterday. Didn't see it mentioned anywhere.
Windows Central Newsletter
Get the best of Windows Central in in your inbox, every day!
Thank you for signing up to Windows Central. You will receive a verification email shortly.
There was a problem. Please refresh the page and try again.