Battlefield 2042 beta: How to play, start date, early access, and more
Battlefield 2042's beta is soon live in beta to all on console and PC.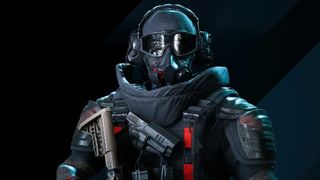 (Image credit: Electronic Arts)
Battlefield 2042 looks to be Electronic Arts' most ambitious venture to date, marking the next mainline entry in the military shooter franchise. The latest from FPS veteran DICE explores a future war-ravaged globe, pitting man against machine and pushing the limits of its multiplayer warfare. The upcoming open beta now provides the first hands-on with Battlefield 2042 before launch.
The Battlefield 2042 open beta is now live, providing up to four days of online action. It's an early glimpse into a new multiplayer map, plus the return of its classic Conquest mode expanded with up to 128 players on the latest consoles and PCs. Here's what you need to expect from the Battlefield 2042 beta, how to play, and scheduled dates and times you should know.
What is the Battlefield 2042 beta?
While Battlefield 2042 development continues behind closed doors, the beta test delivers a slice of what's to come before its Nov. 19 release. The beta provides DICE with real-world testing at an unparalleled scale, while for many eager fans, it doubles as the first public hands-on.
The open beta grants an early insight into what's ahead, although the build isn't necessarily representative of what to expect at launch. The test provides Electronic Arts with further feedback to deliver those last-minute refinements while improving servers and connectivity for its player base at launch.
The test hosts just one of 13 maps slated for this November while also restricting gear and gadgets available to players. There's also a higher chance of bugs and issues than the final release. However, for an initial impression, the Battlefield 2042 beta is your best chance to date.
Electronic Arts previously hosted a smaller-scale technical test, operating on an invite-only basis, coupled with a strict non-disclosure agreement (NDA) that prohibited sharing footage. The open beta is available to anyone, with no content restrictions, ideal for streaming and content creators. The Battlefield 2042 PC requirements have also been released for budding PC players.
Battlefield 2042 beta start date and times
The Battlefield 2042 beta spans four days, with testing commencing on Oct. 6, 2021, before concluding on Oct. 10. The testing period came split into two sessions, with two-day "early access" for those who met the requirements, followed by general availability on Oct. 8 through the end date.
Electronic Arts opens the Battlefield 2042 beta at 9 a.m. UTC on Oct. 8 to all, translating to 5 a.m. ET/2 a.m. PT for those in the U.S. The Battlefield 2042 beta is available as a free download by searching the Microsoft Store on Xbox, PlayStation Store, or PC storefronts like Origin, Steam, and Epic.
Battlefield 2042 open beta downloads also went live from Oct. 5, providing a window to preload the title before you join its multiplayer action. The preload went live 24 hours before early access commenced, or 72 hours for those joining via its broader open beta rollout.
We've rounded up localized Battlefield 2042 start time and dates in our full schedule.
What to expect from Battlefield 2042's beta
Battlefield 2042 focuses on large-scale combat, doubling down on its signature online multiplayer and axing the single-player campaign. That means expanded 128-player lobbies on new consoles and PC, plus some of the largest-ever Battlefield maps, host to destructive weather and map-altering events.
One multiplayer map and mode set the stage for the open beta. Battlefield's signature Conquest mode returns, with doubled player counts on Xbox Series X|S, PS5, and PC. Those on Xbox One and PS4 remain capped at the standard 64-player encounters.
Orbital is the only map available during the beta. This remote space center, located in French Guiana, hosts an entire facility for combat, with a towering rocket primed on the launch pad. However, the battles that play out prove a catalyst for chaos, with a fierce tornado and unstable rocket launch both posing imminent danger.
There's also a new approach to class-based loadouts, with four of the 10 hero-style Specialists available to try, each equipped with unique tools and abilities. The gadgetry on offer also sees an upgrade, allowing players to swap weapon attachments on the fly or request on-demand vehicles.
Battlefield 2042 download and install size
The Battlefield 2042 beta is now available for download on console and PC. Electronic Arts has launched the beta on Xbox and PlayStation storefronts, coupled with PC availability via Steam, Origin, and the Epic Games Store.
The download clocks in close to 20GB on Xbox Series X|S, PlayStation 5, and PC, providing access to the 128-player experience, one crucial component of its "next-generation" version. Xbox One and PlayStation 4 copies shrink to 10GB, absent of the high-quality assets present across the best editions of the game. Electronic Arts has rounded up all Xbox, PlayStation, and PC download links, via the official Battlefield website.
Those on Xbox consoles should also consider which version of Battlefield 2042 they're installing, with the Microsoft Store making it hard to distinguish between Xbox One and Xbox Series X|S editions via its Search function. It's easy to mistakenly install the wrong version, meaning some testers may not receive the full Xbox Series X and Xbox Series S experience. The download size is the best indicator, Xbox One installations weighing in at 9.3GB versus the 17.2GB demanded by Xbox Series X|S.
Will the Battlefield 2042 beta have exclusive rewards?
Electronic Arts hasn't specified whether Battlefield 2042 players will receive exclusive rewards for participating in the beta, although it's common practice for many titles. Battlefield 2042 will have various cosmetic player card backgrounds and charms to unlock throughout the game, with exclusive designs both potential rewards for beta participants. We expect to learn more as Electronic Arts discusses its open beta rollout.
Will Battlefield 2042 progression transfer to the full game?
Electronic Arts has confirmed no progress from the Battlefield 2042 open beta will translate to the full game when it launches on Nov. 17. The beta, a pre-release test build of the game, represents just a slice of planned launch content, with a chance of outstanding bugs, issues, and balancing inconsistencies. The beta also lacks the complete progression systems expected to ship alongside the final game.
How to play Battlefield 2042 beta
The Battlefield 2042 open beta is available to all, as the name implies. The free download is available via console and PC marketplaces, although with direct store still to come. Those on Xbox One and Xbox Series X|S will download the beta via the Microsoft Store, while PS4 and PS5 access require a download via the PlayStation Store. Those on PC can pick from multiple storefronts, including EA's Origin client, Steam, and the Epic Games Store. While downloads went live on Oct. 5, access opened on Oct. 8 once the early access window concluded.
How to get early access to Battlefield 2042 beta
Those who wanted the earliest possible access to Battlefield 2042 had to meet various prerequisites for "early access" on Oct. 6. Early access was available to anyone who preorders Battlefield 2042, or those with an active EA Play or Xbox Game Pass Ultimate subscription.
Battlefield 2042 has three editions available for preorder and each provides guaranteed early access to the upcoming beta. Preorders were the clear entry point into the Battlefield 2042 beta, and if you decide the game isn't for you, there are still a few weeks to cancel.
The standard edition of Battlefield 2042 provides access to the full game at launch, with early beta access and various cosmetic items bundled alongside preorders. Upgrading to the Gold Edition means early access at launch, plus twelve months of content via the Year 1 Pass, including future playable Specialists. The Ultimate Edition offers similar benefits, plus other exclusive cosmetics locked behind this $120 package. These two editions also grant cross-generational access, compatible with older consoles, while upgraded for Xbox Series X|S and PlayStation 5.
However, you needed to preorder on the platform you plan to play the Battlefield 2042 beta. Steps to download the Battlefield 2042 beta varied between retailers, although popular stores like GameStop, Walmart, and Best Buy distributed one-time use codes.
All-out warfare
Battlefield 2042 (Preorder)
Battlefield 2042 debuts Electronic Arts' next-generation vision for the military shooter, supporting up to 128 players, the largest ever maps, and shaping up as its most ambitious entry to date. Preorders have guaranteed early access to the beta from Oct. 6.
Electronic Arts also opened early access to its EA Play members on console and PC. Those participating through the subscription service required an active subscription on their chosen platform. You only needed a standard EA Play subscription to play, rather than the full-fledged EA Play Pro tier.
Following early access to the Battlefield 2042 beta, the membership also unlocks an ever-expanding library of EA-published titles, including all previous Battlefield games, fellow shooters like Titanfall, and sports franchises from FIFA to Madden. You also get 10% off all EA games, including a future Battlefield 2042 preorder.
EA Play costs $4.99 per month, although with one-year subscriptions also available via one upfront $29.99 payment. However, current introductory promotions provide your first month at $1, ideal for beta access.
Unlimited access
EA Play (1-month membership)
Electronic Arts' in-house subscription service offers unlimited access to a ton of major game franchises like Battlefield, Need for Speed, FIFA, and more. You also score early beta access for Battlefield 2042.
The third entry point came via Xbox Game Pass Ultimate, Microsoft's gaming subscription service for Xbox consoles and Windows PCs. The $15 monthly fee grants access to all the best Xbox Game Pass games on Xbox One, Xbox Series X|S, and PC, plus Xbox Live Gold for online multiplayer access. Other bonuses include Xbox Cloud Gaming on mobiles, plus a full-fledged EA Play membership for console and PC.
While Xbox Game Pass Ultimate costs more than EA Play on a per-month basis, you're getting considerably more value. The service now bundles Microsoft-published titles on launch day, with Halo Infinite and Forza Horizon 5 only weeks from joining the service. Most crucially, new subscribers can secure their first month for just $1 via ongoing promotions. It means that for Xbox consoles and PC, Xbox Game Pass Ultimate was another cheap way to play the Battlefield 2042 beta on Oct. 6.
Xbox Game Pass Ultimate (1-month membership)
Xbox Game Pass is one of the best ways to play, with access to hundreds of video games for a single monthly fee. The Ultimate-tier subscription is ideal for any avid gamer, geared to Xbox, PC, and mobile, including games, an online membership, and other exclusive perks.
Get the Windows Central Newsletter
All the latest news, reviews, and guides for Windows and Xbox diehards.
Matt Brown was formerly a Windows Central's Senior Editor, Xbox & PC, at Future. Following over seven years of professional consumer technology and gaming coverage, he's focused on the world of Microsoft's gaming efforts. You can follow him on Twitter @mattjbrown.