Battlefield Hardline open beta begins for the Xbox One, Xbox 360 and PC Feb. 3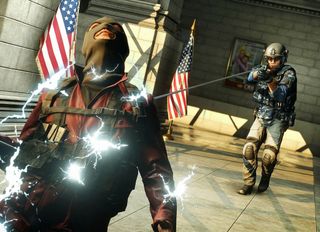 A multiplayer open beta test for the upcoming "cops vs crooks" first person shooter Battlefield Hardline will begin on February 3 for the Xbox One, Xbox 360 and PC platforms, among others. The test will end on February 8.
The game is being co-developed by Visceral Games and Digital Illusions and published by Electronic Arts. Here's a look at what players can expect from the open beta test in terms of content:
The Xbox One and PC versions will support up to 64 players for Conquest and 32 players for Hotwire and Heist. The Xbox 360 port will support up to 24 players for all gameplay modes. The final version of Battlefield Hardline will be released on March 17.
Source: EA
Windows Central Newsletter
Get the best of Windows Central in in your inbox, every day!
Do I need the original game to make this work?

No. It's an entirely different game. Not an add on.

Hope this is as fun as BF4

Hope it runs better than Bf4. Posted via the Windows Central App for Android

Ugh same. With more missions. I was sorely disappointed with the campaign in BF4

Why? I thought it was nice, but too short.

I'll try this out and decide if its worth getting the full game.

So excited for this. Love the Battlefield series. Much better than COD.

I hop it's not a rocky launch like battlefield 4. I believe in visceral

I don't really like BF4. I'm hoping this to be like BF3. Can't help but feel like this is a GTA5 and Battlefield hybrid.

This games gonna suck if u play solo. Gonna have a bunch of morons just doing there own shit.

This is no place for aps guy

Is it free on PC and how big is it GB wise?

Already pre-bought the full version on PC based upon the beta last year. Can't wait :)

IDK dude, some big names in the Battlefield community got their hands on the new beta build and are hating it. A lot has changed from the public beta that was released in E3. I honestly loved it, but seeing the new footage, I'm actually quite unsure how good it will be now. Plus, they took out my two favorite guns from the full game, the MG36 and RPK-74 as the light machine guns have been entirely removed from the game.

Soooo... How do we get this? Just visit the Xbox store during said time period?

Uhm, I already registered for the beta. How do I know if I was selected? Through Email? :D
Windows Central Newsletter
Thank you for signing up to Windows Central. You will receive a verification email shortly.
There was a problem. Please refresh the page and try again.