Here is the changelog for today's BBM private beta 100.0.0.23 update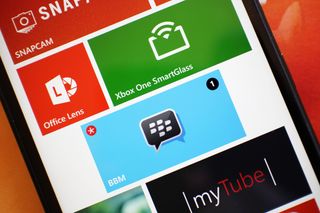 BlackBerry is so far doing an admirable job with their popular BBM app for Windows Phone. Although still technically an open beta, the app is markedly improved with each update. Today, that trend continues with a new 100.0.0.23 build going out to users right now.
Although a changelog is not listed in the Store, BlackBerry is sending out emails with a full list of changes. Here is what they are reporting to testers.
Most common fixed issues (100.0.0.23)
Contacts lose their avatars
Toast message for invite when the app signing in
Country and Time does not always show up
Contacts / Chats / Feeds screens slow to re-appear when returning from another screen
Emoticons are not rendering properly
And many localization improvements
In addition to those fixes, the BlackBerry team is recommending people start to try out some other features in BBM, to help refine the app even more. Those tips include:
Change-up your testing and try something new!
Add a new contact in person with the barcode or using the suggested contacts feature.
Chat with them and share a picture.
If you've added a few new contacts, start a group!
Follow changes using the Feeds panel, and give your contacts something to view in theirs by updating your avatar (display picture)
If you encounter any problems with BBM, remember to submit the issue for them to take a look: Tap on "…" -> Settings -> about -> "report a problem."
Overall, we like where BBM is headed on Windows Phone and appreciate the attention BlackBerry is giving it. Head to the Store to get today's update and let us know below if you are enjoying BBM as a messaging alternative.
Update: This is for the still closed Beta version of the app, not the open one from last week. Sorry for the confusion!
Thanks, for the tips, everyone!
Windows Central Newsletter
Get the best of Windows Central in your inbox, every day!
Daniel Rubino is the Editor-in-chief of Windows Central, head reviewer, podcast co-host, and analyst. He has been covering Microsoft since 2007 when this site was called WMExperts (and later Windows Phone Central). His interests include Windows, laptops, next-gen computing, and for some reason, watches. Before all this tech stuff, he worked on a Ph.D. in linguistics, watched people sleep (for medical purposes!), and ran the projectors at movie theaters because it was fun.
How does Blackberry earn from this?

Same way all other messaging services earn money.

Not related to BBM but instagram BETA its been so much time but the app aint complete with features and is still in beta . Devs. Should sit and start updating app constantly to bring it on par with other platforms ..!! There ain't any way to feedback them too..!! :/

They do. Cough data cough sell cough xD

By selling emotions/stickers

The WP version is still in beta. So for the moment, they are not earning any money from it. On other platforms, BBM has an integrated BBM store where they offer stickers for sale to use in chats. They've also been experimenting with chat wallpapers on BB10. They also have BBM channels which could be monetized in the future. The otherway they are earning money is through targeted ads. So far I haven't seen any on BB10, but they've stated that the ads will never be in the middle of your chats. They will instead occasionally show up in your feeds tab. They've said they are going to keep then unobtrusive and they will limit how often they will appear to any given user.

Does anyone really use bbm still?

People will when facebook messes with WhatsApp (and they will).

There are other alternatives as well.. Hike.. We chat... Viber.. Line.. Skype...

I use it! Lovin' the experience & specially group chats

sure in my region this is number one messenger app, I used it both with whatsapp

Indonesian people need BBM so much...everyday they always ask it in forum...finally RIM release it...thanks RIM...

RIM changed their name to BlackBerry ages ago...

That is true but it doesnt sound as good or its just quicker to type rim
Unlike avg which sounds better than grisoft

BBM is the Myspace of mobile chat

No its the icq of chat lol

Lol BBM is actually a great messaging service. And yes alot ppl still use it. Millions actually haha!

Considering its more secure than the others

A lot of companies do, still. It's one of the better ways for me to get a hold of my brother.

Never used it until it came out on WP and I like it.

My friends are living in whatsapp

Your friends live inside an app?

Wow 10 points for the BBM wp team... Others got to learn from this

Did he mentioned"popular" ? Well , not in India....

Haha... That's Right.. In India its Whatsapp all the way ^_^

Then I guess it can't be popular anywhere else.

It was popular enough for you to click on the story and comment.

thanks to devs for putting an effort developing this app until now and so many bugfixes and moree improvements, very good but still need that "seems faster" in there and there to be released as a final .

Waiting for the day a dev puts "seems faster" in the changelog. Lol.

Actually this seems faster then previous versions

Thanks blackberry team for updating your app.

I dont receives any update in stores

I didn't get the update .. Hopefully soon

IMPORTANT NOTE!!!! This update was for the closed beta version for the users who registered via BetaZone on BB's website. This was not effecting the open beta version. You can tell the difference in versions because the closed beta version uses ( ) around the word BETA.

Aah.. Thanks. No wonder i didn't notice any update from the store

Thanks, corrected article to reflect that.

My pleasure. Also tipped on this as well as app updates for Skype and the Chase Mobile app today.

I like bbm its good than WhatsApp

I was getting the errror that username already exists for a dozen of names.Got fucking tired and deleted the app.Maybe i'll give it a spin some other day.

I don't see the update either.

Don't see an update, is that right?

It is for the private, closed beta. Not the public one.

I am in India and I have some 30 friends on bbm. I like it so much more than whatsapp

U can also add me , 9033786504 , add me .

Its slow like hell till it opens n even after tha it works lime a hell . I don't c any improvements in,till date updates

I used to use whatsapp but i did try BBM and my experience is really good! I told to my friends and they already tried and feels happy, I hace to say BlackBerry thanks to bring BBM and works so hard to update this App to make it the best! :-)

What I don't get is, why are all the issues not sorted out before the app go's public? Isn't that the purpose of private beta's?
These fixes where the first issues when I installed the app

In my about section of bbm beta it shows 1.0.0.13

Why does BBM show up in my music apps?

Because it can tap into your music to show current playing song on your status.

There is an option to see other peoples music status but doesnt mention anything about pulling our music status in wp

Wonder how soon the public beta will bump whatapp out on appsocial

My display picture is a total embarrassment. It's always grainy when I view it from another person's phone! Why?!

Wantu use BBM, Doesn't find anyone there...
Bad luck Brian moment for me..

Bbm for windows sucks! The app resets automatically.. I loose all my contacts and chats.

Check your settings, i did a reset when reinstalled my chats came back. How do I attach a photo?

Ahh BBM died out long time ago at least none of my friends don't use it anymore so there's no point

Downloaded it, installed it, registered and then I realized I am alone in the chat. All my friends use WhatsApp. Same happened with Telegram. I still have it because I believe in Harvey Dent... err, I mean BlackBerry. I believe some people will eventually move from WhatsApp to other plataforms and it doesn't hurt to have the app ready.

Telegram is definately my favorite, even though the WP version lacks a lot of what makes Telegram good on iOS and Android

well this is just another platform to keep in contact with those that still swear by BBM. So it couldnt hurt. Just adds to lure more potential users on the fence to WP

When they add the BBM Voice chat option, I'll download it, for now Viber is great!!!

How can I test it if I have no contacts >.< I'm on private beta.. But uh oh... :(

There is a major problem in the app and if it is not fix it could be a killer. The links in the app are messed up. When you click a link it gives an error page, not exist or invalid youtube link. From the first beta even this build the problem still there. Funny thing, the support link in the about section also takes you to "page doesn't exist"
Is anyone have the same problem. Add me if you want to test it with me 7cb1b8bc

Absolutely the best mobile chat, maybe not the biggest out there, but the best.

^ agreed. If they keep on updating it regularly, I will enjoy it even more.

How to share music to this app?

Kik xD one of these days....ONE OF THESE DAYS..... e~e

Most of my friends are in WhatsApp, but I know that many of them are also dual users with BBM and WA. So I don't think it's bad to have it installed.
But WA offers better experiences especially with picture sending in group chat. And WA is a lot simpler to use. And better loading time.
Wish MS improve Skype to challenge the other two.

Now using BBM... Some bugs are still there... 1) takes time in opening. 2) receives message late. 3) message not shown in notification. Please fix the bugs BBM

Would be nice if they plugged into Microsofts Calendar api cause having to manage it separately is a pain. Never bothered with on my hand-me-down curve or se x1a(via bbc)