BBM beta for Windows Phone begins its public roll out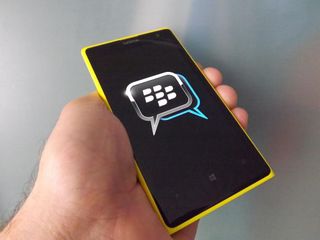 BlackBerry has pulled the switch and is now rolling out its BBM messenger beta app to all Windows Phone 8 and 8.1 users, after the company released it as a closed beta test earlier in July.
It would appear that the public beta version of BBM is a different one than what was released for the closed beta testers earlier in the month. In any case, this version is apparently the one that BlackBerry is letting any Window Phone users try out.
Here's a quick description for version 1.0.0.0:
Chat with friends on Windows Phone, iPhone, Android and BlackBerry:
Know when messages have been delivered (D's) and read (R's)
Quickly share photos, voice notes, BBM contacts and your location
See when contacts are responding to your message
Emoticons for every mood and emotion let you express yourself
The description adds, "We're already working hard on V2 where we'll introduce additional features to BBM for Windows Phone." Will you be trying out this first public beta of BBM? Thanks to everyone who tipped us!
Windows Central Newsletter
Get the best of Windows Central in your inbox, every day!
Beautiful. Updating immediately!!

Why exactly do they need 12mb? I only have a Lumia 521

You don't even hv 12mb??what kind of a man u r,installed that many games?or apps?

Maybe Other storage it's filled up with p*** ...

Add a memory card and update to 8.1 to install things on it. Lack of space is no excuse anymore :P

If you have a 925, of course it is!

Until u r on iPhone Lol..!!

You should immediately contact John Chen of Blackberry. He will be able to give you a BBM app, that will take only 500KB.

I think it's strange that there's over 300 comments here, & nobody has actually written any sort of review about BBM at the Store...

I've give a rate. But haven't see it yet

Lets see how many actually use it.
Those invitations via bbm pin is a negative factor.
If it was through phone numbers then believe me,bbm>whatsapp

I feel pin is safer then giving phone number. If I ask u any confidential info would you provide me that info here? Obviously u wouldn't.

People out there share their pin on insta,twitter etc and other who they don't even know,can acquire it. Some people may acccept the invitation.
But people don't put their number on social networking sites like insta,twitter etc

I agree with you... PIN Is alot safer... I think half of the people around the globe have my phone number.. That's not cool lol

Hmm I come under the other half I guess.

lool. i am asking now. assuming u a cute girl tho.

basically these two are same pin and phone no.. its totally depends on you. how do you want to use ur im apps. whether you want to chat wid your known friend or wanna chat wid some unknown buddy.... if they know your pin they can call you through bbm voice any time...

You can send invites via SMS/text message as well.

Why would i use a phone number that for example will be recycled by my carrier when i dont use it anymore. a phone number is also just a weak idenifier in the world of internet which does NOT use a telephone number. It is the most stupid thing i have seen coming up with the mobile internet on smartphones

Sounds like you don't make calls..

I've been waiting for this because it doesn't need phone numbers. I have young teenage children who don't have cell phones and need a way to communicate with them through their iPods. This is what I've been waiting for because kik messenger sucks and is not safe. Thanks BBM!

Really? Did you even try bbm? It takes 5 minutes to open each time. And it lacks so many features.

Way to go BlackBerry, you rolled out the app 6 months after all my friends stopped using it. Gee, does anyone still use BBM?

I guess it would depend on the country, but on mine, a lot of people are still bbm users. I started with a Blackberry, when I made the switch to WP what I most missed was the bbm App.

Its just so good to see WP maturing :')

Maturing?? Everything arrives as beta!

Atleast we can use beta versions.
'Regret It'

Finally, download already

My friend told that the UI is so beautiful, thanks BBM team

Finally! so here's what i do
Download BBM>Check the UI>Find Friends on BBM>Send Requests>Post BBMpin to Other Social Networking sites>Boooooring> Back To Whatsapp ;)

Ya same happened for me.. Lol..

Very similar to my experience with Whatsapp. Back to regular old text messages since most people I know have unlimited texts now.

do you know why i love text over im???? cz its slow... yes its pretty slow than ims... i dont wanna chat like a mechine ... i ma happy txter.. i read think then type the reply and dont wanna type 50 msg in 10 mins... so yes i still love txting....

Don't understand why you feel the need to share that with us. We aleady get that not everybody would use every app. That's a given. The time and effort it has taken you to type all of that could have been better spent commenting on an app you actually use, love and have something to share about.

BBM is 'bahan bakar minyak' in Indonesia,like a gasoline! LoL

Woah such racism. If you insult a race like that im pretty sure you are the uneducated one.

Let me guess, are you a Malay?

yay... waiting for this... No need of WHATSCRAP now :)

Hahahaha I love dis.. Whatsapp is a piece of sh@t

So now i have 2 BBM Beta apps installed haha

So its not sharing the same appid then guess it means theres more to do privately then

That's what I'm thinking, there will be a private beta for bleeding edge versions and then the public beta will become the final release eventually.

Beta is the new black!! I'm tired of this beta thing! Everything that is "big" when comes to WP comes as beta!!! Instagram was released almost one year ago and I even can't see all the posts of my following people (always skip some)!!

No, Beta is the new Official! Lol.

It's the way companies say they care about the marketshare, but not enough to iron out bugs.

WP users are too sensitive. It cane out as beta on the other platforms, too. Geesh...

Overall, after done the beta, it is a well done app. Its easy to see Blackberry put its first tier developers to work on this rather than these companies that hire a few interns to work on our platform. Thanks Blackberry.

Does BBM still hold any ground compared to WhatsApp, Skype or Kik?

Depends on the user, if you have 1000,000 friends on BBM, it holds ground, of you have 0 friends, do you care if its popular?

Userbase is close to that of Kik, but it really all depends on where your friends are

It depends, I just downloaded it, and sent out invites. Already I have 5 people that I know use bbm a lot. Obviously not iPhone users

Yes for lots of people. Especially for people in my country (I'm from Indonesia by the way). BBm is quite an excellent messenger rather then other messenger that exist. Whatsapp is good, but lots of people is more comfortable to give other people their BBm pin rather than give them their phone number

Closed beta released like 4 updates in the matter of 2 weeks, maybe bother to read up or try the app before you start whining

Really? Like I'm the only one whining around here? Point is that almost every official app we are getting is a beta and they stay beta forever!

It was worst a year ago, now at least we have a beta.

Does it work? Yes. Did it start as beta on the other platforms? Yes. Did they already state that they are hard at work on version 2? Yes.
The whining doesn't help and just adds to the inferiority complex that WP users are being known for. Be happy for the progress instead of finding reasons to complain. If they didn't have the word "beta" and it had bugs, you'd complain. If they hold off on releasing it until a lot of bugs are fixed, you'd complain. Developing on WP us a no-win proposition.

"instead of finding reasons to complain" - or at least find valid reasons to complain about

Point is these guys are putting in the time, doing surveys and constantly updating the app... for now at least, so it wil likely not stay beta for long or will be a very well funcitoning and featured beta as in beta in name only. Is that good enough for you? Also would you rather have a beta or no app at all?

They havw yet to fix or address the biggest issue for me: The unhelpful notifications. They need to show more than just "BBM: You have a new notification".

I agree, it's been communicated to them on beta zone and in the surveys. Hopefully they will update that feature soon

So which ones that should i use? BBM beta from betazone or this new release?

I'd say the newer one. Apologies for the old adage.. but it does "seem faster" than the betazone version.

In the USA, I can't see that there will wide usage because most phone plans here have unlimited voice and SMS. My two coworkers have Z10's who bleed BB but have never used/signed up for bbm. We had Nextel direct connect back in the day when we all worked as IT Engineers for another consulting company. Back in those days phone plans were much different in that you paid for minutes of phone use and were tied down to so many messages a month.

Akhirnya keluar juga.
Donlot dulu ach, install, review
:D

Kalo bosen balik lagi ke WhatsApp hehehehe

Sorry, but I have never used BBM so can someone tell me what exactly BBM can do that other messengar apps can't. Say for example Facebook messenger? Or even plain old unlimited text messaging?

I'm in the same boat. I just use regular texing. Other than to communicate overseas, I don't see the need for the Whatsapp, FB Messinger, BBM,etc.

I'd would say more secure and less spam

A number of things, first is that you don't have to give out your phone number or email, you give out a Pin instead and it doesn't add everyone out of you contact s list automatically. You can block anyone from sending you multiple invites. You can see when a message has been delivered to the phone and when it has been read, voice / video calls, screen sharing, groups, BBM Channel's (Google it), very easy to share pictures, video, files in almost every format, contacts, calender events, Dropbox, locations etc up to 12mb. Real time location sharing up to 4 hours using Glympse. It does a lot of the things other IM do, it's just does it better.

alot of these features haven't been implemented yet on WP, but I hope they come soon

Yeah that's true. Is it just voice/video/screen sharing it doesn't have? I don't have access to a Windows Phone, but I would like one.

You can only share, images from albums or photos, audio, contacts, location for the time being, so no video, no dropbox no calendar events or files in other formats. There are a few other missing features, but it's early days for this app on WP.

Thank you for the info. Might have to give it a try.

Did wpcentral just pull an article, I could have sworn I saw something about don't have to downgrade to get cyan and update 1

***Spoiler*** he was a ghost the whole time!

Yes. I saw it too and read it full.

Hmm they must have pulled it, the God's above named Microsoft must be pulling strings again

They did actually, I have more than 30 minutes that I'm waiting for the article to re show up, but nothing... Well *sight, back to work than.

Yeah... I read the article and the comments... It was by Rich Edmonds. Joe Belfiore apparently said on twitter that you can get 8.1 update 1 without downgrading first if you are on DP, which is supposed to be the case. But there was some confusion over whether it will include cyan. I believe the article will be reposted when there is more info instead of speculation and the mass hysteria that follows each one.

Saw it in the car, thought; great! Get to work, to read it...gone.

Yeah! It went *poof* AS I was reading it..
*creepy music intensifies*

****Spoiler***** A simple cold virus kills the aliens!

Winbeta just wrote an article just now..
No news if we're getting the cyan update with it, but update 1 is coming for those with dp..
Just like zino9090 said speculation

You're not, and anybody who says otherwise doesn't have a clue as to what they're talking about. GDR1 is an OS update only. You won't get firmware with it..

Tell that to dear ol' Richie. He's the one who (albeit accidentally) mislead people into that assumption. Hence the hysteria and subsequent pulling of the article.

Downloading...
My look awaiting app.

Ok, so what do i do with the private beta app now? They're seperate...

Keep it... Jus like fb and fb beta app... They will upgrade the beta before the beta.... Lolol ...
I mean they will update the private beta before the public beta

BBM, Skype, viber, wechat, WhatsApp, fb messenger - anything I forgot? How many different messenger can someone use?

Carrier pigeon, semaphore, smoke signals

two tin cans and a taut string

Snapchat, Bolt, Slingshot, Meowchat, Hangouts

Making territory on the side of a tree and waiting for a response

When you have to touch the screen to keep it from going off, you know it's a slow app, when the app doesn't ever work, you know it's a pile of absolute dink

Wow great interface better than WhatsApp ..has some things WhatsApp doesn't have like different colors for diff person,profile pic, and caption option for pictures...after two or three updates bbm will be better than WhatsApp...thanks bbm...

Don't use it but still good news Posted via Windows Phone Central App

I dont know whether i should download it or not but still Welcome BBM.!

I would love to try the app, but I know literally 0 people that use bbm

U look amazing too, thanks!


Hahaha oyeah thanks. That's saying a lot coming from a dude lol JK!!!. No thank you!

Which is better off or advisable to use of the private and public beta versions ?

Thank you so much BB team. I was waiting this app. It's really great user friendly and smooth!

right so where is the option to change to have a dark background setting? there isn't any. rubbish!

Dark background would be great for Amoleds. Same thing applies to the FB Messenger app.

Not to sound ignorant, but why would you use this over our native messaging OS app?

Group chats, ability to send pics and videos and most of all, it's free to message someone in a different country.

Which native messaging app?!

Just have no friends that use it. Actually I'm trying to get my brother to download it so that we can test it...

I definitely find hike better than WhatsApp but the number of users are less,I think BBM is still better than WhatsApp lets see how many users support it.

yes, you can move it to SD card. But for me I'd rather keep it in phone storage. I don't know if it makes any different, but I think it's faster for the RAM to read when the app is in phone storage. Correct me if I'm wrong

Thanks bbm dev.waiting for flipboard app.

Hmmm, why isn't any notifications in the action center? Anyone with same issue?

Done, now waiting for friends...

It's gonna be a long wait

Super..... But i don't have friends on BBM....

Too late on wp platform......

Great app, my new pin 7f3120b1 just girls plz

Sigh.....Beta must be whats "in" now.... This is getting ridiculous. Developers know that consumers want access to sofware as soon as possible and they take advantage of us, making all of us free beta testers instead of the development houses actually putting in their best effort to ensure a complete product is released to the public. I am all for beta programs that are not for the general public (even easy to access ones like the Developer Preview) but when you start a trend of releasing beta programs on the entire population, something is wrong. This isn't like the open beta programs where the software is early in development and it will eventually mature to a 1.0 complete and the beta is closed and a full app is released. History shows that Windows Phone apps usually stay in beta for months if not years and this hurts the ecosystem. Why would a user of another OS leave BBM to go to BBM Beta on Windows Phone or Instagram to Instagram Beta. I don't even use these apps but it is ridiculous. Also, Instagram should have had the same app icon as on iOS and Android, bad enough it is a beta but then the icon looks like a 3rd party or fake app as well. Developers need to stop hiding their incomplete software under the public beta umbrella and release complete software and update it along the way as it has been for decades. BBM could have been released without the beta tag and still had information about the future updates. Beta used to apply to software versions that were below a whole number and the actual complete release would be version 1.0. Now we have beta applications that are above 1.0 versions. Really....that is a shame. Hiding the actual lack of features under a beta tag....

I think the "beta" is just in the name of the app. Looking at the "about" info, it's not mentioned.

WOW give Blackberry a break man geez im trying to build a app for windows and its a bit dificult as i am not used to C# or XAML. It has a private beta to test upcomming releases and the public beta to keep thier promise of releasing the app in JULY. That and yes BBM is version 1.0 and still in beta as there are bugs and missing features. BBM is a app that should run in the background 24/7 and in windows phone its not (its suspended) so blackberry had to build the app to work in that environment plus build in a new language and design the whole thing for a new UI other than the BB10 UI design that takes time. While I agree with the beta status of alot of apps and its annoying as Instagram seem to have forgoten WP users ... Blackberry has been releasing updates Weekly for us private Beta testers and have made changes to the app based on our recommendations I would knw im very active in the Private beta forums and have also made some UI design changes in photoshop and sent them to BB. Check the forums here for my post. BBM should not be in beta for long i say 2 months again tops to get it to level its supposed to be. I love BBM and have alot of friends on it but currently WhatsApp performs better and is faster / more fluid than BBM atm .... as they had a head start of some years .... vs BB in 6 months or less. I'd rather the beta test for some apps and report bugs than wait 3 to 6 months for a final app that had limited beta testing and is horrible to use. As for instagram and other apps that are in beta for years they are just focused on andriod and IOS as its the marketshare thing which is unacceptable thats why 6tag and other are better than even the official andriod and ios version. BTW beta is not the name of the app it is very much still under serious development and missing features that IOS and Android have.

Nice finally! Ive used BBM a year ago on a Blackberry and all my contacts still there. :)
You know, there is people who don't like whatsapp because it's number based. BBM is pin based, so a bit more private.

I can't seem to sign in.. After I login.. The loading circle keeps circulating.. Been 18 mins now..

End the app and try again. had the same issue but sometimes it takes a while to load but once it loads its good to go, though its worth noting it has quite a few bugs so performance may take some patience to work

Ye did that.. And it worked.. Today the app kept crashing.. So ending the app didn't work.. Switching the phone off and on didn't work.. And I noticed the animated lock screen wasn't showing.. So uninstalled the live lock screen beta app and BBM beta works fine ever since.. Wonder if anybody else felt this or had to do this..

Which one is better private beta or this one? Or same?

Final version would be great

Thx!! Very good notice :::)))

Doesnt work on my 1020 8.1 preview. Crashes right after start!

my L1020 need a decade for first setting up

What's the difference between the closed beta and public beta? Now I have 2 BBM beta apps... hmmm

Bad,way behind is this what we waited for

Sweet downloading right now on my lumia 920 :)

All these posted pins are an invite to be sent up close pics of huge dicks or blue waffle.... Just saying.

Yes ! Finally ..
Downloading...

Akhirnya !!
Tinggal menunggu lumia cyan buat 520

Wait, It's Trying to Communicate!

They're mocking you for not writing in English. It's great that BBM has finally arrived for WP isn't it? Hope the sales will be better in Indonesia.

Are you from Indonesia ? Yup, thanks

No one use it anymore! :'(

I'm downloading right now!!! Whoop

not D or R icon anymore ?

Public version says "1.0.0.13" and private version "100.0.0.15", yes it "100" because it previous version is "99", not sure if it same as two previous update on private beta version.

BBM definitely has the best smileys. Loving every bit of it.

Yesss.. Been waiting for BBM. Just updated to 8.1 (Cyan) for my 1520 and BBM is finally ready for public. It's a very good day for me.
Indonesians will love this!

Should we get rid of the private beta app, or keep both?

lmao bro keep it private beta will now test new features like voice calling stickers channels and more stable releases than the public gets. I would just keep the private beta app s that build number is higher than the one made public 1.000 vs 1.005 in private beta. I suspect that the private beta will be updated before the end of the day or tomorrow ... with better speed and less bugs.

Hmmm, my info on public release says 1.00.13

well if thats the case then Private beta is getting an update later or every one is moving to public beta which BB did not say imma check the private beta forums to see. cuz thats newer than what we have as private beta is it faster / more stable than the private beta ??? PM me here.

Oke. I can't confirm. I am not in the private beta. But I guess the private beta will be there to continue build on new features.

The private beta will remain i just logged in so idk Blackberry did a poor job of explaing stuff about private and public beta so idl maybe they will release a statement later.

i have 2 BBM in Lumia 520

What's with the 'Inquiring mind might find this error code useful: 80070057'?

Last time I saw that was while downloading an app. It needs to be installed on the phone(not sd card).

Great ... Even beta runs smoother!!!! ;) my pin : 79c4ab80

Great for a beta, working so good... Thanks BlackBerry

7F6E0269 love to talk about everything guys!

This version has a bug that always asks me to turn on my location. I'm sticking with the closed beta for the meantime.

Is the closed beta has the same UI? What's the difference between the open beta? Thanks for your info

I haven't noticed any differences yet, but for me the open beta take way longer to load for some reason

Pin: 7f563537
Add me guys and girls .. I'd love to chit chat.

Yay!!!! Finally!!! Its a little slow though.

I HAVE A QUESTION! WHY WE ARE ALWAYS HUMILLED ABOUT TO RECEIVE A BETA VERSION?WE HAVE ALMOST ONE YEARS WITH INSTAGRAM BETA AND NOTHING NEVER WE HAVE RECEIVED THE FINAL VERSION,SO WILL BE THE SAME WITH BBM? WHY WHY WHY!

Because fuck you, thats why

Just downloaded it ! The app is awesome bt all my android frnds got BBM in Nov 2013. Now all of them have deleted it and gone bak to whatsapp :'(

wp user will delete it soon and back to texting

It's really cool.. As a beta it is working up to the mark..

This has another bug. When I open the app and exit, all other icons on the home screen become unresponsive. Have to restart the phone. Anybody else came across this? L1020

I don't experience that particular problem. Going back and forth constantly. They only issue I see that the takes longer to open when directly opening this again after closing it. L920 with dev preview 8.1 without cyan

New one says 1.0.0.0 in store but 1.0.0.13 in app

No live for Dev Preview on 810

All my android n ios users have used this n got bored!!! Now u have released this!!!

I downloaded it, searched for friends in my contacts....only one... and its my computer programmer older brother who still lives in Canada and forced to have a BB for work... Dare I say it is too little too late? (former BB Tour owner before I regretfully hopped to the first Verizon 4G phone ever... HTC ThunderBolt aka PoS! Now a proud owner of a Lumia 928) but other than that it looks to be a decent app with good flow.

My pin:795a77a1 ...bbm is very late..

Yesssss!! I'm not gonna lie, the app works great on my 520 and its quick and looks amazing!! Plus I already had a blackberry a few months ago so I just transferred all my contacts over whoooop!

Is it only me who cannot send message using cellular network? or the app is certainly for just wifi connection?

Use 2G, has been my biggest issue! Make sure you close BBM switch to 2G then open BBM and do your messaging.

It worked! Thank you so much!! :D

Forced,close few times. Notification buzz for no reason. Buggy.

Ofcourse, its v1 what do u expect!!

This good news... In my country bbm is very needed and a major factor for people buying new phones. Thx blackberry... Great work Microsoft

So what is so fantastic about this app?

Maybe for some of you, BBM is just an app, but for others, BBM is one of essential application to keep connected to BB user. So if you don't like this app, simply DON'T download it!

I like the app some more enchantments and it will be like other OS.add me 7A220D30

Downloading right now.. :)

if only it could be faster. i love bbm on windows phone. its crazy and its a whole new experience. i wonder why it keeps asking me if i want to block future invitations? a few fixes and it would be all i need.

@Moses Idenyih
You are not alone bro, turn on your location from NC that should make it stop asking everytime you open the app.

Not able to see any friends inspite of accepting invitation.

This has a different version number (1.0.0.0) compared to the closed/private beta (100.0.0.15).
Here's a comparison of the differences: http://thenextweb.com/apps/2014/07/31/bbm-windows-phone-8-beta-now-avail...

now I have 2 bbm app
bbm private beta
and bbm public beta
+ I have 2 pin now
what about you guys?!

I'm sure that will be fixed soon.

maybe will be fixed
but I like have 2 pin bbm

Server crashed just now! Lols!

I'm thinking whether to download or not.. :p

I wanna ask a question. , HOW the hell can you post a thread in the forums. ?!!!!!!!

Tooooooooooooooooooooooooooooooooooooooo slow plssss BBM more update. its sooo lovely but VERYYYYYYYYYYYY slow.

Instagram now pls move your ass and give us an update and make the app out of beta

Just finished download & install it. App respons slow just like in beta app. Still lots of works to be done. But at least BBM for WP has launched. Works normally in my Lumia 520 with WP 8.1 Preview edition.

After the hype created of RIM working with MS....i thought bbm would fill the gaps of other chat messenger present in WP....but nothing great in this messenger.....gone are those days when bbm was a phenomenon.......no pre recorded audio and video sharing........when I purchased wp, I have read in many forums that developers are not supporting wp. I am surprised, none of chat messenger are able to provide pre recorded audio/video sharing ( WhatsApp only support video sharing, no audio). Hike, We Chat, Line....i feel problem is with wp.....MS should work on their policies rather than spending money in analyizing the reason of their failure. People are still waiting for 8.1 release, Xbox music has problem, one side headphone problem has not being solved yet, notification/action center still broken....and they are working on lockscreen.....bbm....etc etc etc.....they should first solidify their foundation then try to build new building......the way MS is going.....i fear....soon WP will become past.......

Blackberry is working on BBM, not MS

And where exactly have you got this expert analysis from! MS is doing wonders with the windows phone platform. Yes it lacks somewhere but its growing at a very fast pace and in the competing world of smartphones MS has clearly established the third position and the graph will only grow upwards.

Nice looking, but zero contacts use It !

try create a wpcentral's group on bbm..maybe interesting :)

Dear....without MS acceptance and involvment....how would anybody launch their app on WP platform.....

BBM looks so much cleaner than the other messaging options.

Looking for BBM contacts! Let put it to the test!
7d369ffe

It works perfectly compared to the closed beta version.

Sucks when I open it closes

Public Beta version has been improved a lot. The app works smoothly now! Way to go Blackberry, but its too late already. Posted via Windows Phone Central App

Its sick.
Not able to receive any requests on my Lumia 820..
Bb team needs to work in the speed plus notification thing....
Disappointed...

contacts - invite - invite by pin (or choose whatever you need)

I was expecting this to happen, but I'm not sure if I should download it

Its Going to be another empty house with same furniture....Hell my 2 known using BBM.

I use BBM Video on my Blackberry but this version doesn't support video so will wait it out. Was looking forward to BBM video on my much larger screen L1520

Hopefully, someday, BBM will eventually work on my device (a 520). It has never worked since every closed beta update - always stuck at the Setup screen - and this public beta makes no difference...

It takes close to 10 minutes to get done setting up your account! Wait for a while before closing the app :-)

I got buzzy sound when getting many notification at once

So far so good! Needs some scaleable text size and the smileys could be a bit bigger visualized. Location sharing not working so far and delivery is sometimes a (very) little laggy. Keep going!

So I get this setting up bbm message everytime I launch the app. I think they should get rid of the splash screen,it's annoying. And im having probs receiving invitations. Is it just me??

Nope. And strangely that notification is taking us to the locations settings page which is doesn't make sense at all

Recently accept an invitation but still, nothing on my contact.

Yeah..same here.. I'm sure they ll fix it in the next update... Hope its soon tho

Wow now I've two bbm apps in my phone.
The previous close beta and now this.
I can use two ids.

Sucks to the core this version. And wtf is that notification about "Block future notifications"? And it takes like 5 minutes to load! Shit

Same here bro...i don't close the app. Loads faster that way.when u done chatting jst press the home button and long press the back button to go bak to it. Works for me.

Installed this, signed up, none of my friends on my contacts list use it...can you have it scan Facebook or anything?

My BBM pin invite Me 7f345502

How to restore bbm contacts from blackberry's bbm into wp bbm?

Finally!! Thanks GOD! :'D

Am i the only one who can't send message / invitation through Mobile Data and WIFI ?

Anyone have a solution for username.... No matter what I try it always says that username already used

Dang; BBM private & public beta don't know each although I use the same BBID!?

Using a Lumia 920 DP 8.1. The loading stopped and I could sign in and the app worked perfectly.. But as for today.. The app keeps crashing.. Update : Unistalled live lock screen and it works beautifully

Its a good addition but it has so many bugs but its a good effort.

Downloaded already. Quite impresive for beta. I more liked it than the ios/android version

Downloaded and uninstalled at the same time, realised that noone is using it!

The app works fine. Also i like the pin system for adding people

I don't really know about this, but I guess that BBM guys really put some good effort into BBM for WP (at least for beta version). They roll out several updates on beta version -and that is a good update which fix some issues-. I can see that they're really working into this. Well, I think they did a better job than the LINE for WP team.

Deleted it. Fucking waste of time. No username found! Bullshit

all new and latest technology news regarding lumia devices only at.. http://geekthem.com/

i tried to send a voice note file, only sized around 750kb and bbm said the file is too large damn, if the transfer is a success, i'm buying my parents a windows phone for sure. hope for some updates, soon

Need help, if i un-install the private beta & install the public beta (with same BB ID), will my Pin change?? Because I want to install new version & donot want to get my Pin changed...

I'm on a 1320, BBM working fine yesterday, wife sent me a message this morning, BBM locked up not even finding my contacts

WHY IS BBM NOT COMING TO WINDOWS 7.8 HEADSETS.....?


MY Pin: 79626724
Add me guys and girls

I use BB10 (Z30) but I have to admit the UI on BBM for Windows Phone is gorgeous!!