BBM beta for Windows Phone updated with a host of bug fixes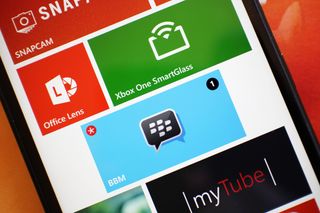 BBM beta for Windows Phone has snagged an update today, bringing a whole host of bug fixes along for the ride and bumping the messenger up to version 210.0.0.9.
Here's the breakdown of what's fixed in BBM beta version 210.0.0.9:
Pictures sent in BBM chat not showing on the sender screen
Cannot open the subscribed channels from the subscribed channels (HTC)
Channel names are not in alphabetical order in the my channels and subscribed channels page
Subscribed channel not showing in channel list
Cannot add screenshots to add post with image
Message sent from WP is not received in other OS
Channel Invite: Both Join and Preview button in chat bubble appear in display only mode
Emoticons not appearing properly
Share post: User icon appears in the small pop-up instead of default channel icon
View Channel Profile: Tap for 'change avatar' image occurs when tapped on an empty space
Subscribed Channel Profile: "What's happening" field data is not reflected
In addition to the above bug fixes, BlackBerry notes that the latest build includes the following known issues:
Purchased sticker packs cannot be restored
Text missing in the Group Chat bubble when receiving a picture in chat from group member. The message should be "Picture shared"
Group pinned to home screen does not display the group's avatar
While bug fixes are never the most exciting things in the world, hopefully this update will clear up some annoying problems for its users. If you're eager to grab this bug-fixing update, you can do so through the store link below.
NOTICE
You need to be a part of the private beta to get this version of the app. Regular users can still download the public version found in the Store through search.
Download BBM beta from the Windows Phone Store (free, but private)
Dan Thorp-Lancaster is the former Editor-in-Chief of Windows Central. He began working with Windows Central, Android Central, and iMore as a news writer in 2014 and is obsessed with tech of all sorts. You can follow Dan on Twitter @DthorpL and Instagram @heyitsdtl.
Who here should give a frak about blackberry messenger?

People who use it obviously, if you don't why click on the article and go out of your way to comment?

I care because competition is good. If I use it or not isnt relevent. But I am sure there are organizations or groups that rely on it for their messaging needs. =)

This kind of questions is just totally ridicules and useless !!
Next Tim please don't bother click of the article and just pass it.

Why still Beta❓
.........
Are the iDroid versions still in Beta❓ Did they stay in Beta this long❓

99% sure you do not use BBM. If you did you would have noticed that they knocked off the "Beta" suffix a long time ago. https://www.windowsphone.com/en-us/store/app/bbm/fc09e558-44e5-489c-a1b2...

There are TWO versions. The official app in the store for everyone and the beta, which has new features tested. You are aware technically every app in existence has two versions, one public, one beta, right? It's how app development works :P

inb4 another one of rodneyej's rants on WP advertising and marketshare. inb4 Instagram Beta

99% sure you don't read articles.......
What are you talking about❓ No, I don't use BBM, that's why I'm asking... The article only mentions of the Beta version... Valid question...
..........
Are you having emotional issues today❓

Nearly every article I read has you as one of the first commenters. Every comment I read involves your rants on Marketshare and Advertising. Your rants shall now be known as Rodney's Rants, and they are just as irrelevant as your "Why still Beta❓" bit ;)

Emotional issues confirmed...
.......
Glad to see you recognize patterns... Thanks for relentless concern about me, and my post... It's seriously flattering to have fans..
.......
Unfortunately, I can't say that I'm any where near even remembering your user name... Sorry, dude... Nevertheless, thanks.

Yeah............. I ............ notice patterns ...................... I like a good cringe with my cup of coffee in the morning, keep on truckin'!

Like I said it's nice to have fans........
..............
Since you're kind enough to show me how interested you are in my post I feel I should at least tell that I hope you get everything worked out...

Daniel, if you don't stop then I'm gonna start back sending you tips.

Beta is code for "We don't have to put resources on this, and if it doesn't work, hey, its Beta".

No. It stands for "We value quality software and want to test on a lot of devices and fix as much issues as possible before going official."

Yeah, for MS it means that..... Others like Instagram❓ He's probably right.

An app leaves beta when it runs well and issues are fixed. Personally I'm glad to have a beta and be able to enjoy apps even when issues are known to remain. The beta tag is a message to you to not complain when things don't work...

I actually think you have no idea what it means.

Rodneys Stalkers are coming out of the woodwork!

Lol.... Exactly. I like women.
.......
These guys❓

BBM is leaps and bounds better than Skype, GroupMe, or WhatsApp on Windows Phone. They really should have made their app inclusive sooner

Still doesn't have the call feature :s

Says I have no permission to download. Have to try this since I have BB too.

It's a private beta. You need to use the public one on the Store.

Would you please read the full article? As in right till the very bottom

Well it's stuck on the Blue screen during set up since i installed the Technical preview. Does any one have a fix for this?
Edit: I've uninstalled and re installed several times, but no luck

Don't know its like that, have done same thing well i forgot about it for now

Wish they'd fix the Beta to run on Win10 preview.

BBM is so bad... I have to use it though xD no matter if I use android or WP, it just sucks.... sadly my friend has a Blackberry phone, so we decide it to use that. but yes, it sucks. at least I hope it works better on WP. sometimes I get amazed how some stuff that are easily done on other IM apps, are hard for BBM to accomplish, so let's home this beta hits official soon. sending photos to my friend is sometimes a pain compared with Android. It's not WP though, I only can complain about the file transfer... but BBM just sucks in both platforms.

I'm glad BBM is constantly updating their up almost weekly and support this platform. Thank you Blackberry. Yes some of us use it! In some countries it is the go to app!

When will they open the beta registration?

How much different is 10 for mobile really?

Why no audio sharing yet? :(

Cannot log in with the Win 10 preview...

I know it's a private BETA, but the public one is really nothing more than a beta itself too... Loading problem - sometimes when notification arrived and you open it, BBM open shows only grey background and you have to kill it in task. Messages - sometimes they notify you but doesn't show in chat. Stickers - they do not work in Chat's. Lags - like hell even while browsing trough menu. I like BBM a lot and using it but it's really not good app on Windows Phone. Works just as bad as Viber on Windows Phone, sadly.

can windows make this bbm always connected with the server? i cant install it on my lumia 535 it said that i dont have permission
Windows Central Newsletter
Thank you for signing up to Windows Central. You will receive a verification email shortly.
There was a problem. Please refresh the page and try again.