Be quiet! Dark Rock Pro 4 review: Insane CPU cooling performance
Shhh. Be quiet! is a company that's all about keeping the level of noise generated by a PC at a minimum.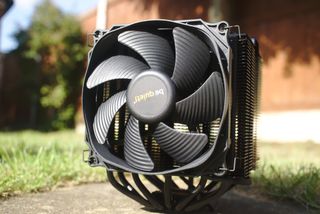 (Image credit: be quiet!)
The Be Quiet Dark Rock Pro 4 is priced the same as the highly rated and much-loved Noctua's NH-D15 so we were expecting something truly special when unboxing and the company did not disappoint. Not only is this air cooler able to keep even the beefier CPUs cooled under high loads, but it's also silent and easy to install.
Be quiet! Dark Rock Pro 4
$90Bottom line: One of the best air coolers out there.
For
Quiet
Amazing cooling
Dual fan setup
Massive heatsink
Sleek black design
High-quality premium German cooling
Water-cooling is becoming the norm with the choice between custom loop designs and easy-to-install all-in-one (AIO) kits from manufacturers, but air cooling continues to improve. Whether it's the advancement in motor or blade design or increasing the overall surface area, blowers have come a long way and the Dark Rock Pro 4 promises to be among the best.
The Be Quiet Dark Rock Pro 4 is a huge cooler. Not only do you have seven high-performance copper heat pipes, but also a dual-tower design that can hold two Silent Wings fans. Be Quiet bundled a 120mm and 135mm fan with the Dark Rock Pro 4 — depending on which model you buy — and both are equipped with a 6-pole motor with a durable fluid-dynamic bearing for quieter operation and prolonged lifespan.
This cooler is rated to handle up to 250W TDP, which is far beyond most modern desktop CPUs. And because it's Be Quiet, the entire cooler, fans and even the piping and heat transfer plate are all painted black. This design is quiet in more ways than one. The cooler is compatible with both AMD and Intel platforms and comes with all the necessary equipment you'll need to install it to a variety of sockets.
I'm talking brackets, screws, washers, standoffs, and even a fan cable splitter to connect both spinners to a single port on your motherboard. Be Quiet went the extra mile with the packaging and the build quality of the cooler is fantastic, as you'd expect from the price.
Installing the Dark Rock Pro 4 is a straightforward process. AIO and water-cooling blocks are simple to install compared to many air coolers out there that have finicky brackets and specific mounting hardware, but the Dark Rock Pro 4 is easy. Whether you're installing it on an AMD or Intel platform, you'll need but a few screws and a locking bracket.
The fans themselves are attached to the heatsink by some small metal clips and the middle fan needs to be installed once the cooler has been mounted to the motherboard. The included screwdriver is perfectly sized to fit through the cooler to tighten and secure the main unit — the magnetic tip makes it easy to install the two screws to hold everything in place.
Even though the cooler itself is huge, Be Quiet did ensure there's ample clearance for better compatibility with RAM modules. Though if you plan on installing or replacing any module near the CPU socket, you may need to remove the front fan on the cooler, but this is a simple process that takes but a few seconds.
The Dark Rock Pro 4 performs as well as it looks
For testing the Be Quiet Dark Rock Pro 4, we installed the cooler on the ASUS ROG Strix X470-F Gaming motherboard with an AMD Ryzen 9 3900X CPU. The Be Quiet Dark Base Pro 900 Rev. 2 case was used to provide maximum space surrounding the CPU cooler with adequate airflow. The PC was left to run for 30 minutes before testing commenced.
Room temperature was recorded at 19C (66F).
Swipe to scroll horizontally
| Category | Highest | Average |
| --- | --- | --- |
| Idle | 51C (124F) | 39C (102F) |
| Gaming | 69C (156F) | 51C (124F) |
| Stress test | 80C (176F) | 61C (142F) |
I used Rise of the Tomb Raider to push the CPU and GPU, and Prime 95 was more than happy to throw everything and the kitchen sink at the Ryzen 9 3900X to see how temperatures would hold. After around 10 minutes of stressing components in Prime 95, the CPU held at around 57 degrees Celsius (approximately 135 degrees Fahrenheit), which was excellent, even compared against AIO water coolers.
Fan speed barely crept above 1,000 RPM and the sound was inaudible through the Be Quiet Dark Base Pro 900 Rev. 2 case, and even with the side tempered glass window off it was fairly quiet. We included the highest temperature readings for each test, but these should be taken with a grain of salt due to it only being recorded towards the start of each test.
When you don't feel comfortable mixing water with electronics, there are air coolers that will perform very well even when attached to a 12-core CPU under high loads. The Be Quiet Dark Rock Pro 4 is right up there with the best air coolers, as seen in our testing. These numbers are expected from cooling solutions like the Noctua's NH-D15.
The same goes for overclocking, which this cooler will be able to handle, so long as you don't push things too far and have adequate case airflow.
Should you buy the Be Quiet Dark Rock Pro 4?
Be Quiet makes components that run well and keep the noise down, hence the company name. Seeing the Ryzen 9 3900X run as low as 36 degrees Celsius (approximately 97 degrees Fahrenheit) was astounding, as too was the low noise generated by the cooler. If you're not a fan of water-cooling your PC, this is an option worth considering.
The CPU cooler is easy to mount, comes equipped with two large fans, has plenty of thermal capacity (as shown on the marketing with the 250W TDP rating) and runs near silent even while under load. There's not a whole lot that's not to like about it aside from the price, but you can expect to pay a small premium for high-end CPU coolers like this.
Incredible Cooling
Be quiet! Dark Rock Pro 4
You don't need to water-cool your PC

Be Quiet shows just how powerful air cooling can be by releasing a CPU cooler that can go head-to-head against the king of all air coolers, Noctua's NH-D15.
Get the Windows Central Newsletter
All the latest news, reviews, and guides for Windows and Xbox diehards.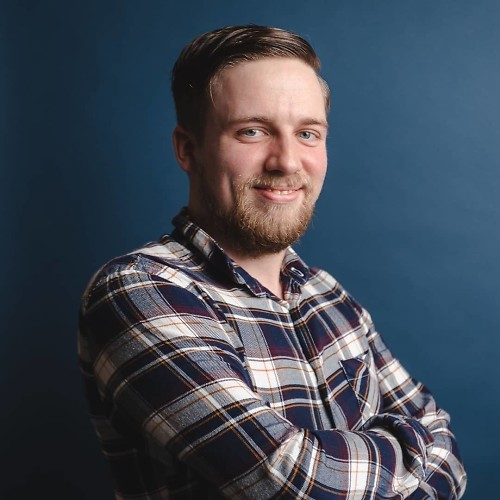 Rich Edmonds was formerly a Senior Editor of PC hardware at Windows Central, covering everything related to PC components and NAS. He's been involved in technology for more than a decade and knows a thing or two about the magic inside a PC chassis. You can follow him on Twitter at @RichEdmonds.