Beamly takes your TV viewing experience to the next level on Windows and Windows Phone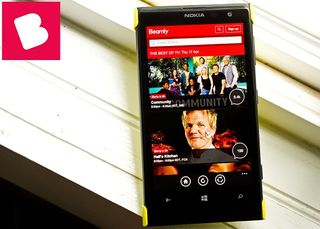 Beamly, previously known as Zeebox (you may have seen the TV adverts), is a companion app for those who enjoy watching through numerous shows. Think of the apps (and service in general) as an expansion on shows currently being aired on your TV. Available for iOS and Android, Beamly have also launched apps for both Windows 8 and Windows Phone.
Beamly goes hybrid
The team at Beamly have been enthused about both Windows and Windows Phone for some time. Being bombarded by requests from the Windows community (we know just how verbal you guys can be), they started working with Microsoft on getting apps published on mobile hardware, as well as tablets and the trusty PC. Because we're looking at version 1, you'll notice that these aren't exactly native applications.
Windows Phone Central previously sat down with CTO Anthony Rose at Apps World earlier this year. Check out our brief interview below:
We've covered some new apps that have launched as hybrids, which bring the best of native and web and wraps everything up in a downloadable package. This solution solves the challenge of offering a native experience with system-level features, while also including functionality sported by a web service. The Beamly apps (particularly the Windows version) integrate with the operating system in numerous ways. These aren't mere web wrappers.
Microsoft itself has been looking into getting more apps on the Windows platform as a whole, but without resorting to simple web wrapping. Developers have been urged to work with hybrid applications (opens in new tab) to add more functionality, but keep everything simple and low maintenance and see if it's worth going forward with a native experience. This is essentially what Beamly have done - they have their foot in the door.
In fact, to get the apps working right on Windows and Windows Phone, Beamly had Microsoft at hand to help out with altering the website with new styles, improving headers and navigation to ensure that users of their hybrid apps wouldn't feel in foreign territory with ill-optimized elements. You've then got the seriously good Internet Explorer 11 in Windows Phone 8.1 - we say that a lot, simply because it really is a kick-ass web browser.
A rather humorous side note: Beamly find their Windows and Windows Phone hybrid apps more responsive than their iOS and Android native apps. An interesting thought there.
Get more from your TV
Now that we've established exactly how the Beamly apps have been developed for Windows and Windows Phone, just what will you be able to do with the service? As noted above, it's a companion to your TV. Available in Australia, the UK and the US, here's what you can do with the service:
Read through news covering your favorite TV shows
Check out an in-depth channel guide with show lists and times
See which programs are being actively discussed on social media
Join in an array of rooms to engage with other fans of specific shows
Some shows are tailored for social interaction, which is where the likes of Beamly come into play. But the apps will also cater for those shows that require undivided attention. We've all been there where you're thoroughly enjoying a show and you Bing a piece of information related to what you're currently watching. Beamly effectively builds on this and offers a more feature-rich experience.
We recommend you check them out, especially if you're a TV fan. Ready to take your TV viewing experience to the next level? Grab Beamly on your Windows devices and Windows Phones:
If you're enjoying the Beamly apps or have feedback to offer the developers, be sure to get in touch with them. One thing Beamly wishes to obtain from the community is feedback on how to further improve the apps, morphing the hybrids into more native-like experiences and seeing how Windows and Windows Phone consumers utilize features. Expect to see a regular stream of updates released.
Finally, to tease something pretty awesome; Beamly are still looking at how they can work with Xbox One and compliment its TV capabilities.
))
Rich Edmonds is Senior Editor of PC hardware at Windows Central, covering everything related to PC components and NAS. He's been involved in technology for more than a decade and knows a thing or two about the magic inside a PC chassis. You can follow him over on Twitter at @RichEdmonds.
Does this require a paid subscription ?

Yay I've been waiting for this!

Can this apl run Indian Television channels or any sports channel?

I wonder how this app compares to Rudy's TVshow app..

A very well written and humorous article. Good Job Rich

It looks like the logo for the Bender app, lol

I am in the UK and had a Zeebox account that I used on the website. Now, I cannot enter my post code (zip code equivalent) and am given a US tv guide. This is the same for both Win 8.1 and Windows phone 8.0. Rubbish.

link to windows store doesn't appear to work on my Yoga...

I currently use Prime TV on my Surface, and it is a below - par experience. I've been looking for an alternative, and it's great that this app is also universal and adds to functionality.

If it's just a mobile wrapper then no thank you.

Did you read the article?

The best bits of beamly just don't seem to work/be there on my win phone 8.0. Namely TV guide and the twitter streams. Definitely a work on progress!

Seems to be little more than a web site wrapper...why even bother releasing apps like this?

Well they mention in the article it's a Hybrid Web/Native App so yes it is partly a wrapper, partly an app Still downloading it to look at. Why release it? Well it's a start at getting another popular app onto the Windows Platforms isnt it?

Hmm. I take back my woo. Rubbish compared to the ios and android counterparts. No guide. Its just a mobile website! It even shows a section to "download the bleamy app, available on ios and android". Back to the iPad. Sort it out
Windows Central Newsletter
Get the best of Windows Central in in your inbox, every day!
Thank you for signing up to Windows Central. You will receive a verification email shortly.
There was a problem. Please refresh the page and try again.