Beem updated and brings some new tiles for Windows Phone 8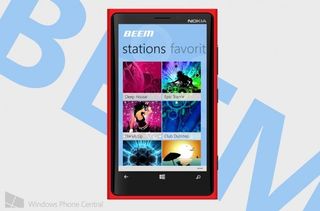 There are more music services than you can shake a stick at. On Windows Phone you have apps for all the major music platforms. We've got Xbox Music, Spotify, Pandora, Vevo, Soundcloud, and more. Sure, some of those might be a third party apps, but they exist and are pretty good. Digitally Imported is bringing an official app soon, but we've been pretty lucky with Beem as a third party offering. Development isn't slowing down though, the app just picked up a new update. Let's check it out.
Beem has been with Windows Phone as the best Digitally Imported client for a long time. Not familiar with Digitally Imported (www.di.fm)? It's a music streaming service that specializes in electronic dance music. They have channels for nearly any genre of EDM. It's free, but you can pay a small monthly fee to unlock an experience without commercials and a higher quality stream. Here's what's new in Beem:
Fixing lock/unlock bug.
Adding full support for Windows Phone 8 tiles.
Adding support for an app flip tile (shows the last played station/track)
While not the biggest update, Beem for Windows Phone is taking advantage of some Windows Phone 8 features like double wide tiles and a new flip tile that shows what you last played. Compared to the upcoming official app, Beem still has a few tricks up its sleeves. For example, you've got track recording, SkyDrive and Last.fm integration. It's a killer app.
The developer, Den Delimarsky, has stated he will continue to support and develop Beem even though there's an official app on the way. Sound off with anymore features you'd like to see in future releases of Beem below.
Want Beem? It's free and available for both Windows Phone 7.x and 8 devices. Grab it in the Windows Phone Store, use the QR code below, or swipe to the right in our app.
Does it still drain battery life faster than a fat lady eating an entire cake?

Depends on how fat she really is.

What about letting me choose the stream bit rates... I pay for premium but cant always stream a 256kbps stream... The official apps let you choose... And how about fixing what the track name says on the lock screen... ;)

You can disable the di.premium in settings. So it won't use the 256kbit stream.

Yes, I know that... But why would I want to listen to the ads when I pay for the premium service?

Sorry, didn't had that in my mind. But it ought to be an interesting option indeed ;-)

I wonder if Sam has vaporized, been sucked in to the internet, and turned in to a lean mean typing machine?

Updated and now i can't even open the app!!!!!

Uninstall, reboot, spin around three times, plug in your headphones, take a screen shot, then reinstall. But make sure the toilet seat is up first.

No no, that's how you by-pass the iOS lockscreen ;-)
Windows Central Newsletter
Get the best of Windows Central in in your inbox, every day!
Thank you for signing up to Windows Central. You will receive a verification email shortly.
There was a problem. Please refresh the page and try again.