Best Buy updates their Windows Phone 8 app, improves phone upgrade checker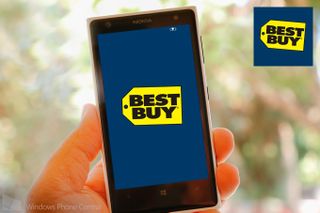 Best Buy has slowly been ramping up the support for their Windows Phone app. Regular support for a big name app is something we can always get behind. Even with online retailers like Amazon and Newegg seemingly owning e-commerce, brick and mortar shops still serve a pretty vital role for many when getting new electronics. So what's new with Best Buy's app for Windows Phone? Let's find out.
The last update for Best Buy came out in late August and helped fixed some authentication errors users were reporting. Today we're looking a little update for that app that's notable for two changes. They are:
Bug Fixes
New interface for the Mobile Phone Upgrade Checker
And that's it. Bug fixes for an app like this are a given, but the new interface for the mobile phone upgrade checker is a welcomed addition. It's actually pretty nice and a quick way to check if it's time for you to get a new smartphone on your line. All you do is select your carrier and enter in some information like your telephone number and zip code. You'll then see if and when you can upgrade to a new handset.
Want to get your hands on the updated Best Buy app for Windows Phone 8? Of course you do. So head to the Windows Phone Store, use the QR code below, or swipe to the right in our app.
Windows Central Newsletter
Get the best of Windows Central in your inbox, every day!
Verified... Store locator function only recognizes US stores.

I was hoping for some Canadian support this time around... Just another reason for me to head to Canada Computers :)

...this is a better store, their website sucks

I still can't log into it...never been able to...

Neither can I... But its really weird - when I put in my username and password, it shows my brother's email address and name. I have no idea why...

Weird. It shows me logged in as my wife.

Its whoever you have set as Primary in your Other Pickup Person section online. I had my wife show up as well, so I went in and added myself as Primary.

Are you able to login with the same credentials in .com or mdot?

Are you able to login with the same credentials in .com or mdot?

Hey.. Funny. I just removed this app yesterday

It needs a stock watcher so it can tell me when the 512GB SP2 is back in stock..

Now that would be handy feature for all stores' apps!

I just want the app to tell me which products are still factory-sealed and unGeeked.