Best Buy uses membership fee as indirect graphics card price hike method
As if RTX cards weren't expensive enough.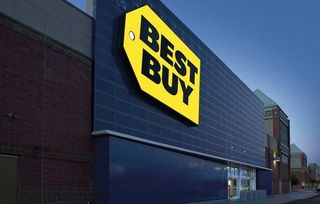 (Image credit: Best Buy)
What you need to know
Due to the global chip shortage, reasonably priced graphics cards have become one of the rarest commodities in tech.
Sites such as eBay are filled with people trying to sell their GPUs for inflated prices.
Best Buy seems to be getting in on the action as well with its recent enforcement of a $200 membership paywall for the mere chance to acquire some of its GPU stock.
If you thought the best graphics cards' current inflated prices were bad, wait until you hear what Best Buy is up to. The retailer has taken to setting a portion of its available product aside exclusively for those who hop aboard its $200-per-year Totaltech membership.
This isn't a new phenomenon. Best Buy has done its Totaltech schtick before with products such as the highly sought-after PS5. Still, it's always worth noting when consumers can expect an already bad situation to become artificially worse.
In this particular instance, Best Buy was gatekeeping RTX 30-series Founders Edition cards behind its membership setup. The situation was spotted by @CameronRitz (via Tom's Hardware).
Totaltech memberships include more than just exclusive access to rare tech. They include Geek Squad support, "free delivery" (barring the $200 you paid for it), extended return windows, and more. With that said, if you rarely shop at Best Buy, $200 is a hefty surcharge for a product type such as a graphics card.
It's been a tough time to get GPUs or associated PC technology at a fair price just about anywhere, given how the market has redefined the word "fair" as a result of the global chip shortage. Thankfully, NVIDIA and others are confident that the situation, specifically as it pertains to graphics cards, will get better in the second half of 2022.
Windows Central Newsletter
Get the best of Windows Central in your inbox, every day!
Robert Carnevale is the News Editor for Windows Central. He's a big fan of Kinect (it lives on in his heart), Sonic the Hedgehog, and the legendary intersection of those two titans, Sonic Free Riders. He is the author of Cold War 2395. Have a useful tip? Send it to robert.carnevale@futurenet.com.
Total Tech is a scam I know first hand.
They talked me into getting it for a Samsung refrigerator.
Second week of ownership the ice maker had problems so I called them to make use of my "benefits".
They told me they would not look at it until the manufacturer warranty was up.
The manufacturer warranty is 1 year.
The total tech membership was 2 years.
The kicker was that in order for the refrigerator to be "covered" under Total Tech I had to buy the membership within 30 days.
Basically, just giving them free money for the first year. SCAM

True, and it's an issue for devices where the only real concerns are warranty issues. For phones, it adds accidental drop protection, meaning things like broken screens (which aren't part of the warranty) get added to the device.

Your first mistake was buying a Samsung appliance. They are all full of problems. Refrigerator, washer/dryer.

Indeed. I have seen 2 Samsung refrigerators not maintain temp. A repair guy told me they don't even support their warranties. I love Samsung for tech, but I only buy Whirpool corporation appliances now, even though they all are terrible nowadays. At least they have support.

I can vouch for the crappiness of their dryers. I had one that blew bits of lint onto the heating element. I tried to get the issue fixed (or dryer replaced) with Samsung, and they dragged their heels long enough for me to give up. I had to have the dryer professionally taken apart and cleaned periodically, and the thought of a dryer fire finally made me replace it. Oh, and by the way, the washer/dryer combination set me back more than 3K 8 years ago.

Not sure why we're singlingvout Best Buy. Walmart has been using their $13/month membership ($260/year) to give priority on certain purchases, like consoles. I have Totaltech, but agree it's sometjing few should purchase. The selling point, for me, was getting their extended warranty/accidental drop protection on most things bought there. I got it on my Duo 2, the laptop we got my mom for Christmas, and the TV my brother-in-law bought on my account (and a few other things). It's a decent option for frequent Best Buy customers, or those with family who want to use your account for the warranties and discounts. In general, it's a rip-off.

+GameStop. They do this crap as well. The sad part is that Best Buy just devalued their long standing reward program. Why would anyone spend $5K on their ****** credit card for a high interest rate and a kick in the nuts for Elite Plus only to spend another $200 to get what they want?

Walmart's thing for giving priority is acceptable to me though. That's like paying for a club membership and getting access to certain product there. It shouldn't cost more for a non-member though.

Shouldn't we be more mad at the crypto miners? Aren't these the shiftless idiots who are sending GPU prices through the roof?

They are definitely part of the problem. Funny thing is, the next article on my feed is about the best GPUs for mining.

Definitely, whether there are few or lots of gpus, they are the problem.

Best Buy will probably be out of business by the end of the decade anyway.

I actually thought the same thing LAST decade, but they seem to be holding their own against the Walmart/Amazon onslaught. I even buy from them more often than I ever had before now, though it is rare that they will be the lowest price on anything. They are always just the most convenient.

Becoming like costco, you have to subscribe in order to buy from them

This is an absolute rip off. This whole gpu craze needs to end.