Best DVRs for Windows Users
When Microsoft killed Windows Media Center it sent many scrambling for a replacement. Here are some great DVRs to check out.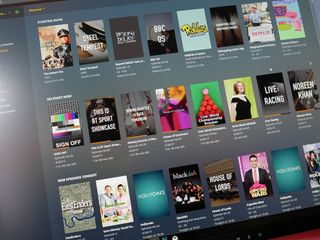 In the good old days, Microsoft had its own media software that you could hook up using a PC in your living room beneath your TV and have a great time. Now, with Windows 10, you can't do that as easily, and while there are ways to access Media Center, it's not going to be supported into the future.
Luckily, there are Windows-friendly alternatives, some very good alternatives at that. If you need a DVR solution that works with your Windows PC, take a look at some of these.
DVRs for Windows PCs
Why you can trust Windows Central Our expert reviewers spend hours testing and comparing products and services so you can choose the best for you. Find out more about how we test.
Plex
Plex's DVR requires Plex Pass, a subscription that can be paid for monthly, yearly or for a lifetime pass for $120. It works with the most popular tuners on the market, is incredibly easy to set up and at the time of writing, is in the middle of a live TV rollout.
One of the strong points for the Plex DVR is that it has an integrated TV guide and rich metadata built in, so all you do is set it up, tell it where you are and it will do the rest.
You can run Plex on a wide range of hardware, too, not just PCs. It's possible to run the Plex Media Server, which is the backbone of everything it does, on a network attached storage (NAS), a Wi-Fi router, or even the NVIDIA Shield TV. There's a lot of flexibility and it has client apps for basically every platform you could imagine, so you're never far away from your favorite recorded shows.
Emby
As an all-rounder for the home media center, Emby is a great alternative to Plex. It does many of the same things, mixing your own media with live TV and DVR. You'll have to be an Emby Premiere subscriber to use the DVR, but it's reasonably priced at $99 for a lifetime license, with options to pay monthly or yearly. The Emby Server is available for Windows, Mac, some NAS boxes and other platforms, too.
Setup is easy, and if you're using a compatible tuner it takes only a few moments. The only drawback here is that Emby asks you to provide a source of TV guide data. Without it, you just have a list of channels with no idea what's actually showing on them.
This could bring an extra cost if you're using something like Schedules Direct, but there are free options out there depending on your location. Once you have Emby, you have a great DVR setup with client apps to use on a number of platforms and one that hooks into the popular service Kodi really well.
HDHomeRun DVR
If you're using an HDHomeRun tuner for your TV and you just want an easy way to record content, SiliconDust's own DVR might be the solution for you. It's currently still a work in progress, but you're able to get early access for a reduced $35 a year right now.
With that, you get a product with almost no setup that is super simple to use. You just download an updated version of the installer program to your PC and point it at a storage location, and that's it. The HDHomeRun client apps you're using automatically detect the DVR, and you're up and running.
What you can't do is integrate as easily with your home media library. But if you just want a slick, simple to use DVR, this is one of the best.
Tablo
Tablo is a little different in that its latest product, the Tablo Dual, is both a tuner and a DVR that you can access through Windows applications. It doesn't connect directly to a TV, it still uses your home network, but its biggest convenience is having a built-in hard drive.
That means using the Tablo apps, you can both watch and schedule recordings of live TV. The built-in storage isn't massive, but you can also attach an external hard drive to give you more space.
Unlike something such as Plex or Emby, Tablo is purely for TV and DVR, it's not a home media center. But if all you want is something fairly straightforward that lets you watch TV and record it across devices on your network, this little box might be the next great thing.
NextPVR
NextPVR is free to use and while it has its own apps for Windows and mobile devices, it's perhaps a better shout for folks hooking into something like Kodi or Emby.
It supports all the major TV tuner types and has an interface designed to be enjoyed on the big screen. You can use it to watch and record live TV, and it has a full TV guide and a web scheduler for setting up recordings.
It feels a little like Kodi, and if you're not keen on the default interface you can switch it out for something new. It's not too difficult to get set up, and it has great support from its developer.
MediaPortal
MediaPortal is a free, open-source media center, often described as an alternative to Kodi. It's designed for Windows and has a server aspect at its core that allows you to set up live TV and DVR capabilities.
It supports a bunch of plugins, but more importantly for TV use, it supports a lot of TV remote controls. The server setup is fairly straightforward, and there's no limit to the number of supported tuners you can hook into it.
As is usually the case with open-source software like this, you can really make it your own. Plugins and skins are readily available to tweak its appearance and function to just your liking.
Download MediaPortal 2 for Windows
Your thoughts?
If you're using something that's not on this list but probably should be, be sure to share it with us in the comments.
Updated June 26 2016: We added the HDHomeRun DVR to the list.
Windows Central Newsletter
Get the best of Windows Central in in your inbox, every day!
Managing Editor - Tech, Reviews
Richard Devine is a Managing Editor at Windows Central with over a decade of experience. A former Project Manager and long-term tech addict, he joined Mobile Nations in 2011 and has been found on Android Central and iMore as well as Windows Central. Currently, you'll find him steering the site's coverage of all manner of PC hardware and reviews. Find him on Mastodon at mstdn.social/@richdevine
I would mentioned the HDHomerun DVR software as well. It works well with Kodi, and sets itself up on a variety of hardware, including NAS. Gives you the advantage of being able to tape shows without occupying a PC.

I use MediaPortal for my DVR. Aside from the slow startup and slightly higher than average CPU, I think it's pretty good. From what I can tell, my hard drive is a little slow for the MediaPortal startup, but once it's runnning, it's solid. Love that it works with my old Media Center remote. I also love to tinker the settings on the backend to get it running exactly how I like it. My guess is that most folks would not enjoy the setup/configuration process, though.

none of these support encrypted content on cable card tuners, right?

Copy protected content, and no, nothing supports that outside of Windows Media Center (most/all content on cable card networks is encrypted, but that encryption is handled by the cable card tuner; copy protection is a layer on top of encryption). In theory, it should be possible to get software through the CableLabs approval process in order to support copy protection. SiliconDust is working on that (I think it works already? At least for some platforms, anyway). However, CL's process is arcane, complex, and expensive, with high on-going costs to recertify on major releases. It's not something open source or small-team projects can really afford to do, both in terms of the sheer amount of bureaucratic work needed to get it done and the cost of doing so.

The SiliconDust DVR will play copy protected content live but won't record it.

Sure they can as that is a function of the driver and the CA interface card.

The HD HomerunPrime uses a cable card interface to authenticate.

Wow! 4 vendors coming up with DVR solutions! (Of course none as good as WMC with cable card support) Didn't they listen to MSFT and hear that the only thing people do with a Media Center product is watch DVDs.

Lol and they use Windows Phone to phone.
They don't need kids corner and messenger app.

I remember when Microsoft said that people didn't watch many DVDs with Windows Media Center and that was their reason to drop Windows Media Center from Windows 10. Totally ignorant and ridiculous statement. See www.thegreenbutton.tv for more information about the many features and options WMC offers.
.
My whole house Microsoft Windows Media Center serves music, photos, movies and TV (live and recorded; cable and Over the Air; including DRM copy protected content.)
.
Best Wishes

The HDHomerun is available with a CableCard Version. I personally have been using an app called Teevly for the past two years and haven't looked back since. It works great and saves the shows to both the cloud and local storage. I also use the content with my Plex server. Great service. Teevly: https://www.windowscentral.com/e?link=https2F%2Fclick.linksynergy.co...

Do you use your HDHomerun to RECORD copy-protected content in the US?

I do not. I used to a year or so back before I found the Teevly app. However, to answer your question... Yes the HDHomeRun Prime does record any cable channel that is available through the inserted CableCard. It also allows you to simply watch any of those shows on a network connected device. Hope this helps.

Interesting. It looks like PlayOn, which I have used and have a lifetime subscription to becuase I was an early adopter, although I don't use their cloud service.

I use a Tivo Bolt. I wrote a tool that downloads the shows from the Tivo to a NAS drive. I then run another tool I wrote to decript the file, and finally run Handbrake to convert to MP4 and copy the file back to the NAS. It is then available on all my devices to watch anywhere in the house. I have all this automated so that around 2AM it downloads and converts, so it is available the next day.

That sounds convenient and user friendly.

they all suck compared to MCE. come on how was my media center in 2001 way better than all these options. sorry but these are not options and I have tried them all. Bring back MCE live tv and recordings as an app and thats it. JEEZ

Re: Richard King5,
Yes, Microsoft Windows Media Center edition (known as WMC and also as MCE) still works and still offers a great and easy experience for the non-technical family members throughout the whole house. The "whole house" experience is fantastic.
.
We are adding Over The Air (OTA) channels to our WMC whole house solution.
.
WMC offers so many features and options. Refer to www.thegreenbutton.tv for more information.
.
Support what you like, or be part if the problem.
Best Wishes

XBOX One was supposed to do this OTA! So, what's the hold up?

I've been using SichboPVR, the interface is beautiful and the automatic recording has been great. I prefer this over the Kodi interfaces.

If you have not already, please go vote: https://xbox.uservoice.com/forums/251610-oneguide-live-tv/suggestions/60...
Thanks

I use Jriver. It has the PVR built in and lot of customisable options. Seems to be the most stable of PVR's I've tried. Also use Kodi with Next PVR backend. Interface nicer but more buggy due to PVR not being integrated into Kodi. A lot of freeze ups when rewinding and fast forwarding.

Agree sichopvr good. Can use an xmltv file for epg. Easy setup and nice interface. I just want the dvr and live tc functionality. W10 is a great 10foot interface, so I have no need for the complexities of full mediacentres
Windows Central Newsletter
Thank you for signing up to Windows Central. You will receive a verification email shortly.
There was a problem. Please refresh the page and try again.