Best Ethernet cable for use with Netgear Nighthawk AC1900 Wi-Fi router
We're tech experts who care a lot about our internet speeds! We've tested different types of Ethernet cables to see which one provides the best connection.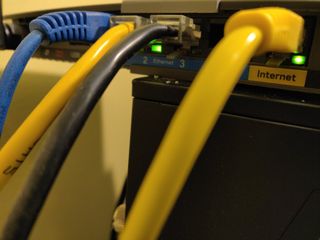 (Image credit: Windows Central)
The Jadaol Cat-6 Ethernet Cable supports the peak speeds of the Netgear Nighthawk AC1900 within distances acceptable for most households. It's also affordable and the form factor makes it easy to disguise in the house.
Jadaol Cat-6 Ethernet Cable
Subtle cord with great speed and price
Who should buy this Ethernet cable?
Why you can trust Windows Central Our expert reviewers spend hours testing and comparing products and services so you can choose the best for you. Find out more about how we test.
This 15 ft. cable is perfect for those who want an affordable Ethernet cable that supports high speeds - specifically for current owners of the Netgear Nighthawk AC1900.
Is it a good time to buy this Ethernet cable?
It's a great time to purchase a Cat-6 Ethernet cable! The improvements in Ethernet cables have brought down the prices for basic options like the Jadaol. You can now get a Cat-6 cable that is affordable and sleek for just a dollar or two more than a Cat-5e.
Why is this Ethernet cable the best to use with the Netgear Nighthawk AC1900 Wi-Fi router?
The Netgear Nighthawk AC1900 theoretically supports up to 1,900 Mbps (600 Mbps on the 2.5 GHz band and 1,300 Mbps on the 5 GHz band). Cat-6 Ethernet cables support up to 10 Gbps for 55 meters and up to 1 Gbps for 100 meters (or around 328 feet).
For most residential uses, the 15 ft. Jadaol Cat-6 Ethernet cable will provide more than enough bandwidth and speeds for the Nighthawk AC1900 to perform at peak efficiency.
Even at distances of up to 100 meters, the Cat-6 cable provides 1 Gbps and should be able to maximize the router's coverage given that 1900 Mbps is the theoretical max across two different bands.
Plugging the Ethernet cable directly from the router to your device is another option to increase speeds and provide enhanced security since the data can only reached by devices physically connected to the network.
Lastly, the cable is thin which makes it easy to conceal against a wall if you need the cable to stretch across your living area.
Alternatives to Cat-6 Ethernet Cables
There are many Ethernet cable categories to consider, and prices and speeds can differ between brands. For use with the Netgear Nighthawk AC1900, here are some options you should consider for niche scenarios.
Cable Matters Snagless Cat-6a
For distances > 200 ft.
Reasons to buy
+
Sleek profile
+
Affordable
+
Supports peak speeds within 55 meters
Reasons to avoid
-
Might not support peak speeds over longer distances
If you have the run a longer Ethernet connection to the Nighthawk AC1900, then you might need a Cat-6a Ethernet cable. This one from Cable Matters is 200 feet long. which is just longer than the point at where at Cat-6 cable begins to drop the maximum speeds that the AC1900 router can support.
While it is slightly more expensive than Cat-6 cables, Cat-6a cables are a good option to consider when using cables longer than 200 feet.
Keep in mind that these cables are more rigid so they might be more difficult to maneuver around your household.
Cmple 25 ft. Cat-5e Ethernet Cable
Slightly cheaper for slower speeds
If you're on a really tight budget, a Cat-5e Ethernet cable will give you close to 1000 Mbps, as long as the cable isn't very long.
A Cat-5e cable might be fine for most households, but it will not reach the maximum speeds of the Netgear Nighthawk AC1900 router.
Bottom line
In some cases where you need a long cable or are on a very tight budget, the Jadaol Cat-6 Ethernet Cable may not be the best fit. But for the majority of households and applications, this cable provides the best combination of form factor, price, and performance and is our pick for best Ethernet cable to use with the Netgear Nighthawk AC1900.
Get the Windows Central Newsletter
All the latest news, reviews, and guides for Windows and Xbox diehards.