Best Microsoft Edge browser extensions
What are the best Microsoft Edge extensions?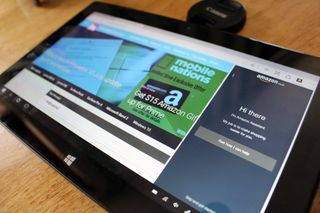 Extensions are something many Microsoft Edge users have been crying out for, in some cases their absence kept another browser in use. But Edge has a lot going for it, and finally, with extensions, there's nothing missing anyone could claim as a "showstopper."
In fact, what we're going to get now is a more powerful, more functional browser for everyone. The selection may be small, but there are already some great additions to your browsing experience. As the selection grows, we'll keep this list updated to be sure to bookmark it for future reference.
Ghostery
Why you can trust Windows Central Our expert reviewers spend hours testing and comparing products and services so you can choose the best for you. Find out more about how we test.
Let's be real: Web publishers (like ourselves) would rather people didn't block ads, but it happens. Edge can now do the same and if you're going down that road then you should use Ghostery.
Ghostery blocks trackers used by websites and allows you to take control over what you do and don't want to see while you're browsing. It's very customizable, free, and if you create a Ghostery account you'll be able to sync your settings across devices.
See at Microsoft Store (opens in new tab)
Office Online
Office 365 subscribers and frequenters of Office Online will love this nifty little extension. It offers you access to your documents, even to create new ones with a couple of clicks. Open from your OneDrive account or from local storage and create, edit and save right there in the browser. It's not particularly flashy, but still a must have for Office users.
See at Microsoft Store (opens in new tab)
Save to Pocket
One of the most popular read it later services on the web, Pocket is a good fit to be an early adopter and get an extension out for Edge. The premise and execution is simple: You sign in to the extension with your Pocket login details and pop the button on the toolbar. That way you're only a click away from adding an interesting bit of content to read later on any of your devices.
See at Microsoft Store (opens in new tab)
OneNote Web Clipper
Microsoft's own OneNote is an amazingly powerful tool used by many. It'd be foolish for Microsoft not to support its own products, so OneNote gets its own Edge extension for web clippings. Once added you can snip anything you find online to your notebook in OneNote with a click of a button. Simple, effective, supremely useful.
See at Microsoft Store (opens in new tab)
Mouse Gestures
This one's a little unusual, but a really neat idea that can transform your web browsing experience. Once installed you can perform a number of gestures on the screen to accomplish tasks. The image above shows drawing a reverse 'L' to open up a new tab. There are a bunch to learn, but once you've gone through that you've got an innovative, and speedy web experience.
See at Microsoft Store (opens in new tab)
LastPass
There are other password services we'd expect to see extensions from in the future, but if you're a LastPass user you're already in luck. Instead of having to exit out of your browser to another app you can hit the extension and get the login information you need, all without ever leaving Edge. Ultimately convenient and another plus to using LastPass on Windows 10.
See at Microsoft Store (opens in new tab)
Turn Off the Lights
Simple, but insanely effective. What this does is make everything on a webpage fade into the background except the video you're trying to watch, thus enhancing your visual experience. And it really works.
All you have to do is hit the lamp icon to activate and automagically everything will fade out for your video frame. You can even customize the background you want to not be looking at! Take away the excess distractions, focus on what really matters. Once you've tried it you'll wonder how you watched YouTube without it.
See at Microsoft Store (opens in new tab)
Mailtrack
If you're a Gmail user then Mailtrack mght be an important extension for you to have. Simply put, it tells you when people have read your emails.
Not just that, but it tells you how long ago they were read, who by and on what sort of device. People ignoring you? Mailtrack will catch them out!
See at Microsoft Store (opens in new tab)
Reddit Enhancement Suite (RES)
RES is one of the most popular community tools for Reddit browsers and it's also available for Microsoft Edge.
The list of features is pretty extensive, and you can find out more on the official site. But if you're looking for a way to change up the appearance, add filters, have an account switcher, a spam button and much more, then it's definitely worth having.
In fact, if you use Reddit in the browser at all, you should have RES.
See at Microsoft Store (opens in new tab)
Grammarly
If you write on the internet at all, you need to be using Grammarly. It doesn't even have to be creative writing. Grammarly will spell and grammar check you, whichever service you're typing into, so long as it's within the Edge browser.
It's a tool all of the Mobile Nations (Windows Central's parent company) staff use daily and a real strength in the Edge extensions portfolio. It's also completely free, though if you want more complex checks and suggestions, there is a premium tier that will unlock more features for you. But for writers of any kind, Grammarly is an essential.
See at Microsoft Store (opens in new tab)
Updated December 14, 2017: We added the excellent Grammarly to our list of best Edge extensions.
Windows Central Newsletter
Get the best of Windows Central in your inbox, every day!
Managing Editor - Tech, Reviews
Richard Devine is a Managing Editor at Windows Central with over a decade of experience. A former Project Manager and long-term tech addict, he joined Mobile Nations in 2011 and has been found on Android Central and iMore as well as Windows Central. Currently, you'll find him steering the site's coverage of all manner of PC hardware and reviews. Find him on Mastodon at mstdn.social/@richdevine
Is this real screenshot of OneNote clipper for Edge? I have only two options

Really hope extensions come to mobile. Really hope we get adblock for mobile.

At least select few extensions should be available on mobile.

Lastpass on mobile would be an amazing extension. But if rumors hold true MS is building thier own password manager into Edge which I assume would work on mobile.

interestingly, lastpass edge extension on mobile would make their app almost useless if you use it to store only webpage logins. however, you need to pay to use the app on your phone. so would they enable the extension knowing that they could theoretically lose money?

I think AdBlock Plus should be banned, blocking ads is not good from ethical perspective, if you block ads and people start using these tools advertisements being paid by companies with real money too keep websites online are going to get smaller and will stop supporting the web. I think the web was designed in such a way that advertising model lets websites get revenues from other companies.

There are security/tracking concerns not counting performance/traffic. If site asks to allow ads, and I see that I have no problems with them, I'll add it to exceptions, but if it is ads bloated, than no

Not to mention that ABP by default allows ads that are less obtrusive (e.g. they have a well-published set of guidelines that discuss the percentage of screen space that an ad can cover to be allowed). It's AdBlock (different extension, totally different company) that has some really shady business practices.

Adblocking may not be ethical but neither are autoplay video ads, embedded trackers, embedded malware, scam ads etc. When the internet advertisers stop doing these things, I will stop blocking ads.

AdBlocking is ethical, since adds these days are not ethical to begin with - violating our privacy and security for personal gains. They try the psychopathic logic on us when the true guilty one poses itself as a victim and make us to feel guilty in whatever harm they cause to us. I'm absoluteness sick and disgusted by this. Making living is not easy, but selling your reader for a fast buck without any concerns for him is just criminal!

DId you ever run into a situation when suddenly an advertising video started somewhere in one of the web pages you opened, and it was a web page that you were not looking at the moment? You then frantically tried to locate which page it was and shut it off. You think such intrusive ads are ethical. I don't mind banner ads, but I absolutely hate video ads that I have no control over.

I don't pay a combined $150/month for mobile and home internet access only to be slowed to a crawl, waste my time and be recommended to pay more for faster service.

ahh... I feel you, dude. I have an ISP that's bugging me with their forced ads each time I browse to some popular sites. Every time I browse to one of them, their forced ads made me slow even more with the already slow connection (~3Mbps download/~1Mbps upload)!

Not really. If you browse to some sites that has pop-up/under ads, and every you click on anywhere on that site, that ad pops out, what's your reaction? The ad business has gone wild nowadays. It's not about placing ads on some part of the page, but the ethics on the ad itself. That's why adblockers like AdBlock Plus (I prefer this one) and AdBlock, are present. I'd prefer the non-obstructive ads (or even non-flash ads), which doesn't disturb my reading experience, rather than placing ads everywhere just to get monetized quickly but making visitors away from my site. Posted via the Windows Central App for Android

Ads should be banned. If I'm interested in your product/service then I'll visit your site/store myself. No need to shove it down out throats. Do you really think shoving ads down our throats is ethical? I'd understand if the site was the official site of a company. But if it's not, then they're just making money off the users. Since if you reslly need the help of users to keep a site going then you're not passionate about what your site is about.

Yes, I still write all my passwords and usernames on a few pieces of paper, but do let my browsers save passwords without use of extensions. Will LastPass make managing passwords that much easier, and most importantly is it safe?

If you're concerned about LastPass safety, I'd suggest you also look into EnPass. Interestingly, the beta of their Edge extension requires the desktop version of their app (which is completely free). The UWP version of the app is very cool, though, supporting Windows Hello as a means of authentication so you don't have to type *any* passwords. EnPass stores your password database locally, and has an optional feature to sync to a cloud service of your choice (OneDrive, Dropbox, etc.).

Thank you for the info and recommendation. I'm going to dig a bit deeper into both.

Isn't one note built into edge? What's the point of the extension?

if i recall, its only built in to an extent of taking a screenshot and letting you write on it. the clipper adds a bit more functionality.

You're thinking about [Web] Note -- you can share web notes to OneNote ...or Facebook, or Evernote, or Twitter, or etc.

las mejores o las únicas? e.e

I love that you called out the bit about content owners and ad blocking. I've never used an adblocker but would see Thurrott going on and on about how Edge is useless without it, yet needs ad revenue to keep his own site running.

That's why he's soon offering a paid premium service. I think he was actually more concerned with getting the LastPass extension.

You forgot the Amazon extension.

Microsoft Edge is not productive as it is shown nowadays, take too much time to respond or even opening a website...

Support at Roboform told me this week that they would be releasing an Edge extension. Unfortunately, no ETA.

Not quite finished yet, but I'm working on it ;-)

So basically every edge extention is the best? ;) Haha, I kid, I kid. All those are great and I have them all installed. But not ABP because it seems to not work well and had a very low rating.

!Microsoft translator is the best

They have to come out with a better, less cumbersome way to install these. I still can't get enpass or Amazon to properly install. Until they streamline that process, extensions are useless to the average consumer.

tried searching for adblock in the store and it doesn't appear

Good, I think that with these I can begin my full adoption of Edge as my main browser.

The best extensions for Microsoft Edge? Not like theres a lot to choose from yet lol.

Ok, I'm confused. Didn't I just read a plug from y'all saying that Enpass was the best password manager? They must have not paid enough for you also to acclaim: Ultimately convenient and another plus to using LastPass on Windows 10.? Oh what murky water loyalties we weave....LOL

I don't know why I would need Office Online if I am a Office 365 subscriber. If I want to edit or create a document, I use Word with full functionality. Why would I ever want to edit it in a browser? Can somebody explain that to me?

I love OneNote; now I can do my web clippings in the browser. This is an excellent note taking software; and it works across the Microsoft Eco system, no more paper notes laying around my desk.

So basically all extensions available in store are the best extensions for edge? Good job Richard good job.

I'd start using Edge, but no Roboform extension I can see. Anyone know of an ETA?