Best iPhones for Windows Mobile converts
If you're the victim of the collapsing platform that is Windows 10 Mobile, you might be looking at a new iPhone and not be sure which one to choose. We've got you covered.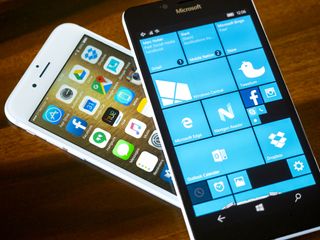 There are a few different iPhones to choose from — depending on your needs and what you're coming from, there's an iPhone to meet your demands. Choosing the right phone might be a tough thing but we will help you along the way. So let's approach this from the Windows Phone you're using today.
Big phones: Microsoft Lumia 950 XL and HP Elite x3
Why you can trust Windows Central Our expert reviewers spend hours testing and comparing products and services so you can choose the best for you. Find out more about how we test.
Some people need big phones as they have big hands or simply prefer to see more content on the screen. Apple does offer a big phone which is the iPhone 7 Plus. While the screen-to-body ratio is garbage in comparison to the Elite x3 or the Lumia 950 XL, it still has a big 5.5-inch screen. This is a tad smaller than the 6-inch HP Elite x3 and the 5.7-inch Microsoft Lumia 950 XL, though the difference shouldn't be too noticeable and you should still have plenty of room on the screen.
Another benefit that bigger phones bring is bigger batteries. While Apple doesn't offer a single device which could beat the HP Elite x3 battery life, beating the Microsoft Lumia 950 XL is an easier nut to crack. If you don't care about the screen size, and only about the battery, surprisingly, the smallest phone Apple has available does an outstanding job in lasting a whole day with heavy usage. The iPhone SE is definitely a longevity beast, but the little 4-inch screen may be a deal breaker. If you're on a budget and don't mind a slightly less-attractive design around back, the last generation iPhone 6s Plus should be more than enough for you.
In the middle: Microsoft Lumia 950 and Nokia Lumia 930
If you're looking for a smaller iPhone, but not a too small one, then the regular iPhone 7 may be what you're looking for. If you happen to own a regular Microsoft Lumia 950 or the older Lumia 930, then you'll feel right at home with the regular variants of the iPhone. While the screen size is smaller than both of the Windows competitors, sitting at 4.7 inches, it doesn't feel small while going from a slightly bigger display. The biggest disadvantage of the iPhone 7 is the lack of the headphone jack (an adapter is included), and if that's a very important feature for you, buying the last-generation iPhone 6s may be a better option.
The iPhone 7 is a very fast phone which still performs wonderfully on latest versions of iOS, and the difference between it and the iPhone 7 is unnoticeable which leaves it with only one con of going with it over the iPhone 7: the support. The iPhone 6s will be discontinued a year earlier than the iPhone 7 if Apple keeps their current strategy — though Apple has historically supported older iPhones with new software updates on launch for at least a few years, the iPhone 6s will still stop getting updates before the iPhone 7 does.
Fun-sized: Microsoft Lumia 640 and Microsoft Lumia 650
The Microsoft Lumia 640 and the 650 are both low-to-mid-end phones that amazed with their value. While Apple may not be the most affordable alternative out there, and maybe not the best bang for you buck, there is a budget iPhone with some good specifications and quality. The iPhone SE is Apple's answer to everyone asking for a compact and affordable iPhone, packing the powerful specifications found in the iPhone 6s. The iPhone SE is definitely the most inexpensive iPhone to date, and if you're on a budget then the iPhone SE is your best iPhone option.
The biggest drawback of this iPhone SE is its screen size, at a mere 4 inches. If you happen to like small screens, then it's great for you, but it might feel claustrophobic compared to the 5-inch displays of the Microsoft Lumia 640 or 650.
Bonus
If none of the options Apple offers at the moment seems appealing, then waiting can be your best option. Apple is expected to release a new iPhone in the fall, and the iPhone 8 is expected to bring huge design changes to the long-stable iPhone line. Of course, you should take those rumors with a grain of salt — nothing is official until it's announced — but they're all looking quite promising.
Conclusion
The iPhone is a great alternative for Windows phone users who feel left out and abandoned. It's getting constant support and attention from Apple, it supports a multitude of apps and is easy to navigate. Different models fit different people and hopefully, you should now b able to make a choice which model of the iPhone is the best for you.
Related
Get the Windows Central Newsletter
All the latest news, reviews, and guides for Windows and Xbox diehards.
Dennis Bednarz is a former writer for Windows Central and the guy behind ModMy. He has been a recognised member of the Microsoft community for years and owns everything from Lumia phones to Surface PCs. He occasionally likes to rant about Windows Phone and drink tea. You can go ahead and follow him on Twitter at @DennisBednarz